Mallorca is the largest of the Balearic Islands. The other islands are Formentera, Menorca and Ibiza. Mallorca is the perfect holiday destination. It is an island full of culture, history and nature. A Mediterranean climate, beautiful beaches and culinary highlights. No doubt Mallorca is worth to spend your holiday. But where to stay? In the blogs of the coming weeks we will let you discover the different areas of the island. After reading you will be able to choose which area best suits your wishes. We will start with the NORTH.
The Northern part of the island has a lot to offer. Beautiful nature, nice sandy beaches, historical towns and a spectacular Peninsula. All this at the foot of the impressive Sierra de Tramuntana mountain range. The north of the island is an excellent base for cyclists and hikers. There are two great golf courses. Alcanada Golf is one of the best in Europe. Pollensa Golf is a 9-holes course set in a scenic environment. There is a large natural park called s´Albufera with many bird species.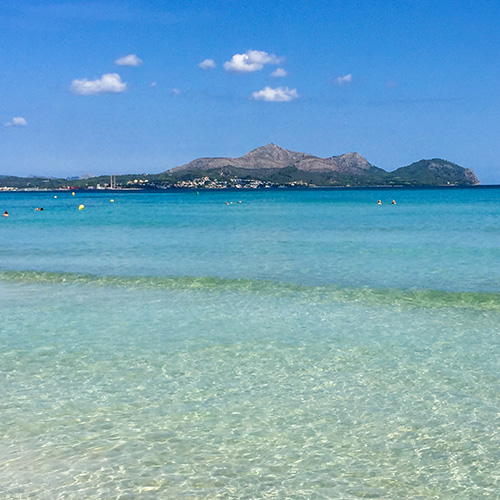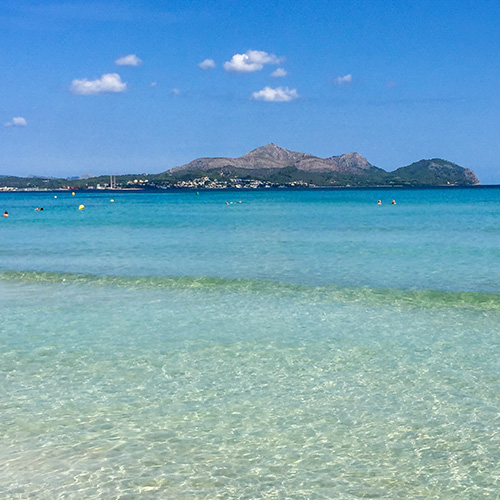 Pollensa
Pollensa consists of Pollensa Town, Port de Pollensa, Formentor and Cala Sant Vicente. It has more than 16.000 inhabitants. Pollensa is history, culture, nature, culinary delights and a relaxed beach culture.
Pollensa old town is a beautiful historical place founded in 1229. Most houses date from the 17th and 18th century. The Plaza Major is the beating heart of the town. Tourists and locals gather here and sit on the terrace of one of the many bars and restaurants. In the square is a large church (Nostra Senyora dels Angels) from the 13th Century. Narrow streets full of small shops and cafés surround the Plaza Major.
The Cavalry is the most distinctive point of the town. 365 steps lead up to the Cavalry, a chapel on the hill. Every year on Good Friday an impressive, religious procession takes place here. On a hot summer day, the climb is quite exhausting. But the reward is a scenic view over Pollensa and the hinterland.
El Pont Roma is another sight to visit. It is an old Roman bridge built to bring water to the town.
Other interesting places are the Sant Domingo Cloister and The Museum of Pollensa. Sanctuary "El Puig de Maria" is also worth a visit.
Don´t miss the weekly market! Every Sunday morning there is a market on the main square and its connecting streets. About 300 stalls with clothing, plants, shoes, crafts and local products.
You will find many shops in the small streets of Pollensa. Little boutiques selling local gourmet products. Fashion boutiques and shoe shops etc. Buy a chocolate "Palmera" at Bakery Ca´n Xim. Or one of its tasty ensaimadas (the typical delicacy of Mallorca).
Teixits Vicens produces the typical Mallorcan "Roba de llengües". The fabric with the Mallorcan "tongues". It is possible to visit the artisan factory and workshop.
In July and August, the Classical Music Festival takes place. An open-air festival held in the Cloister of Sant Domingo. The festival exists since 1961. About 700 artists have been performing.
Mallorca is famous for its delicious wines. On the annual Wine Fair in Pollensa you can try them with some local food. The Fair takes place in April.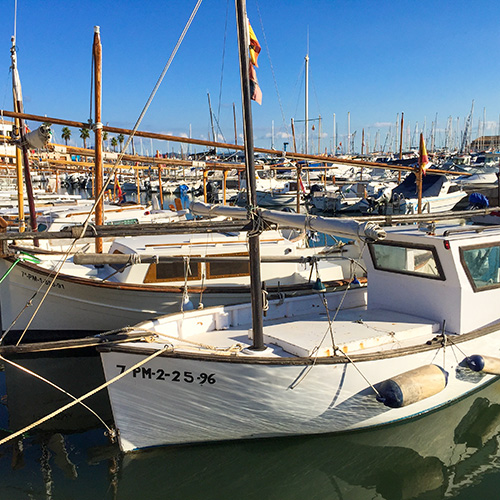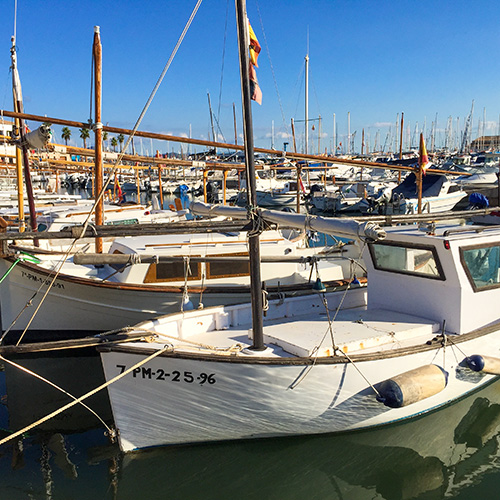 Puerto Pollensa
This old fishing village is the pretty beach resort of Pollensa. Locals gave it the nickname "El MolI", which means the Pier. In the old days not much more than a fishing pier. In the 1920s tourists discovered the village. In a short time, Puerto Pollensa developed in an attractive tourist hotspot. The lovely sandy bay attracts many tourists and locals, but it never gets too crowded. A turquoise sea backed by green hills. Little fishing boats in the port. An idyllic scenery.
Puerto Pollensa is ideal for water sports. Kayaking, stand up paddle and kitesurfing are a few options. Rent a boat or join an organized boat tour. To see the coastline from the water is a gift. Why not rent a Llaüt, the traditional Mallorcan fishing boat? There are daytrips available with snorkelling options. You will also try some typical Mallorcan food, like trampó, pa amb oli and Mallorcan wines.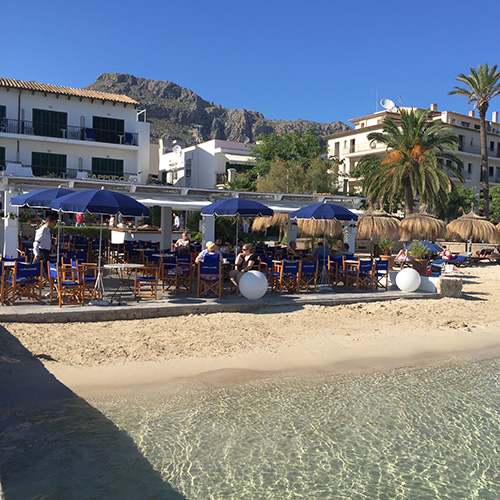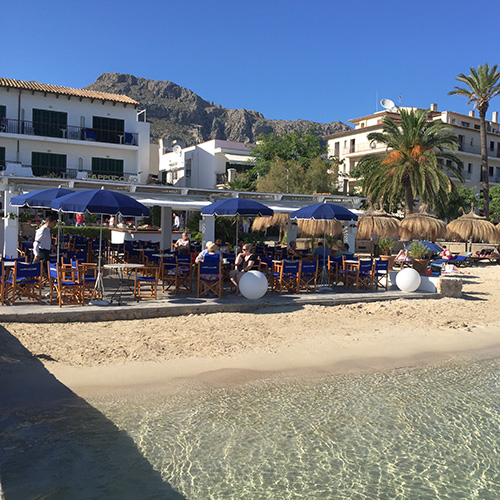 The beach of Puerto Pollensa is 6 km long and has fine sand. The water is crystal clear and shallow. Along the beach is a boulevard with various boutiques and eateries. A nice choice is Cappuccino with a terrace on the beach. Excellent food and the best coffee.
A legendary hotel is Hotel Illa d´Or. In the 1930s Agatha Christie stayed here several times. Here she got inspired for her novel "Problems at Pollensa Bay.
There is a large variety of accommodations in Puerto Pollensa. For everyone's wallet there are various options, likewise the restaurants.
Cala Sant Vicente
Cala Sant Vicente is a small resort with approximately 300 inhabitants. Located between Pollensa and Puerto Pollensa. There are various beaches, some shops and few hotels and restaurants. Cala Sant Vicente benefits from spectacular views. The sea water is clear and turquoise. Ideal for snorkelling and diving.
There are 3 main beaches. Cala Molins is the biggest and busiest one. Cala Barques is number two and Cala Clara is the smallest of the three. Sunbathing is best on the first two beaches. Cala Clara is very good for snorkelling.
Ex British Prime Minister David Cameron and his family came here to spend their holidays.
Formentor
Formentor is a peninsula you must visit. The scenery is breath-taking. Only 15 km away from Puerto Pollensa. A steep, winding road leads to the lighthouse (built in 1863). From this road you will have incredible views on Cala Figuera, Cala Gossalba and Cala Murta. You might meet some wild goats. You will see cliffs, pine trees, rocks and the deep blue sea. Stop at the viewpoints "El Mirador del Colomer" and the historical Albercuix watchtower.
The beach, Playa de Formentor, is very pretty. A long stretch of white fine sand surrounded by pine trees and oaks. Here is the famous Hotel Formentor. Many artists and politicians have been here. Like John Wayne, Winston Churchill, Elizabeth Taylor and the Daila Lama. Grace Kelly and Prince Rainier spent their honeymoon here in 1956.
Formentor can get very busy. In summer, from 15th June to 15th September a special traffic regulation is in place. Private vehicles are not allowed without written permission. Visitors can take the bus which departs from Port Pollensa. The bus stops at the lighthouse and Playa de Formentor.
We could write for hours about Pollensa. If you want to know more click here to find out what else Pollensa has to offer.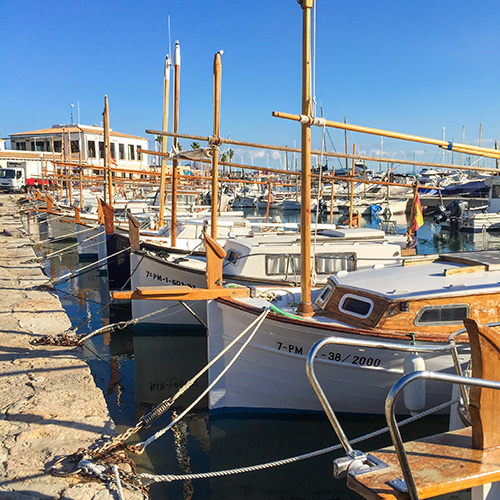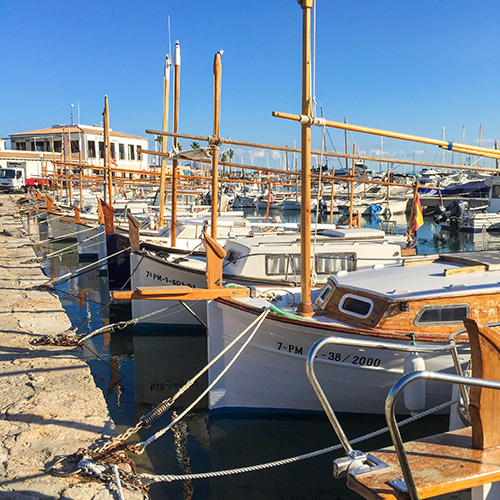 Alcudia
Alcudia consists of Alcudia, Port d´Alcudia and Platja d´Alcudia. It has about 20.000 inhabitants, a coastline of 30 km and many beautiful beaches. From Palma it is 45 minutes by car. It is the most visited tourist enclave in the North. Very popular with families. In the 1920s the first tourists arrived. But never on a large scale. Since the development of Port d´Alcudia tourism is booming. The townhall of Alcudia and the Handisport Foundation have joined forces. They work together to enable holidays and sports for people with disabilities.
Alcudia and its surroundings are great for cycling and hiking. There are 24 different cycling routes in the area. It is a short drive to the 18 holes Golf Course of Alcanada. Ranked high in the top of European golf courses. A course with spectacular views over the Bay of Alcudia.
Alcudia town is the oldest settlement in the Balearic Islands. The old centre of Alcudia is a beautiful historical place. It has clear Roman, Arab and medieval influences. Impressive medieval walls surround the idyllic centre. Within these walls the Middle Ages revive. Small squares, a maze or narrow cobbled streets and many historical buildings. Here you will find nice boutiques, art galleries, attractive shops, bars and restaurants.
The town wall is the most dominant point of interest in Alcudia. You cannot miss the main Xara Gate. It has two square towers. King Jaume II built the wall in the 14th century to protect the inhabitants. Unfortunately, pirates still attacked Alcudia and many people flee. The town was as good as desolated. With the construction of the harbour in the 18th century Alcudia became again a place to stay. It is possible to walk around the village on the wall.
A small amphitheatre is the inheritance of the Roman period. It is the smallest amphitheatre in Spain
In the north of the town there is an ancient bull ring from the 19th century.
The parish church of Sant Jaume also dates from the 19th century. It has a neo-gothic look. Worth to visit.
The local market is on Tuesday and Sunday morning outside the walls. From 9.00 till 14.00 hours you can buy local produce from the farmers and many other things. The stalls sell souvenirs, clothing, bags, shoes, ceramics etc.
Best shops are within the walls. A "must do" is delicatessen shop Sa Cisterna. A Mallorcan Gourmet specialist. Choose from pates, marmalades, Mallorcan salts, Spanish wines, olives and more. A great ambiance with Spanish sausages hanging on the ceiling.
A Living Store is the place for home decoration, clothing and good food. Located outside the old town. Lenita Alcudia (old town) is a unique shop. They sell some weird but funny stuff. Angkor Mallorca is home to nice women clothes. And for a gift you will find something in Etcetera.
Sa Bassa Blanca Museum is the place for lovers of art. A mix of paintings (16-19th century), a park with modern sculptures, a rose garden and more.
During the year many events take place in Alcudia. It is too much to name them all, but we shortlist a few important ones. In April the very popular Nautical Fair takes place. A yearly event around the cuttlefish. There is a boat exhibition, a craft market and many restaurants offer special dishes.
In May Ironman Mallorca takes place. Athletes compete running, cycling and swimming for 6 hours. Ironman Mallorca is the most popular Ironman competition in Europe.
Alcudia turns into a jazz mecca during Alcudia Jazz. Five concerts per week and local musicians perform in bars. Put this in the agenda for end of August and the whole month of September.
The last event we want to highlight is the Triennial of Sant Crist. Every 3 years this religious procession takes place. For several hours people are walking barefoot in silence.
Port d´Alcudia and Playa d´Alcudia
Port d´Alcudia is vibrant. Most hotels are here. Like a real beach resort, the Port has many bars, restaurants, hotels and boutiques. The season starts in April and until the beginning of October tourists fill up the place. In winter it is a quiet and relaxed town. The harbour houses fishermen boats and leisure vessels.
Many boat tours start in in the harbour. There are fishing trips or trips to spot dolphins. More authentic is an excursion on a traditional Llaut fishermen boat. It is also possible to rent your own yacht (with or without skipper).
The range of hotels in Port d´Alcudia is extensive. It varies from economic hostels to luxurious 5-star resorts.
The Belle Vue Club is one of the bigger hotel complexes in Europe. This 150.000 m² complex has 17 apartment blocks and 8 swimming pools.
Tired of going to the beach? Hidropark Alcudia is a great place for a family day out. Forty thousand meters of water fun. It is the only aquatic park in the north.
Playa d´Alcudia is 7 km of fine, white sand. It is the largest beach of the Balearic Islands.
Most beach facilities are on the stretch from Port d´Alcudia to Ciudad Blanca. Beach bars, sun loungers, water sports, showers and restaurants. Name it and you will find it! During summer it gets very busy here. The other part towards Playa de Muro is quieter. But don´t expect to be there alone! Alcudia beach has clear, turquoise, shallow water. Ideal for families with little children.
The active sunseeker can choose from a large variety of water sports. Like windsurfing, jet skiing, banana boat riding, snorkelling, paragliding and stand up peddling.
The Sant Pere Festival is in June. A maritime event with parades, food events like the fiesta of the sardines and many more. On 29th June there is a procession on the sea. The evening ends with a great firework show.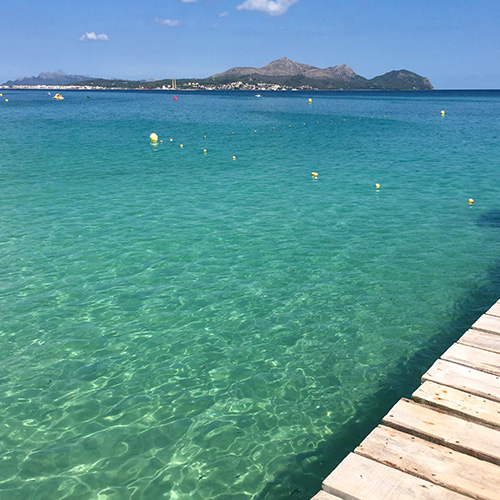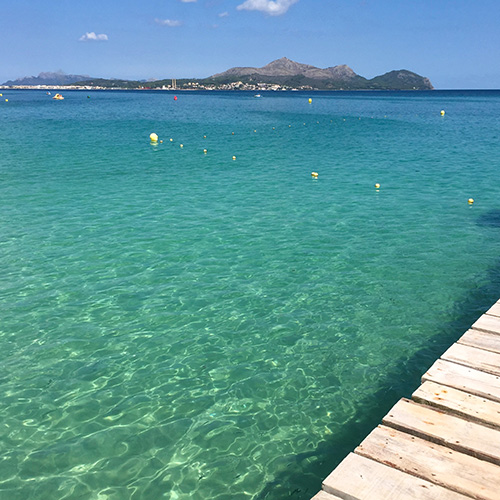 Playa de Muro
There are about 18 beaches in the area of Alcudia. Playa d´Alcudia is the biggest and most famous. But there are also more secluded, smaller ones. Like Playa de Sant Pere, Playa de Es Secs, Es Coll Baix and Playa de Cala Poncet.
Very popular is Playa de Muro. This beautiful stretch of soft white and golden sand is a bit longer than 5 km. It consists of 4 sections. Some sections have sand dunes. Section 1 is Playa de Muro and is the busiest part. Section 2 has the name Es Braç. Busy as well. Sa Coma is section 3 and is near s´Albufera Natural Park. The last section, Es Cappellans, reaches to Can Picafort.
The sea water is Caribbean blue and shallow. Playa de Muro is less protected from the wind than Alcudia beach. Sometimes this causes waves. All facilities are available. Playa de Muro (except section 4) has the blue flag. The beach is very eco and clean.
Playa de Muro houses the popular Ponderosa Beach Club. Specialized in Mediterranean food, rice dishes and paellas. In summer it is necessary to reserve a table.
La Victoria Peninsula
Situated between the bay of Pollensa and the bay of Alcudia. La Victoria is a beautiful peninsula. Not yet flattened by tourists. There are a few small authentic beaches, like Playa de Es Secs, Es Coll Baix and Playa de Cala Poncet. On the Pollensaside the pebbles beach s´Illot is a very good option. Turquoise water and excellent to snorkel. The best way to discover the beauty of La Victoria Peninsula is by foot. There are 4-hour guided treks. Stunning views guaranteed! It is likely you will see the Ermita de la Victoria. A church from the 17th century that has the look of a fortress.
Like Pollensa it is easy to keep talking about Alcudia and its surroundings. We are aware that our overview is not complete. If this area interests you, click here for extra information.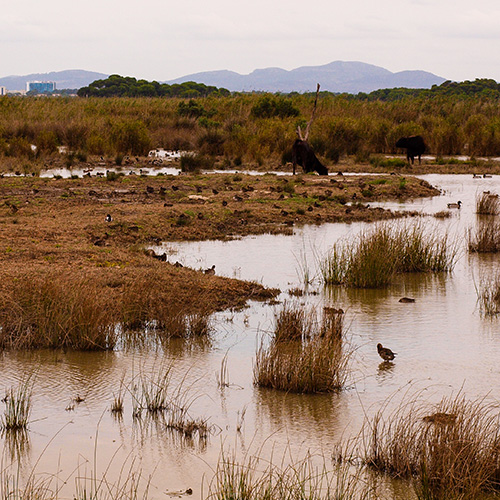 S'Albufera Natural Park
Since 28th January 1988 s'Albufera is a Natural Park. More than 1600 hectares of wet grass lands and marsh between the villages Sa Pobla and Muro. It is the largest wetland area of the Balearic Islands. These wetlands exist for 100.000 years. The dunes are more recent and date from 10.000 years ago.
Reed is the main vegetation. There are 205 species of mushrooms. Among the many animals that live in the park are the mullet, the water frog, the river eel, rats and bats. More than 300 different bird species and a large variety of invertebrates. Observers spotted more than 450 species of moths. In winter there are about 10.000 birds in the park. Many migrating birds stop in the Natural Park. It is clear that this is a real paradise for birdwatchers.
The park is accessible by bicycle or walking. There are 4 itineraries available. Colombars, Sa Roca, Cibollar and Cami d'Enmig-Ses Puntes.
Can Picafort
Can Picafort is the last town we highlight in this Blog. It belongs to the municipality of Santa Margarita. Likewise, Son Serra de Marina and Santa Margalida. In the 1970s there were only 200 inhabitants. Main activity was fishing. Nowadays Can Picafort is a busy beach resort in summer. Loads of tourists enjoy the excellent golden sand beach. The sea is turquoise and very clear. In winter Can Picafort is quiet.
Can Picafort is very commercial. The town boasts many shops, boutiques, supermarkets, bars and restaurants. All aiming for the international tourist. Definitely walk the promenade along the sea and the Paseo Colon.
On Friday morning there is a weekly market is. In summer it can get very busy. There are many clothing stalls. They also sell local products, fruit and vegetables. In winter the market is much smaller.
For history and culture, it is better to visit the towns of Pollensa and Alcudia. Can Picafort is all about beach, sun and fun. If you like wines it is worthwhile to visit Bodegas Butxet. Located between Can Picafort and Muro. It is not a big bodega, but their products are very good. The bodega opens its doors for public in the weekend. Visits are possible on Saturday and Sunday after appointment.
There are 5 important beaches close to Can Picafort. The first beach is neighbouring Playa de Muro which we described above.
Playa de Can Picafort is a 1.3 km stretch of sandy beach. It starts where Playa de Muro ends. It runs to the port of Can Picafort. It is a clean beach and the water is shallow. The beach is popular with elderly people and families. But there is enough to do for the younger ones. All facilities are available. Name a water sport and you can do it here. Along the beach is the promenade with bars, shops and restaurants.
Playa de Son Real is a beautiful, virgin sandy beach. Approximately 10 km away from Can Picafort. This beach is very quiet. The only access is by foot. Best is to park the car in the harbour of Son Serra de Marina and then walk from there. Bring everything you need as there are no facilities. Be aware that there can be some seaweed. A good spot for nudists and dog owners.
Playa de Son Baulo is 160 m long and 120 m wide and very close to Can Picafort. It is a busy sandy beach but even in high season there is enough space for everybody. Good facilities and some water sports are available. There are 2 hotels dominating the scenery. And there are a few restaurants to have a nice meal. The water is clear and turquoise. With northern wind the waves are quite strong.
The beach of Son Serra de Marina is a real natural beach. It is quiet, peaceful and idyllic. Surrounded by sand dunes. Few facilities here. There is a bar serving some drinks and snacks. In summer it is a good spot for stand-up paddling. In winter kite surfers find their way to this beach.
Interested in Can Picafort? Here you can read more.
Majorca properties
Soller Properties estate agency offers TOP villas, apartments, townhouses and fincas in the region of Soller , Port de Soller, Fornalutx and Biniaraix. 15+ years of real estate experience – reputable real estate agents.
See all properties for sale in Soller here