Mallorca Property, Lifestyle and Information
Where to stay in Mallorca – South
We continue with our Blog-series "Where to stay in Mallorca". This week we talk about Mallorca South region.
The southern part of Mallorca runs from Cala Blava up to Cala Figuera. It is the less developed area of the island. Llucmajor, Campos and Santanyi are the bigger towns. There are many stunning beaches in the South. So beautiful that you sometimes think you are in the Caribbean. It is the wildest part of Mallorca with high cliffs along the coast. The most famous local product from the South is salt. The salt comes from the salt lakes around Ses Salines. South Mallorca is vibrant in summer and quiet in winter. Let´s take a closer look at this part of Mallorca.
Cala Blava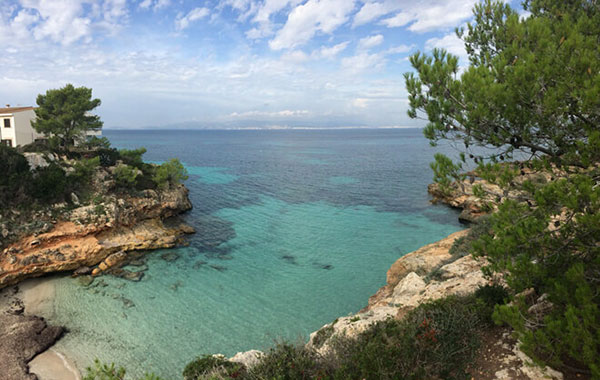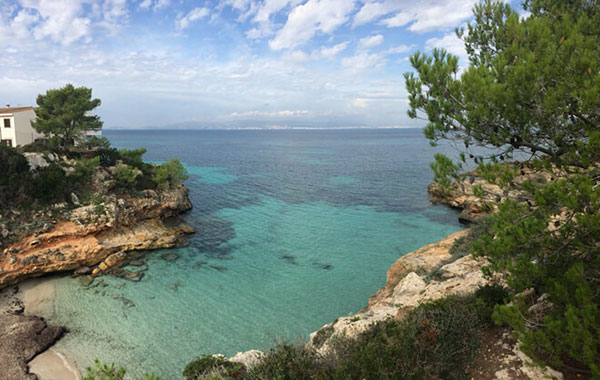 Cala Blava is a small residential area less than 5km away from vibrant Arenal. There are some houses and tourist complexes. The beach of Cala Blava is Cala Mosca. A stretch of sand of 30x10m. Surrounded by rocks and with lovely views over the bay of Palma. The water is crystal clear and has a sandy bottom. No facilities. Cala Blava is a popular beach in summer. Nearby are two other coves: Cala Fort. A small beach, popular with families. And Cala de ses Leonardes.
A 20 minutes´ walk leads to Cap Enderrocat. Here you will see an old fortress that is now in use as a hotel, Cap Rocat. The building dates from 1898 and was part of the defence system of Palma. With 4100m² of buildings, it is the largest Fortress of the Balearics. After 15 years of renovation the Fortress became Hotel Cap Rocat.
Bahia Azul
Our next stop is Bahia Azul or Badia Blava. It has the same name as the nearby urbanisation. This is a very unknown "beach". An ideal spot if you are looking for peace. Don´t expect a stretch of sand. Bahia Azul is a rock plateau with access to the sea. Bring water shoes and everything else you need. There are no facilities.
Cap Blanc
Raw, authentic and beautiful. That is Cap Blanc. One of the steepest cliffs of Mallorca. Famous for its lighthouse, sunset, views and cliff. The lighthouse of Cap Blanc dates from 1862. It is in the top 5 of most beautiful lighthouses in Mallorca. The area has a military background, which is still visible. There is a very nice coastal track from Cap Blanc to Cala Pi. Most will do it the other way around and start in Cala Pi. Ten kilometres of easy hiking.
Cala Pi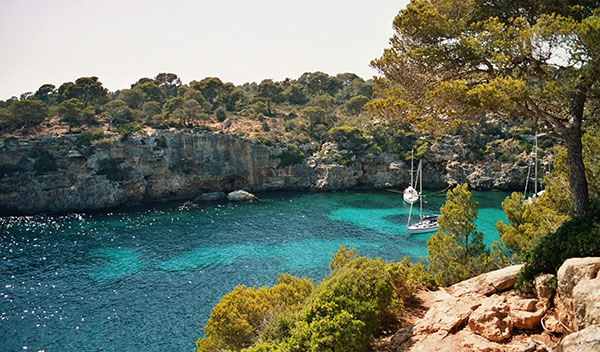 Cala Pi is the oldest settlement of Mallorca. It is a small village with 600+ inhabitants. The town itself is not that interesting. But the beach is one of the prettiest of the island. An inlet flanked by steep cliffs. A sandy beach and turquoise water. From the beach you cannot see the open sea. To reach the beach you have to climb down 150 rock steps. Therefor it is not a good destination for those with mobility issues. Remember that what you go down you also have to go up. This can be challenging with high temperatures, but the beauty of Cala Pi is worth the effort. To make the picture even more spectacular, luxury boats moor at the end of the inlet. There is a small bar on the beach. In summer and weekend, it gets busy.
Sa Rapita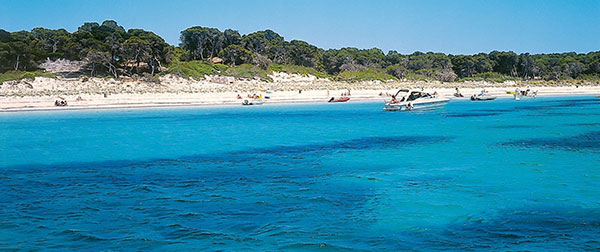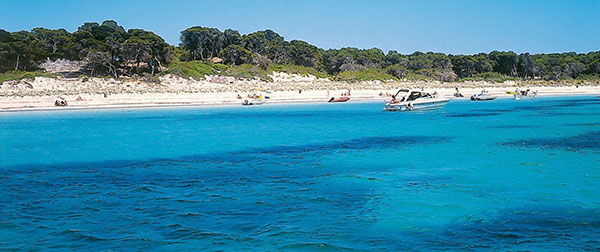 Sa Rapita is small, tranquil town with an excellent sandy beach. There is a Club Nautica in the port. Here you will see the watchtower used to spot pirates coming from the sea. There are some shops for day to day shopping and a few holiday accommodations. Access to Sa Rapita is not the easiest from the motorway. Best is to come via Campos.
The highlight of Sa Rapita is the beach. More than 1km long and 30m wide. At the back are dunes. It is very close to the incredible Es Trenc beach. Sa Rapita has the white sand and the turquoise shallow water. But it is less busy than Es Trenc. There are enough facilities for a good day at the beach. Water sports like kayaking and snorkeling are available. 300m for Ses Covetes the name of the beach changes. From that point it is Playa de Ses Covetes.
Es Trenc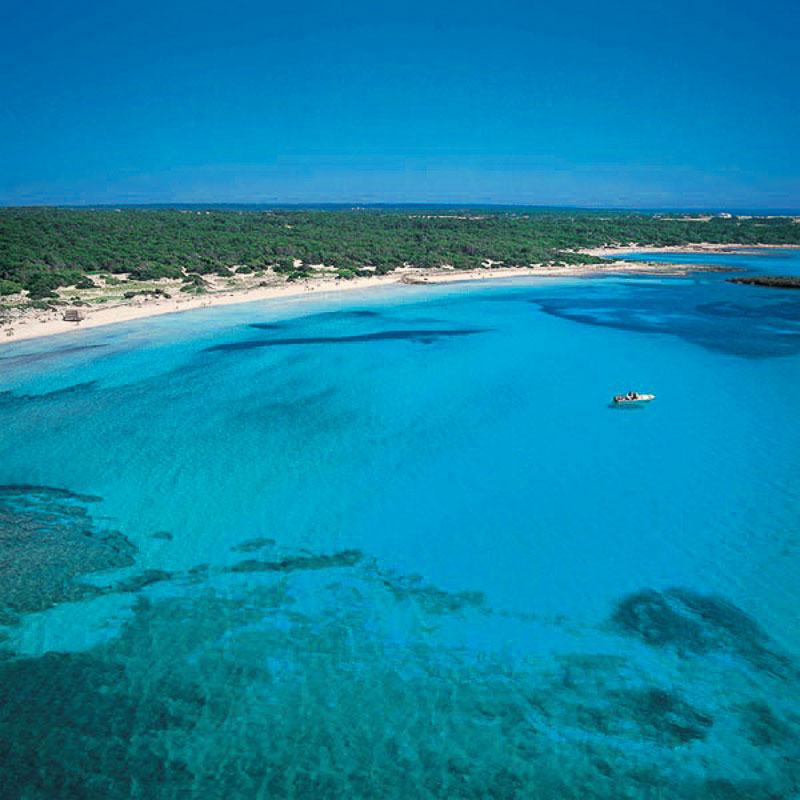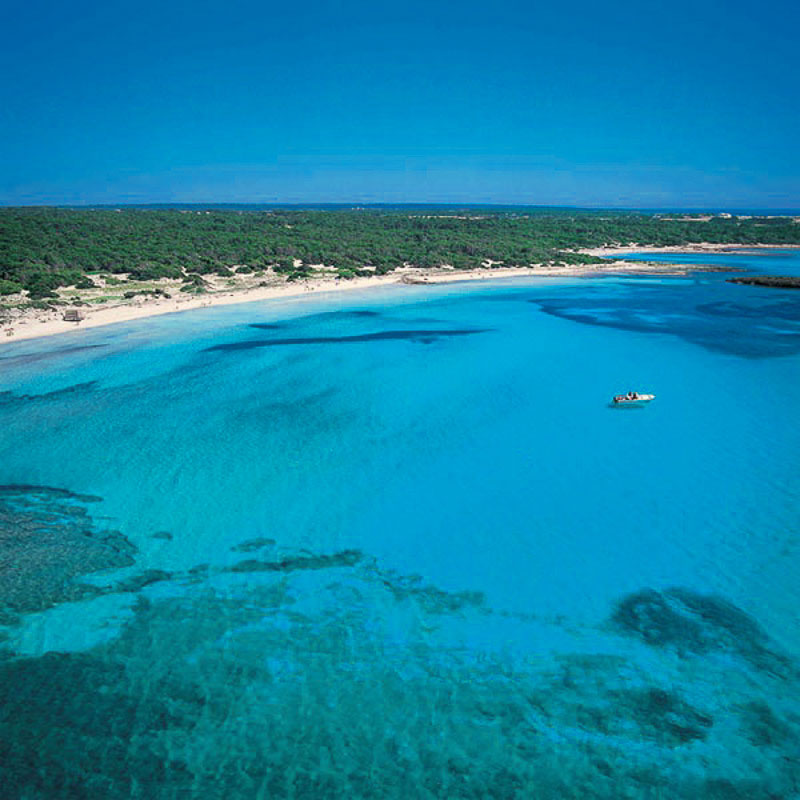 If you think paradise does not exist in Europe, you are wrong! The wonderful beach of Es Trenc is a little heaven. It is 2km long and has white sand. At the back are dunes. But what makes this beach so special is the sea. The various shades of turquoise give you the feeling of a Caribbean resort. Chrystal clear and shallow. It is a natural beach with hardly any restaurants or bars. Es Trenc is a popular spot for nudists. Limited rent of sun chairs and umbrellas. No water sports available. There are two paid parkings. In high season Es Trenc is very busy.
Es Trenc is raw and pure. Since a few years the beach has a protected status. It is a Natural Area of Special Interest. Closely are the wetlands of Salobrar de Campos. This is a Walhalla for bird lovers. Last year the Balearic Government expressed their intention to regulate tourism. This will limit the parking places, the number of sunbeds and tourists. The plan is not yet approved.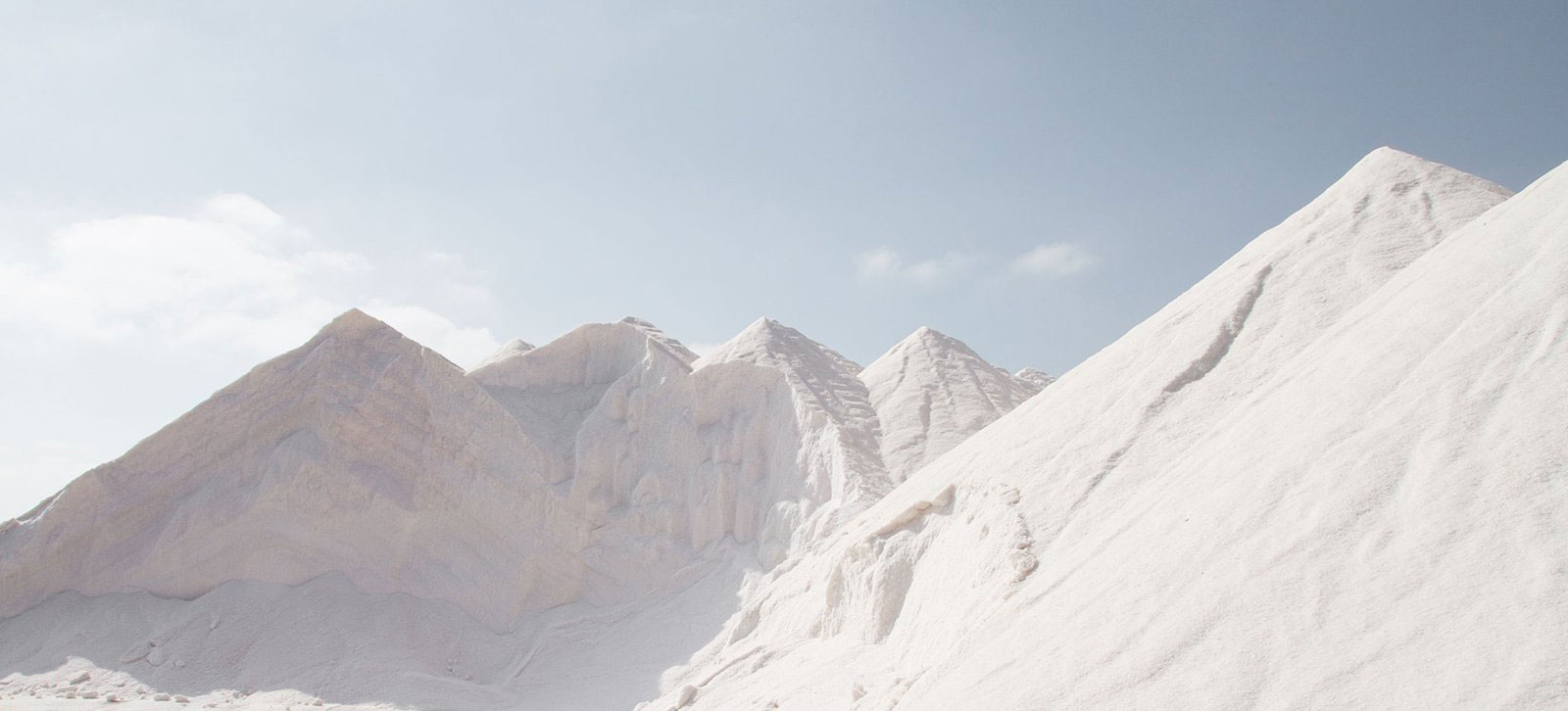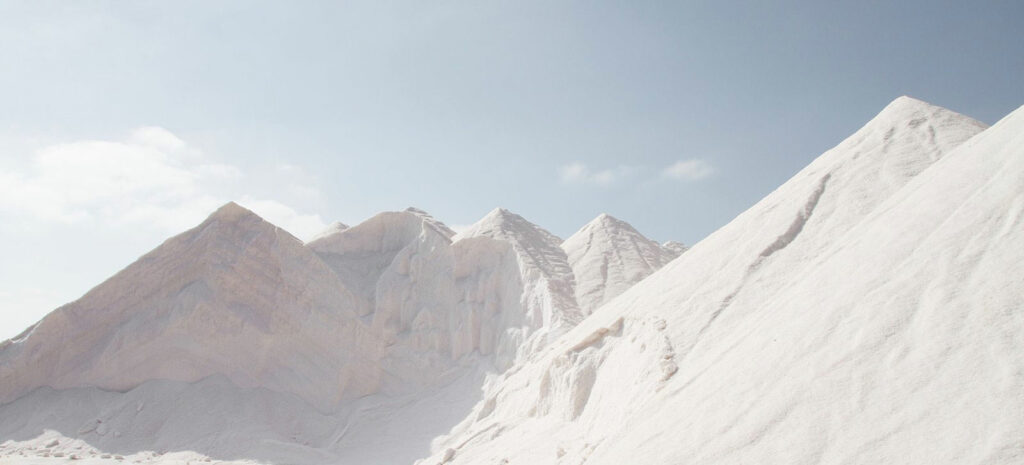 Salt
Es Trenc is not only famous for its beach. The famous salt flats of Es Trenc are less than a kilometre away from the beach. Here they harvest the delicious Flor de Sal d'es Trenc. The local conditions are perfect for high quality salts. The sun, wind, humidity and the sea water contribute to the premium level of the salt. The Salinas d'Es Trenc are part of a huge nature reserve. Together they are the home of more than 160 bird species, including flamingos. There are tours to visit the salt flats. The salt is often referred to as the "white gold of Mallorca". The harvest of the Flor de Sal is by hand. There is a range of varieties with extra herbs and other ingredients. Flavours like black olives, hibiscus and rose. Or Sri Lanka: a variety for spicy dishes.
Colonia de Sant Jordi + Ses Salines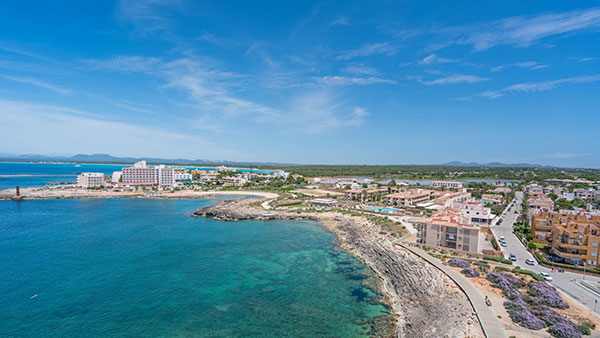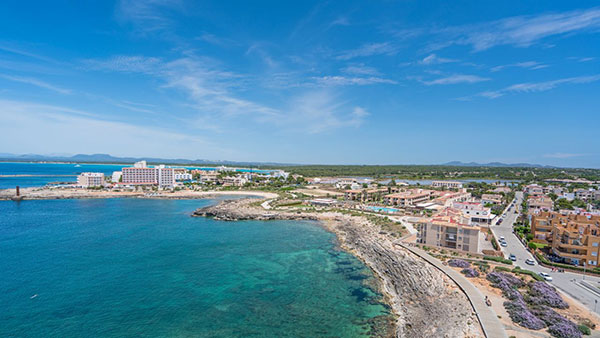 This former fishing village belongs to the municipality of Ses Salines. The fishing industry lost its importance. But the old fishing harbour still exists. Now filled with tourist boats going to Cabrera. Today, tourism is the main source of income. Tourists come from all over the world. Families, nature lovers and the active tourist enjoy this place. In the area are some beautiful beaches. It has the only hot springs on Mallorca. The islands of Cabrera are only 10km away and access to Natural Park Mondrago is easy. Colonia de Sant Jordi is a mix of traditional stone houses and modern high buildings. Like many resorts in the South and South East it is busy in summer and very sleepy in winter.
Salt
In the history of the region salt always played a prominent role. And still today the salt production is very important. In August the workers extract the white gold in a traditional way. Some salterns (like Sa Vall) are the second oldest in the world.
Shopping
Around the charming harbour is a promenade with many bars and restaurants. This is the liveliest part of the town. There are enough shops to buy your daily items and souvenirs. On Wednesday morning is the local market. Like on every weekly market you will find fruits, vegetables, clothing and more.
Exercise
This region is popular with cyclists. Participants of the famous Ironman race like to train in the "BEST centre". Europe´s leading sports centre with excellent facilities.
We also see plenty of hikers. A very nice hike is the 12km route to the Ses Salines´ lighthouse. Cap de Ses Salines is the most southern point of the island. A popular coastal walk via various beaches like Es Carbó and Caragol Beach. At the lighthouse you have mesmerizing views of the islands of Cabrera. Click here for more hiking suggestions.
Hotels, restaurants and nightlife
Colonia Sant Jordi has a wide range of restaurants and hotels. From basic to top level. It is a great place for sea food and tapas. On Thursday evenings in summer there is a tapas route. The town is home to many hotels, modern and rural. Some specializing in cycling tourism. Five-star Hotel Font Santa houses the only hot springs on the island in their Spa. There is some nightlife going on, but better options are in Cala d´Or.
Beaches
The magnificent beaches in the vicinity of Colonia de Sant Jordi are a must-do. Paradisiacal Es Trenc is nearby.
Playa de Es Port
Located next to the harbour. A small, popular beach. Surrounded by buildings and a 3,7km long promenade with palm trees. Fine sand, shallow water and no waves. Ideal for families with little children. All kind of facilities available.
Playa de Es Dolç
Again, a children friendly beach. Fine, white sand and turquoise shallow water. Rent of sun loungers and parasols. And a beach bar. No water sports.
Playa de Es Carbo y Ses Roquetes
A virgin beach of 1350m long. Only accessible by foot. From Colonia de Sant Jordi it will take 30 minutes to reach this unspoiled bay. Soft white sand between your toes. Aquamarine clear water to swim in. From the beach you can see the Cabrera islands. If you have enough energy it is possible to swim to the small island, Na Moltona. Trees provide shade. But further you have to bring everything as there are no amenities.
Playa de Es Caragol
2000m² of fine sandy beach. With shallow, crystal clear water. A beauty without facilities. You can reach the beach walking. From Colonia de Sant Jordi it is 8.5km. From the lighthouse in Cap de Ses Salines it is a walk of 1.5km.
But there are more interesting beaches. Playa Ets Estanys, Playa de Es Coto, Playa de Sa Bassa des Cabots and Playa de Cala Galiota.
Events
23rd of April is the date for the celebration of Sant Jordi, the patron Saint. August is a busy event month. The salt harvesting festival, Sant Bartomeu and the Summer festival take place.
National Maritime Park Cabrera
The island group of Cabrera is 10km offshore. Boats run from the harbour of Colonia de Sant Jordi to Cabrera. Now an inhabited island group. But in the time of Napoleon prisoners were hold. In 2019 Cabrera became Spain´s largest National Park. Apart from sea and sand there are things to see. Like the Castle and the lighthouse. There are some archaeological sites. Home to many different plants and about 200 fish species, partly endemic. It is an ideal spot for snorkeling.
Botanical garden
The biggest botanical garden of Europe is near Ses Salines. Botanicactus has 50.000m² of land and an artificial lake of 10.000m². The Mallorcan flora is well represented. And there are about 10.000 cactus species.
Cala Llombards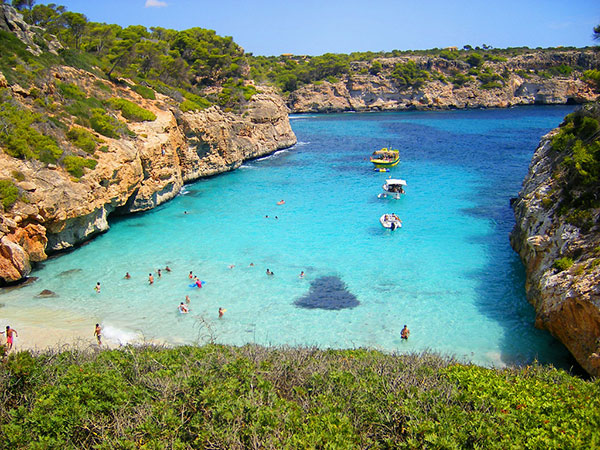 Cala Llombards is the beach of the little village of Es Llombards. It is a picture-perfect cove with clear aquamarine sea water. Surrounded by cliffs and pine trees. The sand is soft and white. Only 80m long and 120m wide. The circumstances are ideal for families with children. There are hardly no waves. It is a top spot for snorkeling. There are few facilities and it is possible to rent a sunbed and an umbrella. And there is a "chiringuito" where you can buy drinks and some snacks. Some old fishermen houses are still visible. With their green shutters and doors, they make this cove extra instagrammable.
Cala Figuera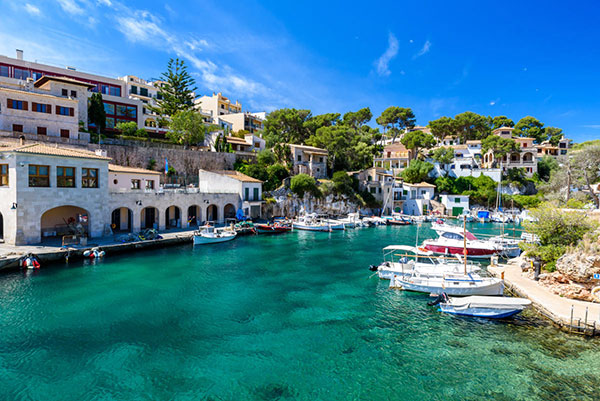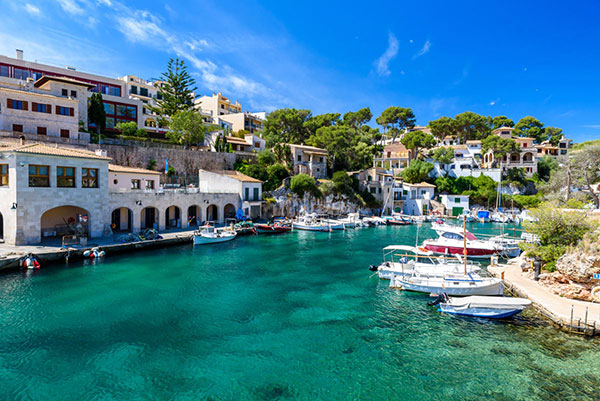 The harbour of Cala Figuera is in our personal Top 5 of most picturesque places of Mallorca. And it should definitely be on your bucket list. The first houses date from the 19th century. The fishing harbour is elegant and charming. It is at the end of an inlet that looks like a Fjord. White fishermen houses with green doors surround the little port. Llaüts, the traditional Mallorcan fishing boats, moored for the night. Cliffs flank the aquamarine water. It is an idyllic picture. Cala Figuera isn´t a beach destination. It has a small stretch where you can swim, but for a day at the beach we recommend other ones. 99% chance that you will arrive in the long promenade where all bars and restaurants are. Don´t worry. The beautiful harbour lays below.
Santanyi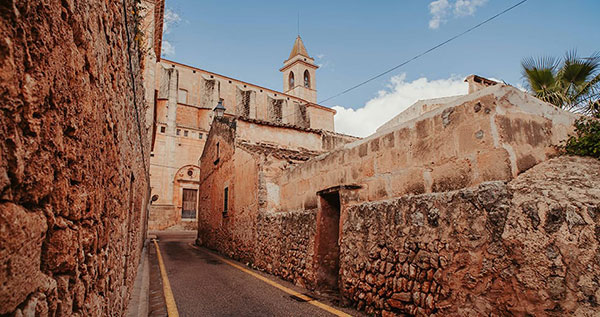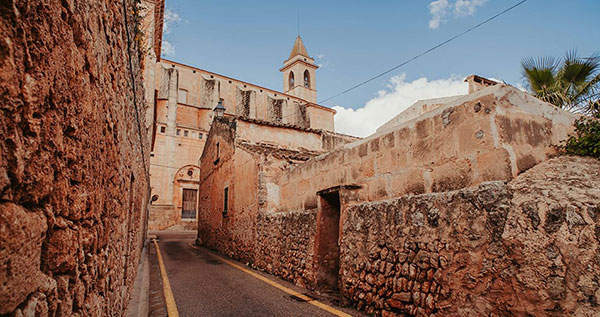 Santanyi is a traditional town where you can find the "authentic Mallorca". Gold stone buildings, typical cobbled streets and an impressive church. Located in a beautiful scenery with even a natural park at its doorstep. Santanyi is close to some of the best beaches on the island. It has an excellent gourmet reputation. And there is an artistic vibe with various galleries.
Little Trivias
The name Santanyi comes from Santi Annini. This was the original name of the town and means "Lamb of God". In 1300 Santanyi got the status of a town. From 1400 Santanyi had a lot of problems with pirates. They based themselves on the Cabrera islands and attacked more than once. This led to the building of the fortified city walls and a gateway Porta Murdada. Both still exist. Furthermore, there are some defence towers along the coast. And in Cala Llonga you can see the rests of a Fort from the 18th century.
Tourism started in the 1950s. Before the agriculture sector was the main source of income. Over the years it became the base for creative thinkers and international artists. Still today art has an important role in Santanyi. There are many workshops and galleries offering arts and crafts.
Plaça Major
The Plaça Major is the beating heart of Santanyi. Locals and tourists meet each other here on the terraces of the bars and restaurants. You will see the typical golden sandstone houses. The pretty building with the national flags is the Town Hall. Built in 1902. On the same square you find the Sant Andreu Church. Construction started on 25th July 1786. It took 25 years to complete it. Every year Santanyi celebrates the laying of the first stone. Inside you can see a remarkable altarpiece and an immense organ. So big, that a redesign of the church was necessary to fit it. Built by the famous Mallorcan organ builder Jordi Bosch. He was 26 years old when he started with the Santanyi organ. Next to the church is a chapel called Capella del Roser.
Santanyi stone
The famous golden sandstone comes from Santanyi. A stone used to construct the Cathedral and La Lonja in Palma. Mallorca has three important stone categories. The stone of Binissalem, Marès and Santanyi. The golden sandstone is still excavated.
Es Pontàs
This natural arch is on the coastline between Cala Llombards and Cala Santanyi. It is an impressive "big bridge" popping out of the water. About fifteen years ago US free rock climber Chris Sharma was the first to conquer Es Pontás. This solo deep water climbing got worldwide attention. Captured in the 2008 movie "King Lines".
Shopping
Shopping in Santanyi is fun. There are trendy shops, boutiques and an excellent market. In the old streets you find many shops. They sell home deco, clothes, souvenirs and local products.
Cult on the main square sells fashion with a boho-chic touch.
Also, on the square is the official shop of Flor de Sal d´Es Trenc. If you are looking for an authentic souvenir, the box of flavoured salt from the area is a fantastic choice.
Looking for some nice deco items? East 26 is a multipurpose centre. In the shop you find enough inspiration to improve your home. There is also a nice restaurant with the same name.
Another feel-good shop is Mimar Lifestyle. Like they say themselves on their website: Mimar is a perfect mix of women´s fashion and home furniture. Feel the spirit. Live your beach-life. Be a rebel and a dreamer. Mix Bohemian with vintage. As a result of which you feel joy and happiness. That is what Mimar is about!
Twice a week there is a market on the Plaça Major. On Wednesday and Saturday stalls sell fruit, vegetables, local produce, souvenirs and more. In summer the market is busy with tourists. But it is still great fun to spend some hours.
Galleries
Like we said already Santanyi has a good art reputation. There are many workshops and galleries. To name a few:
Galeria Barcelo is an art gallery specialized in interior design. Garden items, antiques, old tiles and more.
Galeria XOL´s core business is Mallorcan photographs on aluminium. They also have a showroom in Cala Figuera.
In Galeria Beate Angela Pohl it is all about jewellery, art and fashion.
Dutch artist Gemma Leys exhibits her works in the Casa de Arte.
Restaurants
Food addicts have a great time in Santanyi. There is a wide range of fantastic restaurants. For breakfast, lunch or dinner you have excellent choices. Mediterranean, healthy juices, Indian or Italian… you can find it all.
For example, Sa Botiga. A restaurant, café, bar and bistro. It has various terraces, a cosy library and a romantic patio.
For Mallorcan food Es Coc is a good option.
If you want to be in a nice ambiance, Restaurant Es Cantonet should be on your list. Owned by Germans with Mediterranean food in a Mallorcan setting.
Last restaurant to mention is the Sa Cova tapas bar. Known for its live music that starts around 21.00 hrs. It is a stage for artists and musicians. With a bit of luck, you will see owner Juan performing as well. Check on which nights the live music events are on.
Accommodation
There are many places to stay in and around Santanyi. Boutique hotels, rural fincas, private villas etc.
A very nice option is s´Hotelet de Santanyi in the centre. Charming and with lovely styling.
Are you interested in a holistic retreat? Cal Reiet is a magnificent hotel where relaxation is number one. The place to connect body, mind and spirit. Yoga classes, retreats and relaxation treatments. The perfect address to pamper yourself.
Events
The event calendar of Santanyi is busy. In January it starts with Sant Antoni when the animals receive a blessing. The day before there are the so-called "bonfires".
Reserve the last two weeks of July for the Festes de Sant Jaume. A full programme of events, activities, live music and the correfoc.
Sa Fira de Santanyi takes place in October and is about local produce. This includes animals, agricultural produce and artisan crafts.
From April to September it is time for the Festival Internacional de Musica. Free concerts by international artists in special places, like churches.
Like every Spanish town the celebration of the patron saint is another "fiesta". On 30th November it is the day of Sant Andreu. The week around this date is full of activities.
Beach
Cala Santanyi is the closest beach to town. 110m long and 60m wide. A busy beach in summer. Sandy and with clear turquoise water. All facilities are there and water sports are available. A Blue Flag beach often visited by families.
Parc Natural de Mondrago
Belonging to Santanyi and declared Natural Park in 1992. It comprises 766 hectares. Mondrago Natural Park has interesting vegetation and there are a few beautiful coves. With white sand and Caribbean blue sea. Cala Mondrago it the easiest to access. Also, the busiest. Playa de s'Amarrador is a pristine beach with bright white sand. Playa del Calo des Burgit is less crowded. It is further away, and access is a bit challenging. Playa Ses Fonts de n'Alis is very pretty and very busy. A great option for families.
The natural park is good for hiking and cycling. There are various itineraries available. The hikes are of an easy grade. Most take less than an hour. The Mondrago Park is a very good park for birdwatching.
Campos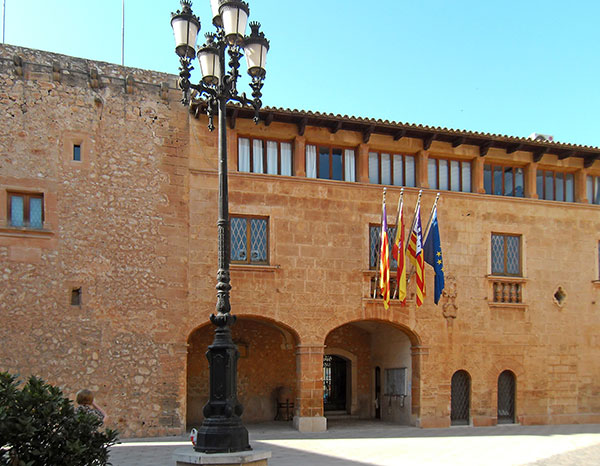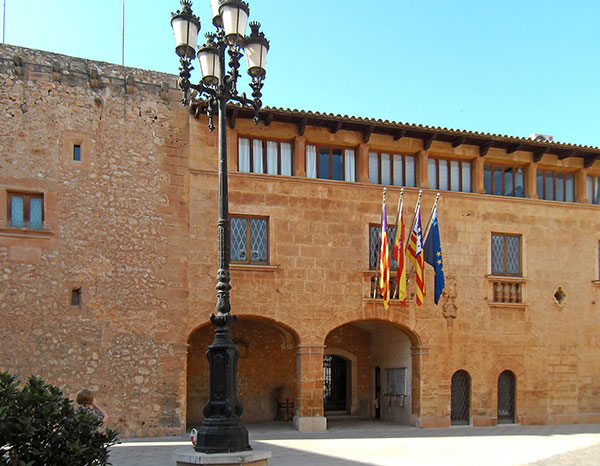 Campos is a residential town. It has more than 10.000 inhabitants. With an economy based on agriculture. It is not a tourist resort, but every year more tourists visit the town. There are some interesting sights and the market is nice to visit. Cyclists often come to Campos. Its location makes Campos attractive. Surrounded by beautiful nature and beaches. You can also see many windmills used for irrigation.
The Sant Julia Church is a historical building. And home to the well-known Christ painting by Baroque painter Bartolomeu Estaban Murillo. Another historical building is the Aljub the Font Santa. A rainwater storage well dating from end 17th century. The town hall is on the main square and is also worth to have a look at.
On this square the market is every Thursday and Saturday. Saturday being the bigger one.
If you visit Campos, you must try Piris cheese. The main ingredient for the cheese is the high-quality milk from local farms.
The Autumn Fair in Campos is about the native black pig. Three days of activities around pork products. There will be typical sausages like sobrassada, botifarrons and camiots. The Fair is a good option to try and buy them.
Llucmajor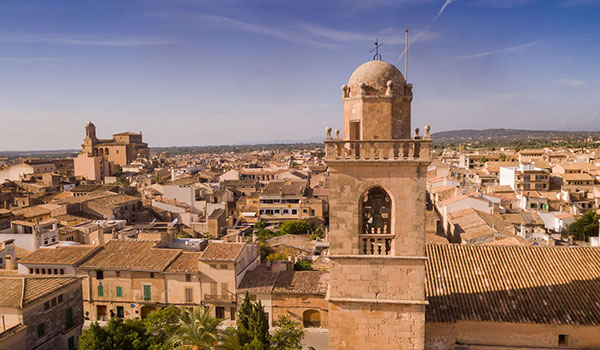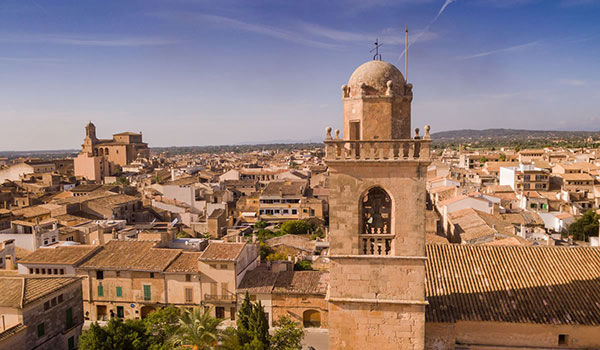 Llucmajor is the name of an inland town and also of a municipality. The latter is the biggest of Mallorca. In this paragraph we talk about the town. It has about 10.000 inhabitants. There is an international community, but the majority of the residents is local. You will not find any mass tourism.
Like the monastery of Lluc in the Sierra de Tramuntana, Llucmajor refers to "Lucus". It is Latin for "sacred wood". In 1349 King Jaume III died in the Battle of Llucmajor. This was the end of the independent Kingdom of Mallorca.
Cattle and agriculture were the main pillars of Llucmajor´s economy. There still apricots and almond groves around the town. Until the 1970s the shoe-industry was very important for Llucmajor. Nowadays the focus is on tourism. Also, liquor and sausage industry and wood, stone and iron production are important.
Llucmajor is a good base to explore the surroundings. In the town you find some historical buildings. The town hall on the Plaza de España is worth seeing. The Church of San Miguel dates from the 18th century. Built on top of an old church and with Baroque influences. There is also the Convent of St Bonaventure" with a majestic courtyard with arches. The shoemaker's monument refers to the important shoe industry of the past. The memorial shows the shoe trade in different aspects.
Capocorb Vell
Outside the town lays this important prehistoric site. More than 6000m² land with excavations of the Taliotic culture.
Golf
Ten minutes from Llucmajor are the two golf courses of Son Antem. Designed on flat ground and in a beautiful Mediterranean scenery. With a fantastic Marriott Resort on site.
And with Llucmajor we end this week´s blog in the series "Where to stay in Mallorca". The South is a beautiful area with dramatic cliffs, paradisiacal beaches and a lot of history. It is a top destination for a summer holiday. Combine your stay with the South East and you get the best of this corner of the island. So, relax, explore, discover and enjoy above all! Our team wishes you a great time on Mallorca!
Property for sale in Soller Mallorca
We are the real estate experts on the Soller valley region in Mallorca northwest coast. This area of Mallorca offers beautiful options to purchase a property on Majorca.
We aim to offer the best selection and most exclusive handpicked properties for sale in the areas of Soller, Biniaraix, Fornalutx, Port de Soller and Deia.
You can register with us to be informed when an off market property comes to the market, simply register here for free.
Register For Free To See Our Off-Market Portfolio
Many property owners opt for discretion when selling their property. Access our off-market portfolio by registering here.