Mallorca Property, Lifestyle and Information
Where to stay in Mallorca South West
Our second Blog in the series "Where to stay in Mallorca" is about the SOUTH WEST.
The South West runs from Cas Catala up to Sant Elm. It consists of 2 municipalities: Andratx and Calvia.
The contrast between the traditional inland villages and the beach resorts is big.
Beautiful nature surrrounds inland villages like Calvia and Es Capdella. All very peaceful.
And then there are the bustling beach resorts. Like Santa Ponsa, Magaluf and Paguera.
The coastline is pretty with sandy beaches and turquoise water. National Park Sa Dragonera is close. There are a few attractive harbours, like Port Andratx. Or the luxurious marinas Port Adriano and Puerto Portals.
This diversity and the closeness to Palma are the main reasons for staying in this area.
Sant Elm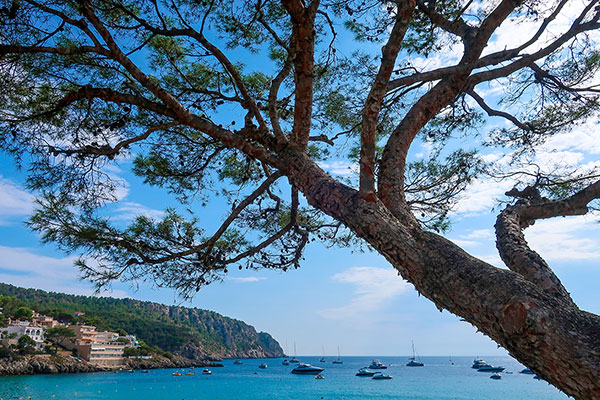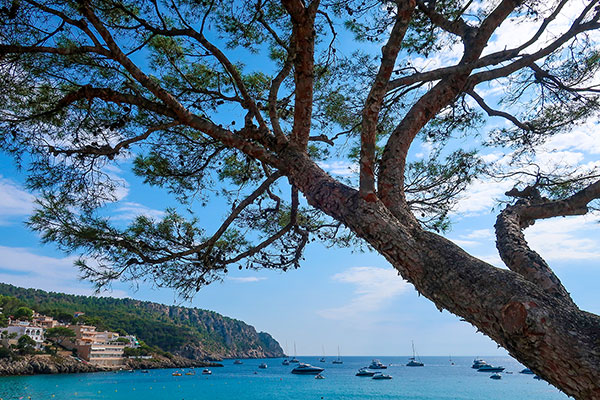 Let´s start our journey in picturesque Sant Elm. Also known as Sant Elmo and San Telmo. In the old days it had the name Palomera. This old fisherman´s village has around 400 inhabitants. Quiet in winter and lively in summer. There are 2 main beaches, great restaurants, a few hotels and some shops. The castle of Sant Elm overlooks the village. From the beach you can see the island of Dragonera National Park. Sant Elm lays at the foot of the Tramuntana mountain range. A good starting point for hikers and cyclists.
Sant Elm has two ancient watchtowers. Both built in the 1500s to spot enemies coming from the sea. In total Mallorca has 50 of these towers. In case of a possible attack a fire was lit in the tower as a warning.
In 1229 Jaume I and his Christian troops arrived here to chase away the Arabs from Mallorca. The watchtower Torre Cala en Basset dates from the end of the 16th century. The other tower is the Sant Elm tower. Built in 1279. It is an old sailor´s hospital.
There is a nice hike from Sant Elm to the La Trapa Nature Reserve. The path also leads to the Cala Basset watchtower. The La Trapa Monastery got its name from the Trappist monks that settled here early 1800. You can see ruins of the mill, the chapel and the water systems they built. This loop-walk takes about 3 hours.
The Castle of Sant Elm was a fortified house. In the 14th century it became a castle. Two hundred years later the castle´s munitions depot exploded by lightning. It destroyed the church and some other parts. Over the centuries renovations of the castle took place.
It is currently in use as an exhibition hall and a museum.
Sant Elm has nice beaches. The main beach, Es Geperut, Sa Platja G or Playa de Sant Elm, is approximately 120m long and 40m wide. Very white, fine sand with parasols and sun loungers. And a variety of water sports. This beach gets busy in summer.
Cala Petita is the little sister. 80m long and 20m wide. Soft sand and turquoise shallow water.
The coves of Es Carregador, Playa de s'Algar, Basset and Conills are much quieter. Pretty spots with pebbles or coarse sand. And of course, the inviting turquoise waves.
A must do is the boat trip to Dragonera National Park. Every day in summer boats leave from the little harbour in Sant Elm.
Sant Elm is small and cute. There are a few shops that focus on tourists. Selling souvenirs, local produce and beach related articles. The closest weekly market is in s´Arraco on Saturday morning. Or on Wednesday morning in Andratx.
In the area of Sant Elm are a few hotels, apartments and hostels.
Most of the restaurants serve good quality food. Several specialize in fish and seafood. The terraces often have beautiful views of the sea and Dragonera Natural Park.
The first weekend of August the La Palomera market takes place. At night many stalls sell all kinds of goods in main street of Sant Elm. In the same period are the traditional Moors and Christians festivities.
Easter Monday is the day of the popular Pancaritats. A local pilgrimage to the watchtower of Sant Elm.
The last thing to say about idyllic Sant Elm is that the sunsets are spectacular. Don´t miss them.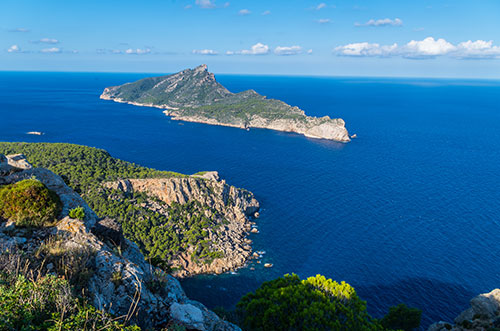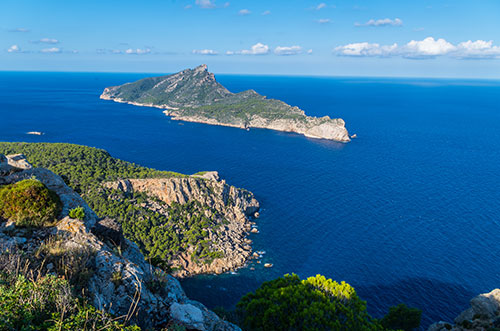 Dragonera Natural Park
Dragonera Natural Park consists of three inhabited islands. Sa Dragonera, Sa Mitjana and Illot des Pantaleu. Sa Dragonera is about 3 km long and 500m wide. The highest point is Pico Popi which is 360m high. The name Dragonera refers to the word Dragon. From a certain angle the island has the shape of a Dragon.
In the 18th century locals built two watchtowers to spot the pirates on the sea. Torre de Llebeig is the restored one. Mid 1900s smugglers used the island to hide their activities. In 1974 a Spanish company bought the island. Their idea was to transform it in a touristic hub with a hotel, casino and luxurious residences. Ecologist activists protested and plans got on hold. Since 1984 building activities are not allowed. In 1995 the Government of the Balearic Islands declared Dragonera a Natural Park.
More than 350 plant species are growing on the islet. 18 of these species are endemic. There are many different animals. The local Lilford´s wall lizard is the most characteristic animal for this area. Furthermore, there are many birds, snails and bats.
The island has a small natural harbour. And there are 3 restored lighthouses.
The movie "Evil under the Sun" (a mystery of Agatha Christie) was partly shot here.
Sa Dragonera is definitely worth a visit. The park is open the whole year through. Check the timetable as hours vary per season. Every day ferries leave from Sant Elm or Puerto Andratx. It is also possible to book a 5-hour tour. These boats leave from Santa Ponsa or Paguera and include snorkeling and a Spanish lunch.
The Government of the Balearics issued a leaflet about the Park.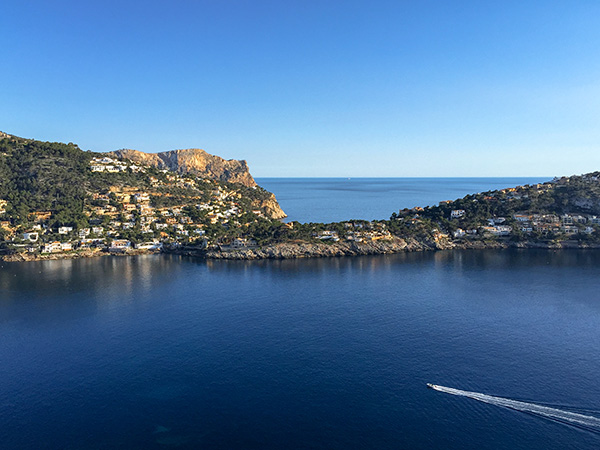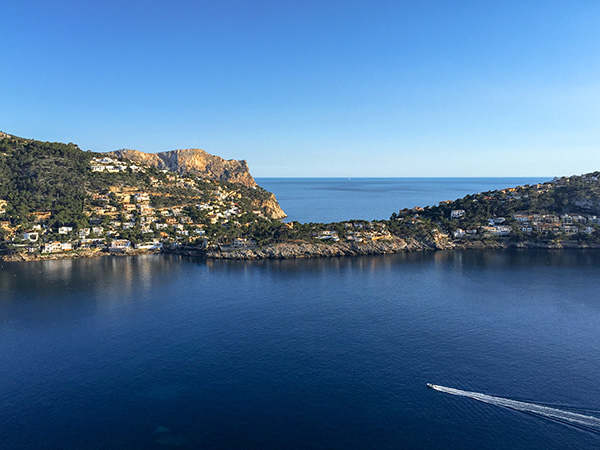 Port d'Andratx
Port d'Andratx is one of the most beautiful harbours on the island. An elegant Mediterranean fishing village. There is an international community of more than 3000 habitants. Surrounded by green mountains. The harbour has 450 moorings for leisure boats. The fishing industry is still alive. Around 17.00 hrs fishermen bring their catch onshore. In winter it is a quiet, gentle village. In summer it is vibrant and cheerful.
In the 14th century the Port was a coastal base to transport people from Mallorca to the mainland. Late 1700s the fishing industry developed.
There are two ancient watchtowers (Sant Carles and Sant Francesc). And the church of "Nuestra Señora del Carmen".
In the Port itself there are two tiny beaches. The large sandy beach of Playa Camp de Mar is a 10 minutes' drive. It is 160m long and 50m wide. Set in a stunning environment. And on top it is very clean. Here are all facilities you need for a day at the beach with your family. Including the calm turquoise water. Some hotels surround the beach area. Celebrities found their way to Camp de Mar. Top-model Claudia Schiffer owned a house here. You cannot miss Restaurante Illeta on the little island in the sea. Enjoy your meal and be in the middle of the water. No need to say that the sea views are awesome. Reservation is necessary.
Another option is Cala Llamp. Very close to Puerto Andratx and home to Beach Club Gran Folies. No sand here. The crystal-clear water is ideal for snorkeling. It has some facilities like sunbeds, parasols and showers.
Beach Club Gran Folies is an icon in the area. Great restaurant, swimming pool and superb sea views. All ingredients are there for a great day at the sea.
Cala en Cranc, Playa de Cala Blanca, Playa de Cala Marmassen and Playa de Cala Egos are a few small beaches. All very beautiful in their own way.
The area is great for cycling and hiking. And of course, there are loads of water activities in Port d´Andratx. Like sunset cruises or boat trips to Sa Dragonera. You prefer to rent your own boat? No problem. Small boats without licence, yachts with or without skipper. Everything is possible. The Club de Vela offers sailing and kayak lessons. Also swimming lessons for children. There are some diving schools if you want to discover the underwater world.
Have you ever wanted to beat "The Green Monster"? This is the notorious 6th hole of the 18 holes golf course Golf de Andratx. The Green Monster is the longest hole in Spain and a real challenge.
American artist Barbara Weil exhibits her sculptures and paintings in Studio Weil. A unique building overlooking the sea and with a beautiful garden.
A must do is the coastal road from Port d'Andratx to Port de Soller. A beautiful tour going through typical Mallorcan villages and with magnificent sea views.
The promenade along the harbour is excellent for a stroll. A stretch of restaurants with inviting terraces overlooking the water and the boats. Don´t miss the sunset! On this side of the island it is spectacular.
In the pedestrian streets is a relaxed vibe. Women will love the fashion boutiques with chic Boho-style clothes and accessories. There are wine shops, jewelleries, gift shops and shops with local products. Fans of healthy and organic food should definitely go to Veritas. Veritas is an organic supermarket with local products.
K&K Art and Decor is a unique shop with lovely deco items and quality furniture. The Beach House is another interior decorating shop which is worth to visit.
The closest weekly market is on Wednesday morning in Andratx.
Looking for fresh fish? Visit La Lonja. Around 17.00 hrs the fishing boats return with their catch in the harbor. As of 18.00 hrs the fresh fish is for sale.
The restaurants in Port d'Andratx offer a large variety of international cuisines. In the Port are a few hotels ranging from budget friendly to expensive and super deluxe.
An important celebration is de Mare de Deu del Carmen in July. Boat processions on the water, live music and many other activities. Highlight is the "Nit de Cavalls" (night of the horses).
From the surrounding hills luxurious houses overlook the picturesque harbour. You can see the so-called "seagull houses". A type of architecture inspired by the work of Alberto Rubio. A south American architect who created these "bird houses". The name refers to the curved roofs of the houses.
Port d'Andratx is a place with allure. A classy holiday destination that will not disappoint.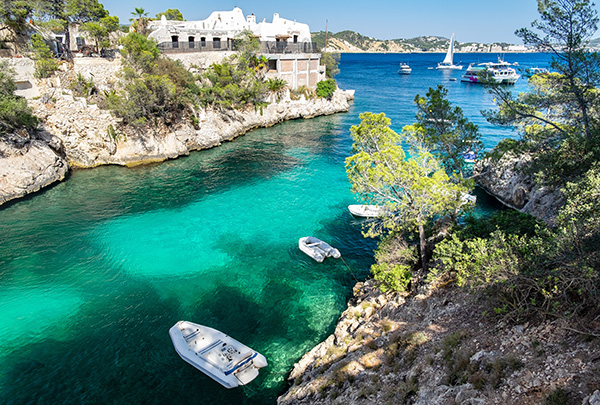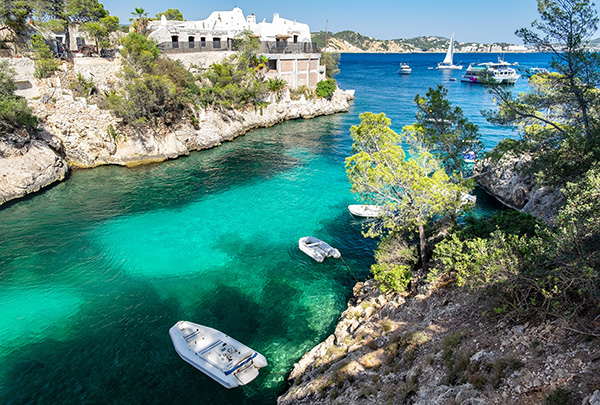 Paguera
This beach resort is also known as Peguera. Peguera is the Mallorcan name while Paguera is the Spanish one. A great holiday destination for families. There are 3 main beaches. All with the facilities you need for a relaxed stay at the beach. There are innumerable hotels, restaurants, shops and bars. And many German visitors. That´s why Paguera is sometimes called "Little Germany". The last years more and more tourists from Scandinavia and the UK spend their holidays here. The village counts around 3700 inhabitants and has an international community. Be aware that Paguera is not flat and some of the hotels are set on the hills. The village and the beaches are very clean. It is lively in summer. In winter it is a dormant place.
There is not much history in Paguera. In the old days it was a little fishermen village. In the middle of the 20th century tourism started to develop. Now Paguera is a mature holiday destination.
The beaches are the main attraction. There are 3 main beaches: Playa Palmira, Playa Romana and Playa de Tora.
Playa Palmira is a large, sandy beach. It is 500m long and 50m wide. It has a half-moon shape. The mountainous hinterland surrounds the bay. The sand is white and fine. The water is shallow, clean and clear. All amenities are available. Same for water sports including jet ski rent. At the back there is a long boulevard that boasts restaurants, bars and shops. It gets busy in high season. Playa Palmira is an excellent beach for couples and families.
Playa Romana is the smallest of the 3 main beaches. Locals call it Platja dels Muertos. A good choice for families. The beach consists of fine sand and at both ends there are some rock formations. The water is shallow and calm. The underwater soil is sandy. Sun loungers, parasols and many other facilities are available.
Playa de Tora is another beach that is great for families. Fine sand, shallow water and facilities you need. A busy beach in summer with a lot of activity. Like beach volleyball, SUP and windsurfing. There are some beach bars and a good number of restaurants.
Apart from these three main tourist beaches there are a few smaller, more intimate calas. Cala Fornells is an idyllic spot. 65m long and 10m wide with coarse sand. The colour of the clear water is between turquoise and emerald. Leisure boats anchor in the distance. Bring your snorkeling gear and all you need for the day. There is a chiringuito for snacks and drinks. Only down point is that it can get busy. But Cala Fornells is a small and romantic place that you will not forget!
Other small and sometimes hidden beaches are Playa del Caló d'en Monjo and Playa del Caló de ses Llisses
Parallel to the boulevard there is a large shopping street called Avenida Paguera. Here you will find souvenir and leather shops, boutiques, chemists and supermarkets. In Paguera you do not have to starve from hunger. There are many bars and restaurants. Worth mentioning is the number of German restaurants. Time for schnitzel, currywurst and German beer.
The weekly market takes place on Tuesday morning. It is a busy market. The stalls sell fruits, vegetables, local products, clothing and crafts.
Nightlife is good. There is entertainment with live music and there are some discos.
From Paguera it is easy to visit Dragonera Natural Park. Also, glass bottom boat tours are available.
Around Paguera are at least 10 hiking trails. All with different difficulties. A scenic, easy walk is the route to the traditional mountain village of Es Capdella.
The biggest event in Paguera is the Challenge Peguera Mallorca Triathlon. A half-distance triathlon where athletes swim 1.9 km, cycle 90 km and run 21 km. This international sports event takes place in October.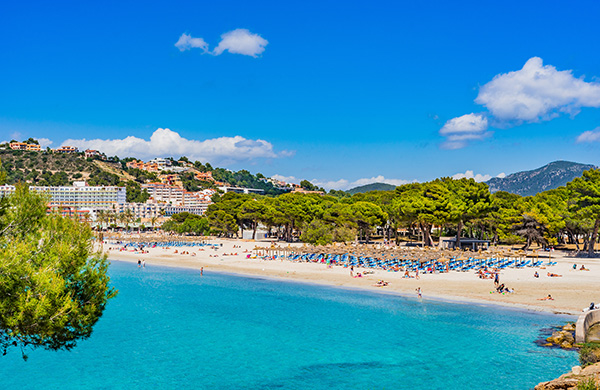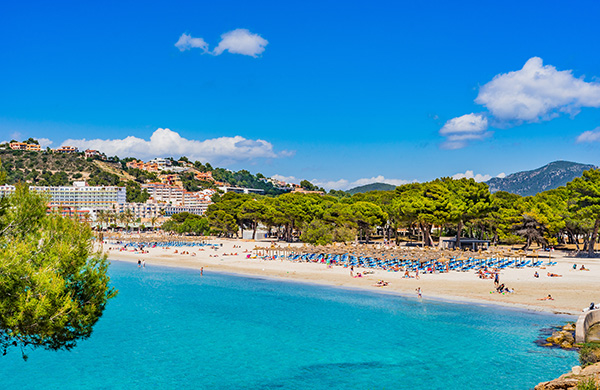 Santa Ponsa
Santa Ponsa (also known as Santa Ponça) is a middle-size beach resort. The name comes from a Roman villa called "Sancta Pontia". Popular with families and youngsters. The town has more than 10.000 inhabitants of different nationalities. Santa Ponsa as a holiday destination is very popular with the British. Lately followed by tourists from Germany, Scandinavia and The Netherlands. The highlight is the main sandy beach. There are many convenient stores and beach related shops. As well as restaurants and bars. Nightlife scores high, especially with teenagers. Santa Ponsa has a cute private marina for smaller boats. The design harbour of Port Adriano is home to mega yachts. It has an excellent golf course. And the beautiful Malgrat Islands are a stone´s throw away.
Santa Ponsa is an important venue in the history books of Mallorca. In 1229 King Jaume I arrived with his troops and chased the Arabs away from the island. The cross at the sea entrance memorizes this landing.
Santa Ponsa was a town for exclusive residences. In the last decennia it developed into a major holiday destination. It also attracts many expats who either live here the whole year round or have a holiday home.
Playa Santa Ponsa is the main beach. It is 500m long and 100m wide and has soft, golden sand. Everything you can imagine is available on this beach. The beach is in the centre of the town. It has a nice feel with the typical Mallorcan reed parasols and many pine trees at the back. The surrounding hills have all sorts of holiday accommodations. The beach has the Blue Flag. It also got the "Q" award for European Quality. The water is clear and shallow. Ideal for the little ones. A good choice of water sports. Banana rides and jet skis are available. Playa Santa Ponsa is very popular in July and August.
Playa del Caló d'en Pellicer is the little sandy beach in Santa Ponsa. From the main beach it is 15 minutes' walk. Only 35m long and 60m wide. The surrounding pine trees provide shade. A great escape from the crowds. No facilities here.
Even smaller (13x3m) is Playa de Es Castellot. A medium high apartment complex backs this pebbles beach. But if you don´t look back you have beautiful views on the boats moored in the sea. Bring everything as there are no amenities.
Two kilometres from Santa Ponsa the beach of Es Toro is a nice option for families. A good-sized sandy beach with a range of facilities.
There are several "hidden" beaches. Like Playa de Cala Blanca, nudist beach Playa del Caló des Guix – Es Formiguer and Playa de Port Adriano.
The Puig de Sa Morisca Archaeological Park is 35 hectares. It houses fifteen archeological sites. The climb can be rough so wear hiking shoes. From the top the views over the bay are fantastic.
Both "marinas" are worth to visit. Club Nautico Santa Ponsa is a charming harbour for boats up to 20 meters long. It is a natural inlet and has 500 moorings. A very nice location for a lunch.
Port Adriano is a sophisticated harbour. Designed by architect Philippe Stark in 2012. A mix of super yachts, international restaurants and luxurious shops. 500 moorings for boats up to a length of 100 meter. Prestigious 5-star Pure Salt Port Adriano hoteloverlooks the harbour. It offers the utter indulgence. Close to the golf course of Santa Ponsa. The hotel has an indoor golf simulator for guests.
Boat rental available in in both harbours.
Golf Santa Ponsa has 3 golf courses. Court I is open for public and has 18 holes. Courts II and III are for shareholders only.
The town offers a large variety of water related activities. Why not book a boat trip? Watch dolphins, snorkel or see the underwater world through the glass bottom of a boat. If you want more adventure, scuba diving might be your thing. You can even dive to a shipwreck.
Or kayak to the Malgrat Islands marine park. Jet skis, paddle boards and pedaloes are also available.
If you love outdoor adventure Jungle Parcis the place to be. Different circuits for adults and kids older than 4. Go for the extreme and boost your adrenaline! A forest full of ziplines, ropes and hanging bridges is waiting for you.
The biggest event in Santa Ponsa is the "Rei en Jaume". This Moors and Christians festival takes place in September.
There are enough convenient stores in Santa Ponsa. Furthermore, there are shops selling beach items and souvenirs. Santa Ponsa is not the place to go shopping. Better drive the 25 minutes to Palma for a wide selection of boutiques and shops.
Son Bugadelles is the industrial park. Here you can find some excellent home staging stores. Knox Designand Kare are our favourites.
Every Saturday morning the flea market takes place in Son Bugadelles. Stalls are selling antiques and second-hand articles.
The weekly market is a very small market. Held on Saturday morning. Here you can find fruit, vegetables, clothing and bread.
A large number of bars and restaurants spread over the town. Likewise, hotels and holiday apartments. Pirates Village is an eye-catching family hotel. From the outside it looks like a pirate ship.
All Germans want to visit Der König von Mallorca. German celebrity Jürgen Drews owns this Kultbistro. On a regular basis he performs in the bistro.
The live-music bars and pubs on the main strip are very popular in the night. One of the main reasons why older teenagers like to spend their holidays in Santa Ponsa.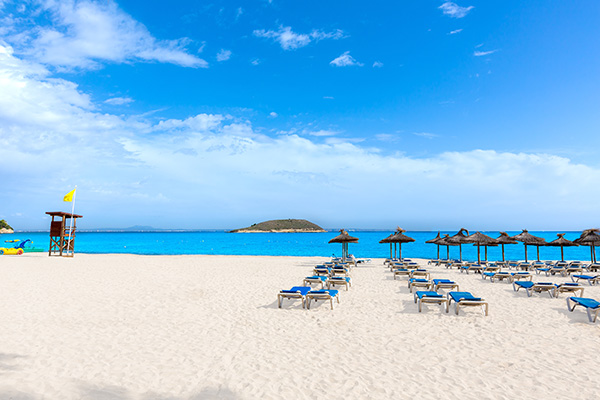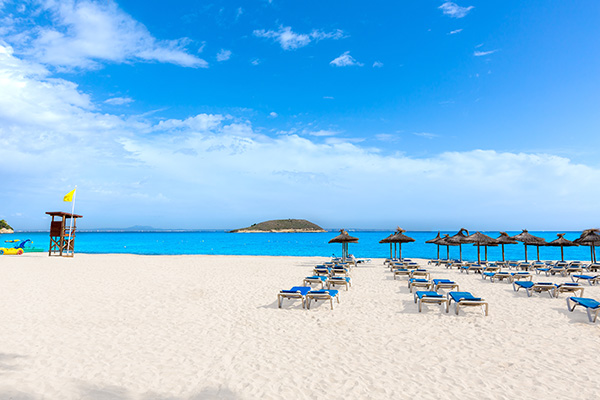 Palmanova
Palmanova is a real beach destination. The former fishing village developed in the 1960s into a holiday resort. There is activity the whole year round. Very busy in the summer months. There is an international community. A big part of them are living here on a permanent basis. Palmanova attracts a lot of British. Many shops, bars and restaurants. A vibrant nightlife, but not as crazy like in neighbouring Magaluf. A good spot for a holiday with the family.
The beaches are the highlight of Palmanova. All the big beaches offer the facilities you wish for. All have the Blue Flag. These are sandy beaches with shallow water. The promenade "Passage de la Mar" connects the beaches.
Playa de Palmanova is about 500m long and 65m wide. Very good for watersports.
Playa de Son Maties is a very popular beach. Here you will find many new bars to chill.
Playa Es Carregardor is the smallest of the three.
Less known beaches in the area are: Playa de Son Caliu, Playa de Na Foradada and Playa de Punta des Marroig. These beaches are great to escape the crowds. But limited facilities here.
There are enough water sports to do in Palmanova. And if you can't find it here, it is definitely in nearby Magaluf.
Palmanova has the best Minigolf on the island. Golf Fantasia is in the centre of the town. It has three different circuits. All in a tropical setting. Great fun for everybody.
Palmanova boasts a huge number of shops. For real shopping it is better to go to Palma centre. But you can find everything you need for a pleasant stay. Restaurants and hotels are plentiful. Pricewise most of them are in the middle range. Nightlife concentrates in the late-night bars. Go to Magaluf for hardcore party life.
Palmanova tries to upgrade its image. Improvement of old constructions and new shops opening.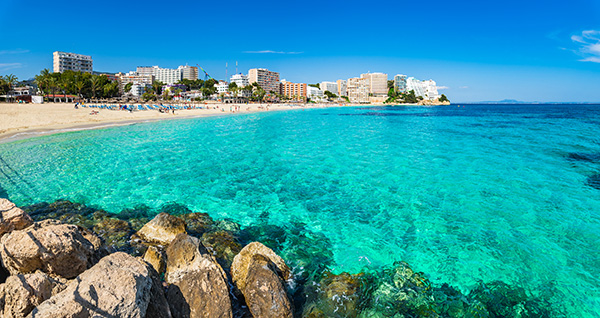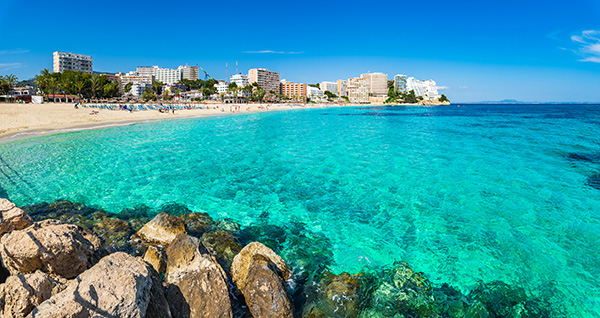 Magaluf
Magaluf is famous for its beach and extreme nightlife. The season starts with men aged between 40 and 50, who are boozing the whole day. In summer holidays youngsters take over. Magaluf changes in a hedonistic resort. You stumble over drunken teenagers, party animals and sex seekers. What Arenal is for the Germans, is Magaluf for the English. A crazy place that you love or hate.
Playa de Magaluf is a long stretch of sand with turquoise water. You find water sports on a large scale. Abundant amenities.
Not far from Magaluf there are some very attractive, smaller beaches. Natural coves like Cala Vinyes and Cala Falcó offer more than sun and alcohol. Or try nudist beach Cala Bella Dona. Playa del Rei and Playa del Mago are also pretty.
Katmandu Parkis Spain´s second best theme park. A good option for a day of adventure.
Western Water Park is the place to be for a day of water fun. Adrenaline rides and family activities. It is all there.
The Pirates Adventure Show is another great attraction in Magaluf. A high-level pirate dinner show. Or choose for the adults only Pirates Reloaded show.
A popular boat trip is the Magaluf Booz Cruise. The ultimate party boat experience with free shots and swim breaks.
Every year in May Magaluf is the venue for "Mallorca Live". The many visitors enjoy the performances of international musicians. Due to Covid-19, the festival is now on 8, 9 and 10 October 2020.
Apart from the shops that you expect in a town like Magaluf there is also Momentum Plaza. A shopping mall that opened in 2018 with shops like Mango and Ale-Hop.
There are many fast food restaurants in Magaluf. Aiming for the cheap. But contradictions are big here. Trendsetting Nikki Beach Club opened its doors. Overlooking the inhabited island of Sa Porassa. This is a place for the chic!
Nightlife in Magaluf is notorious. More than 100 pubs, discos, clubs and karokebars. The strip along Punta Ballena is where you need to be. Everything is extreme here. And unfortunately, that has a downside. Every season there are fatalities from "balconing". Drunken youngsters jumping from balcony to balcony in their hotel. Or they jump from great heights from the balcony into the swimming pool.
There are recent developments to improve the party and boozing image of Magaluf. The well-known hotel group Melia Hotels is active in this. Together with others, they developed a 5-year plan to turn Magaluf into a top resort. Let´s see what the future will bring.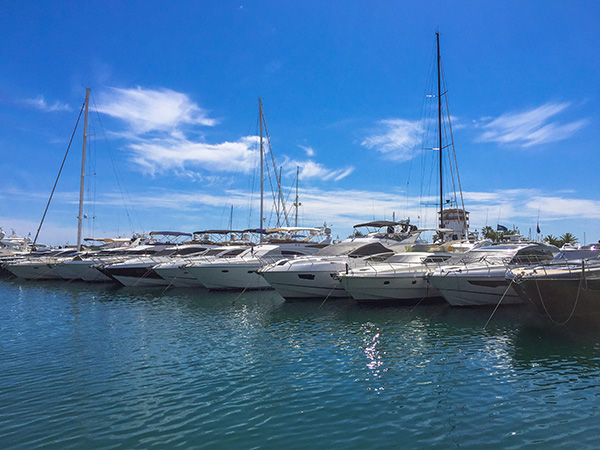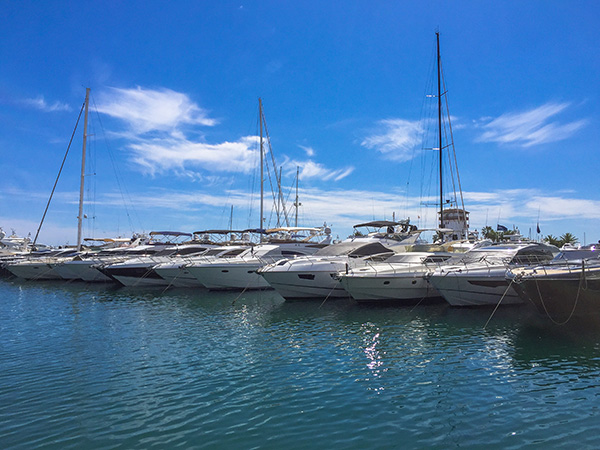 Portals Nous / Puerto Portals
Portals Nous is a gentle town that consists of Bendinat, El Toro, La Porrassa and Son Ferrer. Development started around the 1930s. Now it has about 2500 residents. There is a small amount of shops, bars and restaurants. It has excellent beaches. Closely is the extravagant marina of Puerto Portals. Here it is impossible to overdress. It is the place to meet celebs, businessmen and the nouveau riche. And with a bit of luck you can even spot some members of the Royal family. Bendinat and Costa d'en Blanes are the luxurious residential areas. The more uphill, the more expensive. Drive up and enjoy the magnificent sea views.
Portals Nous has two interesting beaches. Playa Oratori de Portals is the biggest and has fine sand and turquoise water. All facilities are present. It is possible to rent pedaloes, kayaks and jet skis. Have a drink and chill in Beach Bar Roxy. With views on the little island in front of the beach. Playa Oratori is next to Puerto Portals.
Cala Bendinat is the little sister. A sheltered sandy beach that gets busy in summer. Popular with families.
If you prefer to stay in a Beach Club the new UM Beach House Portals is a great option. Before, this was the famous Moods Beach Club. The Club has a natural Boho-style. Simple cuisine is transformed in a gourmet experience. DJs are playing Afro music. A cool place for the chic!
Golfers can choose from several close by golf courts. Real Golf de Bendinat has 18 holes and is set in a beautiful environment. Golf with views of the island of Cabrera, the Bay of Palma and the Bendinat Castle.
Around Palma you find T Golf & Country Club Poniente, Golf Son Quint and Golf Son Muntaner. All not further away than a 10 minutes' drive.
Families should definitely visit Marineland in Costa d´en Blanes. Watch the dolphins, sea lions and bird shows. Or the fishes in the Aquarium. More exotic animals live in the Tropical House. And for kids there is a special pool.
In Puerto Portals you can charter your own luxurious yacht or a power boat. It is a great way to see the Mallorcan coastline. Or have a stroll and see the beautiful yachts. There are 650 moorings which are for boats up to 60m. If you visit the island in December, you cannot miss the Christmas Market in Puerto Portals. Who does not want to have a Glühwein in this extravagant marina?
In Portals Nous you will find various shops that offer the typical touristy articles. There are some good supermarkets as well. For real high-end shopping Puerto Portals is the place to be. Gaze at the shop windows with fabulous designer clothing and exclusive jewellery.
The diversity of restaurants in Puerto Portals is huge. Flanigans is a real top restaurant. Even the King of Spain eats here when he is on the island. Cappuccino has a huge terrace. Always full of good-looking people seeking attention. Cappuccino also owns Tahini, the Japanese restaurant and sushi-bar. For delicious Italian food you go to Restaurant Ritzi.
In Portals Nous there are some good ones too. Like Restaurant Astir, Heroes or try the steak in Moo Moo´s.
There are plenty of accommodations in the Portals area. Some are very luxurious like St Regis Mardavall Resort from the Mariott Group. Seafront Hotel Bendinathas an idyllic location. Portals Hills Boutique Hotel is a lovely hotel in art deco style. Like they say themselves: Miami meets Mallorca!
There is a good night life scene in Puerto Portals. Dress to the max and mingle with the new rich and famous. Ritzi and Paradigm are great as they have terraces overlooking the port.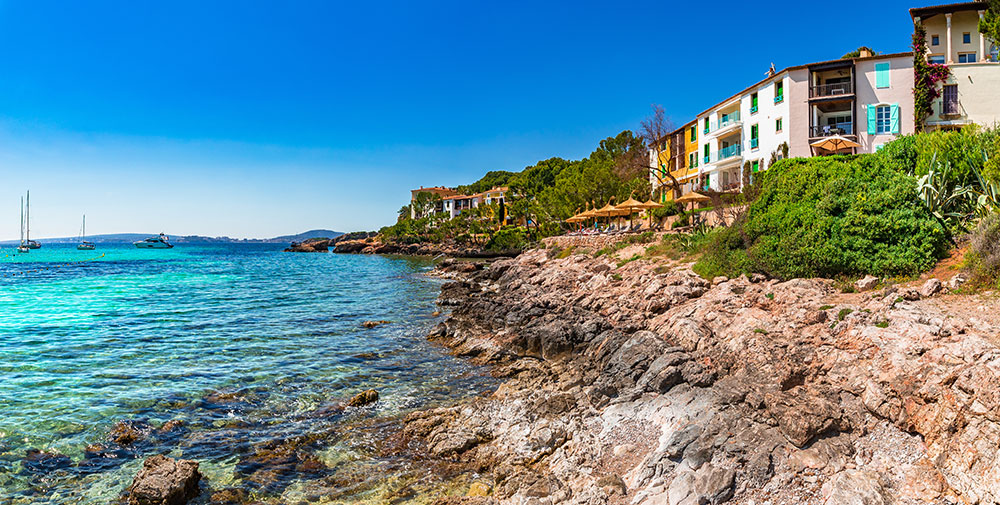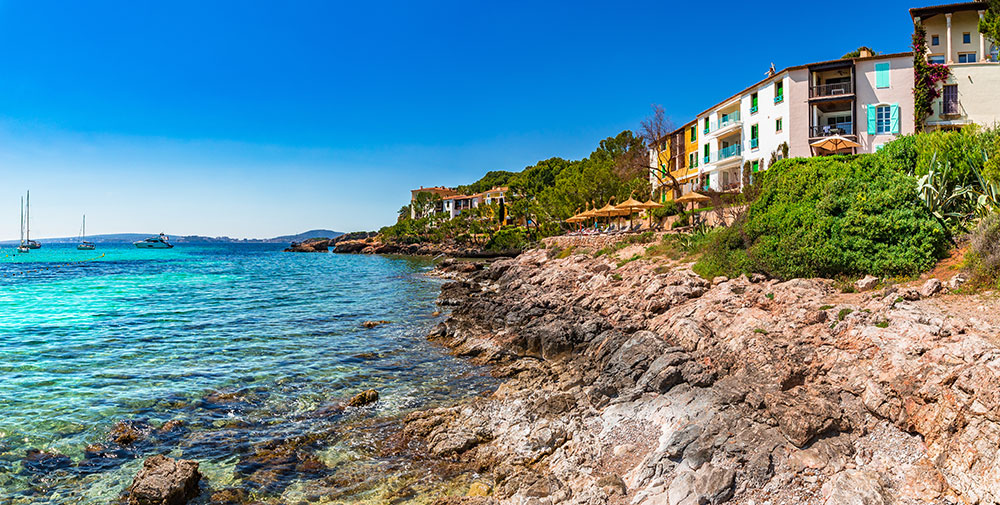 Bendinat
Bendinat is a residential area with many luxurious apartments and villas. Only 5 minutes away from Palma and close to Puerto Portals, Magaluf and Palmanova. Designed by François Spoerry, a French architect and planner of towns.
The story goes that Bendinat's name comes from Ben Dinat (great dinner). King James of Aragon has said the famous words in the 13th century after having a delicious meal in his tent here.
From a distance you can see Bendinat castle which dates from the 19th century. Currently a private property, so not open to the public.
The main attractions here are the little beach of Cala Bendinat and the 18 hole green Real Golf de Bendinat.
An excellent place to eat and sleep is Las Terrazas de Bendinat in Hotel Bendinat. Terrace with incredible sea views and high-end food and service. In the Lindner Golf Resort, you will find Niko´s Place. A tapas restaurant with a great selection of wines. In the same premises is Chumbo Pool restaurant where you eat next to the pool.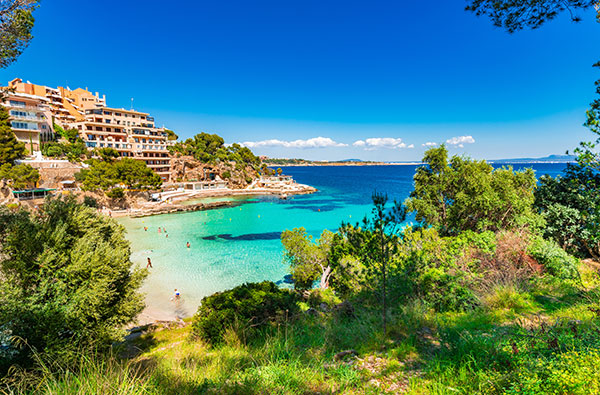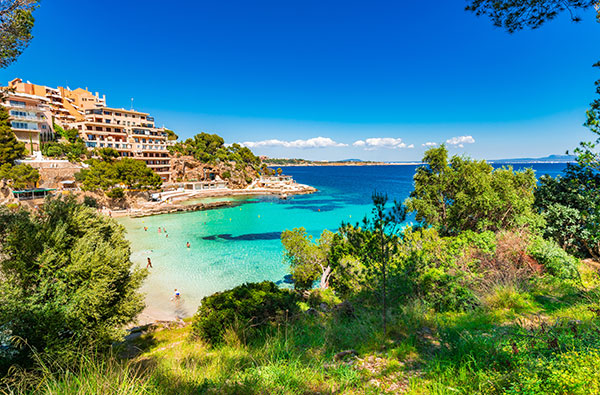 Illetas / Cas Catalá
This is the last coastal area we highlight in this blog. Cas Catalá is a stone´s throw away from Palma. Here the municipality of Calvia starts. The name Ses Illetes (or Illetas) refers to the three small islands.
In the 1950s famous people came to this area. Johnny Hallyday, Richard Nixon and Haile Selassie are some of them.
Illetas gets busy in summer but there is still a relaxed vibe. The beaches are sandy with turquoise water. The main beach is Playa de Ses Illetes. 120m long and 25m wide. Sun loungers and parasols are available. Also rent of kayaks, pedaloes and stand up paddle boards.
A smaller beach is Playa de Cala Comtessa. 350m² of sand surrounded by pine trees. With tranquil transparent water. At the back is private residential complex "The Anchorage". A very popular place for the jet-set in the 1970s and 80s.
The last beach is Cala Oli. A pristine sandy beach where you imagine yourself in paradise.
Beach Club lovers should spend at least a day in PuroBeach Club Illetas. A top Club with 109 sunbeds, sea views, a restaurant and wellness experiences.
Another Beach Club is Balneario Illetas. Existing since 1958 and still very popular.
Visit the underground caves in nearby Genoa. Discovered in 1906 and now open to public.
For shopping it is best to go to Palma. The nearest shopping mall is Porto Pi which is only 5 minutes by car.
There are many bars and restaurants in Illetas as well as holiday accommodations. High on the list is the restaurant in the legendary Hospes Maricel & Spa Hotel. A beautiful building with a frontline location.
Another good hotel is Hotel Riu Palace Bonanza Playa. Or adults only Barceló Illetas Albatros.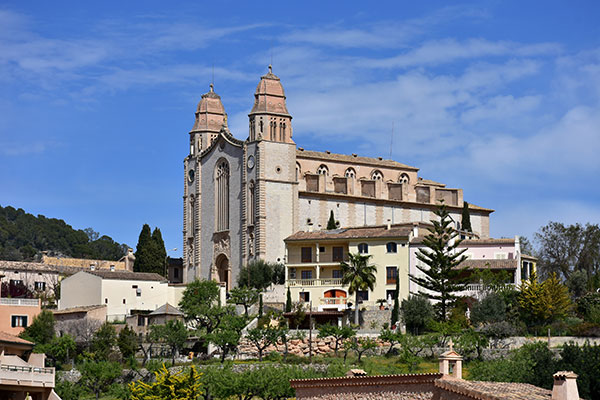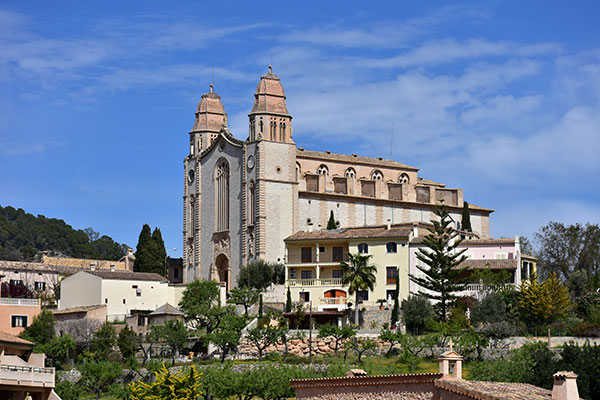 Inland villages of Mallorca
S´Arraco, Calvia town, Es Capdella and Andratx are some of the inland villages of the South West. Each of them with their own character.
Calvia village is an authentic town worth to visit. The historical houses are set in a rural environment. There are a few shops, bars and restaurants. The impressive church is from the 13th century. Various hikes start here.
S´Arraco is a very quiet village where you find some beautiful Mallorcan houses. In the past locals emigrated to France and sent their money to their families. They built the mansions that you still see today.
The main event in S´Arraco is the Nit de l'Art. An important yearly artistic festival held on the last Thursday evening in July. More than 100 artists exhibit their work in the streets. The festival is growing and every year it attracts more visitors.
Andratx is another authentic little village, but less attractive than Calvia. The rural environment is pretty with abundant orange groves, olive and almond trees.
If you read the books of Scottish writer Peter Kerr, the name Andratx can sound familiar to you. He and his family owned an orange farm outside Andratx. Read their funny stories in one of the six books. Also referred to as the Snowball Oranges Books. The last book describes their return to Scotland.
You don´t expect it, but the largest contemporary art centre is a spit away from Andratx. CCA Andratx is a building of 4000m² with large, flexible exhibition spaces. Again, set in a beautiful natural environment where there are several hiking routes.
Es Capdella is a cute village on the Puig de Sa Crane hill. It comprises about 72 hectares and the residents are of all nationalities. An attractive area to live due to its beautiful natural setting at 130m above sea level.
The environment is excellent for hiking. The Galtazo-Es Capdella trail is a popular route.
In 5-star hotel Castell Son Claret you will find restaurant Zaranda that has 2 Michelin stars. Head Chef Fernando P. Arellano uses fresh and local ingredients. As well as spices that grow in the own herb garden. A top culinary experience awaits you!
The South West is an excellent area for holidaymakers. Beach lovers will love it. But don´t miss the beautiful hinterland.
The team of Soller Properties wishes you an unforgettable holiday!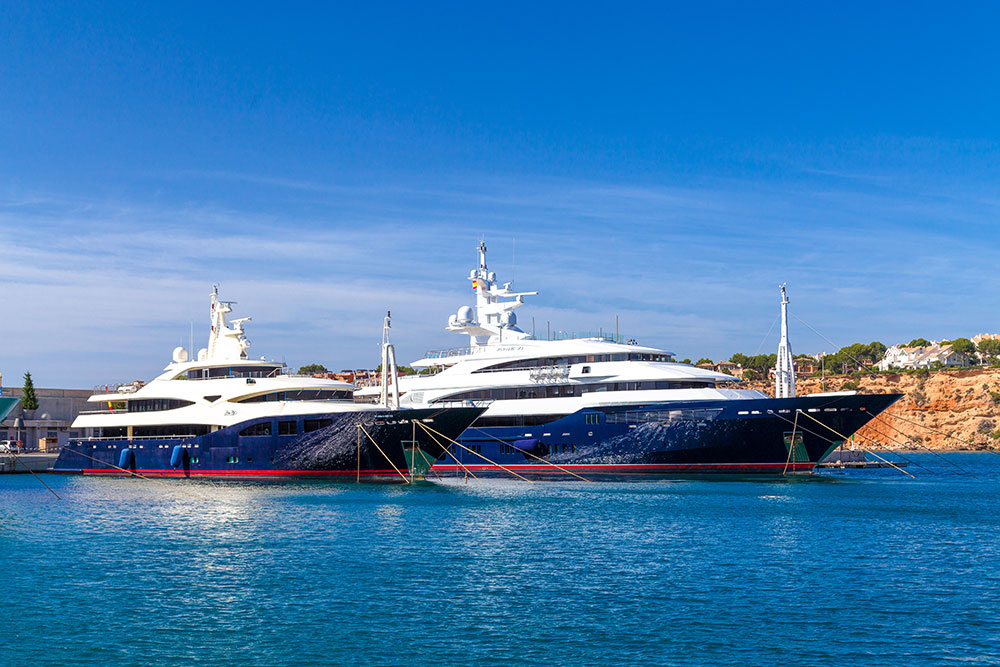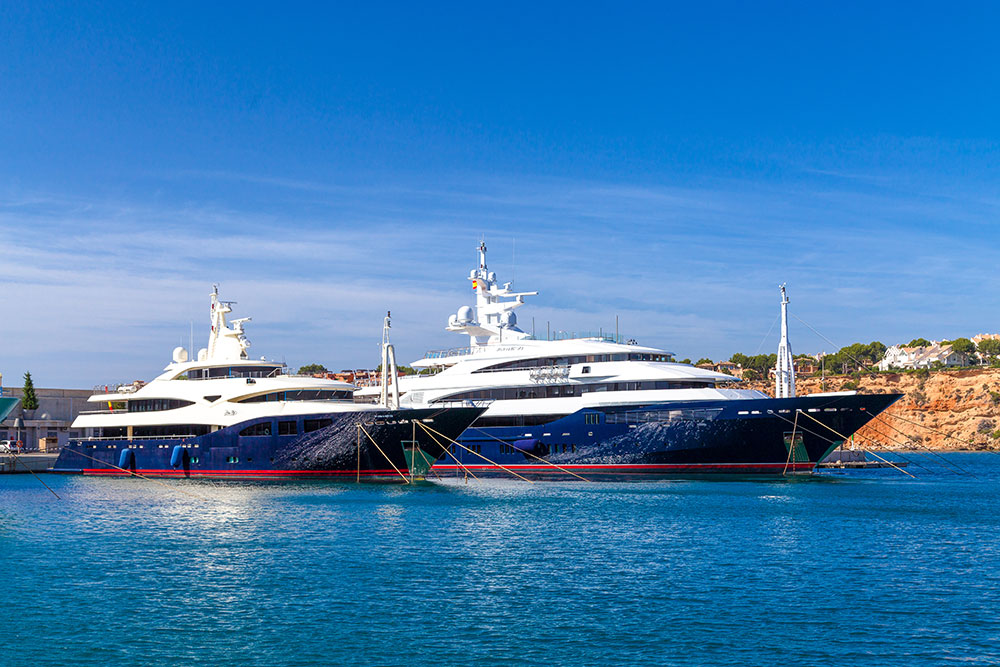 Majorca real estate
Looking to buy a property in Mallorca? Browse through the best handpicked apartments, villas, country houses for sale. Many people are searching for real estate in Soller in the west of Majorca.
These searches include the areas of Soller, Port de Soller, Fornalutx, Biniaraix and Deia.
Discover TOP properties for sale in Soller: click here
Register For Free To See Our Off-Market Portfolio
Many property owners opt for discretion when selling their property. Access our off-market portfolio by registering here.