Our third blog in the series "Where to stay in Mallorca" is about Palma, the capital of Mallorca.
Staying in Palma means an urban holiday in a trendy and elegant metropolis. Palma is unique; a city next to the Mediterranean Sea with a lot of history. Nice beaches, many shops, cafes and restaurants. And many things to see and do. It has a big airport and a huge port. Fifty per cent of the people in Mallorca lives in Palma. Early 2019 the population reached 420.000. Half of the people in Palma works in the sector of tourism. Palma is one of the most beautiful towns of Europe. Like her twin sister town Naples in Italy.
History
The history of Palma is long. This blog is not the right place to go into the details. So, we start at the moment that Palma became capital of The Balearic Islands. That was in 1833. The city started growing. The shipping business was booming. And more people settled in the region.
Halfway the 20th century mass tourism started to develop. Ever since the number of tourists grew. Latest figures show more than 12 million tourists coming to the island.
Airport
Son Sant Joan is the airport of Palma. It is 8km out of town. After Madrid and Barcelona Palma airport is the number 3 largest of Spain. The airport kept growing. The airport carried 7 million passengers in 1980. Now this number is about 30 million. There are about 180.000 plane movements per year. Public buses connects the airport with the centre and Arenal.
Seaport
The Port of Palma is the biggest of the 5 ports managed by the Port Authority of the Balearics. It consists of 4 parts. The commercial docks, the marina docks, the Poniente Quays and the West Breakwater. Along the whole port is a promenade. You can see fishing and tourist boats, yachts and freight carriers. Palma is Europe´s third busiest cruise port. Before Corona, 1.9 million cruise passengers would arrive in Palma this year. The most modern and biggest cruise ships land in Palma. Like Symphony of the Seas and Allure of the Seas from Royal Caribbean. From the ferry terminal ferry boats leave to the other Balearic Islands and the mainland.
Interesting sights
Overwhelmed by everything there is to see and to do? The Palma Pass is a good idea. This card includes visits to the main attractions. As well as public transport and discounts on tours and in shops. Another easy way to get around is the Sightseeing Bus. A hop on-hop off bus that drives along the main attractions. Tickets are available for 24 or 48 hours. Combination with sightseeing boat tour is possible. And now our list of interesting sights.
The Cathedral
The Gothic Cathedral of Santa Maria of Palma dates from the 14th century. Also known as "La Seu". This impressive church is a "must do". There are 61 stained-glass windows. Twice a year you can see the reflection of the large rose window below the other rose window. Together they form the figure eight. At certain places the touch of Antoni Gaudi is noticeable. Since 2019 it is possible to visit the roof terraces. This is a guided tour that you book in advance. La Seu is the only Cathedral in the world that reflects 100% in the water.
The Royal Palace of La Almudaina
Opposite of the Cathedral. This was an Arab fortress. It is a beautiful Gothic building with many tapestries and furniture. From the terrace you have great views. The chapel and the courtyard are worth visiting. It is the offical house of the King and his wife.
Banys Arabe (Arab Baths)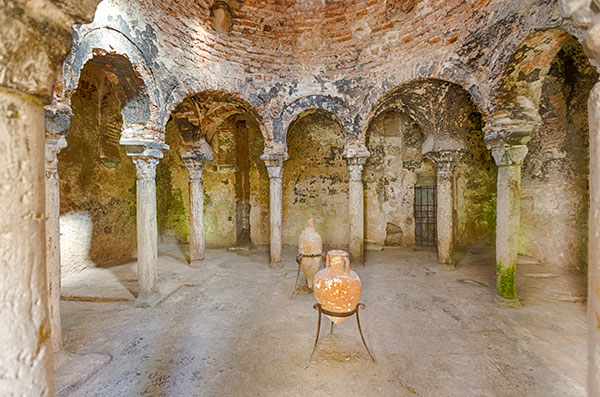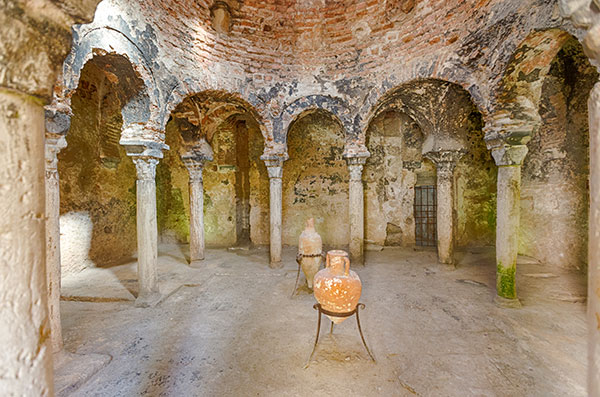 The Arab Baths are a stone´s throw away from the Cathedral. Dating from the 10th century. It is a tiny place with old Arab baths. The garden is beautiful. An interesting spot for a short visit.
El Casco Antiguo (The Old Town)
The sights mentioned above are all in the "Casco Antiguo" of Palma. A real feel good area. With narrow streets, medieval churches, typical archways and more. It is easy to walk around for at least half day. Don´t forget to look up as the buildings are beautiful.
If you do not want to explore it on your own, you book a guided tour. Options are: Walking, Cycling, with a Segway or electric scooter. You can also take one of the horse-drawn carriages near the Cathedral.
There is so much to do and see in this picturesque area. Plaza d´España is a large square. The statue is of Jaime I. The train and bus station on the other side of the the busy Avenida Alexandre Rosello. The bus station is also called "Estación Intermodal". Next to this is the station of the Tren de Soller, the old train to Soller.
La Rambla is not far from here. Apart from nice buildings there are many flower stalls.
An excellent example of Modernism is the building of the former Gran Hotel. It is now a cultural centre with changing exhibitions. You will find this building at Plaza Weyler 33.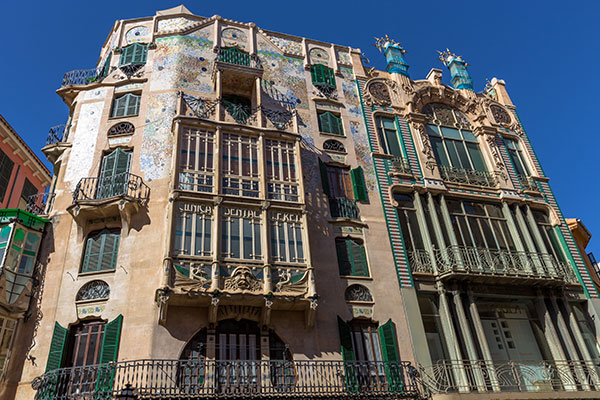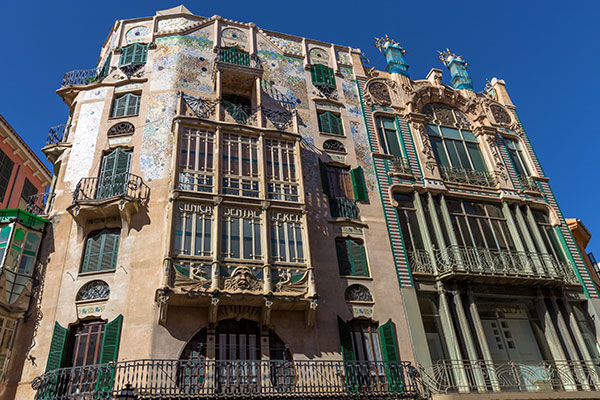 Hungry? Opposite is the building of former Forn des Teatro. Dating from the 19th century and with an art nouveau façade. The Forn des Teatro bakery closed its doors. The place is now taken by Fornet de la Soca. Try one of the typical cocas or ensaimadas.
On the Plaza del Mercat, you will see the buildings of Casasayas and Pension Menorquina. Both built late 1900s. There is a small street between the two. The buildings look similar. And again, you cannot ignore the influence of architect Gaudi. Gaudi lived for 10 years on the island and he definitely left his mark. Both are examples of the Catalan Art Nouveau architecture on Mallorca. Also known as Catalan Modernism.
El Paseo del Borne is a stylish avenue with impressive buildings on both sides. It is home to many designer shops like Louis Vuitton and Hugo Boss. As well as stores like Zara (Home) and H&M. Enter a few of them to have a feel how they built in the old days. Sit down on one of the many terraces and feel the good vibe of this elegant "Paseo".
In the heart of the centre is the Plaza Mayor. All major shopping streets connect to this main square. The buildings surrounding the square are offices and apartments. In the arch's gallery are some shops, bars and restaurants. Street vendors display their imitation articles and street performers entertain the public.
Plaza Cort is another interesting square. The building of the huge townhall dates from the 17th century. There are some nice terraces, shops and boutique hotels. Already an icon is the recently opened 5-star Hotel Mama from the Cappuccino Group. In the centre of the square is a huge olive tree. This tree is 600 years old, 7m high and very popular. Late 1980s the tree came to Palma from Pollenca. The "Olivera de Cort" is a symbol of peace.
From here it is a short walk to the Can Corbella building. Unique architecture in a style called New Moorish. The name of the building comes from the name of the pharmacy which was on the ground floor.
In the same area is Can Forteza Rey. A modernist building from 1909. Designed by jeweller Lluis Forteza Rey.
La Lonja is the old fish market building. An impressive construction designed by Guillem Sagrera. The build started in 1420. It took about 30 years to finish it. The style is Catalan Gothic. Nowadays La Lonja is open to the public. On a regular basis there are exhibitions.
La Lonja is also the name of the area where the building is. A very attractive part of Palma with trendy, outstanding bars, clubs and restaurants.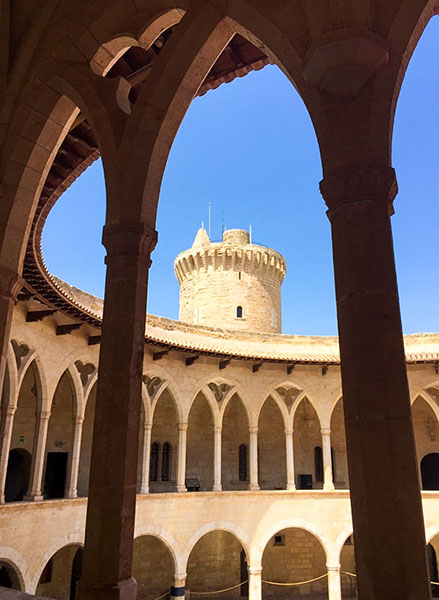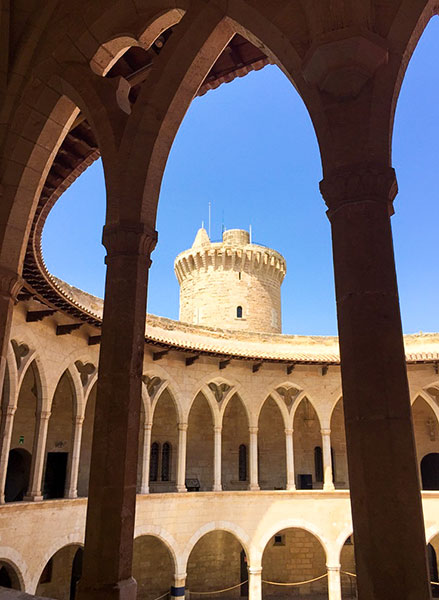 Castell de Bellver
We leave the old town and head 3km to the west of the centre. Here is the Bellver Castle. A Gothic castle built in the 14th century for King Jaume II. At first it was a house of the kings of Mallorca. Later it became a military prison. It is one of the few circular castles in Europe. From the castle you have outstanding views over Palma bay.
Pueblo Español
Spain in a nutshell. That is what Pueblo Español is. An open-air museum in the Son Espanyolet district. After 2 years of construction it opened its doors in 1967. About 6500m² of reproductions of Spanish streets, important buildings and squares. Like for example some parts of the Alhambra Palace in Grenada. Today it is not only for tourists. There are offices, exhibitions and it's a venue for events. Every year in December one of the best Christmas markets on the island takes place.
Gardens of Palacio Marivent
Palacio Marivent is the summer house of the Royal Family. Situated in the district of Cala Major. The Palace is the work of architect Guillem Forteza. Construction took from 1923 to 1925. The name Marivent comes from Mar i Vent, which means sea and wind. In 1973 the Balearic Government donated the estate to Juan Carlos and Sofia. At that time Prince and Princess. Many famous people came to visit. Like Lady Di and Prince Charles and Michelle Obama. But also Soviet leader Gorbachev and the Clintons visited the Palace.
Most of the year the palace gardens open to the public. They are well maintained, and most plants are endemic. There are 12 sculptures of Joan Miró exhibited. Parking is a challenge, so it is better to come by public transport.
Museums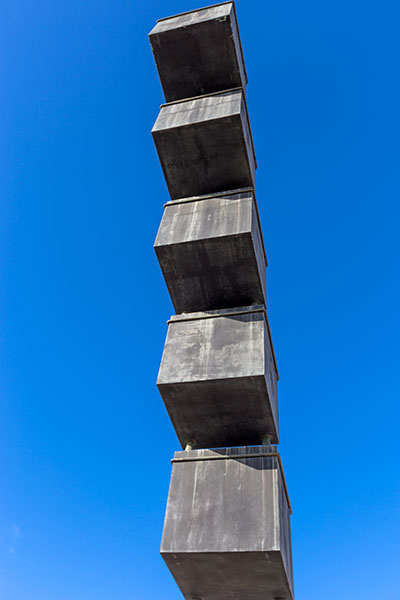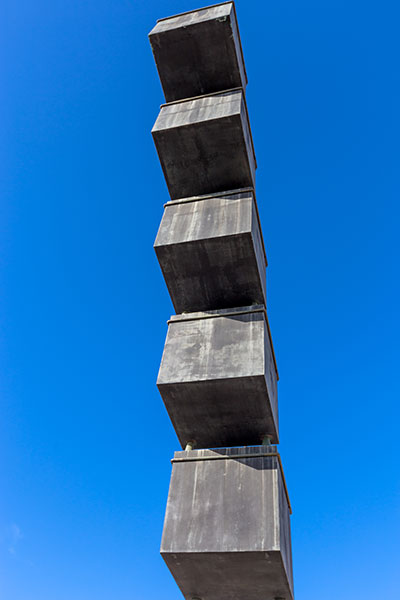 Es Baluard Museu d'Art Contemporani de Palma. This is the biggest contemporary art museum in the Balearics. It opened in 2004. Situated in a former military fortress, which is part of the town wall. It has 7 different areas in- and outside. In total there about 700 pieces of art exhibited. Paintings, drawings and other art works dating from the end of the 19th century up till now. Works from a.o. Picasso, Sorolla, Miro and local artist Barcelo.
Casal Solleric is a superb mansion with a beautiful arched courtyard. It dates from the 18th century. Built by Gasper Palmer. At first it belonged to Miquell Valles Orlandis, marquis of Solleric. Later it became the property of the Morell family. In 1932 it got the status "protected". Late 1970s the council of Palma bought it. Today it used as exhibition hall.
Museu de Sa Jugueta. Said to be the best toy museum in Spain. It has thousands of toys from the 19th century up till now. The toys come from all over the world. Antique dolls, cars, wooden horses and much more displayed on 3 different floors. Unfortunately, their website is in Catalan. But >click here to see some photos and get a feel.
The last museum in this paragraph is the Pilar and Joan Miro Foundation. Joan Miro was born in Barcelona. He gained fame as painter, ceramicist and sculptor. His works represent the movement of Surrealism, Experimentalism and Dadaism. After meeting his Mallorcan wife Pilar they settled on the island in 1956. The museum shows his artwork and the related creative process. For more than 30 years the couple lived and worked here. Miro died in 1983.
Art Galleries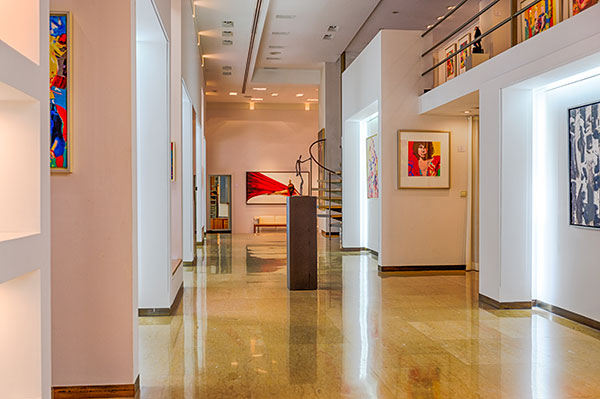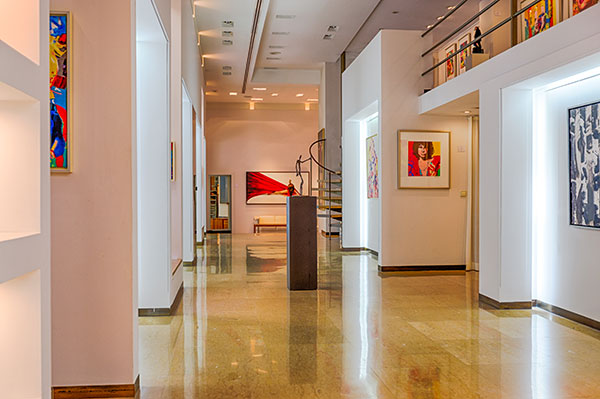 There are many cool art galleries in the heart of Palma. Gerhardt Braun Gallery has three different buildings in the Calle Sant Feliu. Full of colourful paintings and modern sculptures.
GALERIA K in the old town of Palma is full of modern art. It displays the works of international artists.
Gallery Red is one of our favourites. Like they say themselves: a unique place where art meets fashion. The gallery concentrates in obtaining popular works from contemporary and post-war artists. The interior decorating part shows funny doecorative items from the 20th century. Fashion wise, Gallery Red displays selected design handbags and accessories. You might find a limited edition of a Chanel or Gucci.
The slogan of Ahoy! Art Gallery Palma is "Only for Optimists". Michael and Renate Pentzien run this gallery. They only show art items they like themselves. The gallery never gets boring as they change on a regular basis. Every week they display new pieces.
Stick no Bills is very different. A great poster art gallery in Costa d'en Brossa. Specialized in vintage poster art and retro travel poster design.
El Palau de Congressos (Congress Centre)
Palma Convention Centre opened its doors in April 2017. Melia Hotels International manage the Centre. It is a large space for congresses and conferences. And host concerts and exhibitions as well. The project involved the Balearic Government, the City Council and the Melia Group. Designed by architect Francisco Mangado. A unique design with spectacular sea views. Sustainability is a key factor in the whole design. Materials used add to sustainability. And Melia Hotels International created "Eco-Meet". This is a management programme for major events. It emphasizes on minimal environmental impact. Next to the congress centre is Hotel Melia Palma Bay. A seafront hotel for businesspeople and holiday makers.
Shopping
Palma is a paradise for shoppers. There is something for everyone's wallet. A large variety of trendy shops and high street stores. Authentic covered markets and shops specializing in luxury items. Much of it concentratates in the heart of Palma. There are also three excellent shopping centres.
Paseo del Borne
This stylish avenue is home to several luxury brands like Rolex and Louis Vuitton. You will also find high street stores like H&M and Zara. The clothes shop of Zara is in an impressive building, which was once a cinema.
A must visit shop is Rialto Living. Located in Calle San Feliu, a side street of the Paseo del Borne. An 800m² of lifestyle related items. Think of quality interior products, books, fashion, flowers, art and gifts. Café Rialto is in the same building. The store is definitely worth a visit. Part of the shop is in a mansion in baroque style. The name comes from the Rialto Cinema which was on this location between 1926 and 2002. In 2007 Klas Käll (Gant brand) and Barbara Bergman opened Rialto Living.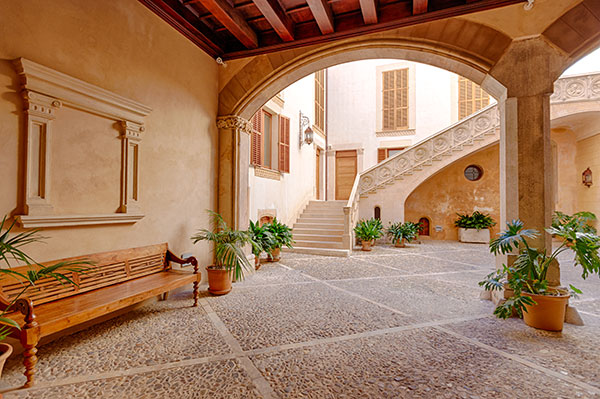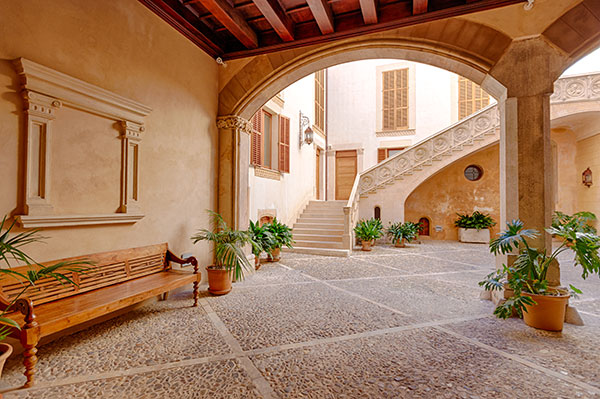 The narrow streets in the old town are close to the Paseo del Borne. Stroll through them and feel the great atmosphere. Calle Can Veri is a very special street. With some art galleries, beautiful buildings and feel good shops. No doubt you will climb the stairs in Calle Quint. A tricky one, because in how many steps do you take a stair.On the corner is an old-fashioned toy store "La Industrial". This is the oldest toy store of Palma. Stop in Mallorca Puzzles in Carrer de Sant Nicolau. This narrow shop is always busy. Full of brain teasers and educational puzzles. No problem to try them out. It is easy to stay here half an hour or longer. But be gentle: if you spend so much time playing, don´t forget to buy something. Chocolate addicts can marvel at the chocolate fountain wall of Vanini. The shop of this Swiss chocolate brand is in Calle Jaume II. Apart from delicious chocolate they also sell fantastic ice-creams.
Avenida Jaume III
A busy shopping street connected to the Paseo del Borne. Here you can find clothes, shoes, accessories and many more. The El Corte Ingles has a store. This is the smaller department store. The bigger one is in the Avenida Alexandre Roselló.
Calle Sant Miquel and Calle del Syndicat
Almost parallel, two shopping streets run through the centre. Calle Sant Miquel and Calle del Syndicat. Calle Sant Miquel is the upgraded version of the Calle del Syndicat. Both are pedestrian streets. In Calle Sant Miquel are several beautiful buildings. Many boutiques and shops selling local products. Have a coffee in the Cappuccino Grand Cafe. The premises inside is stunning. But the real gem is the back garden. A patio with a fountain in the middle where pigeons drink their water. An oasis in vibrant Palma. Calle del Syndicat houses many different shops with very acceptable prices. A funny shop is the Mallorca Duck Store. Hundreds of gummy ducks are waiting for a new home. This is a great and personal gift.
Mercat de Santa Catalina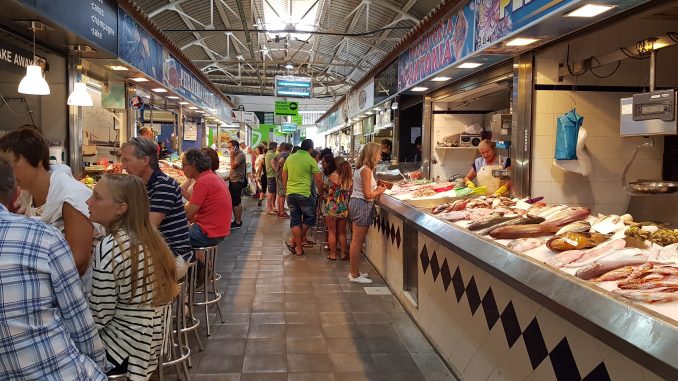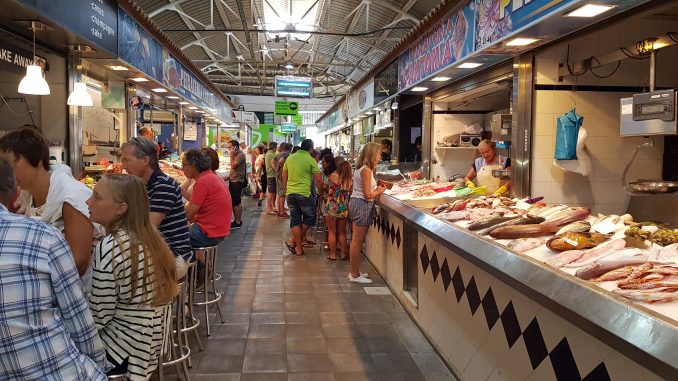 In the Santa Catalina district, you will find the oldest covered food market of Palma. Built in 1920 and still today a very attractive and authentic place. This traditional market has more than 50 stalls. Selling fresh fruits, vegetables, cheeses, meat, fish etc. It is a busy market where food lovers meet. Visited by locals, top chefs and tourists. The big majority of the products is local and of superb quality. Saturday is the busiest day. The market is open from Monday to Saturday from 07.00 hrs to 17.00 hrs.
Santa Catalina District
And if you are in the Santa Catalina area you should stroll around. It is such a trendy neighbourhood. Fishermen lived here as the sea was close. Santa Catalina was a saint of sailors and merchants. Ramon Salells, a Mallorcan trader made a promis to Santa Catalina. If he would survive his overseas travels he would survive his overseas travels. He stayed alive and built the Hospital of Santa Catalina in 1343. Especially for old merchants and sailors.
Many of the houses you see today are authentic. With the typical Mallorcan shutters, small patios and elegant balconies. Some of the bigger houses date from end 1800s. Built by those who came back from Cuba. Known as Indianos.
The mills in Es Jonquet and Calle Industria refer to the time that bread makers lived here as well. Santa Catalina is now a sought-after area. With its fashionable bars, cafés and restaurants it is another cool area of Palma.
Mercat de l´Olivar
Mercat de l'Olivar is the largest covered market in Palma located at the Plaza de Olivar. The building dates from 1951. Renovated a couple of years ago. It is an interesting, enjoyable place to visit. A traditional market offering excellent fruits, meat, fish, cold cuts and much more. All local and fresh. There are several restaurants and bars. Gastronomical events, like show cooking, take place. Apart from gourmet products you will see florists, hairdresser and other businesses. Open from Monday to Friday from 07.00 to 14.30 hrs. And on Saturdays until 15.00 hrs. If you love food, it is easy to spend half day here.
Shopping Centres
Palma has various shopping centres. Three of which are worth mentioning.
Centro Comercial Porto Pi
Porto Pi opened its doors in 1995. For a long time, it was the only shopping centre in Palma. Located at the promenade along the sea. All the shops you expect to see in a shopping centre are here. Brands like Zara, H&M and Mango are here. Huge parking space.
Centro Comercial Fan Mallorca
Fan Mallorca is the newest and largest shopping centre of Mallorca. An open-air, modern complex about 5km from Palma centre. The Carrefour Group developed the project. The whole project had a price tag of 190 million Euros. In September 2016 the centre opened. In total there are 120 establishments. Famous brands like Media Markt, Primark and Starbucks opened a store. Furthermore, there are cinemas and restaurants. Parking facilities are good. Two years after opening it received the award for "Best Large Centre".
Mallorca Fashion Outlet
Mallorca Fashion Outlet (Festival Park) is about 10 minutes from Palma. A popular outdoor shopping and leisure complex. The centre opened in 2002. More than 60 high-end stores offer their items against a discount between 30 and 70%. Here you find international brand names. Like Ralph Lauren, Nike, Simone Perele and Tommy Hilfiger. There ar several eateries, an indoor karting centre and a huge cinema complex. For kids there are some playgrounds. Parking is easy. Mallorca Fashion Outlet is a nice shopping centre where you shop till you drop.
Restaurants
There are endless restaurants in Palma. From simple to posh. From tapas to complicated 5-course menus. All international cuisines are present. It is impossible to give a complete and honest overview in this blog. That is why we only mention the restaurants we ourselves. We prefer to share our own experience rather than listing the TripAdvisor list.
Tast Club is a stylish restaurant in a beautiful building in the heart of Palma. It is challenging to find, but once there you will love the exclusive interior. It breathes the feel of a private members club. The food is delicious. On the menu are not that many dishes, but you have a good choice of excellent tapas.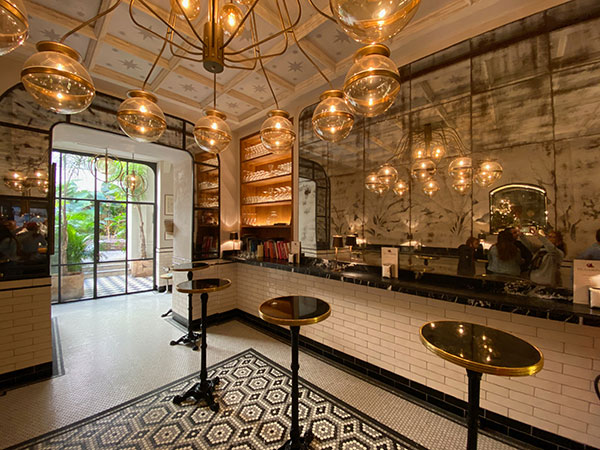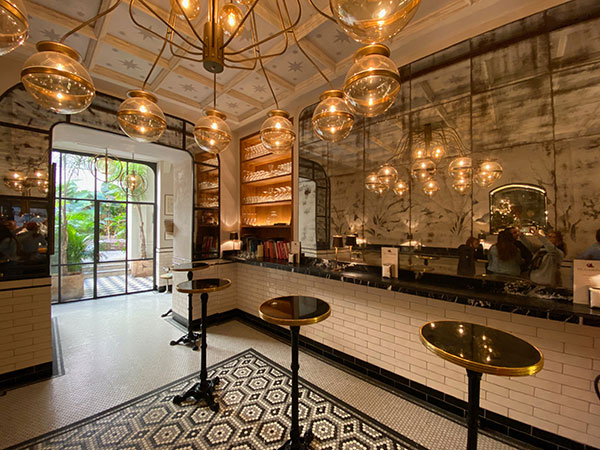 El Camino is a trendy tapas restaurant with a unique concept. The restaurant has only one table to sit 8 people. The cool part is the long bar with stools. You see the chefs preparing your dishes. Have a glass of excellent Spanish wine. Share the tapas which consist of seasonal ingredients. Always busy, so a reservation is wise.
Mark Fosh is a Michelin-star restaurant. A meal in Fosh is a culinary experience you will never forget. Top chefs cook with local products and seasonal ingredients. Some coming from their own Fosh Farm. The setting in the historical Hotel Convent de la Missio is elegant and special. Eating in a Michelin-star restaurant does not have to be too expensive. A great opportunity to try the Fosh dishes is the 3 or 5 course weekly lunch menu. Price of the 3-course lunch menu starts at 29.50€ excl. drinks. Marc Fosh is in the old town.
A great spot to taste and buy some local products is Mallorca Delicatessen by Mateu Pons. Patés, mermelades, wines, olives, cold cuts all from the region. They have a menu with inspiring names like "pan de tio Pep" (bread from Uncle Pep). The Mallorcan etagere makes you familiar with different local delicacies. Mallorca Delicatessen is on the Plaça Weyler.
In the Santa Catalina district, you must try The Duke. Having a meal in this groovy place is different. A mix and match of different cooking styles and cuisines of the world. All with healthy ingredients. No cream or butter here. A concept that is very successful as it is always busy.
In the La Lonja district are many restaurants. We went to Forn de Sant Joan and we recommend this place for an excellent meal. Recently the restaurant changed its name into Forn. Housed in an old bakery (forn) from the 19th century. The basis of the menu are seasonal products from the markets in La Lonja. Restaurants Ombu and Koa are from the same owners.
Also, in La Lonja is Wineing. This is the place to go if you love tasting wines. They serve the food at the table. But the wines you pour yourselves from the 40 bottles that surround the tables. Upon arrival staff explains how the system works. Tapas are good.
How different is Mercat 1930 in the Passeo Maritimo. A gourmet market with a fashionable design. A wide range of food, like sushi, oysters, burgers and Italian. Also good for Mallorcan food.
Ca´n Brando is part of the Brondo Architect Hotel. Set on the first floor this restaurant is a well decorated place with tasty food. There is a large terrace in the interior courtyard.
The last restaurant is Ritzi Palma that is part of the BO Hotel. Like the Ritzi restaurant in Puerto Portals they serve fine Italian food. Not open on Sundays.
Nightlife
Nightlife in Palma is vibrant. Bars, cafés, clubs and disco´s.
A remarkable place to have a cocktail, cava or champagne is Abaco. In the old town you will find this illustrious place. Step inside and absorb the interior decoration. Antiques, abundant flower arrangements, fruits piled up like a piece of art. Mix this with antique furniture, painted walls and vintage baroque-style mirrors. And to complete the picture the background music is classic. A unique cocktail bar!
La Lonja en Santa Catalina are great areas to find bars and cafés. As well as the old town.
Kaelum Club plays a lot of classic hits. Put your dancing shoes on and move your body until they close. Every day from 17.00 – 23.00 hrs you can join "Las Tardes Al Sol" on the terrace. Time to chill and have a bite and a drink.
The best Mallorcan nightclub is Titos. A Club with international allure at the Passeo Maritimo. Party with music played by the best DJs. Or dance in one of the three dance rooms on different music styles. There are different VIP areas for a more exclusive experience.
Events
Every year the city of Palma hosts many events. We will focus on a few big ones.
Palma Marathon
Every year the Palma Marathon attracts thousands of international athletes. Last year there were 9000 participants. There are three distances to choose from: Marathon, half Marathon and 10km. These runs take place on the Sunday. Saturday afternoon is the kids run. The whole weekend there are activities, like an expo, the pasta party and a breakfast run. The trail goes over the promenade and through the city centre. This year the Marathon is on 11th October 2020.
Nit de l'Art
A fantastic cultural event held every year in September. During the "Nit" Palma changes in an artistic hub. Thousands of people stroll through the streets of the city centre. Although the name is Nit (night), it actually lasts for 3 days. The 23rd edition of this spectacle is on 19th, 20th and 21st September 2020. This event marks the beginning of the artistic season. Museums, art studios and galleries open their doors to the public. It is also the inauguration of new expostions. You have nothing with art? No problem. This is an amazing event for everybody.
TaPalma
TaPalma is a 5-day festival where tapas are central. More than 50 eateries offer traditional and innovative tapas. And lovely cocktails. The average price is around € 2.50 per tapa. TaPalma attracts thousands of visitors every year. There are special tapas routes available. The idea is to hop from one participant to another. Try a tapa, have a drink with it, then go to the next one. Each year a jury chooses the best tapas and the best chef. For 2020 you put the dates from 27th November to 1st December in your agenda for this event.
International Boat Show
A yearly event that attracts more than 40.000 people to Palma. Due to Corona there was no International Boat Show in 2020. Yet, the organizers already announced the dates for 2021. The boat show will be from 30th April to 4th May of 2021. The so-called sea night is set for 1st May 2021 from 11.00 until 23.00 hrs. Venue is Moll Vell, close to the La Lonja district. Over 600 boats, half of which are in the water. More than a sixth are super yachts (longer than 24 metres). Representatives of the nautical industry expose their business. Entrance price is 8 euros for an adult.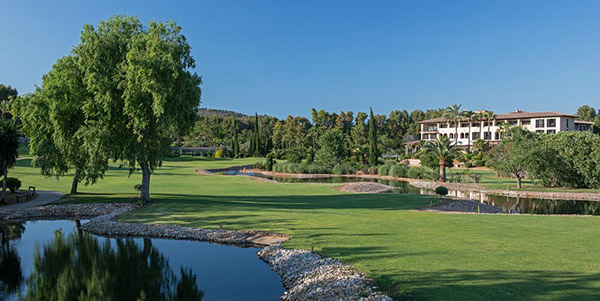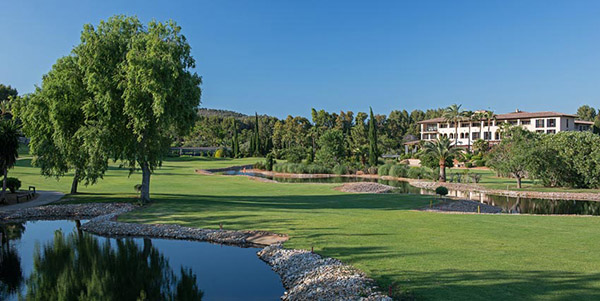 Golf courses
Mallorca is an excellent destination for golf enthusiastic. There are more than 20 courses spread over the island. Within radius of 5km from the centre of Palma there are three.
The closest is Golf Son Muntaner. Only 4.4 km away from the city centre. A challenging golf course with 18 holes and a nice design. In 2016 they started sowing new varieties of grass. As a result, the quality of the green improved. Environmental management is important. So, less use of chemicals and saving water. It has the biggest putting green on the island.
Golf Son Quint is 4.6km away from Palma. Open since 2007 and the newest green on the island. It has 18 holes. From some of the holes you have great views of Palma. There is a relaxed dresscode: since 2017 it is ok to wear t-shirts and jeans. Women can even wear shirts without sleeves.
Golf Son Vida is about 5km away. This course exists since 1964. It is the oldest on the island and has a good reputation in Europe. It has 18 holes, a nice lake and a renovated Club House. On the Golf course is a 5-star Sheraton Hotel.
Twenty car minutes from Palma you will find Golf Real Bendinat. A popular 18 holes green with excellent views and a lot of nature. Existing since 1986.
Click here to see all the golf courses that are less tan 20 kms away from Palma.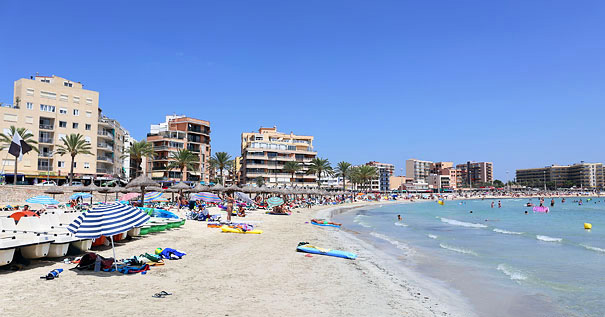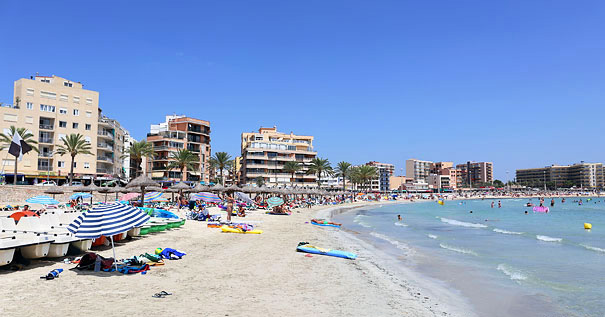 Beaches
Palma is more than urban life. It has very good beaches. From Cala Major up to Arenal.
Cala Mayor is a Blue Flag sandy beach. It is the closest beach to Palma. A bit more than 10 minutes by car. It has a length of 250m and a width of 30m. It consists of 2 parts divided by a pier. As it is so close to Palma, Cala Mayor gets very busy in high season. In this period parking is a challenge. The water is very clean and clear. If the weather allows it is possible to surf here. All facilities are available on the beach including water sports. Cala Mayor is easy to find and has easy access.
Playa de Palma is 4.5km long and 30 m wide. It stretches from Can Pastilla up to s´Arenal Soft white-golden sand and a clear turquoise sea. The whole beach has the Blue Flag. The water is shallow. All amenities you wish for are there. At the back of the whole beach is a wide, car free promenade. Ideal for cycling, walking, running and skating. This promenade connects to the one along the main harbour of Palma. In fact, you can go from Arenal to Porto Pi without interruption. And always with fantastic sea views.
Cala Estancia is a small beach next to Playa de Palma. 240m long and about 40m wide. It has a semi-circular shape which give you the feel of a natural pool. Many facilities to find on this white sandy beach. It gets very busy in summer. Limited parking space.
Can Pastilla is a wide sandy beach near the airport. The sand is white and the sea turquoise as ever. A good beach for families. All facilities are present. The water is shallow. Many kite surfers when the weather is good for that.
Cala Portixol is a nice sandy beach that attracts young people from people. No water sports here. Portixol is an old fishing village and has a lot of charm. Over the last years Portixol got very trendy. The little fishing houses got sold and renovated. Used as homes, bars and fashionable restaurants. The little harbour between Palma and the village is picturesque. From here it is an easy walk to the centre of Palma.
Right after Portixol you´ll find Ciutad Jardin. This beach is 500m long and 35m wide. A lovely sandy stretch popular with families. There is even a playground for the kids. And with ample facilities. The water is shallow, clean and calm.
Cala de Sant Antoni is a small natural beach. It does not have many visitors. On the beach is much Posidonia. The water is less turquoise than at some other places. But the big advantage is that it is quiet and raw. No facilities.
Arenal
Arenal is a pretty long beach of white sand. In summer many German youngsters occupy the beach. The presence of many palm trees at the promenade gives a nice feel. It belongs to the district of Llucmajor. High apartment buildings from the past. But if you look at the sea it is turquoise and clear. At the promenade you will find souvenir shops, bars, cafés and restaurants.
Ballermann 6
Who hasn't heard of Ballermann 6? Hated or loved. It all happens in the Ballermann 6 area. Party life to the max. What Magaluf is for the English is this area for the Germans. Ballermann 6 is sun, beach, drinks and parties. Very popular with young people who like to be drunk on the beach by noon. Noisy German bachelor parties are no exception. Neither "all together drinking" from a bucket of alcohol. Ballenrmann 6 is Balneario 6. There are 15 Balnearios in total. A balneario is an open hut where you can eat and drink. But no Ballermann is as famous as number 6. There is a lot of merchandising going on: t-shirts, caps, bags and hats.
The Megapark is in the immediate vicinity. A party hall full of drinks, food, music and fun seekers. In October it houses das Oktoberfest.
To meet the German guests in a culinary way, the range of German (fast food) food is large. As well as the kebab shops.
Der Bierkönig in the "Schinkenstrasse" (ham street) another popular party spot.
In 2014 an ordinance came in place to restrict the celebrations in summer. But despite high fines this is still a place to party.
There is a German movie called "Ballneario 6". With their last money two young guys go to Mallorca to live their dream and be part of the famous beach parties. The producers of this comedy had to use real alcohol so that the actors would be convincing.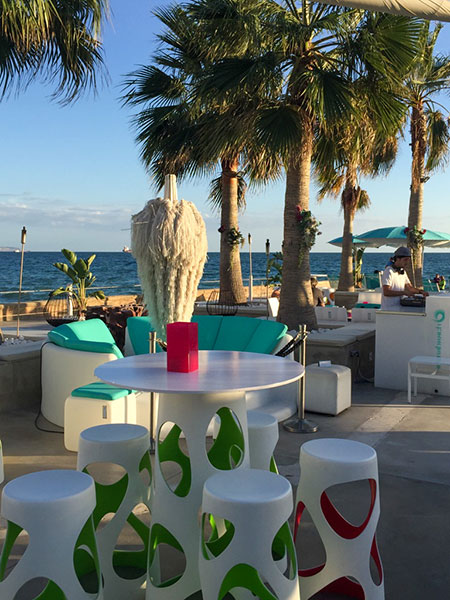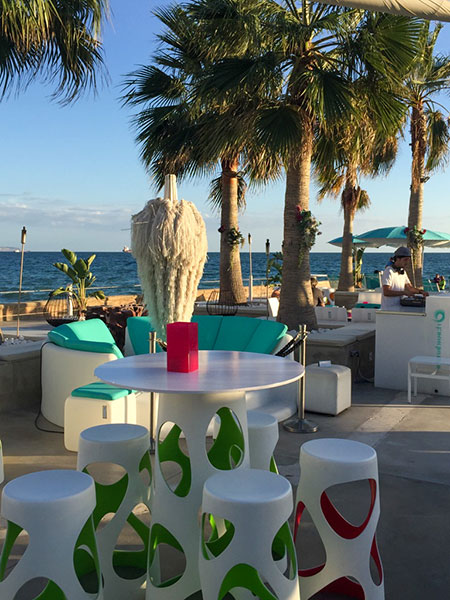 Beach Clubs
The PuroBeach Club opened in 2005 and is at Cala Estancia. Sunbeds at the pool, wellness treatments, food and drinks. All this with stunning sea views. Inspiration for the food comes from Marrakech, Melbourne and Miami. PuroBeach Club is well-known for its music.
Anima Beach is a short walk away from the Cathedral in Palma. The Club is right above the sea. They do not have a pool or changing facilities. But it is an excellent and hip place to chill. They have sunbeds and a large terrace. Enjoy a beautiful sunset with a delicious cocktail in your hand. They offer a range of finger foods. The large white raffia umbrellas are striking. After 18.00 hrs the public gets younger and the club gets the nightlife feel.
The Assaona Gastrobeach Club is in Portixol. Assaonar means "to season". This is the philosophy of the Club. The perfect ingredients for an unforgettable stay. There is an inside area, outside terrace and they have sunbeds on the beach. Quality food and music from local DJs. Every Sunday afternoon from 16.00 to 19.00 hrs it is "Afterlunch".
Palma Aquarium
Open 365 days per year and definitely worth a visit. The Aquarium has different areas. In the Mediterranean section you see rays, octopuses, sea horses, corals and much more. It also has a "touch-pool". Outside there are more than 10.000m² of Mediterranean gardens. Here there is a playground for kids and a turtle tank. In the Jungle you will see a 7m high waterfall. In this miniature Amazon rainforest, you will find the piranhas. Tropical Seas has 25 aquariums full of tropical and colourful fish. In the Giants Corner is an exposition about whales. Big Blue is the home of 11 sharks. The last area is the Jellyfish one. Palma Aquarium is a nice day out with the family.
Aqualand El Arenal
Aqualand is a large water park where everybody has fun. With adventurous slides for adrenaline seekers and a special water area for children. Also, a pool with waves up to a meter. You prefer to chill? Try the hydro massage or go on the river to relax while floating. A perfect excursion on a warm summer day!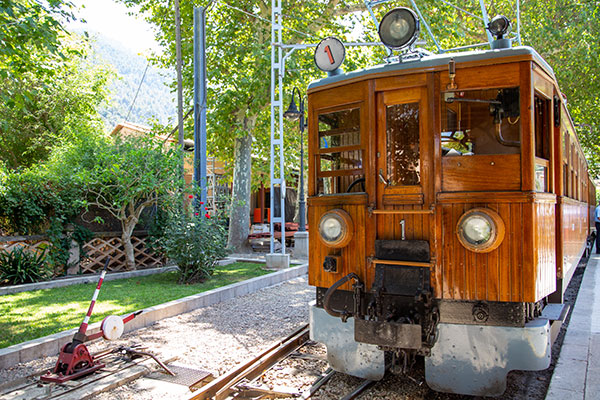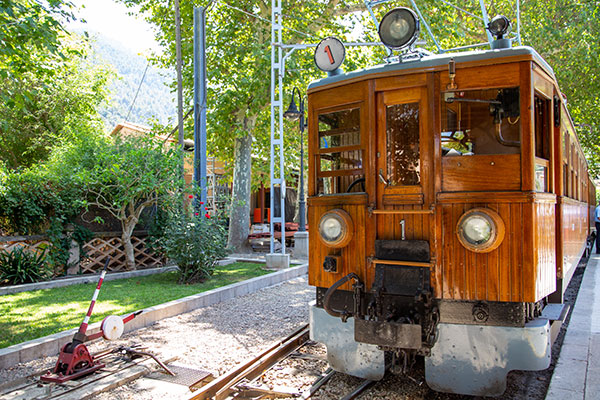 Tren de Soller
Step on the old wooden train from Palma to picturesque Soller. And have a spectacular ride through the mountains. It runs through 23 tunnels and over several bridges. The beginning of the ride is less interesting as you will see the outskirts of Palma. But as soon as you leave Palma behind the excitement begins. The train inaugurated in April 1912.
Take your time in historical Soller before you change to the old tram to Port Soller.
Rent a Vespa
Get the vintage vibe and rent a Vespa scooter for a couple of days. It is an ideal way to explore Palma and its surroundings. There are several companies that rent Vespas but we can recommend Bullimoto. A customer focused company with offices in Palma and Port de Soller.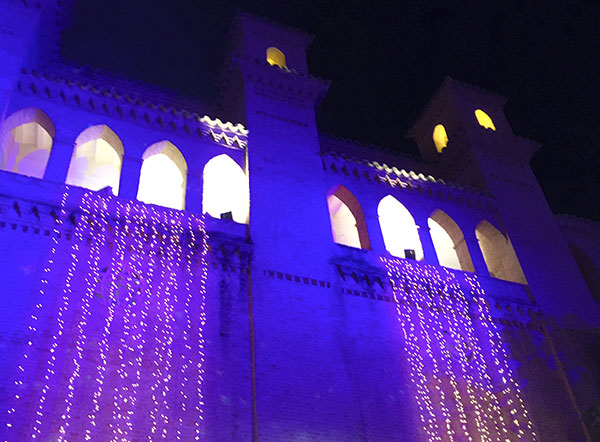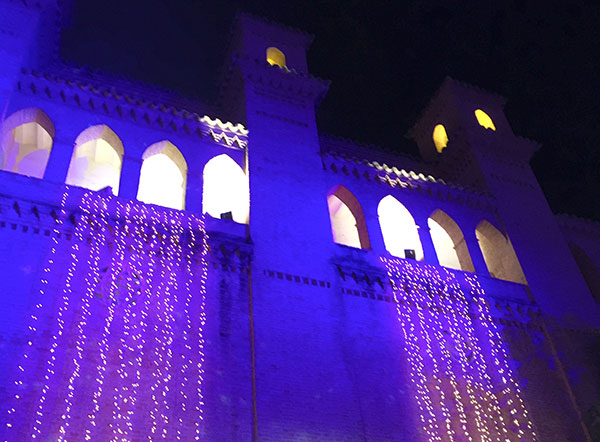 December in Palma
If you say Palma, you think of sun. But Palma is also worth a visit in December. With all the shopping possibilities it is a great city to buy your Christmas gifts. There are nice Christmas markets in Pueblo Español and in Puerto Portals. In the centre there are many stalls selling Christmas related articles. And there is an ice rink next to the train station. But the most attractive thing about Palma in December is the Christmas lights. Last year 235.580 metres of light garlands put in more than 900 trees and 200 palms. It took about 2 months of preparation. End November the inauguration of the lights takes place with a special ceremony.
We hope you enjoyed reading so much about the versatile city of Palma. The team of Soller-Properties loves this fantastic city. We know you will do too. Enjoy!
Soller real estate
Dreaming of owning a property in Soller? Check our finest selection of properties for sale in Soller and the region of West Mallorca.
Soller real estate offers a wide variety of properties ranging from apartments, country houses, villas. The region covered include Soller, Port de Soller, Biniaraix, Fornalutx and Deia. Register to discover the secret properties that are not published online as wished by their owners: see here