The next chapter in our blog series "Where to stay in Mallorca" is all about the East of the island. East Mallorca has a pretty coastline. There are nice medieval towns like Arta and Capdepera. In the East you find the well-known caves. Felanitx is famous for its wine production. And Manacor is the biggest city in this area and the second biggest of Mallorca. Apart from some holiday resorts like Cala d´Or, the East is tranquil and laid-back. Many celebrities bought a house here or spent their holidays. Like famous tennis player Boris Becker, who owned a house in Arta. Julian Lennon and John Bon Jovi are some that visited the area. Rafael Nadal was born in Manacor and now has a house in the East.
Cala d'Or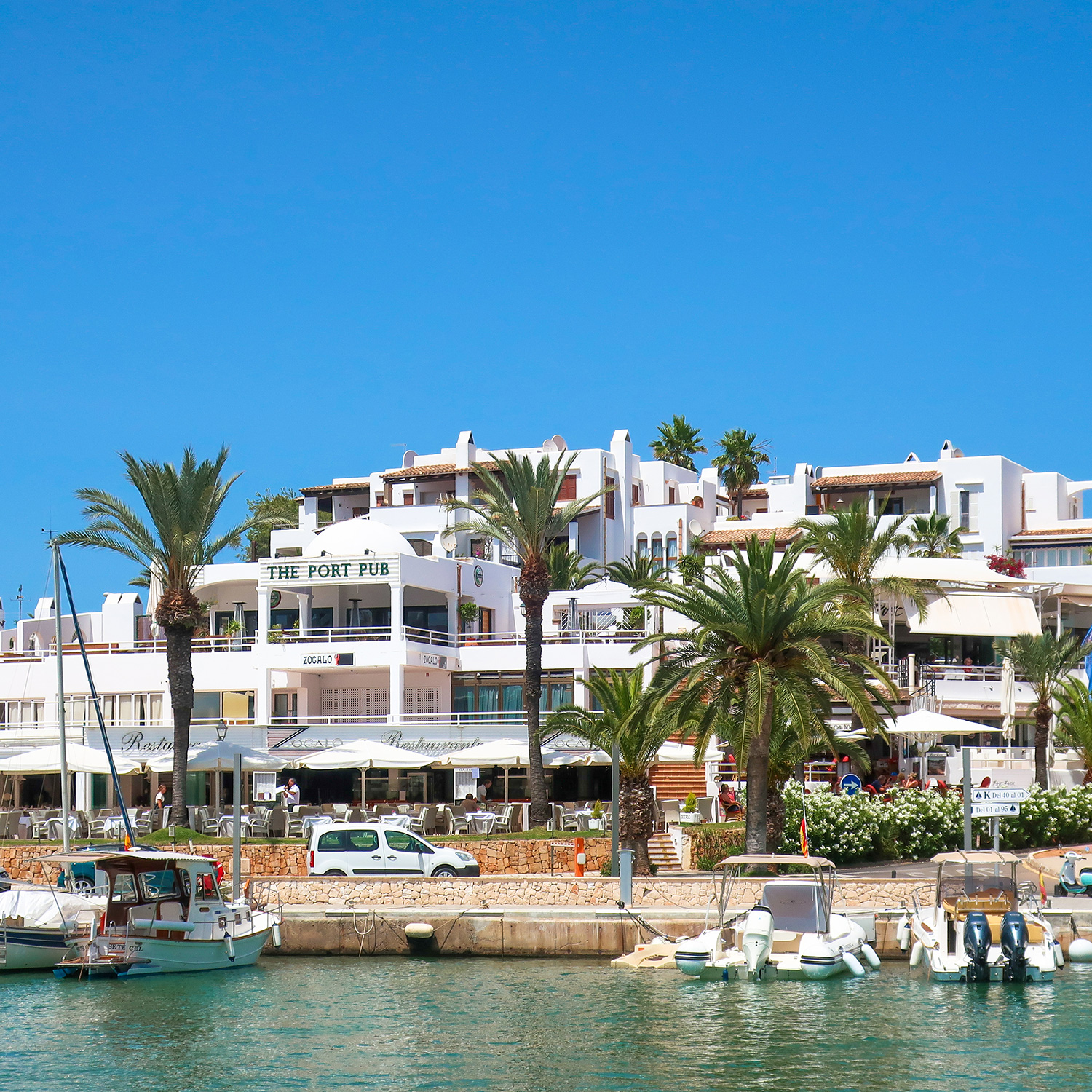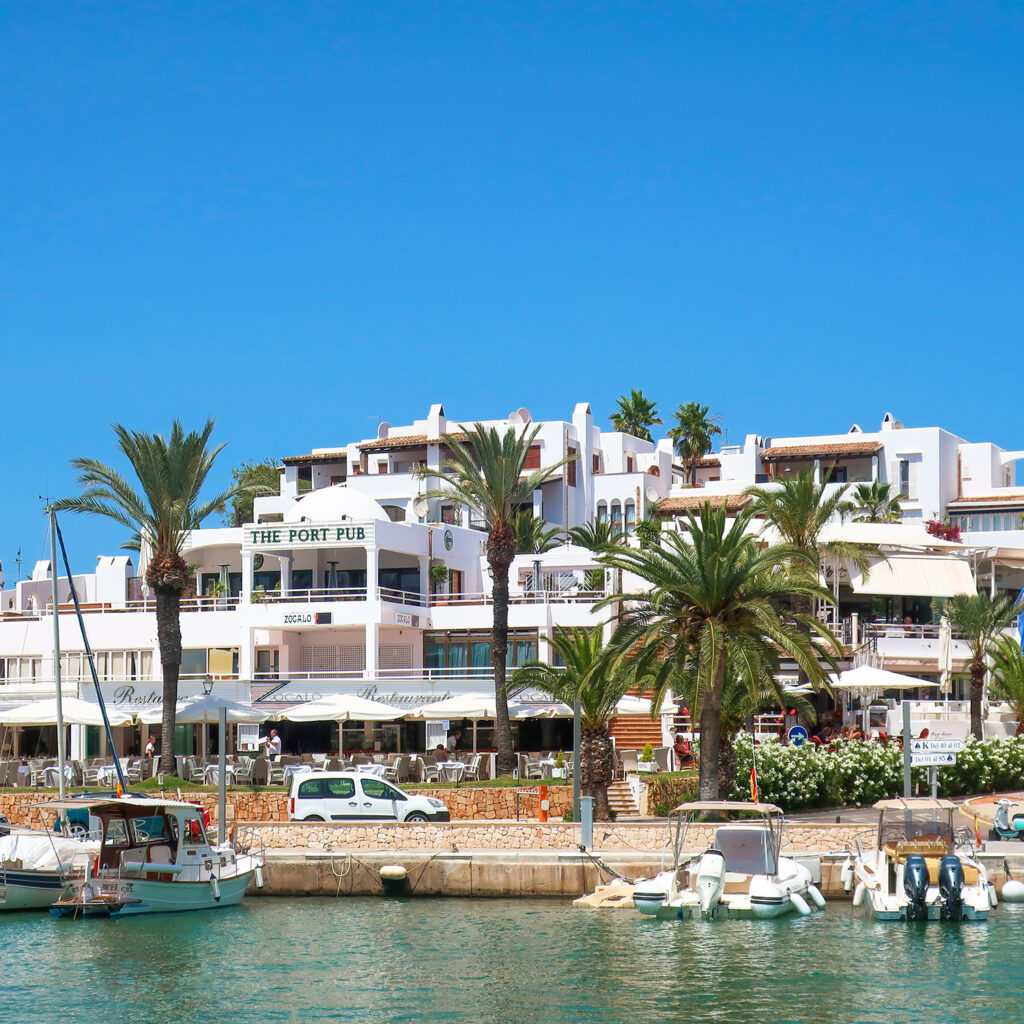 We will start in the South East with holiday resort Cala d´Or. A cute Mediterranean village. Very busy in summer and quiet in winter. With a selection of fantastic "calas". Tourism in Cala d´Or is well-developed, so no lack of restaurants, shops and hotels. There is even a touristic train in high season. The traditional white cubic buildings give you the feel of being in Ibiza. The surroundings are great for cycling and hiking.
One of the better marinas of Mallorca is in the centre of the village. About 600 moorings are available. Flanked by quays with restaurants, bars and terraces. Yacht Club Cala d'Or overlooks the harbour with its luxurious yachts. This hotel is a popular wedding venue. It is also a leisure club. And it has a great restaurant with Mediterranean and international cuisine.
An interesting place to visit is "Es Fortí". Situated in Cala Llonga and a short walk away from Cala d´Or. Es Forti is a military fortress constructed in 1730. Until 1878 it had a military role. Then Es Forti became private and it turned into a ruin. The Fundación Illes Baleares renovated the site. And declared it "protected cultural heritage". Now Es Fortí is open to the public. It is a great place for children. They can play and use their imagination with the cannons and loopholes that are still there. Entrance is free.
Cala d'Or is also close to Parc Natural de Mondragó, which we highlighted in the South-blog.
Beaches
The major attraction of Cala d'Or is without doubt the many beautiful beaches. There are so many little beaches that it is impossible to describe them all. We emphasize on a few, but you definitely need to explore the other ones as well.
Cala Gran
Cala Gran is a beach that attracts everybody. Very busy in high season though. It is the largest beach in the Cala d'Or area. It has a width of 60m and a depth of 170m. The sand is white and fine. The sea is turquoise, and access is easy. This Cala has the Blue Flag and all facilities are there. Including a diving school that can teach you how to do cliff diving.
Playa de Cala d'Or
An excellent beach for couples. Also known as Caló de ses Dones or Cala Petita. A mid-size sandy beach with clear turquoise water. From the beach you can see the boats leaving the marina of Cala d´Or. The beach is in a residential area, but with the pine trees and the rocks it is still very natural. Rent of sun beds and umbrellas. There is a beach bar and the restaurant of Hotel Cala d'Or is very close. The terrace of the hotel is a great place to have a drink, overlook the sea and listen to romantic music. All in all, a lovely Cala that gets very busy in summer.
Cala Esmeralda
A much smaller, sandy beach with emerald water. The name Esmeralda (emerald) refers to the beautiful blue green colour of the sea. Protected from the wind, so the water is very calm. Very popular with families. There are few services available. But the pine trees provide enough shade. There is a beach bar for some drinks and snacks. No presence of lifeguards.
Cala Ferrera Set in an urbanistic environment of hotel and apartment complexes. 80m long and 140m wide. Be prepared: this sandy beach gets very busy in summer. The swimming conditions are excellent. And the turquoise water is calm and crystal clear. Rent of sun loungers and umbrellas. You find more sun beds on the terrace of the neighbouring hotel. Cala Ferrera is a great spot for those who do not seek peace and tranquillity.
Cala Serena
We do not know if it is a coincidence or not, but Cala Serena is the most tranquil of all Cala d'Or beaches. Very small without any facilities. Lovely white sand and Caribbean blue water. Flanked by some rocks and surrounded by pine trees. You might see divers in the water as diving schools bring their students here.
Cala Egos
The last beach is Cala Egos. Definitely not our first choice. It is small and set between two hotel complexes. There are enough amenities. But why rent a sun lounger when the beach is in the shade most of the time? It is not the cleanest beach neither.
An excellent idea is to explore all these pretty coves from the water. Rent a boat and discover East Mallorca from a different perspective. There is plenty of water sports. Kayak, SUP, snorkelling and diving are all possible.
Vall d´Or Golf
This golf course is less than a 15 minutes' drive from Cala d'Or. Existing since 1986. It started as a 9-hole course but nowadays it has 18 holes.
Cala d´Or is very pedestrian friendly. There is a large area forbidden for cars. Here you have a wide selection of shops. These shops focus on the needs of tourists. From May till the end of October there is a tourist market on Sunday evening. There is no weekly market in Cala d'Or. On Wednesday and Saturdays there is a weekly market in Santanyi and on Sundays in Felanitx.
Food addicts love Cala d´Or. There is an extensive selection of restaurants. The level of the cuisine is often above average. Rucula del Puerto is a good choice for Mediterranean food. Port Petit is an excellent high-end restaurant. With a terrace overlooking the marina. Even King Juan Carlos is part of their clientele. Being in Spain you have to try tapas. La Bodega is a wine bar and tapas restaurant. It has a cosy atmosphere and an authentic feel. But whatever type of food you fancy to eat, you will find it in Cala d'Or.
As said, Cala d'Or is a purpose-built holiday resort. There are many hotels to choose from. Nightlife is well developed with cocktail bars, Irish pubs, karaoke and music bars. Farah´s is the only nightclub in Cala d'Or. A legendary dance club that organizes theme and house parties.
Porto Petro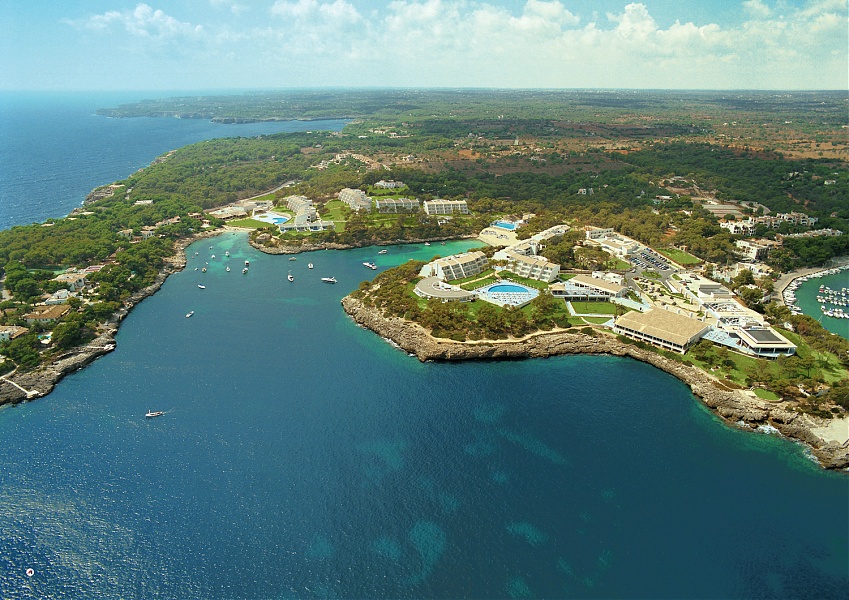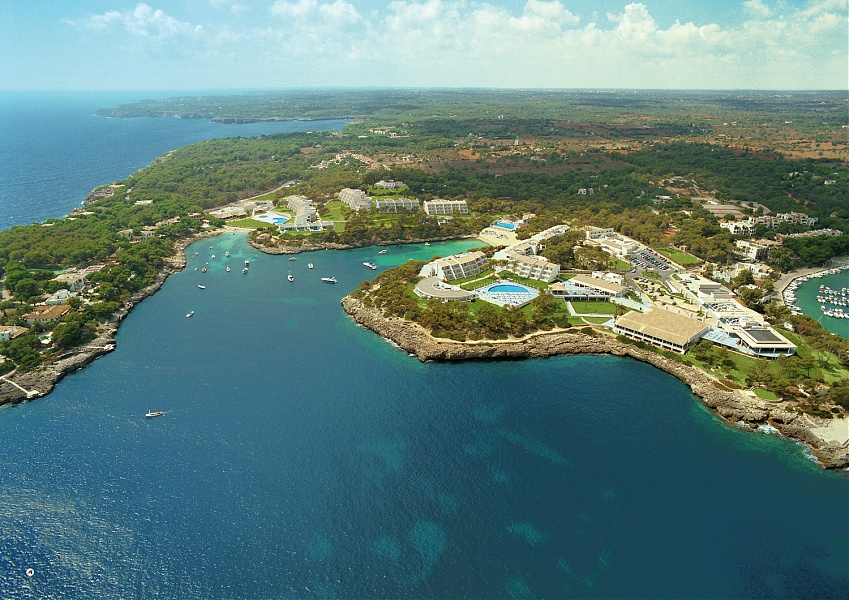 Less than 10 minutes away from Cala d´Or lays Porto Petro. A small fishing village with not more than 800 inhabitants. Charming with its houses in different colours. A beautiful bay surrounds Porto Petro. It attracts many tourists. There is a small, picturesque harbour. With yachts and the typical llaüts (the traditional old wooden boats of Mallorca). Porto Petro is much more tranquil and relaxed than tourist hotspot Cala d'Or. It does not have a beach itself, but there are many stunning coves in the vicinity.
A "must see" sight is the watchtower Torre d'en Bossa. The tower is part of the old defence system of Mallorca. It served to protect themselves from pirate attacks. From the tower you have beautiful views over the sea and the surrounding nature.
Within walking distance is Caló de Sa Torre. A small beach ideal for couples with nothing more than water and sand. It is an "off the beaten track" beach. A mix of sand and rocks. Very clean and with clear emerald water. Ideal for snorkelling as the underwater world is interesting.
Portocolom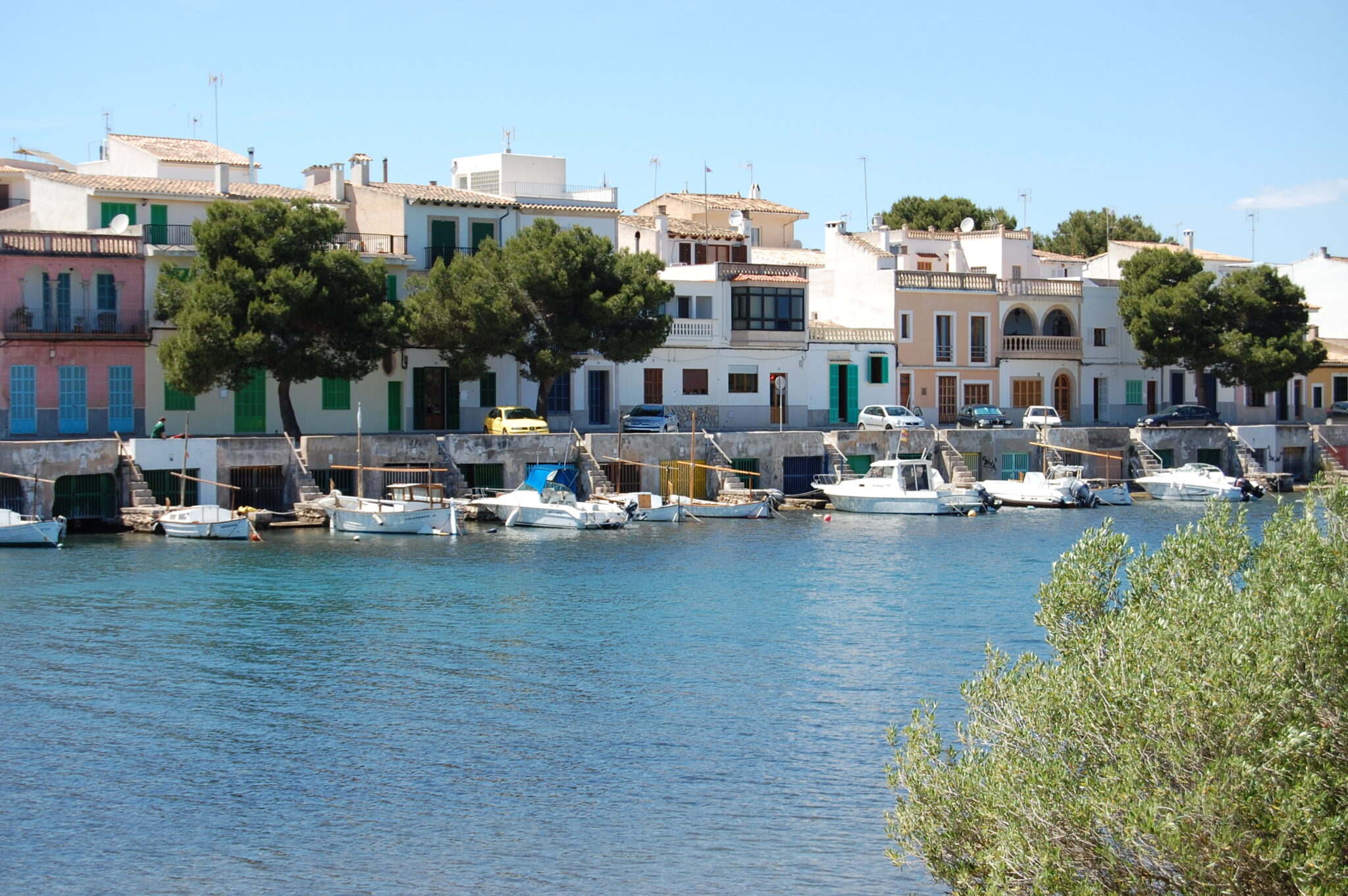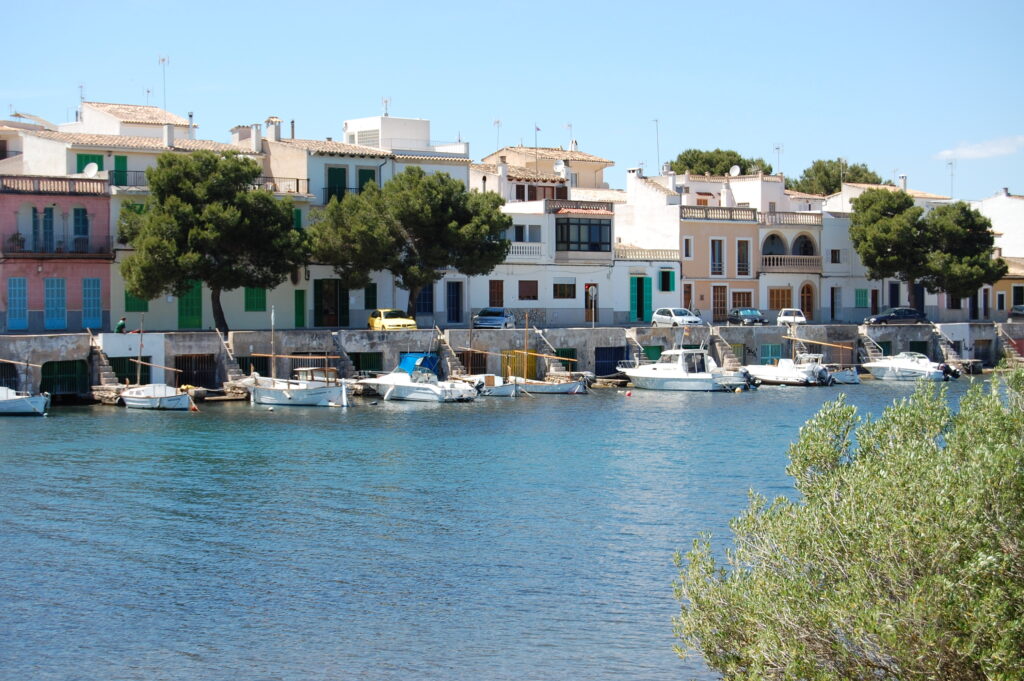 If we follow the coastline up north, we arrive in Portocolom. A very attractive traditional fishing village with pale coloured houses. Picturesque and charming. Lively in summer and dormant in winter.
The name of the village refers to Chistopher Columbus, who was born here (but no evidence). Back in the time it was the working port for Felanitx. Main activity was shipping wine to France. This came to an end when the "wine pest" (phylloxera) attacked the vineyards at the end of the 19th century.
Portocolom has some interesting sights to visit. La Naveta is for archaeology addicts. It is a prehistorical burial place.
The blue-white lighthouse of Portocolom is very popular among photographers. Located on the cliff of Sa Punta and very recognizable. It exists since 1863. From the village it is an easy walk to the lighthouse.
Es Riuetó is also a popular Instagram spot in Portocolom. A pier with typical fishermen houses in different colours. To make the picture perfect there are llaüts and typical storages for these boats (barraques).
The beaches
The most important beach is Cala Marcal. A good size beach in a wonderful bay with rocks on both sides. On the left the beach looks natural. A bit higher on the right side is a promenade with bars, shops and restaurants. From here the views over the Cala are stunning. Cala Marcal has fine, white sand. The aquamarine water is calm and shallow. Ideal for families with little kids. All facilities are there. Snorkel near the rocks and you will discover the underwater life. Cala Marcal has the Blue Flag.
S'Arenal beach consists of s'Arenal Grand and s'Arenal Petit. They lay next to each other. The Grand beach is very popular with locals from Portocolom and Felanitx. It is sandy and surrounded by trees that provide shade on hot sunny days. The smaller beach, Petit, is in a green environment with rocks nearby and clear azure water. It is like a beach in the forest. Both beaches have fine sand. When you spend your day on s'Arenal you need to visit the chiringuito s'Arenal de Porto Colom. Frequented by locals but also popular with tourists. Seafood is the recommended dish.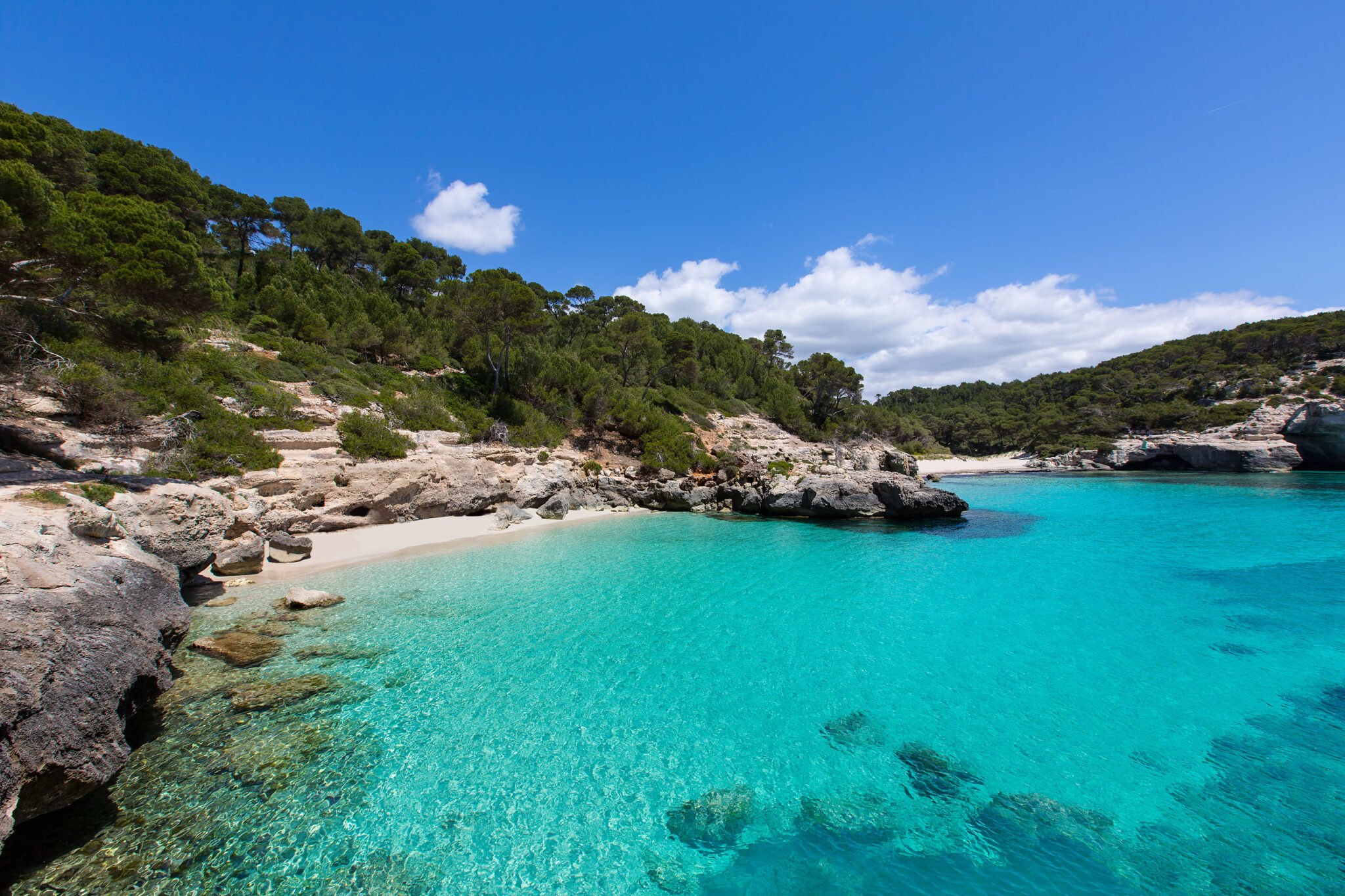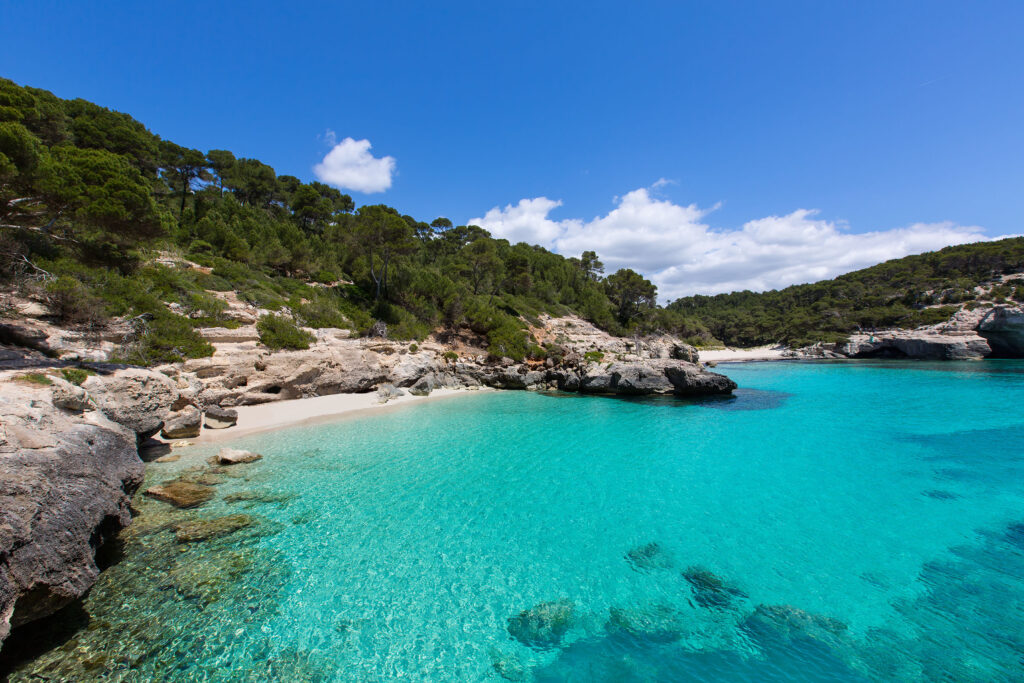 Cala Mitjana is a pretty cove which is less busy. To get there you have to walk about 1200m. There are no facilities, so bring everything you need. After the walk your reward is a virgin beach with white fine sand and crystal-clear emerald water. A little paradise.
One of the prettiest beaches of Mallorca is Cala Estreta. Only 8m² of find white sand. The natural environment is impressive. And the water is clear and turquoise. This little diamond is not easy to access. Most people arrive by boat. It is possible to walk from Cala Brafi but the route is not indicated and not the easiest.
Cala Sa Nau is thirteen kilometres away from Portocolom. It is a very small beach popular with locals and some tourists. It is another pearl on the East coast. With white fine sand. Shallow, turquoise water where leisure boats moor for the day. A great spot to snorkel or swim. Rent of sun loungers and umbrellas. There is also a small beach bar.
There are many more pretty coves around Portocolom. Cala Brafi for nudists, natural beach Es Babo or the Baños de Cleo on the way to the lighthouse.
Portocolom is not a shopping destination. There are some shops for daily purchases and tourist related articles. Twice a week is the market. On Tuesday and Saturday morning.
On the quays around the harbour there are restaurants and bars. Best dish to order is seafood. For sure it will be fresh. But there is also traditional Mallorcan food or Mediterranean cuisine.
Nightlife in Portocolom is not as developed as in some other places on the island. But a very popular place to go is the Fidel Club. And yes, the name refers to Fidel Castro. A relaxed atmosphere and a great place to have a cocktail.
Events
Every year in April, Portocolom hosts a very popular Tri-star triathlon. Due to Covid-19, the event takes place on 25th October 2020. Participants choose from 2 distances. Either 55.5 km or 111 km. It attracts an average of 600 participants each year.
In June there is also a gastronomic event, Fira Gastronomica D´es Pop. Fifteen restaurants in the village take part in this event. Serving delicious food with an emphasize on "Pop", which is Catalan for octopus.
Also in June it is time for the local Rock Festival called Rockin Matxin. In 2020 the plan was to celebrate the 10th anniversary of this festival. A celebration with rock and alternative music.
In July Portocolom celebrates "Virgen del Carmen", the patroness of fishermen.
Portocolom is home to an excellent sailing school. Escola Nautica s'Algar disposes of very modern resources.
We already told you a lot about Portocolom. But there is always more information available.
Cales de Mallorca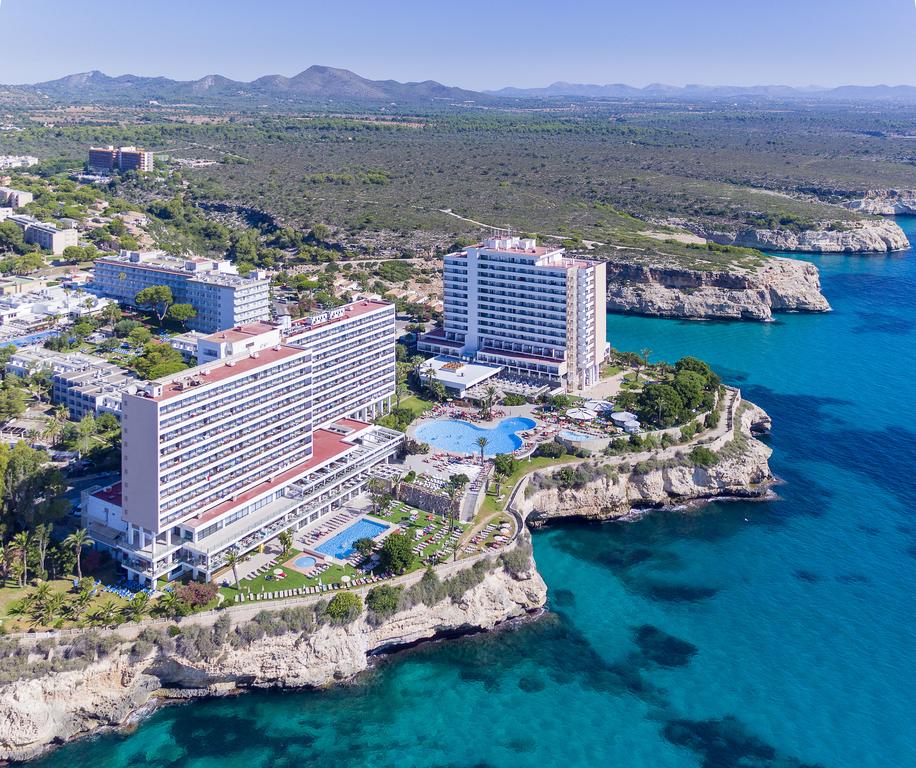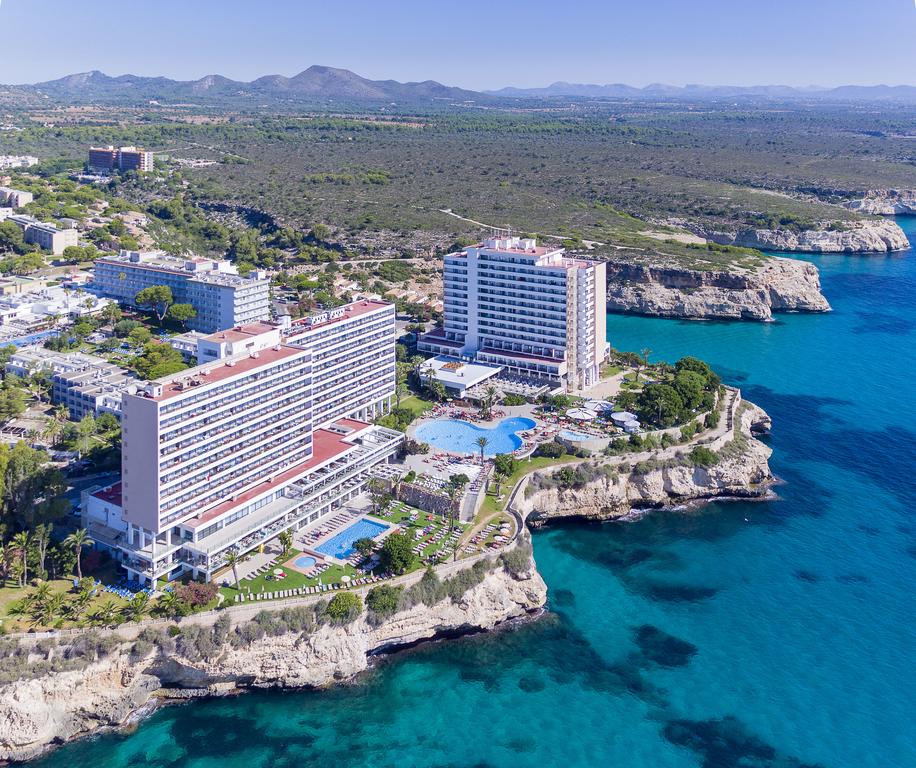 This is a real tourist resort, built around some attractive calas. It is very small and if you want to find out more about Mallorca, you will definitely have to visit other places. Cales de Mallorca is about sun, sea and sand. There are many hotels, pubs and restaurants.
Beaches
The biggest beach is Es Domingos, which in fact, consists of 2 beaches. Es Domingos Grans and Es Domingos Petits. A real family beach that gets very busy in summer. Surrounded by hotel complexes in a green setting. But of course, there are loads of facilities available.
Cala Murada is a middle-size semi-busy beach. It has fine sand, some pebbles and lovely clear water. It is a picturesque beach with a Blue Flag. A very good beach for families. But bring water shoes as you might feel some stones on the ground. A beach with amenities and a restaurant. The resort of Cala Murada is small and refined.
Cala Antena is a small v-shape beach north from Cales de Mallorca. The bay is beautiful: rocks, trees, soft sand and shallow turquoise water. Unfortunately, the massive hotel complexes disturb a bit in this picture. Less visited than some other coves. Child friendly and enough services to enjoy your day at the beach.
Cala Bota is a very small beach, ideal for nudism. It is an idyllic pebbles beach that only a few locals and some tourists can find. This is not a beach for everybody. But nature lovers that seek pureness and relaxation will enjoy it to the max. Be aware that it is challenging to find and that you will have to walk about one kilometre to get there. Bring what you need as there are no facilities.
Cala Varques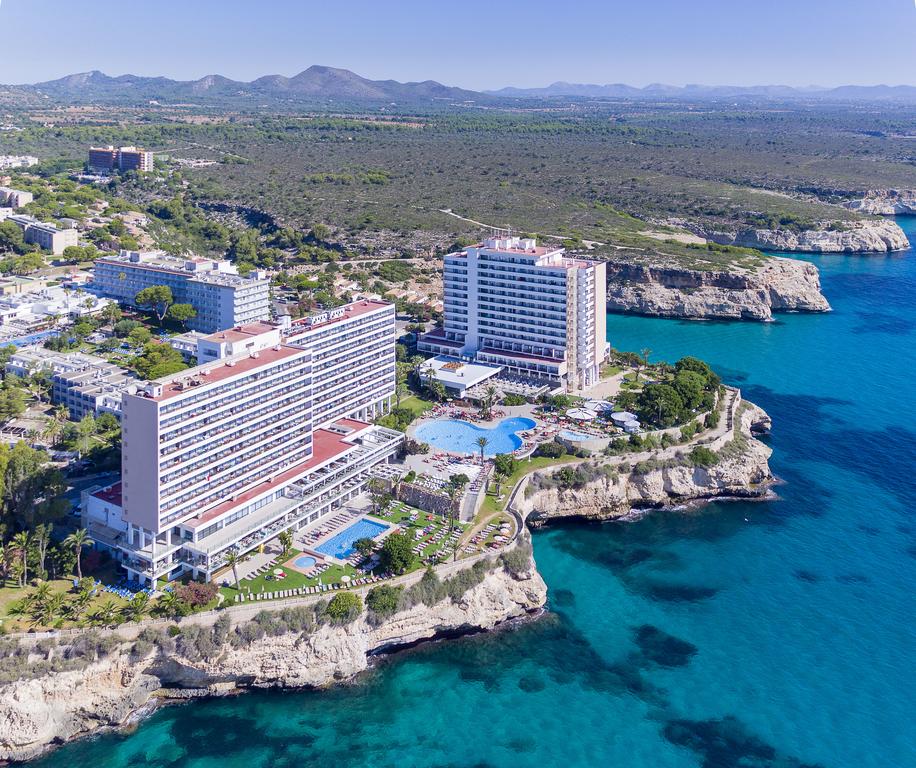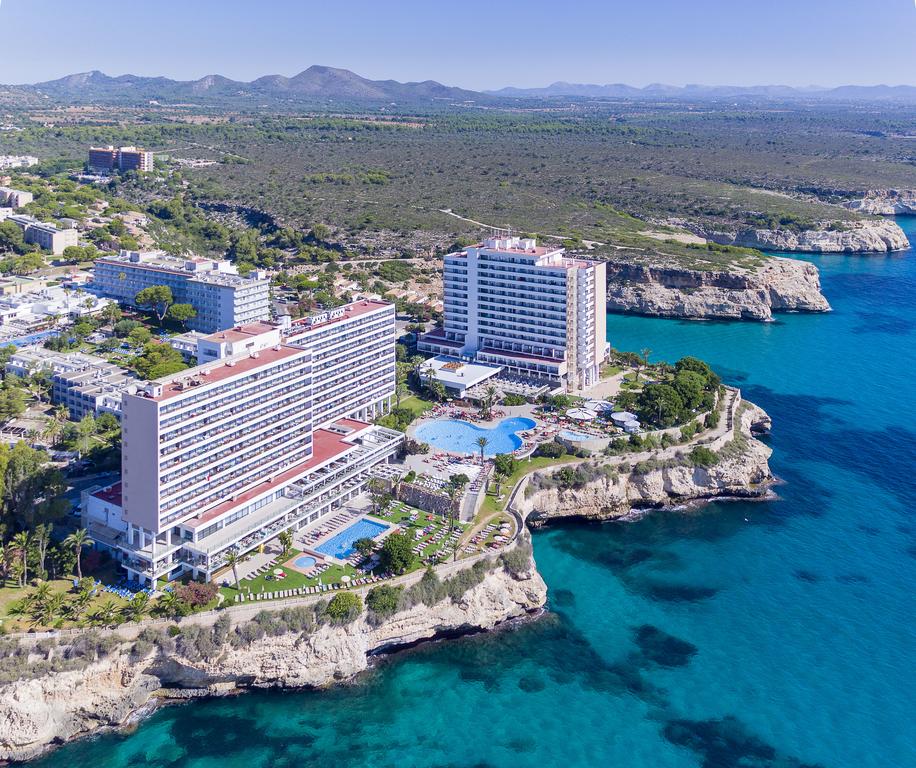 A separate paragraph for this exceptional cove. Cala Varques lays in the middle between Portocolom and Portocristo. Descriptions of this beach are like pristine, off the beaten track and hippy-like. Fact is that it is a secluded beach of about 300m². Fine sand, turquoise water surrounded by rocks and trees. Very pure, without facilities. Not only popular with chill-seekers but also nudists find their way here. After parking your car, you have to walk about 15 min through a pine forest. Cala Varques is a cove with a bohemian vibe. Your main goal here is to relax, get a bit of sun and swim. There are some cliffs (about 10m high) from where you can jump in the clear water. It is also an excellent spot to snorkel. Unfortunately, it is not a secret beach. So in summer it gets busy.
Portocristo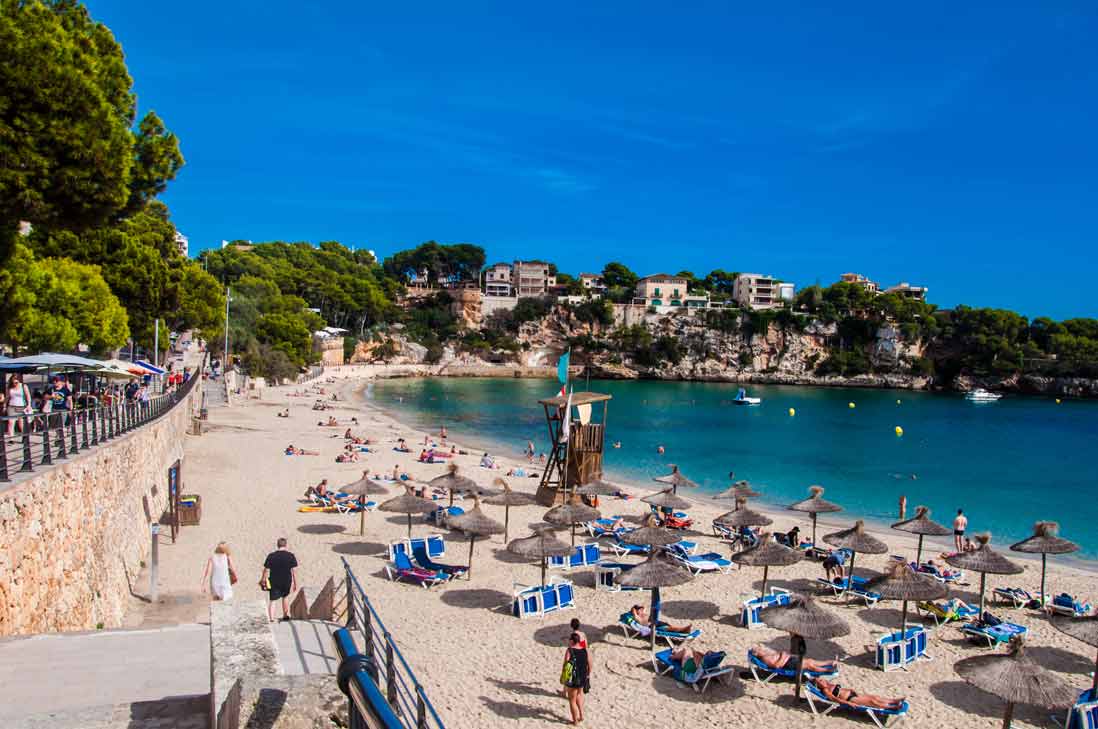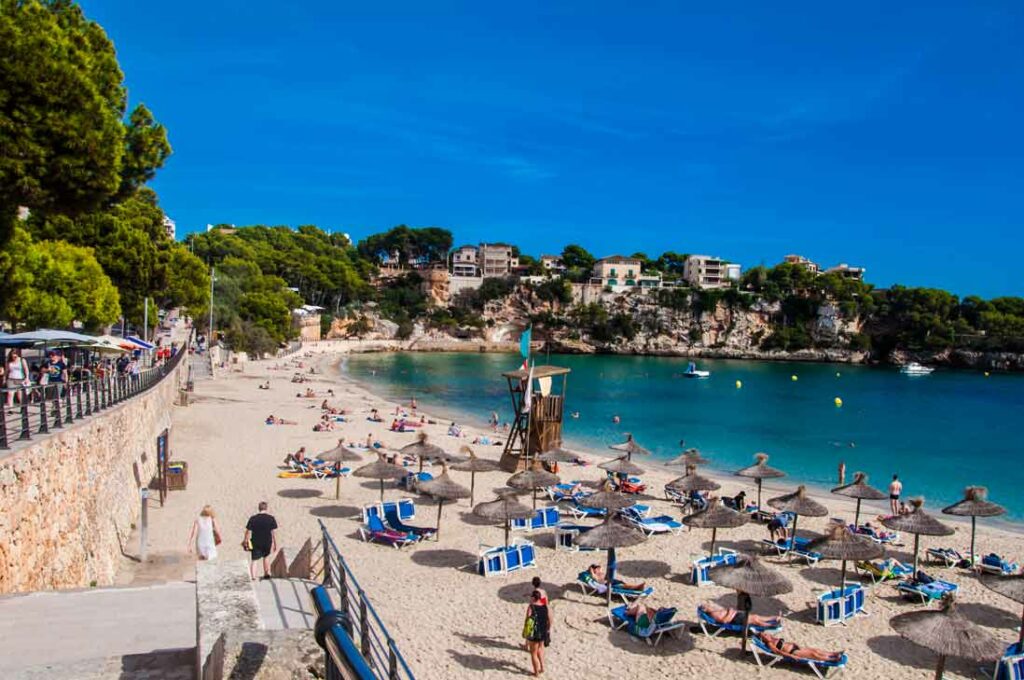 If you say "Portocristo" you say "Cuevas del Drach". But Portocristo is much more than these famous caves. Portocristo is a charming, little fishing village that is not overrun by tourists.
Portocristo means "Port of Christ". It refers to the peculiar legends that exist around this town. The first legend is about a boat that drifted ashore and had a crucifix. The other legend tells about an ox strolling in the town bearing a Christ symbol. Itis the only town involved in the Spanish Civil War. Portocristo is also known as Port of Manacor. Once it was a major tourist hotspot. Since the development of Cala Millor it is much more tranquil and relaxed.
What to see?
Of course, the beach of Portocristo is a major attraction. Likewise, its harbour. But strolling through the town you will discover the old church, Mare de Deu del Carme. Construction of this church started in 1890. It opened its doors in 1949.
You will also meet the mermaid Sirena. A statue near the waterfront which was partly destroyed by the troops of Franco. Now Sirena is the symbol of the town.
Serral dels Falcons is the watchtower of Portocristo. It formed part of the island´s defence system against pirate attacks. Built in the 16th century. It got destroyed but was rebuilt. Now you can visit the tower for free. It will give you amazing views.
Another highlight is the port. Walk around, sit down on one of the terraces and enjoy a local meal. Stroll on the seafront promenade and enjoy the beautiful scenery. At the end of the promenade you will discover the white caves. These caves are also known as "Cova del Patró Pelat". Pelat was the family name of the people who lived in the caves.
Portocristo is not for shopping. You will find everything you need for your holiday but for "real" shopping it is better to go to Manacor or Palma.
Hikers and bikers find their base in Portocristo. It is also an ideal spot for horse riding, snorkelling, boat trips and more.
Golf
There are many golf courses within a range of less than 20km.
Vall d'Or Golf is only 16 kms away. An 18-holes green with a beautiful Clubhouse. In Son Severa is Pula Golf Resort, with 14- and 18-holes courses. Only 12km away from Portocristo. The amazing greens of Canyamel Golf are about 16km away. 18-holes set in a natural environment. The furthest away is Capdepera Golf. But it is still only an 18km drive. A well-maintained course where relaxation comes first. The last Golf Club in the area is Club de Golf Son Severa. Less than 12km away. A paradisiacal course with stunning sea views.
Beaches
The beach of Portocristo faces the marina. It is a busy beach in high season. The length is 270m and it is 25m wide. It has fine sand and azure blue water. An urban beach with a limited amount of facilities. It has a Blue Flag and is ideal for families.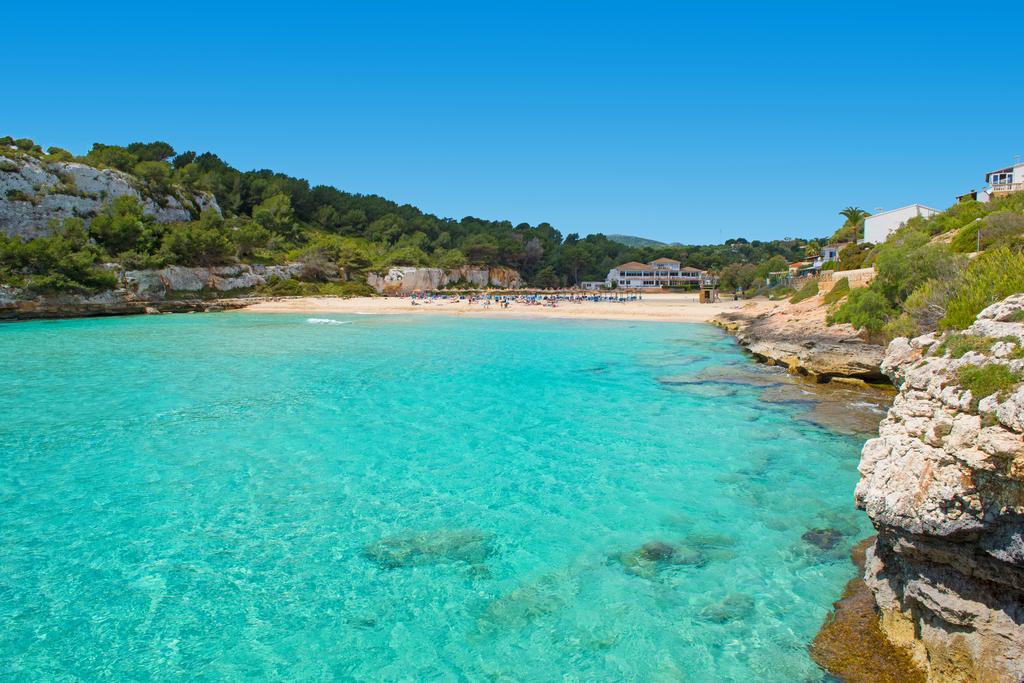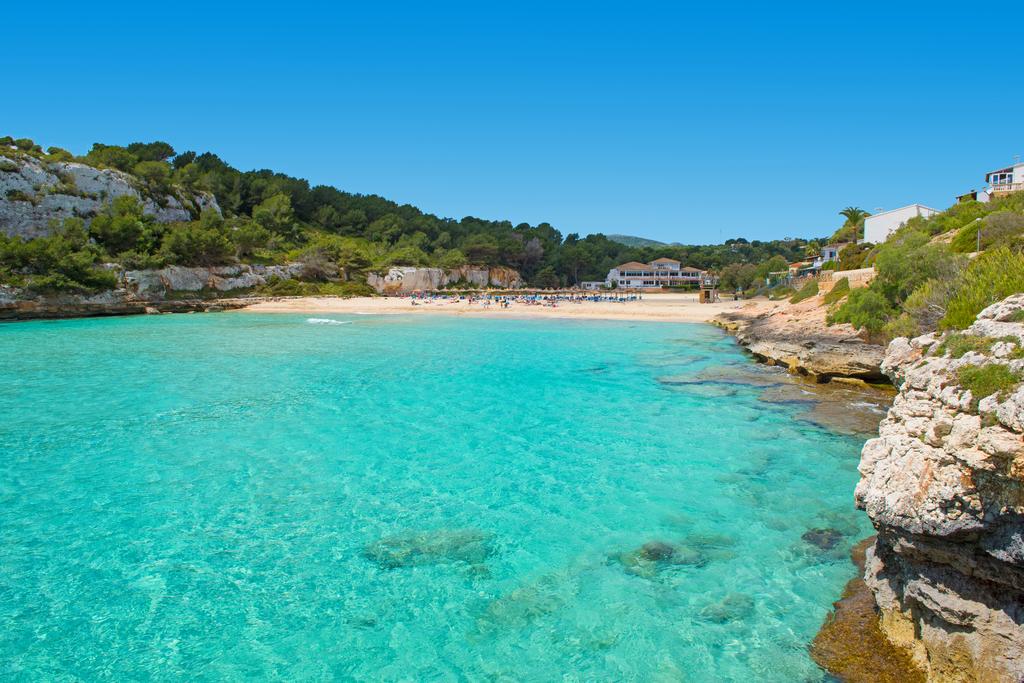 Cala Romantica is a holiday resort with three different beaches. Cala Anguila, Cala s'Estany d'en Mas and Cala Medina. Through the cliffs are trails so that you can walk from one bay to the other. And if you fancy to be active it is only 3km to Cala Varques.
Cala s'Estany d'en Mas is the largest of the three. In summer you will see a lot of German and English tourists here. This beach is a real pearl: white fine sand with aquamarine water flanked by rocks and pine trees. This family beach has a length of 100m and is about 165m wide. You can rent sun loungers, umbrellas. There is a beach restaurant and a snackbar.
Cala Anguila is smaller. This cove is 45m long and 115m wide. A pretty beach that has a high occupation in high season. It is an excellent snorkelling spot. The setting is quite natural with limestone cliffs and pine trees. There are some holiday accommodations, but these are not disturbing. Facilities are more limited. It is possible to rent sun beds and umbrellas and there is a small restaurant for snacks and drinks. No water sports.
The smallest of the three beaches in Cala Romantica is Cala Mendia (or Cala Mendina). Another "perla" like they say in Spanish. White sand, turquoise water. A bay surrounded by flat rocks. There are some small restaurants and umbrellas and sun loungers are there.
Hikers and nudists can enjoy a day at Playa de Cala Murta. Not easy to access and no facilities. But guaranteed you will be there alone or a few others. Another natural beach is "Cala Petita". Here you find nothing except sun, clear water and peace.
Caves In the area of Portocristo are two main cave attractions. The "Coves del Drach" and the "Coves del Hams".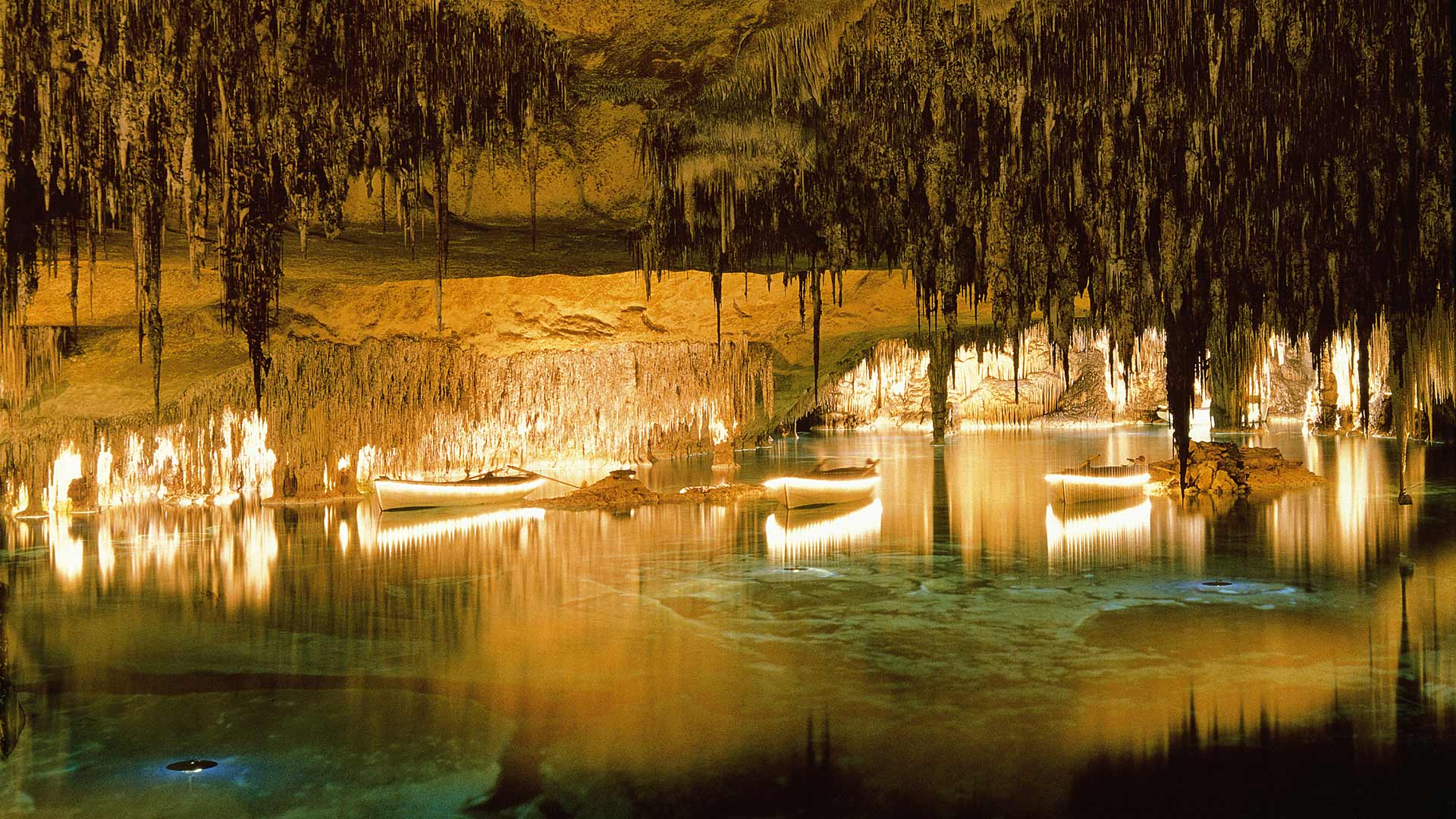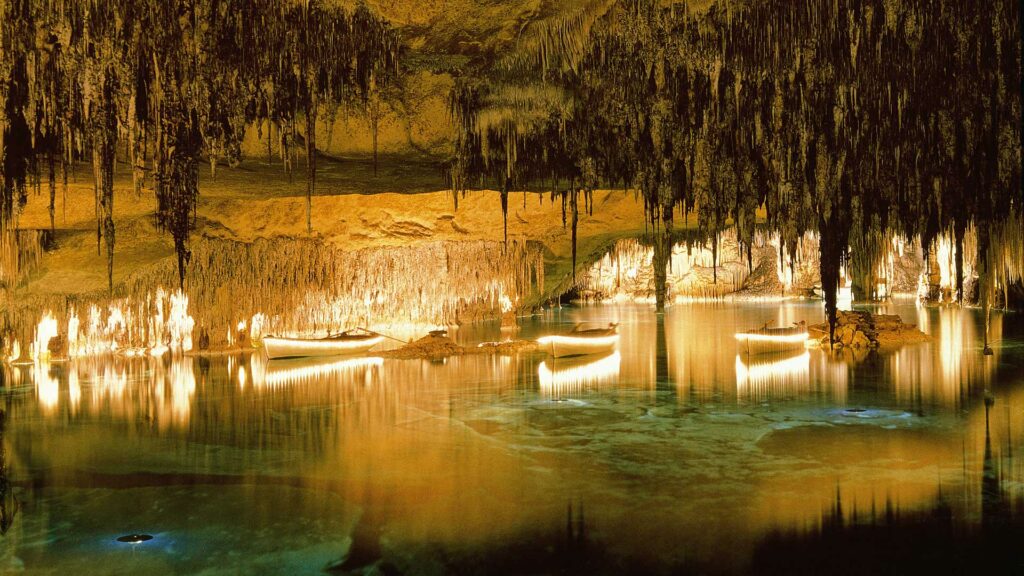 The Cuevas del Drach consist of four caves connected to each other. It is the White Cave, Cave of the French, Black Cave and Cave of Luis Salvador. Inside there is one of the largest underground lakes of the world. Lake Martel got its name from its discoverer. In the 1920s the conditioning of the caves to visit them started. It took more than 10 years. A tour in the caves is an extraordinary experience. You will be in the caves for about an hour, walking around and being on a boat. It ends with a classical music concert by four musicians. It is one of the main attractions of Mallorca, so don´t miss it.
Smaller, but still interesting are the "Coves del Hams". Cuevas del Hams means "fish-hook caves". If you look at the shape of the caves, you understand why. Discovered in the beginning of the 20th century by speleologist Pedro Caldenty Santandreu. Their natural age is more than 10 million years. Only 1 km away from Portocristo.
Safari
Tired of beaches, caves or local markets? Why not go to Safari-Zoo in Portocristo. It is a mixed wildlife and leisure park. Either you go through the park with your own car or you hop on the Safari train. See zebras, gnus, giraffes, monkeys and other exotic animals.
The range of restaurants in Portocristo is outstanding. Local food, Mediterranean, vegan or fast food are some of the options. Sant Jordi Street is a good start if you don´t know where to go. There are good quality restaurants with terraces overlooking the sea. After dinner you can continue in Coves Street where there are some good options to have a drink and a chat.
Later we continue to follow the coastline up north. Now, we first pay attention to the two larger cities in the east, Felanitx and Manacor.
Felanitx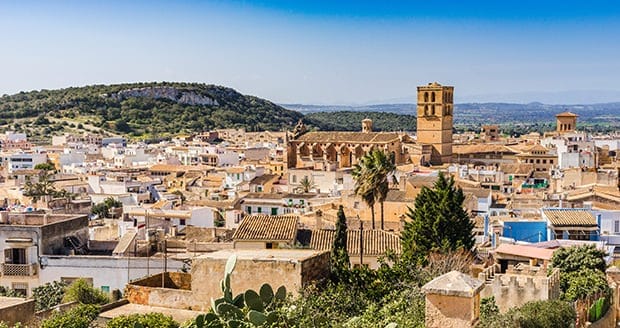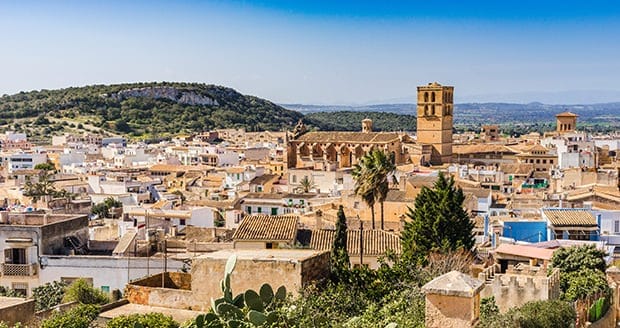 Felanitx is an inland, rural town with an authentic character. Goldstone houses and typical Mallorcan streets. It has about 18000 inhabitants. It is the second wine region of Mallorca. It is also known for its brandy and caper production. There are some interesting old buildings to visit. And for hikers and cyclists there are many different routes available. Modern art painter Miquel Barceló was born here.
The name Felanitx comes from "Fenalicius" which relates to haymaking. In the old days, pottery came from Felanitx. Later Felanitx main focus was on wine production and brandy. In the 18th century there were about 60 distilleries in the area. Wine production is still very important.
Interesting sights Landmark of Felanitx is the Sant Miquel Church. Built in different styles. It dates back from the 16th century. On the outside wall is a memorial plate. It memorizes the death of 415 people when a wall collapsed on Easter Sunday in 1844.
Another must see attraction is the "Santueri Castle". It is one of the three rocky castles of Mallorca. The other two are the castle of Alaro and Pollença. Santueri Castle sits on a hill, 423m above sea level. Over the centuries the castle had several renovations. It is an interesting place to visit and on top the views are incredible.
The Sanctuary of Sant Salvador dates back from 1348. Also, on top of a hill, giving fantastic scenic views. It consists of an 18th century church, an impressive statue of Christ and a small chapel. There is a winding road leading up the hill. This Sanctuary is the second most important holy place of Mallorca. The monastery of Lluc is number one.
In Felanitx are enough shops for your daily needs. And there are shops that sell local products like capers, pottery and wine. On Sunday is the weekly market. The covered market Sa Placa is the place for fresh products and flowers. Sa Placa closes on Mondays.
Wine production is reviving in the Felanitx area. In the 18th and 19th century Felanitx was an important export centre. More than 9 million litres of wine went to France. Then all Mallorcan vineyards got hit by the phylloxera disease (wine pest). A disaster that destroyed all vineyards.
Today there are again wine making bodegas. Es Fangar Bodega is a modern bodega producing organic wines. Winery 4 kilosis another famous wine producer in the region. Or you can visit the Vi d´Auba bodega.
Trekking There are various routes in the area of Felanitx. The most important one is the route from the town to Sanctuary Sant Salvador. An easy walk of about 3,5 hours. On top you enjoy spectacular sea views. Other routes lead to 7 different coves or there is the Grau Mitja Route. An easy circular route.
Events
Throughout the year Felanitx hosts different events. In May there is an important "Feria". August is the month to celebrate the Sant Agusti Fair. This is the Fair of "Els Cavallets". A traditional dance by six teenagers between 10 and 14 years. They dress up like horses and dance around the Dama, a girl in a green dress with a red hat. With music from traditional instruments like the xeremia and the flabiol. In September it is time for the Sant Miquel Fair. And in October the Fira del Pebre takes place, which is all about paprika.
Manacor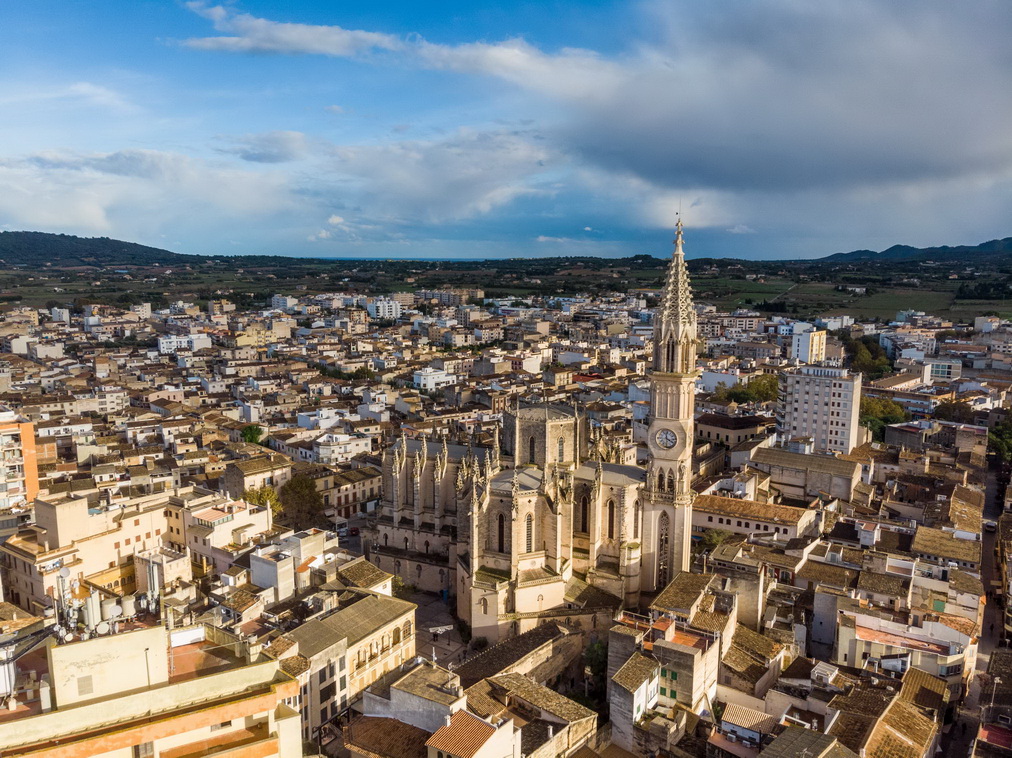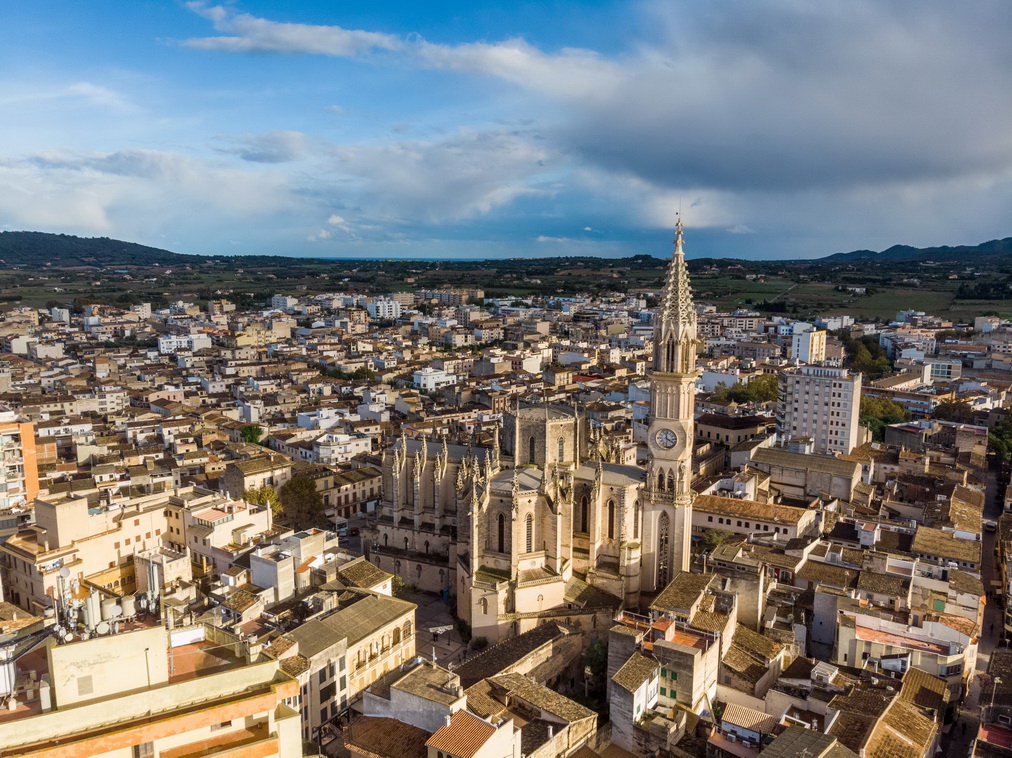 After Palma, Manacor is the biggest city on the island. Manacor is about pearls, furniture and Rafael Nadal. The city is not unattractive, but it would not be in our top ten of places to visit. Around Manacor there are many interesting and beautiful spots to visit. In that sense Manacor is a good base. There is a frequent train between Palma and Manacor. A lot of locals establish themselves in Manacor and work in Palma. And this is exactly the vibe you will find in this city.
The name Manacor comes from "Man a Cor". This means "hand on the heart". In 1200 Manacor got the status of municipality. An important event in history was the opening of the railroad between Inca and Manacor in 1879. Before this, Manacor was an agricultural town. But with the inauguration of the train, it became more industrial.
As Manacor is not the most interesting place to stay on your holiday we will not describe it in full. The best way to discover the centre is to stroll around the streets near the church. Observe, look around and see how daily life continues.
View the grand historic houses from the 17th-19th century in the Sa Bassa district. Or visit the Convent of Sant Vincenc Ferrer. A cloister with beautiful arch galleries.
The Torre de Ses Puntes" is another point of interest. It dates from the 14th century and is now used for art and photography expos.
In Manacor you will find all the shops you need. And more. Every Monday morning is the weekly market. This is one of the busiest street markets on the island. Every day (except on Sunday) there is a more authentic market in the Plaza de Constitucion. Here you buy local fresh fruits and vegetables.
Pearls
Most tourists visit Manacor to see one of the pearl manufacturers. The production of artificial pearls came to Manacor by a German engineer. In Paris he discovered the process to make artificial pearls. Then he transferred the factory to Mallorca. The rest is history.
The best and most famous Mallorcan pearls are from Majorica. Elegant jewellery where they combine modern tendencies with the classic pearl. It is interesting to visit the factory near Portcristo. You can see the different stages of the pearl process. At the end there is an enormous showroom where you definitely find the pearl of your choice.
Events During the year many events take place in Manacor. A huge one is the "Fira I Festes de Primavera" in June. An event of many days with activities for everybody. During this Fair another Fair takes place. In the cloister Sant Vicenç Ferrer is the evening wine Fair. This Spring festival ends with a superb parade of floats.
At the end of July, it is time for the yearly celebration of Sant Jaume. A full week of activities with fireworks, music, markets and more. In September is the Autumn Fair with focus on crafts and gastronomy. The fiesta of Sant Antoni on the eve of 17th January is one of the most important celebrations in Manacor. A unique event is yearly on 24th June. This Vimer event relates to a very old legend. In s'Hort des Correu is a country house with a willow tree. According to the legend the tree can heal children. With sunrise on 24th June, adults pass children through the branches of the tree.
Rafael Nadal Top tennis player Rafael Nadal was born in Manacor. Nadal has seen the whole world, but never forgot about Manacor. He opened a tennis academy, a museum and a sports centre.
The academy/sport centre is a high-performance tennis centre. It has a unique training system. This international institute combines education and tennis. The academy emphasizes on the formation of children and young adults. But don´t worry: there are also special programmes for adults. The centre has 26 courts with different surfaces both in- and outdoor. The museum, Sport Xperience, is an interactive modern technology museum. Fun for young and old.
Via Verde
The Via Verde runs from Manacor to Arta. It is 29km long and it follows the path of the old railway that closed in 1977. It is the only greenway (former railways) in the Balearics. In total there are about 100 greenways in Spain. The Via Verde is a flat path for cyclists and hikers. But you will meet horse riders as well. The route is busy on Sunday morning. It is a nice scenic route with plenty of interesting sights.
Sa Coma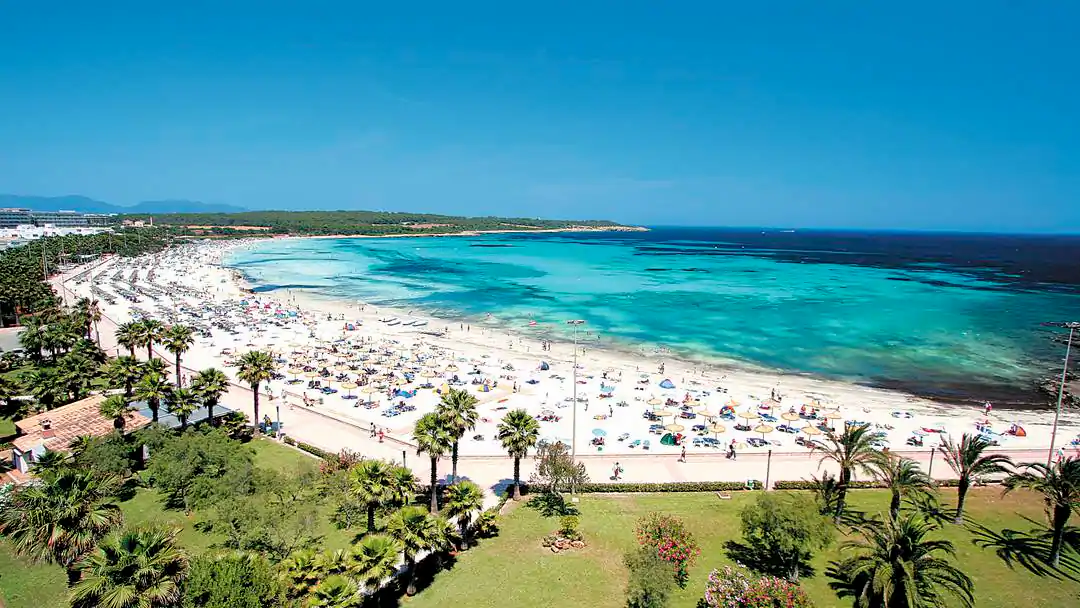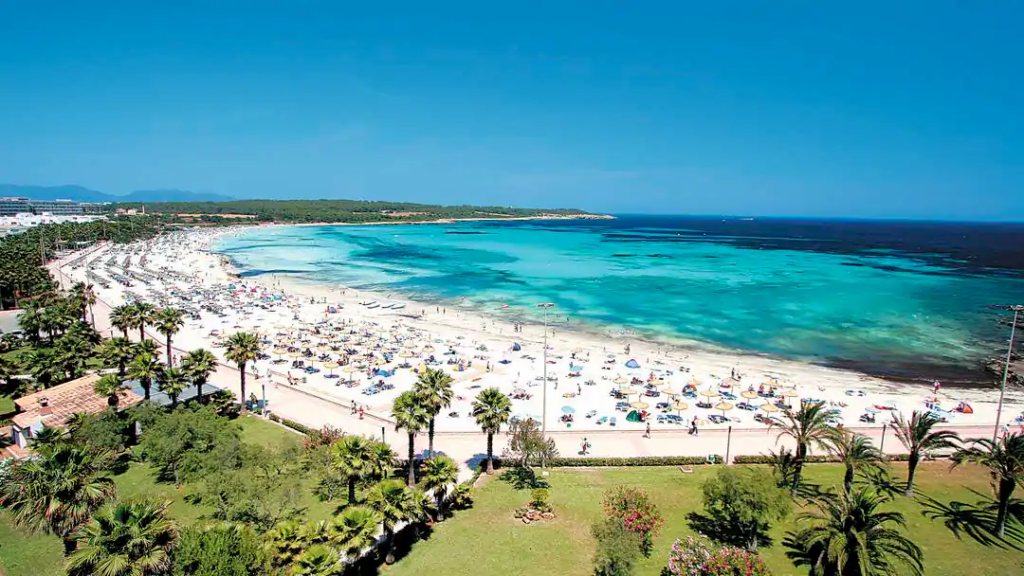 After the inland towns of Felanitx and Manacor we now take you back to the coast. The first holiday resort after Portocristo is Sa Coma. An ideal spot for families. Sa Coma is a young holiday resort. In the 1980s it became a holiday resort. Sa Coma is another fantastic beach destination. But if you want to discover more of the real Mallorca you will definitely have to visit other places. Sa Coma is a real beach destination: busy in summer and dormant in winter.
Beaches
Sa Coma Beach is big. About 800m long and 45m wide. Fine sand, turquoise water and all facilities you need for your day at the beach. It has the Blue Flag. Many water sports are available. In the direct neighbourhood you will find more beaches.
Cala Moreia also known as Playa s'Illot is what you call an urban beach. Surrounded by many hotel and apartment complexes. Not so idyllic, but it has nice, soft sand and the famous Mallorcan azure waters. Everything is there: sun loungers, umbrellas, snack bars and beach shops. There is a promenade with some good restaurants and bars. The name Playa s´Illot refers to the little island that lays in front of the beach. Cala Moreira gets very busy in high season. There is a little harbour from where you can rent a boat to explore the coast from the sea.
Calo d´en Rafalino is a tiny unspoiled beach. Not the prettiest, but still with clear blue water, nice sand and…… the best of all: not so many people. A place that attracts nudists as well.
The resort of Sa Coma has shops for your daily needs, souvenirs and beach related articles. There is a good choice of eateries. But for a high-level gourmet experience we recommend going somewhere else.
Like many towns at the sea, Sa Coma has its own watch tower, Es Castell. In the old days forming part of the Mallorcan defence system against pirate attacks. Now a museum and a spot from where the views are incredible.
Jazz, soul, funk Every year, in May, Sa Coma hosts the so-called "Smooth Jazz Festival". It is one of Europe´s best funk, jazz and soul parties. Only one weekend where the famous jazz artists perform in the Protur Biomar Gran Hotel & Spa. This year, because of Covid-19, the festival will take place in October.
Cycling
For cyclists Sa Coma is a good base. There are many routes in the region. Climbing up the mountains to the monastery of San Salvador or Cura. Or if you prefer to cycle more "easy-going" there is a beautiful coastal road.
Cala Millor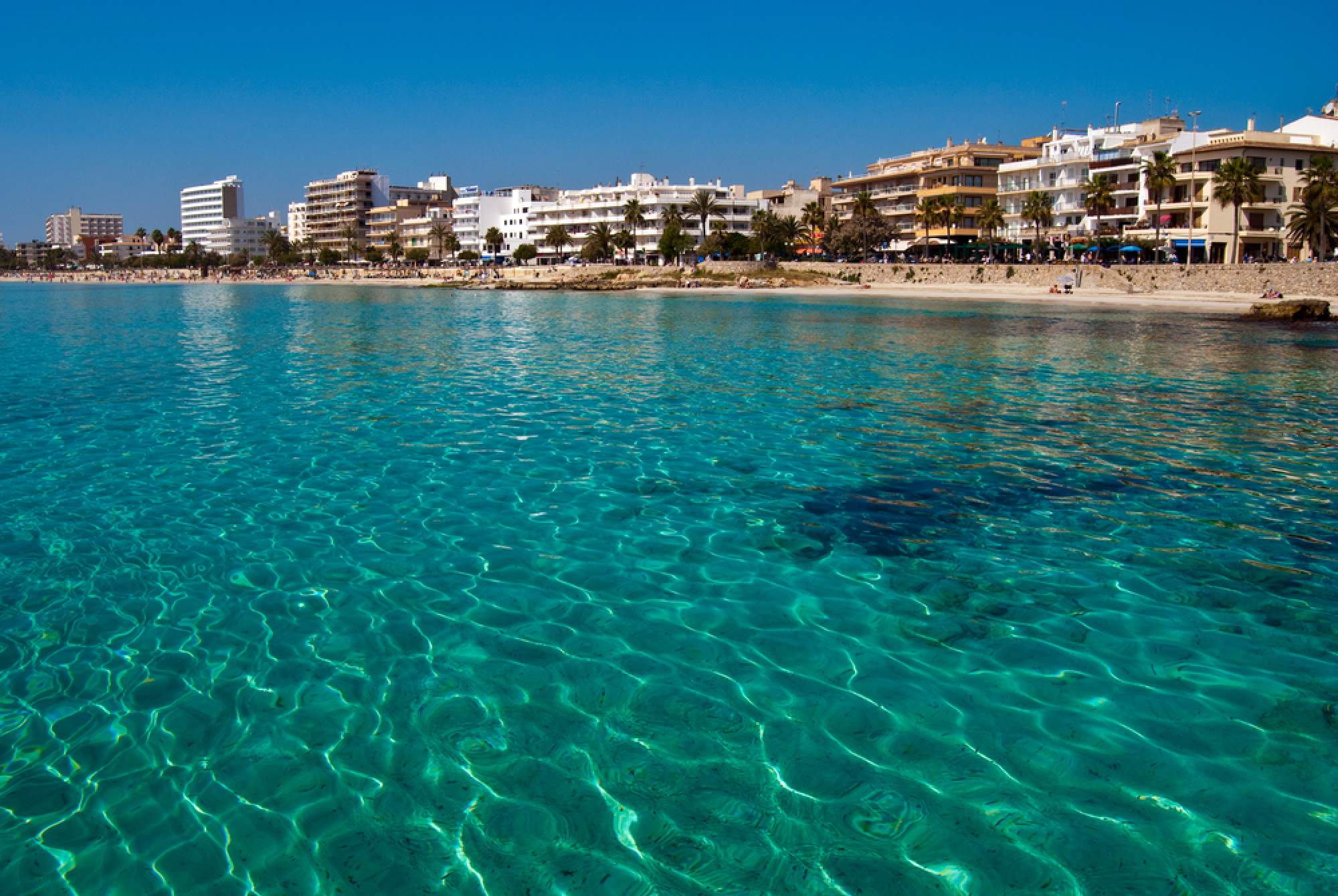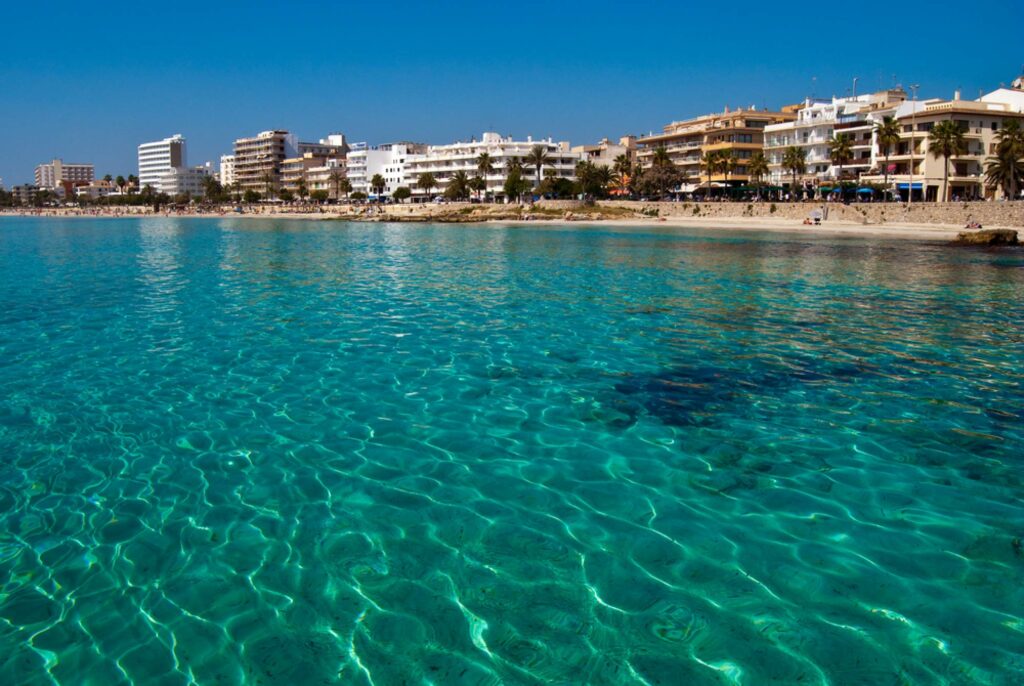 Cala Millor is an on purpose-built holiday resort. Shared between Son Servera and San Llorenç des Cardarssar. Cala Millor is the biggest tourist resort on the East. It has an international community of about 5000 inhabitants. The touristic development of Cala Millor started in the 1950s. The real tourist hype was in the 1960s and the village and the quiet long beach changed a lot. Hotel and complexes appeared neart the coast. Like all holiday resorts in the East, Cala Millor is vibrant in summer and quiet in winter. Its main attraction is the 1.7 km long beach.
Cala Millor is a great destination for a beach holiday. There are many restaurants, hotels and shops. The beach has white fine sand and the sea water is crystal clear and fairy-tale blue. It has the Blue Flag. On the beach you will find options for windsurfing, jet-ski, wakeboard, kayak and much more. No need to say that all facilities are available.
Have a lovely stroll on the seaside promenade that runs from Cala Millor to Cala Bona. In the tourist season a mini train connect Cala Millor, Cala Bona, s'Ilot and Sa Coma.
If you want more than beach, there is enough to see in the surrounding areas. The caves, medieval towns, hidden coves etc. And there are good options for hiking and cycling.The closest golf course is the one of Canyamel.
If nature is your thing you should visit "Sa Punta de n´Amer". It is a small peninsula and it is a protected coastal area. There is a large variety of flora and fauna and you will see the Es Castell watchtower.
In May it is time for the Classical Music Festival And it is also the month for the Medieval Fair.
Cala Bona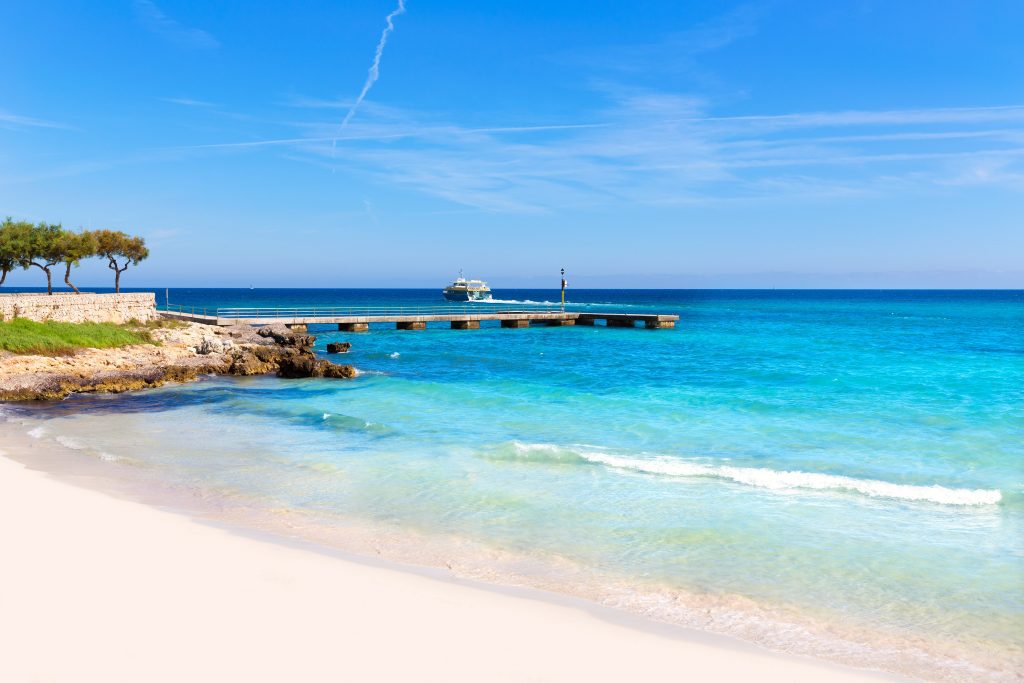 Connected with a sea front promenade Cala Bona is the next holiday resort after Cala Millor. Smaller and with charm. Once Cala Bona was a fishermen village. The traditional Mallorcan fishing boats, llaüts, are still visible in the harbour. Fishing is now less important. The main source of income is tourism. The first hotel opened in 1924. Cala Bona is smaller than Cala Millor. The atmosphere is laidback, and holidaymakers come here for relaxation.
There are enough shops, hotels and restaurants. The environment is beautiful and interesting. And the harbour gives Cala Bona a bit extra. There are 180 moorings for smaller boats.
The beach of Cala Bona is nice. It is sandy and it has the Blue Flag. Smaller than Cala Millor, but with enough facilities. No water sports here. You don´t go to Cala Bona for its nature. This is a beach for those who want comfort. Breakwaters split the bay into 3 parts. At the back is a nice promenade and many tourist complexes. It is good to bring water shoes as the soil has some sharp stones. On a very windy day we recommend choosing another beach as Cala Bona is not very protected.
It is one of the most accessible beaches of Mallorca and it received an award for that.
Children love to spend a bit of time in the Fantasy Park between Cala Bona and Cala Millor. In the harbour you can rent boats to explore the coast from the water. And there are some interesting hikes, like the one to Puig de na Penyal.
The biggest event in Cala Bona takes place on 16th July. It is the celebration of the patron Saint of fishermen: Virgen del Carmen.
Son Severa
A quiet town close to Cala Millor and Cala Bona. These beaches are the main attractions of Son Severa. If you want to vist less-known beaches in the region you can try Es Ribell and the cove of "Sa Marjal".
There is a weekly market is on Friday. The golf course of Son Severa is the second oldest on the island. In the 1960s it started as a 9-hole course. Now it is an 18-holes golf course.
Every year on 24th June it is the celebration of Sant Joan, the patron saint. A week full of activities like a farmer's market, traditional dances and local fairs.
Canyamel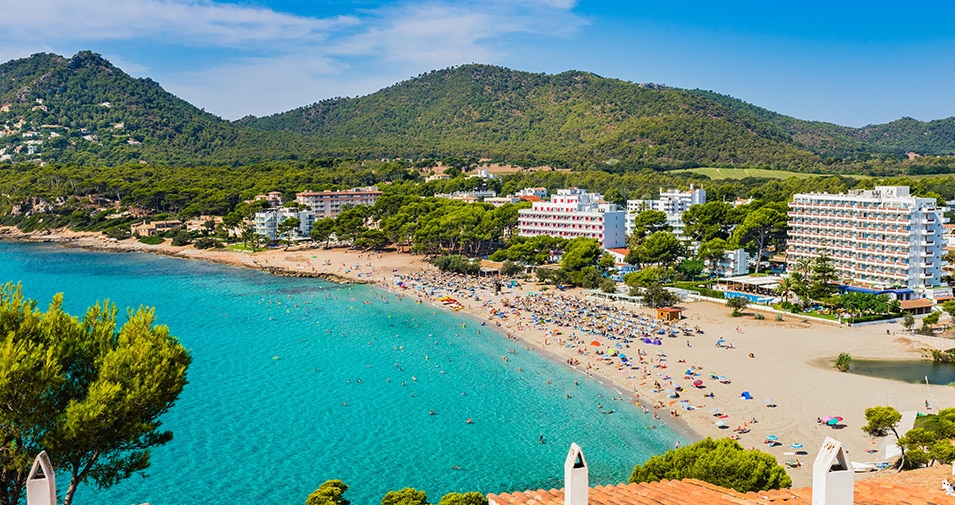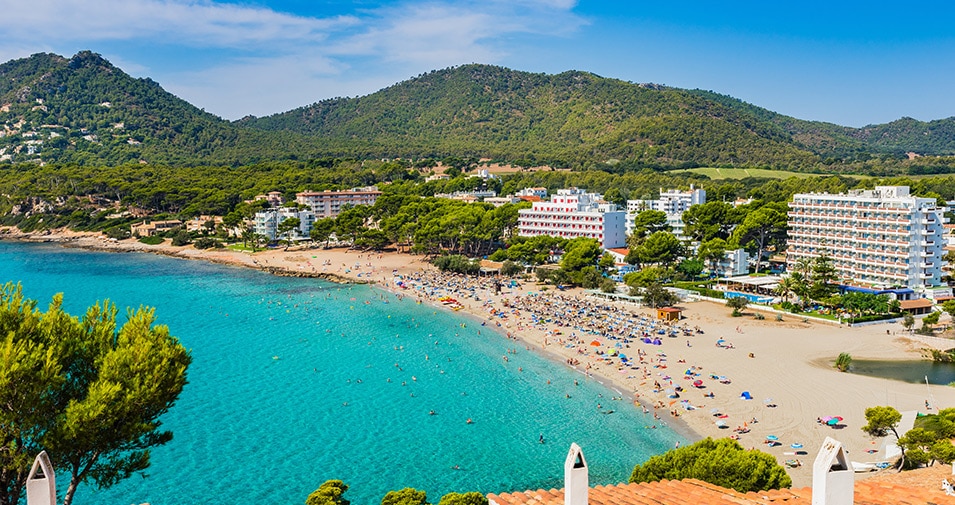 A small holiday resort in the north-east. A quiet place with a pretty Blue Flag beach. In the 18th century Canyamel produced sugar cane. The name Canyamel refers to this. It got attacked by pirates like many villages on the coast. Fresh water runs via the Torrente de Canyamel from Arta to the beach. At the end there is a large protected nature reserve. A good place for a walk and to spot birds.
Canyamel has a top golf course. And tennis players can choose from many courts in the area.
The highlight of Canyamel is it is beautiful beach. 290m long. Fine sand and clear azure water. A good spot for snorkelling. The setting is pretty as the nature reserve surrounds the beach. Most tourists that visit Canyamel are Spanish or come from Germany or Switzerland. It is a very good beach for families. Even in high season this beach is not overcrowded. There are sun loungers and umbrellas for rent. Some water sports and there is a beach bar for food and drinks. Canyamel is not protected from the wind. On a windy day it is wavy.
As a real tourist resort there are several hotels and apartment complexes. In the last years Canyamel attracts more high-end hotels. Like the Cap Vermell Beach Hotel and adults only Melbeach Hotel and Spa. In 2016 US brand Park Hyatt opened the doors of a 5-star hotel. It is the first Park Hyatt hotel in Europe. Pure luxury and overlooking the Canyamel valley.
Capdepera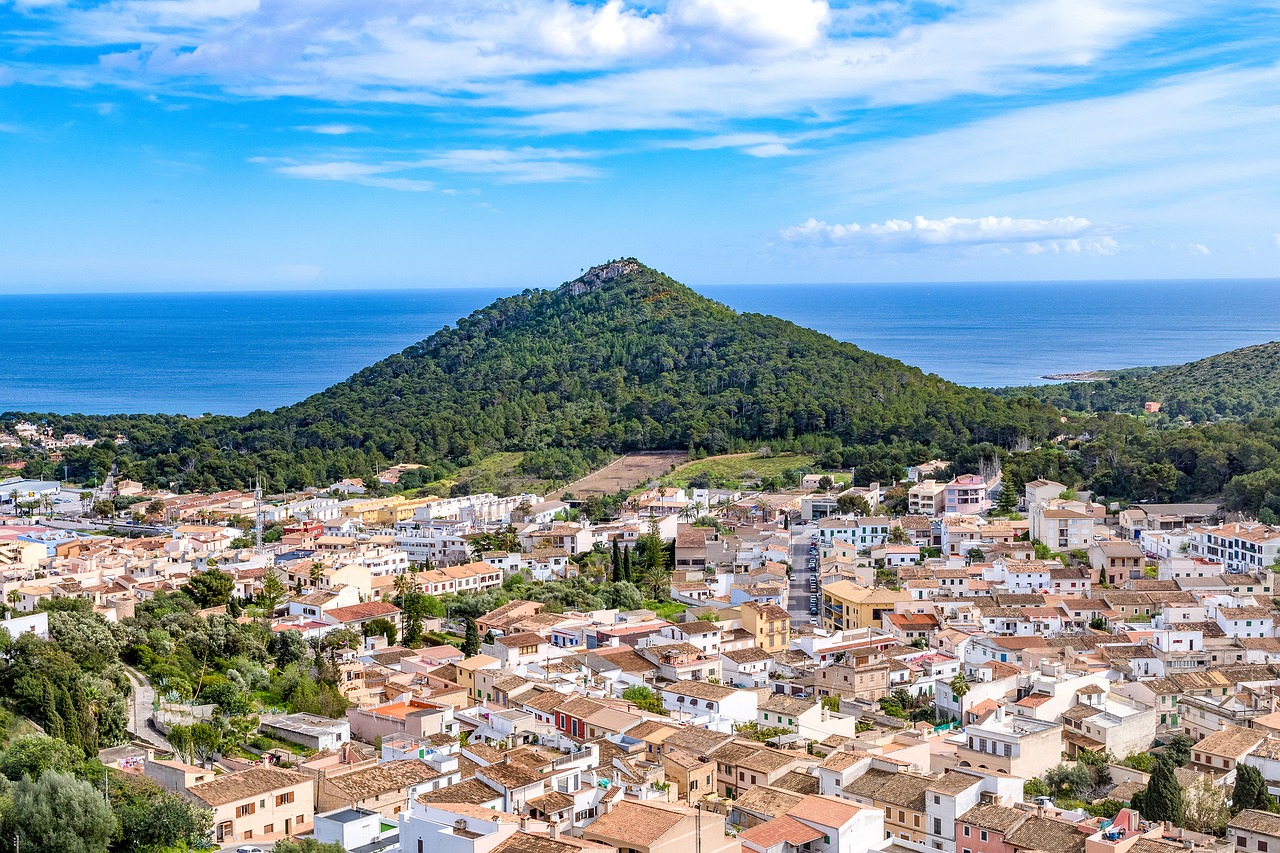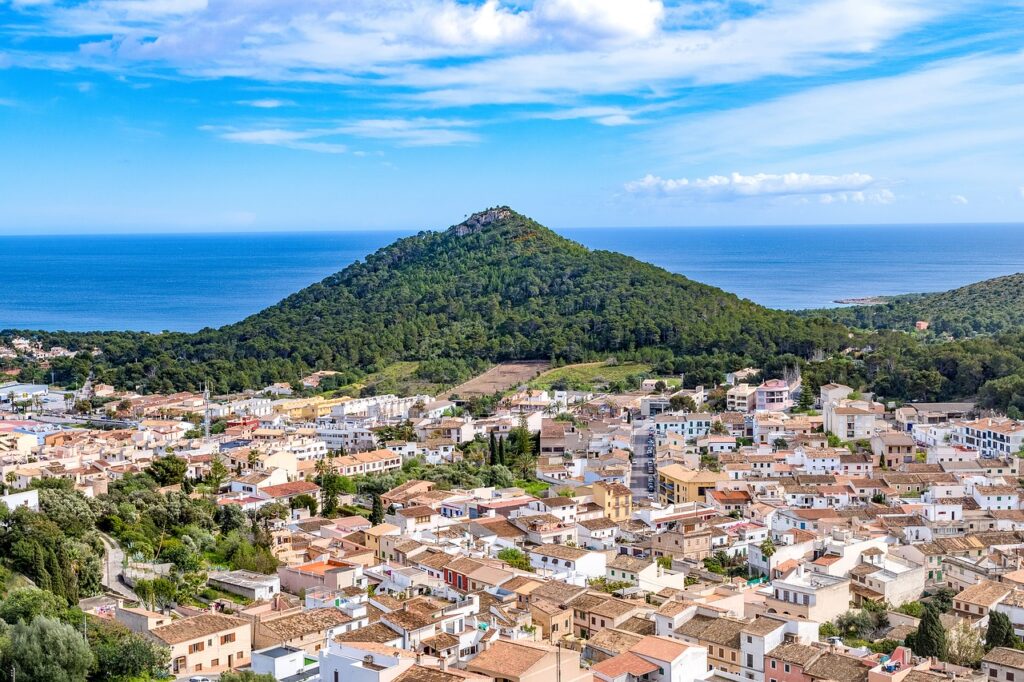 Capdepera is not as popular as many other Mallorcan towns and we do not understand why. It is a historical, charming village overlooking the sea in a natural environment. The landmark of Capdepera is its impressive castle on the hill. Nearby are pretty beaches. In fact: Capdepera has it all!
Capdepera dates from 1300 and had the purpose to protect the people from pirate attacks. But locals were not keen on living in this walled town. Anyway, in the end, the people settled here and survived many attacks from invaders.
Capdepera is full of history. It is an ideal village to explore walking. Stroll around in the narrow medieval streets and enjoy the impressive architecture. Big houses from the 14th century, the town hall and the San Juan Church. A very old manor is Can Piricus, that now houses the library. Another "must see" monument is the "Canyamel Tower".
The Castle is the most important historical structure. It dates back from the 14th century. Living between the walls, the people were safe from pirate attacks. Until the 19th century the castle kept its military role. In 1983 the council of Capdepera bought the castle from a private owner and turned it into a museum. The castle is definitely worth a visit.
In the centre of the town are many local shops. The weekly market is on Wednesday which is good for fresh produce. Best is to book your accommodation in the countryside. There are many agro-turismo´s that will give you an authentic feel. Also, excellent bases for cyclists and hikers.
Michelin star restaurant
This pretty historical town is home to a Michelin Star Restaurant. The Andreau Genestra restaurant received a Michelin star. And 2 suns from the Repsol Guide. A guaranteed high-level gourmet experience.
Medieval Fair
A very popular yearly event in Capdepera is the Medieval Fair in May. This Fair attracts a lot of visitors. Many stalls, falconry and fire-eaters are a few of the activities during this fair. It is one of the most spectacular fairs on the island.
Golf
Capdepera Golf is a well-known 18 holes golf course. The holes in the valley are easy. While the uphill holes need more skills.
Beaches
In the area are plenty of beaches. The most popular ones are Cala Mesquida and Cala Agulla. Cala Ratjada is also nearby.
Cala Mesquida is about 7km from Capdepera. It is a long sandy stretch surrounded by pine trees and dunes. The water is clear. Cala Mesquida is a popular beach. There some amenities to enjoy your day at the beach. Diving schools bring their students here and for snorkelling it is an ideal spot. On a windy day you will see windsurfers. You can rent a paddle boat but there are no other water sports. Access with a wheelchair is challenging.
Cala Agulla is not more than 2km away from Capdepera. It is a very clean beach in a beautiful natural environment. It has the famous Blue Flag. There is a wide range of water sports. A great beach for families. Be aware that it gets busy in summer.
Cala Ratjada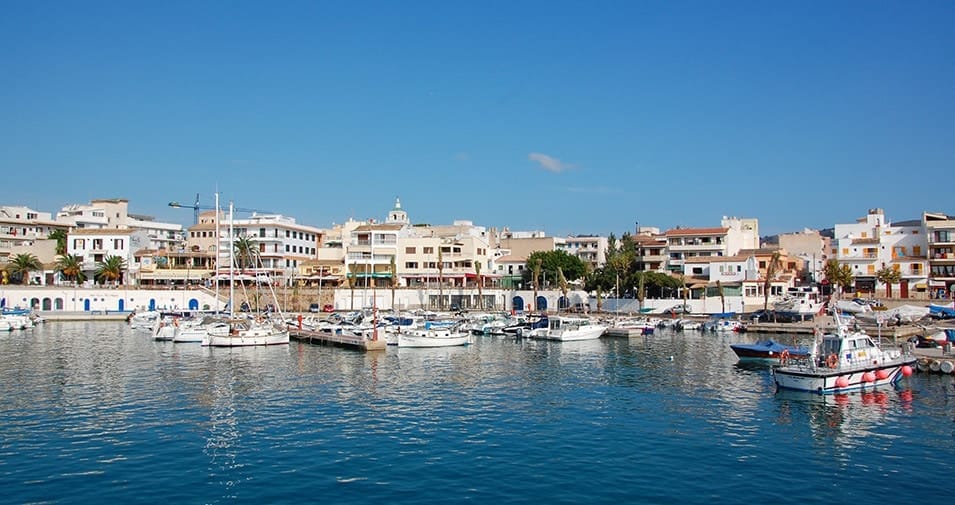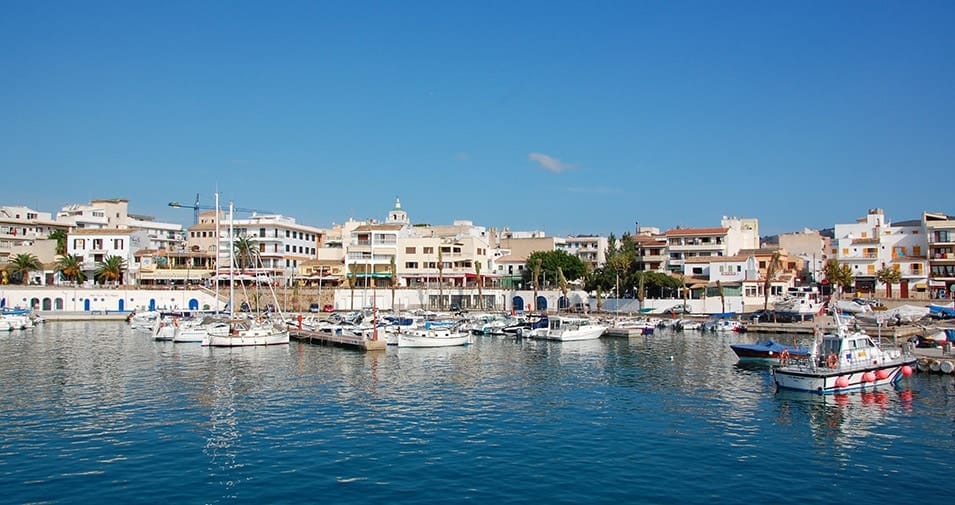 Cala Ratjada means the bay of rays. The coastline is rocky. The old harbour is charming and full of fishing activity. The port of Cala Ratjada is the second most important fishing ports of Mallorca. It is also the closest point to Menorca. On a clear day you can see Ciutadella on Menorca. And there goes a ferry from the harbour to Menorca. Cala Ratjada is a popular destination for Germans.
Since the 17th century the economy of Cala Ratjada was about fishing. Early 1900s the first tourism started to develop in the area. All on a very low scale. But after the 1960s the town transformed in a popular tourist destination.
What to see?
In summer the activity concentrates around the harbour and along the promenade. Have a stroll from Playa Son Moll to Cala Gat. There is a wide range of bars, cafés and restaurants.
But there is more to see than the harbour. At Punta de Capdepera is an attractive lighthouse dating from the 19th century. From the Esbucada Tower the views are unforgettable.
If you are into art, you have to visit the March Family Palace. Impressive architecture and grandiose gardens with sculptures made by Rodin and Chillida. The property was the summer house of a rich Mallorcan banker Bartolomé March Severa. His parents constructed the house in 1915.
What to do? One of the first things we would recommend to do is to rent a boat. The coastline in this area is diverse and spectacular. Many coves, rocks and more.
The area is popular for birdwatching. The stretch between Cala Agulla and Cala Mesquida is a protected bird sanctuary.
Cala Ratjada is a good base for hikers and cyclists. There are many routes available.
Various golf courses are nearby. The closest is the one of Capdepera.
Trail running is a popular activity. But this is not for everybody! There is a great trail from Cala Ratjada via Arta to Canyamel. In total 40km.
A unique experience is a hot balloon flight. Being on top of the world, moving slow and see the scenic beauty underneath. A must do!
Beaches
Like everywhere in the East the beaches are very pretty. The main beach of Cala Ratjada is Son Moll. A good-sized beach near the harbour. Be aware that this beach gets very busy in high season. It is a challenge to find a parking place in summer. But the water is clear and aquamarine. And the sand is fine and soft. No water sports here. The first few meters of the sea are shallow, but after that it gets deep.
Cala Agulla It only takes 15 minutes to walk to go to Cala Agulla. A sandy beach in a beautiful nature reserve. The beach conditions are good for families. The sand is fine, and the water is clear and turquoise. Sometimes it is a party beach. It is true that in low season youngster like to have their parties here. But this beach has much more to offer than "fiesta". The setting is picturesque, there are plenty of facilities and it is home to the "cocodrilo". These are rocks that have a crocodile shape. If you seek peace, this is not your beach. Don´t avoid this cove because of its party image. There are plenty of places where you can enjoy a "normal" beach life
Shopping
You don´t go to Cala Ratjada for shopping. But there are quite some shops in the L´Agulla Elinor Severa street. The local market is on Saturday morning. Here you will find fresh local produce and get a local feel.
Events There are several events organized during the year. The most remarkable one is the "Mostra de la Llampuga". It is a gastronomic fair in September about the Llampuga. This is a local fish caught from September to November.
Arta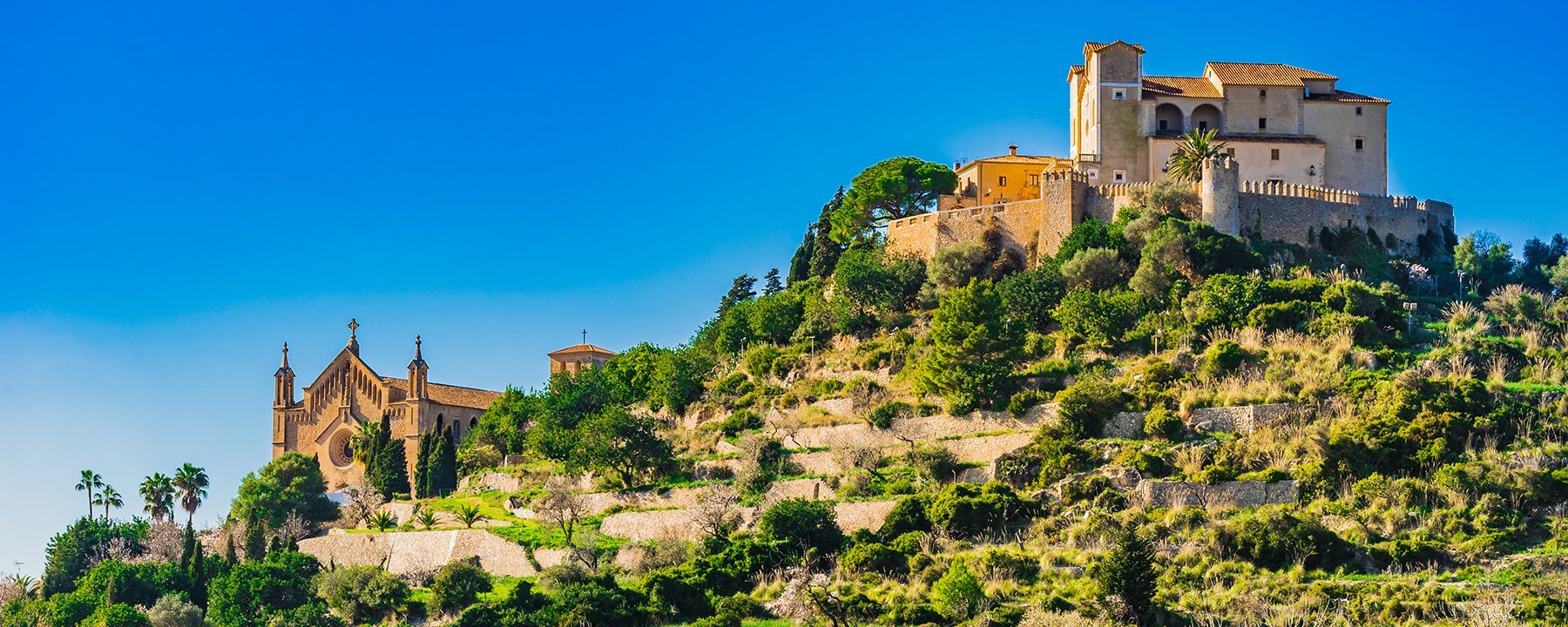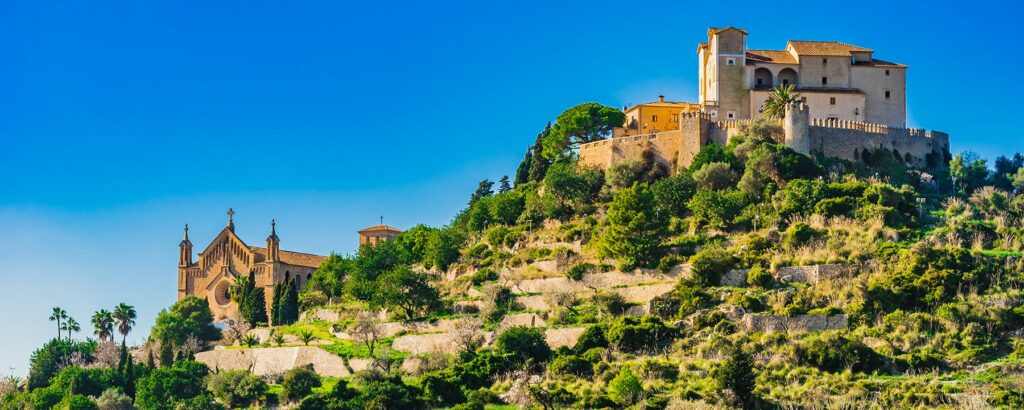 There is so much to say about the East. But now, finally, we will highlight the last interesting place in the East: Artá. A historical, traditional village where the true Mallorca is still alive. The name Arta comes from the Arabic word for "garden". It lays on top of a hill, is not overrun by tourists yet. But is pretty enough to spend a couple of hours. The centre of Arta is a maze of narrow typical Mallorcan streets. You will find shops, bars and restaurants here. The pottery and basket weaving of Arta is well-known. At several places in the town you can buy the "Artacard", which will give you discounts on entrance prices.
The Sanctuari The most important monument in the Arta area is the fortified Sanctuari de San Salvador. It overlooks the town. It dates back from the 14th century, but it was rebuilt in the 1800s. It is a walled fortress and there is a church. Because of its location on top of a hill it had an important strategic role. In the 10th century occupied by Arabs and there was a Mosque called Almudaina. When the Christs chased the Moors away, it became a Christian church. The walls date from the 14th century. To get there you have to walk up 180 steps. On a hot day this is definitely a challenge. It is an interesting monument and views from here are fantastic.
A remarkable fact in the history of Arta is that it was one of the last European places with a severe bubonic plague. Survivors of the plague moved to Colonia de Sant Pere.
What to see
You love prehistoric facts and live? The Talayotic village of Ses Païsses should be on your bucket list. It is one of the best Talyotic sites in all the Balearic Islands. It dates back to the Bronze Age.
Another highlight is the Parish Church of the Transfiguration of the Lord. Dating back from the 16th century. Built to replace a much smaller church. The style is Neo Gothic. It has imposing high walls and the inside is worth to have a look at.
Caves
Everybody always talks about the caves of Drach in Portocristo. But Arta has some pretty caves as well. The Cuevas de Artaare pretty and interesting. A tour in the caves takes about 40 minutes. You will see amazing stalagmites and stalagmites. Less visited than the Drach caves but impressive
Llevant Natural Park This natural park is only 20 car minutes away from Arta. It has a diverse flora and fauna. There are many bird species to observe. Different routes lead you through the park.
Markets
On Tuesday morning is the weekly market in the narrow streets in the centre. The market attracts locals and tourists. Many fresh produce and local items for sale. Another place to find local craft items is in the old train station of Arta. Also, on Tuesday mornings.
Events
Like in every Mallorcan town there are many events during the year. In January it starts with the "Fiesta of Sant Antoni" with a lot of traditional dancing. In June there is more dancing going on. Children perform traditional dances during the "Sant Antoni de Padua" on 13th June. In August the celebration of the Patron Saint San Salvador takes places. And if this is still not enough there is an Autumn Fair on the first Sunday in September. This is an agricultural fair.
Artá is a beautiful historical place that has much to offer. Click here to get more information and discover the real Mallorca.
It is clear that the East of Mallorca is a very interesting part of the island. The beaches are the best and there is still a lot of history and beautiful nature to find. We are sure you will enjoy your vacation in this area. Our team wishes you Happy Holidays!
Soller properties for sale
Check on the Soller real estate experts listing to find your home to buy on Mallorca. The tramuntana region and especially Soller, Biniaraix, Fornalutx, Port de Soller and Deia are beautiful places to discover.
Buying a property in Soller and its region will be made easy with our multilingual property experts.
You can register with us to be informed when an off market property comes to the market, simply register here for free.