Mallorca Property, Lifestyle and Information
Most hidden beaches for nudists in Mallorca
The beaches of the Balearic Islands have an unprecedented appeal. The turquoise water, the Mediterranean climate and the diversity of beaches attract many. Mallorca, the largest island in the Balearic Islands, has more than 260 beaches to choose from. There are beaches for families, couples, nature lovers, water sports enthusiasts and nudists. Read this blog to get introduced to the most hidden nudist beaches in Mallorca. First we like to introduce you to some facts about nudism in general, in Spain and the Balearic Islands.
Nudism or naturism?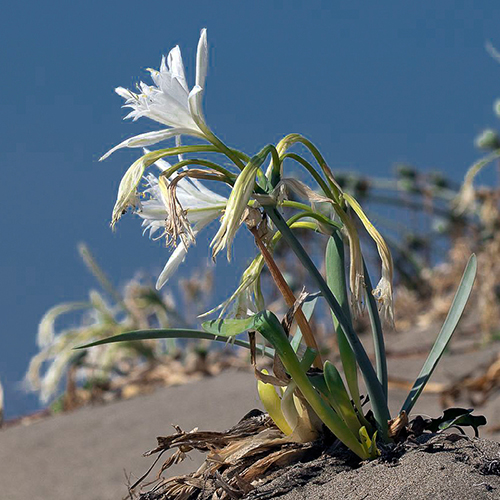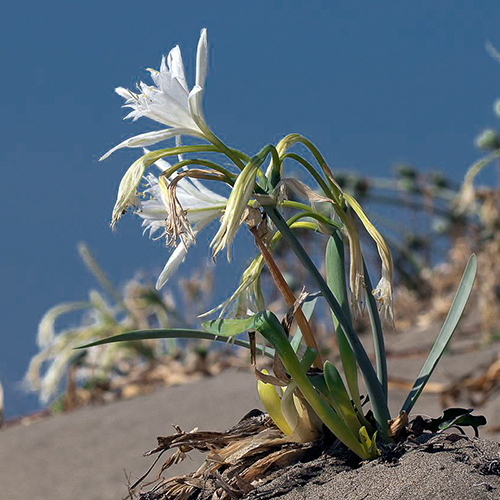 There used to be a clear difference between nudism and naturism. Nowadays both terms are often used for the same thing. But, there is a difference.
Nudism originates from the French word 'nu', which means naked. Nudism is about being and has no deeper background. The nudist enjoys relaxing activities like having a swim or laying in the sun.
Naturism, comes from the word 'nature' and is a lifestyle that goes much further. A naturist tries to identify himself with nature. He seeks harmony and respects himself and others. It's about living with an open mind without prejudice.
Is nudism legal in Spain?
No doubt about it: YES! The ban of nudists stopped in 1989. Since then the nudist movement kept growing. Nowadays around half million people enjoy the Spanish beaches in their birthday costume. It is 100% legal to go naked on the beach as nudism is a right covered by the Spanish Constitution.
Still it is wise to be a bit careful before you take off all your clothes. There are few "nudist only" beaches. Most of the time it is a mix of people in swimwear and those who do not want to wear anything at all. In general, Spain acceptsnudism . But make sure you always respect each other.
Nudism is a right in Spain but the beach is in fact the only place where you can undress yourself completely. Even so there are some nude events in the country like the Pamplona Running of the Nudes. This is a yearly naked protest against running the bulls.
The Balearic Islands and nudism
All Balearic Islands accept nudism on the beaches. Menorca, Ibiza and Mallorca are excellent for nudists. But Formentera is the best because of the laid-back lifestyle on the island.
In March 2019 the Balearic Parliament approved a motion to preserve nudism. The motion advocates the recognition of the naturist tradition of the Balearic Islands. As well as its practice in freedom, tolerance and respect for people and the environment.
As a result all beaches needs signposts with the text that "naturism is an accepted practice". When there is already a naturist tradition established on a beach the text is different. It should read: "This beach has a naturist tradition and we invite you to practice nudity and respect it."
Why Mallorca is great for nudism
Nudism is a right covered by the Spanish Constitution
Nudism is very well accepted by the people on the islands
Some political parties are in favour of protecting nudism
The Mediterranean climate. Hot, sunny summers and mild winters
More than 260 beautiful beaches. And a large choice of nudist beaches
There is a highly rated nudist hotel / apartment complex on the island
A large number of holiday homes have a lot of privacy. Ideal for naturists.
Most hidden beaches for nudists in Mallorca
The question is of course how hidden a hidden beach is. In these modern times it is almost impossible to keep anything secret. In general we can say that the harder it is to reach the beach, the fewer people go there. Don't expect an empty beach in the weekend or in high season. That is a utopia. Out of season it is possible to be there (almost) alone. We will start our list in the region where Soller-Properties is active.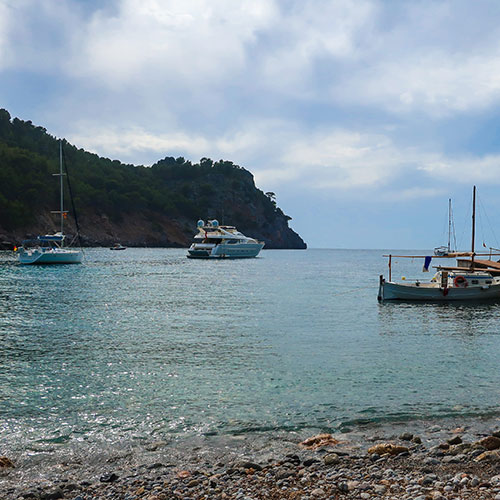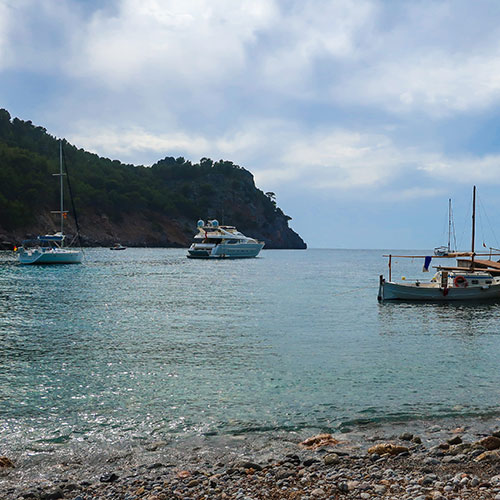 Cala Tuent – Escorca Cala Tuent is an hour's drive from Soller. It belongs to the municipality of Escorca. A quiet beach, but in high season it can get busier. It is the largest natural beach in the Sierra de Tramuntana. The bay is approximately 100 m long and 30 m wide. Set in a natural environment with a spectacular view on the Puig Major mountain (1,445 m). A winding road leads down to this beautiful beach. Parking is available.
The sand is a mix of gravel and pebbles. Don´t forget your water shoes. The water is crystal clear. Swimming and snorkeling conditions are good. In summer this idyllic spot attracts many boats that anchor in the bay. Cala Tuent has a laidback atmosphere. It is not a nudist beach pur sang, but in low season naturists come here. Especially in low season more people take off their clothes. There are no services on the beach itself. But there is one restaurant in the area.
Cala Tuent is accessible by car, bicycle, boat or by foot. There is a frequent boat ferry from Port de Soller to the Cala. This ferry is also used by hikers who finish their walk here and need to return to Port de Soller.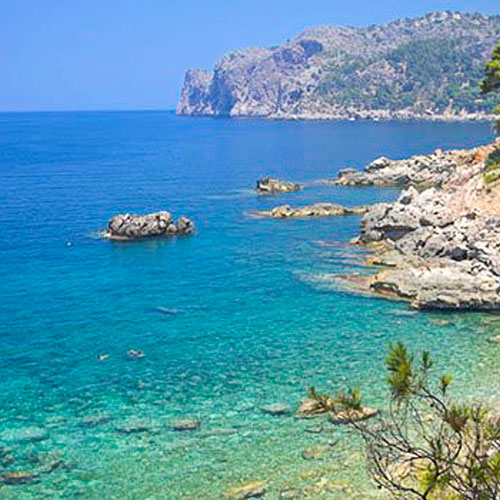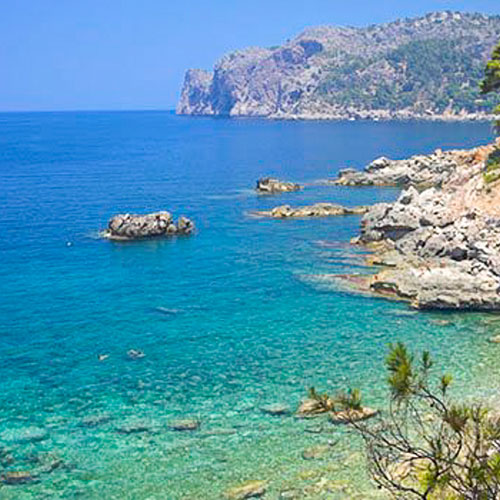 Es Canyaret – Deia
The beach of Llucalcari is Es Canyaret. It is the best place for nudists in the Tramuntana area. Ideal beach for nudists in Mallorca. Very secluded! This natural beach is only 100 m long and 8 m wide. The cove is a mixture of rocks and pebbles. There are no facilities. The sea water is turquoise and clear. There is a mud pool nearby. The mud contains some very good minerals. This is why some visitors put the mud on their bodies. Es Canyaret is a beach to relax. Best things to do here are relaxing, thinking, reading and swimming.
You can only access this small cove by foot. It possible to park the car in the hamlet Llucalcari near Deia. The last 300 m you have to walk. There is a trail that leads through olive trees, carob trees, pine trees and oaks. The name Llucalcari means "home of the forest".
Or you can choose for the "Ruta de los Pintores" (the painter´s path). This 3 km hike starts in Cala Deia and ends on Es Canyaret. It goes through one of the most beautiful areas of Mallorca.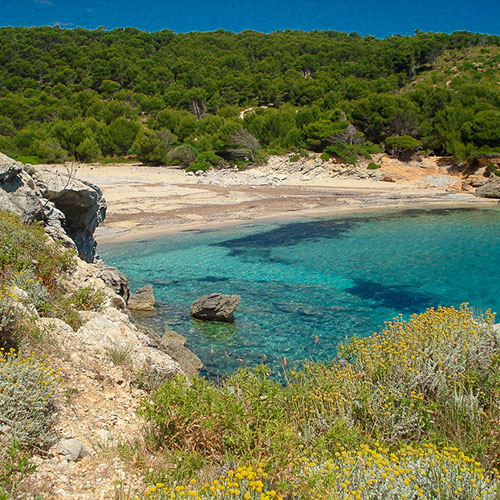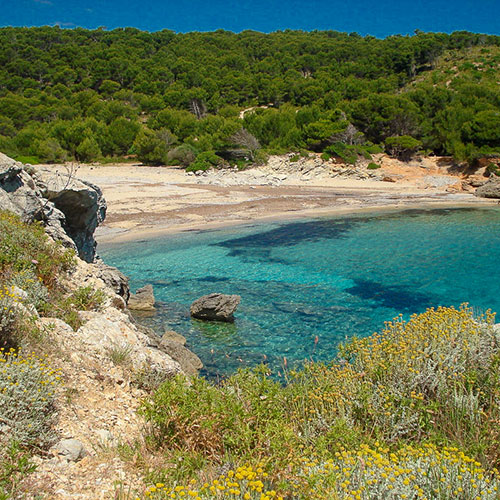 Cala Matzoc – Arta
Playa de Es Matzoc (or Cala Matzoc) is in the northeast of the island. The historical town of Arta is 10 km away. The name derives from Torre de Matzoc. A defense tower from the 18th century that dominates the cove. This beach is wild and tranquil. A very good beach for nudists in Mallorca. About 80 m long and 60 m wide. Es Matzoc consists of fine sand, pebbles and seaweed. Vegetation in the surroundings ends on the beach. Bear in mind that there are no facilities.
Be careful when it is windy. The current can be very strong and swimming can be dangerous.
Cala Matzoc is not easy to reach. You need a 4-wheel drive car to get close to the beach. Or you follow the amazing walking trail. It will take about 30 minutes to reach the beach.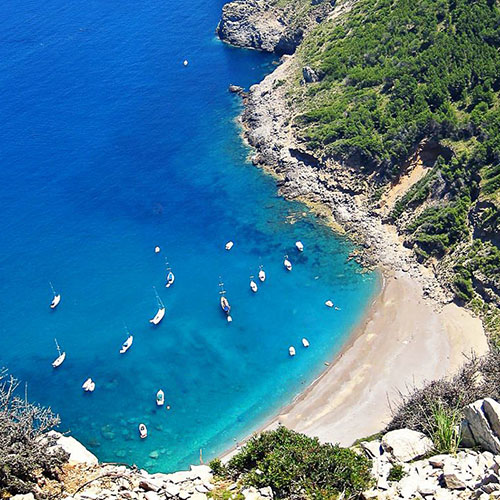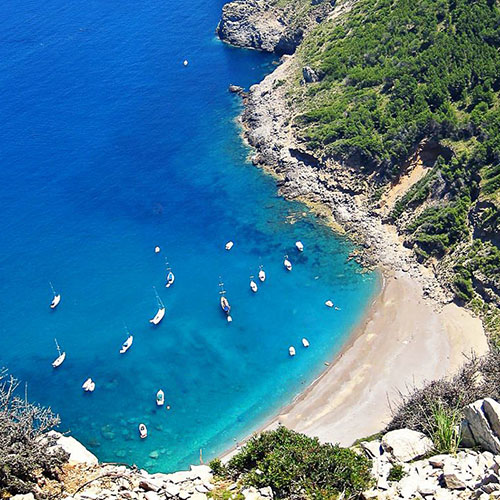 Es Coll Baix – Alcudia
Another raw beach on the island. Es Coll Baix is only 8 km away from Alcudia. It is a hidden gem because it is not easy to access. This beauty is 220 m long and 50 m wide. It is a mix of sand and small pebbles and set in a spectacular scenery. The sea is turquoise. Snorkeling is a good option if not too windy. Parts of Coll Baix are especially for nudists. Bring everything you need as there are no amenities.
After parking the car, you will have to walk 30 min down to reach the cove. Use good shoes for this. The last part of the walk is more difficult.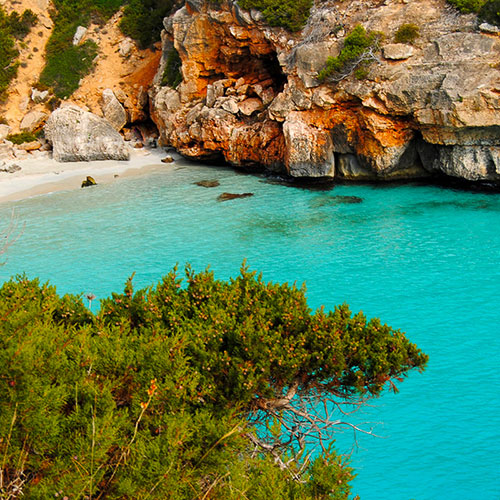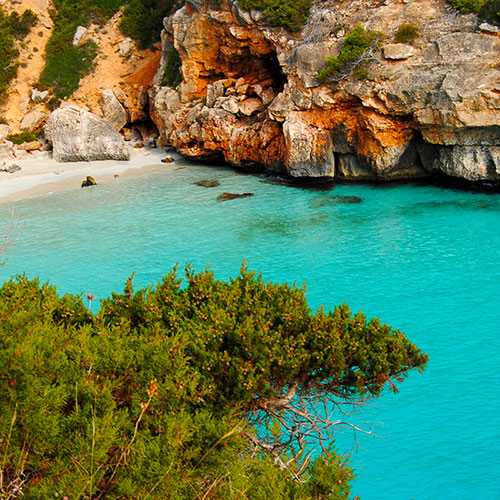 Calo des Guix (Es Formiguer) – Calvia
This is a tiny place on the coast of Calvia. Located between Peguera and Costa de la Calma. Not more than 50 m long and 15 m wide. It is completely virgin. A good spot for snorkeling. There are no services. You need good shoes to climb between the rocks.
Es Formiguer is the characteristic rock in the Caló des Guix. Formiga is Catalan for ant.
Calo des Guix is not a real beach. But it is a place for nudists to enjoy the coast.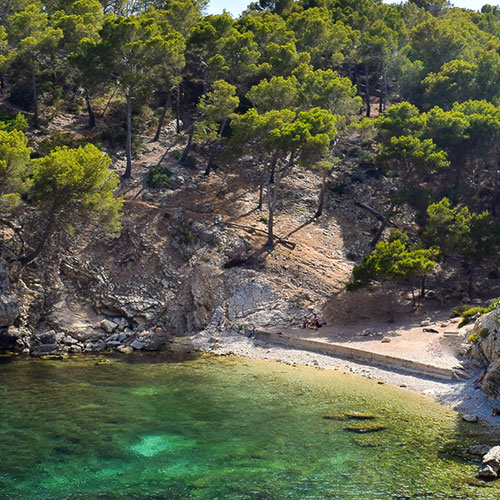 Calo des Monjo – Calvia
A natural cove surrounded by cliffs and lush vegetation. Situated between Paguera and Andratx. Calo des Monjo means Cave of the Monk. The town hall of Calvia declared this beach nudist beach. There are 2 little beaches. The one on the left is an ideal beach for nudists in Mallorca. The cove is a mix of pebbles, rocks and sand. The water is turquoise and shallow. Also good for snorkeling.
It is easy to reach. Park your car at the beach of Cala Fornells. Then it is a 10-15 min easy walk through the forests.
It is a very quiet beach with a relaxed vibe. Even in summer it will not get overcrowded. Except in the weekends in August, when locals visit this place as well. On top it is a very clean beach with very clean water. There are no facilities on the beach but there is a restaurant in Cala Fornells, which is not far away. It has a few hiking trails in its surroundings.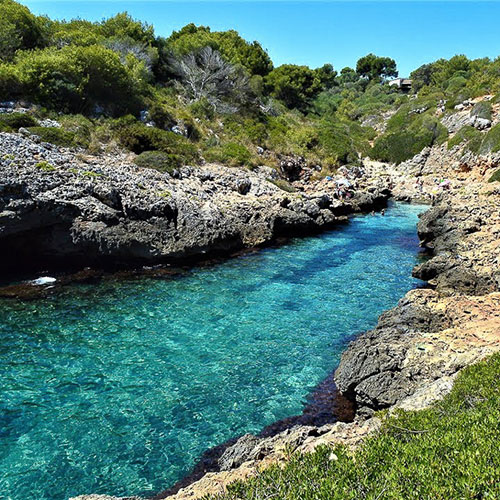 Cala Murta – Pollença
Settled on the foot of the Sierra de Tramuntana in the Bay of Formentor. A very scenic environment. Puerto Pollença is 15 km away. Cala Murta is a breathtaking sea inlet. Unspoilt and little frequented. The deep blue water is crystal clear. In summer small boats anchor in the cala. The beach consists of a mix of gravel and sand. Pine trees and beautiful cliffs surround the cove. Cliff diving is possible. It has a length of approximately 80 m, and it is about 25 m wide.
It is not that easy to reach this paradise. There are 2 options: by boat or by foot. You have to leave your car when you see the sign Cala Murta. From here you walk about 1500 m through a pine forest.
Cala Murta is a very pretty spot and worth the walking. It is still wild and peaceful. No facilities here, so bring everything you need.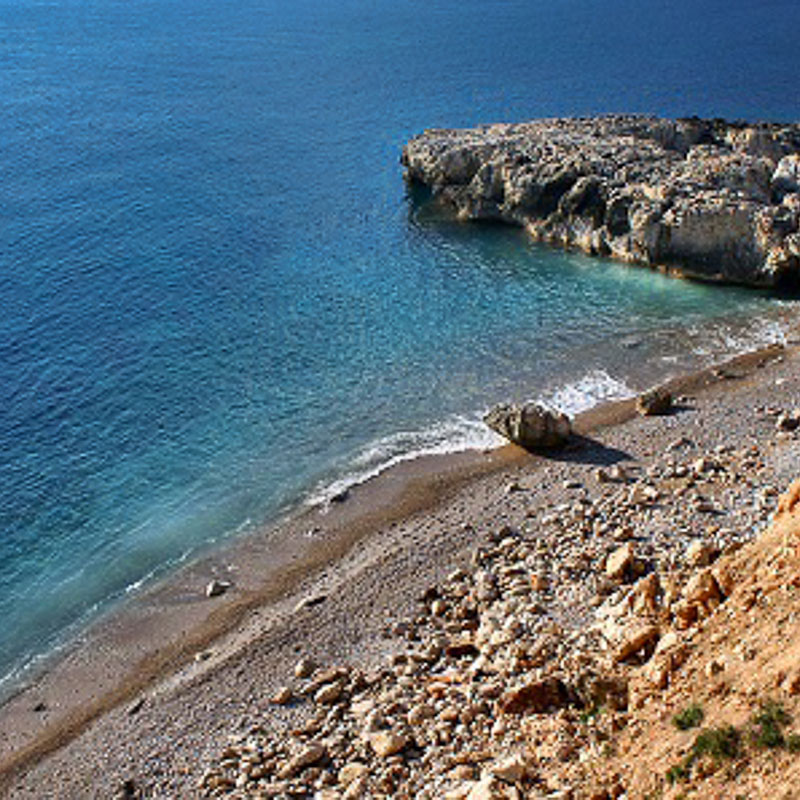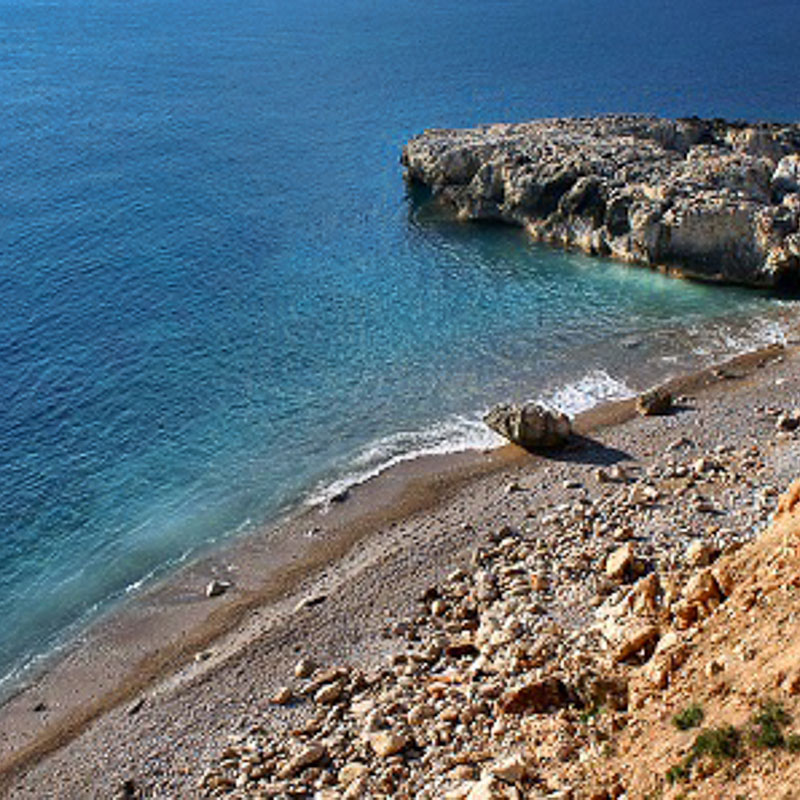 Caló des Grells – Palma
Calo des Grells is a small beach near the centre of Palma. Located between Punta des Grells and Sa Cova des Coloms. It is next to shopping mall Porto Pi and the Castle of Saint Charles (17th century). Not more than 75 m long and 15 m width. A peaceful haven in the busy capital of Mallorca. Stones and coarse sand alternate. To access the beach, you have to go down on a wooden staircase. Hotpsot beach for nudists in Mallorca.
The quality of the water depends on the current of the sea. In summer it is very clear most of the time. If weather conditions allow it is safe to swim. Calo des Grells is popular with the inhabitants of Palma. It has a good naturist reputation.
The beach is well indicated. No amenities available.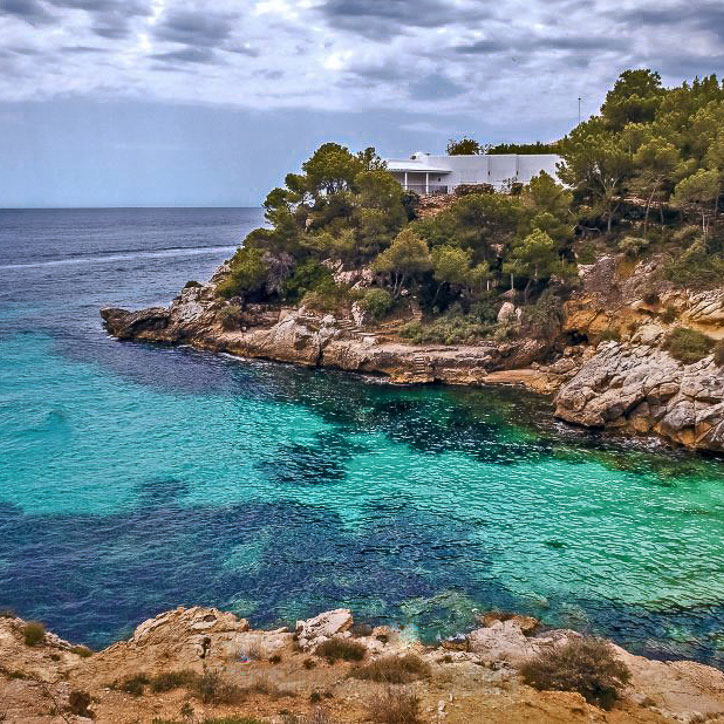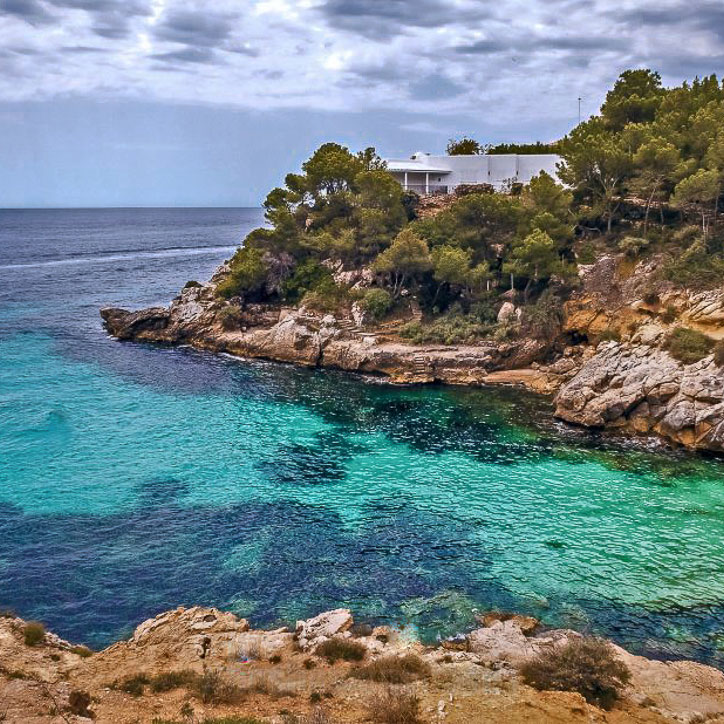 Calo de la Bella Dona – Calvia
This beach has several names. Calo de sa Nostra Dama, Calo de sa Dama Morta, Calo des Suro and Calo Deo de Ses Paparees refer to the same cove. This is another paradise. Only 8 km away from Magaluf. But nothing like Magaluf. A small stretch of 30×6 m. The sand is fine and very white. The surroundings are green. The Mediterranean Sea is clear and turquoise. Very good for snorkeling.
Since 1986 Calo de la Bella Dona is a nudist beach. There are no services here. Access is easy and well indicated. It is a short walk of 200 m. Also accessible for disabled people.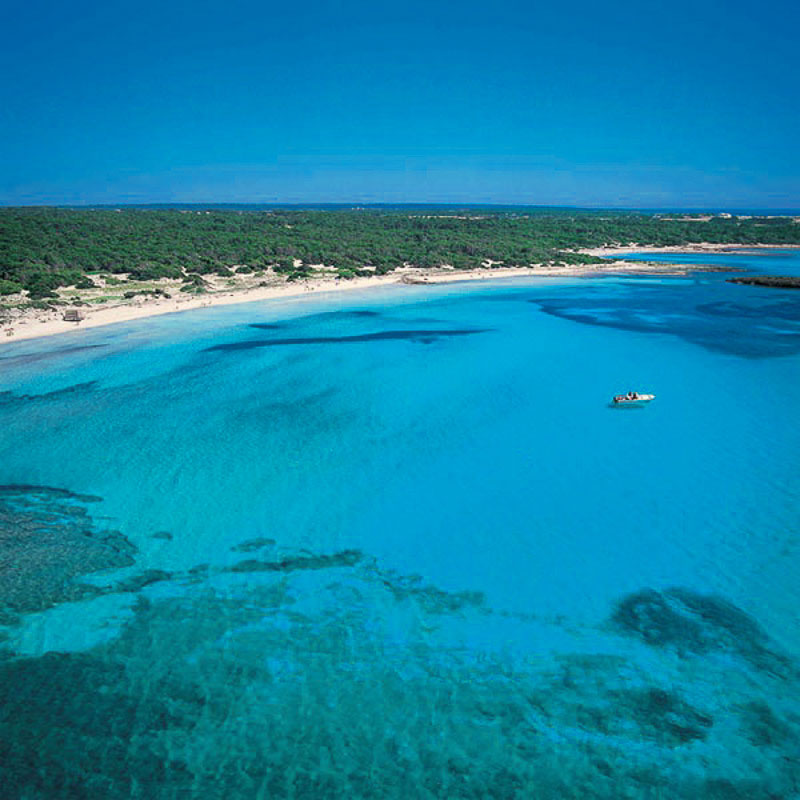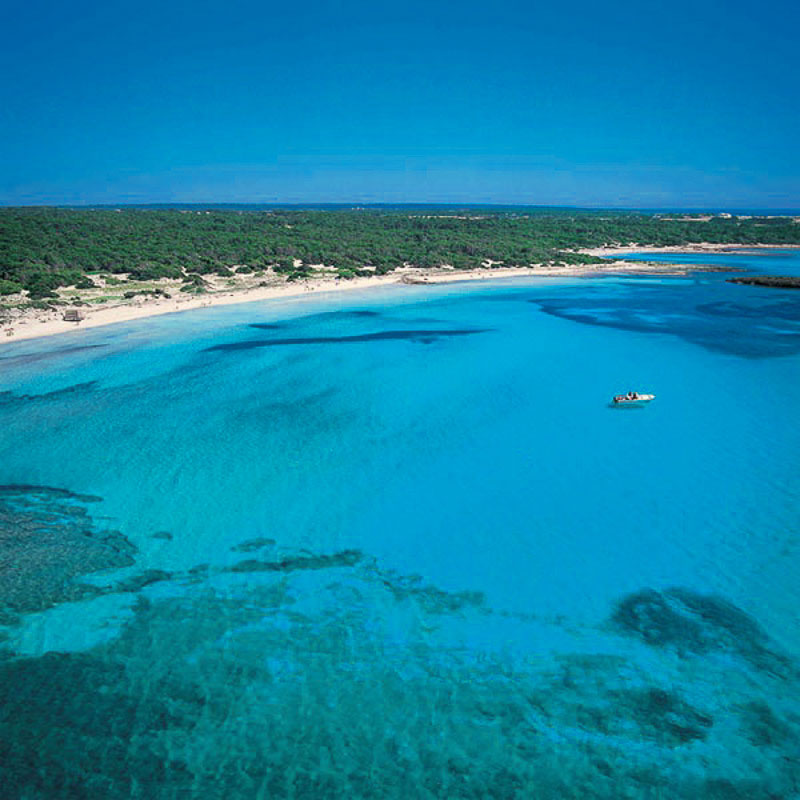 Playa Es Carbo – Ses Salines
This beautiful stretch of sand is in the south of the island. This beach is like being in the Caribbean. Turquoise, shallow water and white sand. Yachts mooring in the bay. It is 1400 m long and 50 m wide. More remote areas of the beach are for nudists. Fenced sand dunes border the beach. The land behind the fences is private. There are no facilities. This beach is pure nature.
Playa Es Carbo is never crowded. It is only accessible by foot. From Colonia St Jordi it is a 30 minutes' walk. It also possible to park the car in Ses Salines, but then the walk is longer. During the walk you might spot the "Lliris de Mar". This sea daffodil grows on a few places on the island. Enjoy its beauty but don´'t pick it.
Range of beaches for nudists in Mallorca
The range of nudist beaches in Mallorca is large. The above list is far from complete. Those who prefer to go to a busier naturist beach can visit the following places. Es Peregons Grans next to the popular nude beach of Es Trenc. Playa del Mago in Portals Vells. One of the most beautiful is Es Caragol in the south. Cala Mesquida in the region of Arta also deserves a mention.
Whichever beach you choose, the team of Soller-Properties wishes you a wonderful day. Enjoy!
Soller property
interested in buying a property on Majorca? Start your property search with Soller properties. Estate agents in Soller valley offering the best selection of properties for sale in Soller – Properties for sale in Port de Soller – Properties for sale in Fornalutx & Properties for sale in Deia. Discover TOP apartments, villas, fincas and townhouses for sale here
Register For Free To See Our Off-Market Portfolio
Many property owners opt for discretion when selling their property. Access our off-market portfolio by registering here.