BEST BEACHES IN MALLORCA
It is not easy to determine the best beaches in Mallorca. In total there are 262 Calas, Playas and Bahias. And every beach has something special and its own character. Besides, it also depends on your personal wishes. A family is looking for a different beach than a couple in love. In total Mallorca has 50km of beaches. Before we go to the Top Ten, we give you some background information about Mallorcan beaches.
What is the difference between Bahia, Playa and Cala?
In general, all three lead to a beach. But there is a clear difference. Playa (or Platja in Catalan) are long sandy beaches which have all the facilities you wish for. Bahia is like a bay. Larger than a Cala, but smaller than a Playa. Calas are the smallest beaches on the island. Sometimes sandy, sometimes with pebbles. There are few amenities. And access is not always that easy.
Why is the water so clear in Mallorca?
The Mediterranean Sea that surrounds Mallorca is at most places turquoise and crystal-clear. The Poseidon grass is the reason for the clear water. There is plenty of this grass on the seabed around the Balearics. The Poseidon grass is very important for the ecosystem of the sea. It filters the water. This seagrass is sometimes very old. At Formentera, they discovered grass that was about 100.000 years old.
The List of 10 Best Beaches in Mallorca
We did some thorough research. And we drew up the following overview of the best beaches in Mallorca. These are the island´s top beaches according to us. But again, there are so many beaches on this amazing island that are also worth visiting.
1. Playa Formentor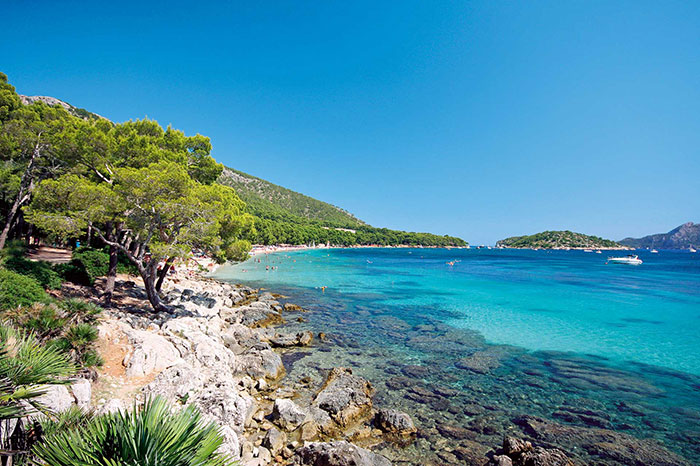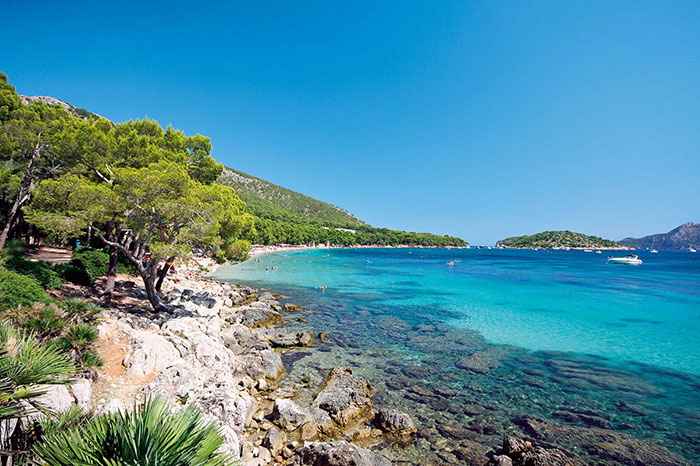 A beautiful beach located in the northeast on the Formentor Peninsula. It is a very long, narrow, sandy beach. Surrounded by forests and with clear turquoise water. With views of the mountains of the Sierra de Tramuntana. The other name for Playa Formentor is "Cala Pi de la Posada". It is about 1km long and 12m wide and has the Blue Flag. On Flight Network, an important travel site, ranked beaches in the world. The beach of Formentor came out as best beach number 3 in Europe. Worldwide it ranked number 22.
The beach is very popular with tourists in high season. In July and August, you better arrive between 10.00 and 11.00 hrs. Like this you cut stress to the max. Access is easy by car and public transport. There is a huge parking but be aware that it is not a cheap one (about 10 Euros).
On Playa Formentor you find everything you need. Rent of sunbeds and umbrellas. The prices of the rent of sun loungers and parasols vary a lot. Two beds and an umbrella start around 15 Euros per day. But it goes up to 50 Euros. There are toilets and showers. Drinking water stations and information spots. Lifeguards keep an eye on you in mid- and high season. It is possible to rent kayaks and windsurfing equipment. As well as small catamarans and sailing boats. Also, glass bottom boat tours are available. It is a great spot to snorkel and swim.
This pretty stretch of sand is child friendly. Soft sand, shade from the trees and clear calm water. With lifeguards in the popular months. Only down point for kids is that there is not much space to play football or any other game. Disabled people enter the beach via wooden walkways.
On the beach are 2 restaurants. L'Espigo beach bar is an eatery for a quick bite. La Veranda is the other option. With better service and a higher price. This is one of the restaurants of the renown Royal Hide away Hotel Formentor. One of the oldest hotels on the islands. Since its opening in 1930 Hotel Formentor welcomed many famous. Like Winston Churchill and Charlie Chaplin.
Not far from Formentor are the nice beach resorts of Puerto Pollença and Puerto d´Alcudia. Right before you arrive at Formentor there is a great viewpoint. Park your car for a while and enjoy the impressive views.
2. Cala Mesquida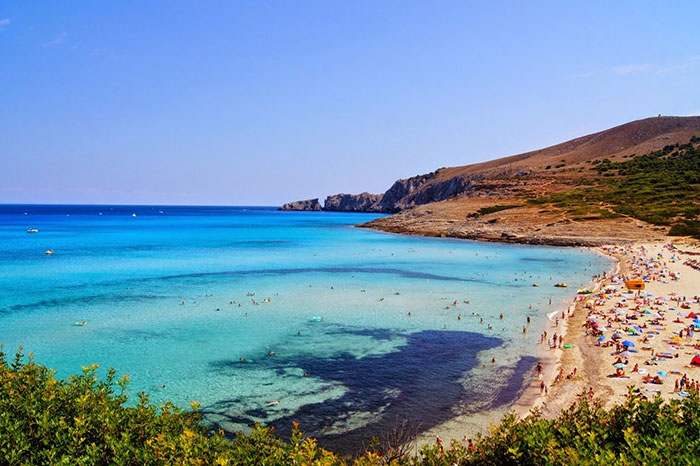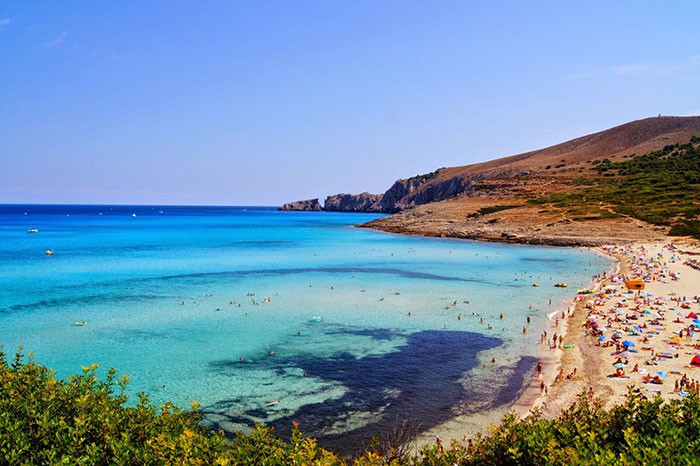 This pretty stretch of sand is in the northeast of Mallorca. Seven kilometres from Capdepera and about 15km from Arta. In 1991 the Balearic Government declared this area an "area of special interest". This status protects the area, so it keeps some of its wildness. It is an important area for birds. You find here one of the largest colonies of gulls and cormorants of the Balearics. The east part of the beach is natural with sand dunes and pine trees. And hills on the background. The east part is for nudists. On the west side of the beach is a small resort. Here are some restaurants, hotels and shops.
Cala Mesquida is a nice bay and about 350m long and 100m wide. The sea water is clear, turquoise and clean. The beach is popular with families and tourists from Germany and the UK. If you visit this beach with little children, you have to keep an eye on them when going in the water. Due to its location, wind can arise out of the blue. This causes waves and some strong currents. In high season there is a lifeguard. In spring and autumn surfers love to be on the high waves.
Limited facilities on the beach. They rent sunbeds and umbrellas on a part of the beach. There are showers, but no place to get changed, neither toilets. There is a small beach bar with drinks and snacks. And a restaurant with simple but good food.
The Cala is popular for diving tours and snorkeling. Further there are paddle boats to rent.
Cala Mesquida is easy to find. There is a good-sized parking. From the parking you have to walk about 200m. This makes access for wheelchairs challenging.
3. Playa de Muro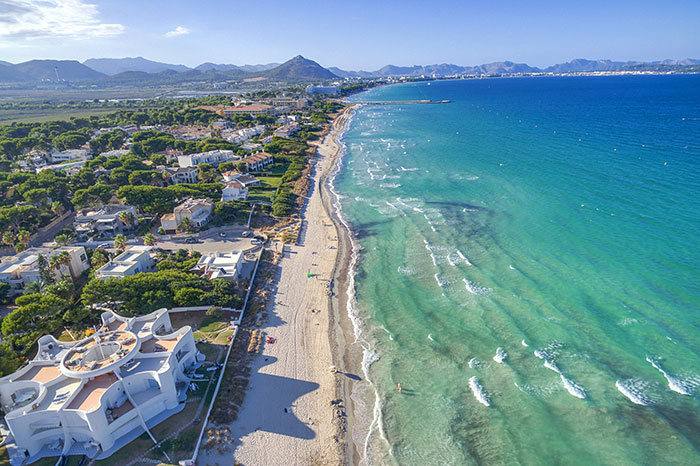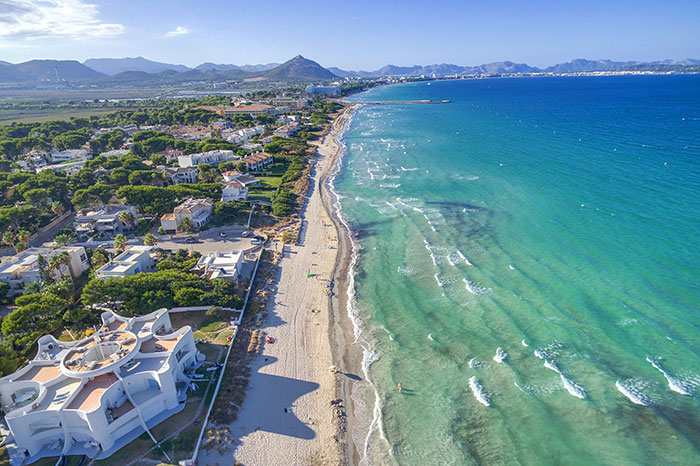 Six kilometres of white, fine sand and a Caribbean blue sea. Playa de Muro is a pearl in the north of Mallorca. It belongs to the municipality of Muro. The beautiful towns of Alcudia and Pollença are close by. It is the longest beach on the island. This "playa" attracts tourists and locals of all ages. It is child friendly as the water is shallow and calm. Playa de Muro is a very clean and eco-friendly beach.
The beach has 4 different sections. All have the Blue Flag except section 4.
Section 1 is the most popular section. It runs from Port d'Alcudia beach to the promenade for the daytrip boats. This is Playa de Muro.
Section 2 is less busy. Es Braç stretches from the promenade to a dune area that is not very developed. This part is popular with nature lovers.
Section 3 has the name Es Comu. This section is the most natural part and is about 1.5km long. It forms part of the Natural Park S'Albufera. And has pine trees and sand dunes. Limited facilities. No sunbeds and no beach bar. To reach section 3 you have to walk a bit more. It is more complicated to find a parking place. On this section you will see nudists.
Section 4 is Es Cappellans and reaches to Can Picafort.
In high season sections 1,2 and 4 are the busiest. It is easy to find by car or public transport. There is parking (paid). Sections 1, 2 and 4 are accessible for wheelchairs.
Apart from section 3, all sections dispose of abundant facilities. Sun beds, umbrellas, volleyball and beach ball courts. Restaurants, bars and cafés. Lifeguards are present. In August waves sometimes get high. In that case there will be the red flag as swimming is too dangerous. There are toilets, showers and changing stations. In section 1 and 2 are plenty of water sports. Kite surfing (only in section 2), banana boats, wind surfing, paddle boats and SUP. If you want to do something more adventurous you rent a jet-ski, you water-ski, or you do paragliding. It is also fun to boo Kk a half day boat trip and try to spot dolphins.
There are many restaurants and beach bars at Playa de Muro. Two restaurants are very popular and attract people from everywhere. Ponderosa Beach Club is a well decorated Beach Club where you eat with your feet in the sand. A diverse menu with paella and other rice dishes. As well as food with an Asian touch. The Ponderosa Beach Club is one of the Top 10 wedding venues of Mallorca. The beach club has great music with DJs playing live on certain dates. Make sure to reserve a table.
Another very popular place is Royal Beach. A great spot for an excellent cocktail and delicious food. Famous for its poke dishes.
Balneario 3 and 4 are basic but you have great sea views. In total you will find 7 balnearios along the playa.
4. Cala Mondrago and Cala S'Armarador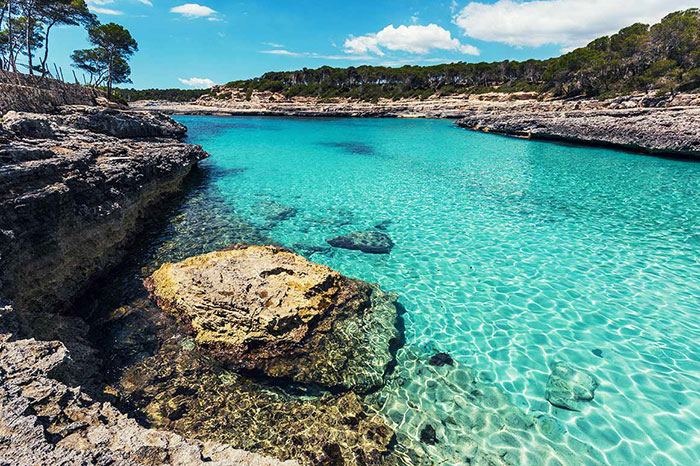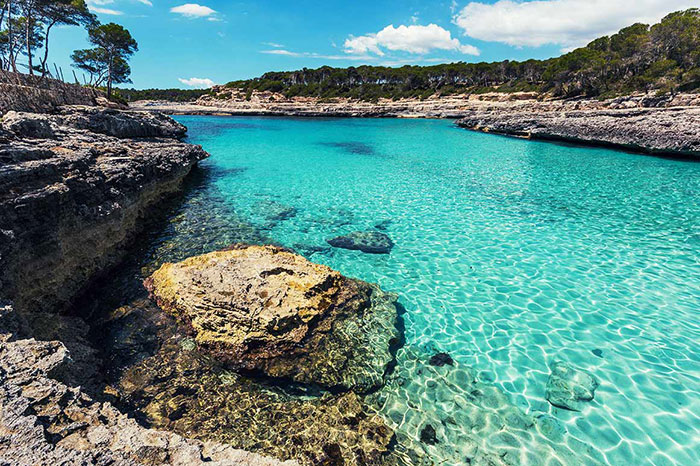 These are two pretty beaches in the Mondrago Natural Park. Close to the town of Santanyi in the south of the island. Because the area has a protected status sinc 1992, it is very pretty. There are pine forests, rocks, sand dunes and there is lovely coastline. In summer many people find their way to Cala Mondrago which is also known as Calo de Sa Font de n'Alis. If it is too busy you can walk 400m to Cala S'Amarador. This beach is bigger and less crowded.
Cala Mondrago is 75m long and 60m deep. It has lovely white soft sand and clear turquoise water. The pine trees at the back provide some shade. Cala Mondrago has the Blue Flag. It possible to rent sunbeds and umbrellas. There are toilets and picnic tables in the shade. In high season lifeguards are around. No water sports except rent of a few paddle boats. The beach is easy to access and there is a car park. Cala Mondrago is also accessible for disabled people. It is a popular family beach. The beautiful sea is calm and shallow.
The chiringuito on the beach serves snacks and drinks. There is also a restaurant that serves local food. A lot of visitors love to snorkel in the clear water. This is not a party beach, but a beach to relax and enjoy nature. The viewpoint of Mondrago is very near and worth to visit. From here you see the three largest Cala´s of the Natural Park.
Cala S'Amarador is only 400m away from Cala Mondrago. It is the largest of the 7 beaches in the Natural Park. There is a rocky path that connects the two Cala´s. It is bigger than Cala Mondrago and less crowded. 145m long and 50m wide. In 2008 Cala S'Amarador was the number one of "most beautiful beaches in Europe" by Onbeach.com.
And indeed! It is an unspoilt, fantastic beach. The natural environment, the turquoise water and the white sand. The water is clear and slopes gently. A good spot to snorkel. Limited facilities, but it is possible to rent a sun lounger and a parasol. For snacks and drinks there is a small chiringuito. It has the Blue Flag. Close to the beach the Torrent d'en Roig flows into the sea. In the Torrent the land turtle returned since 1985.
5. Es Trenc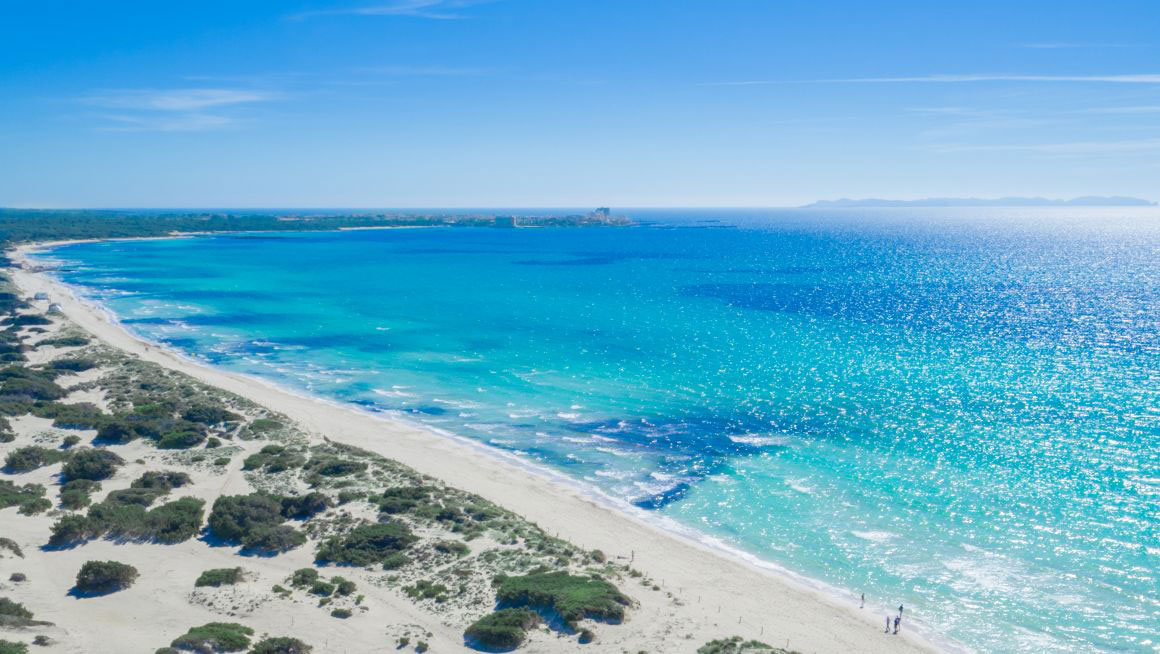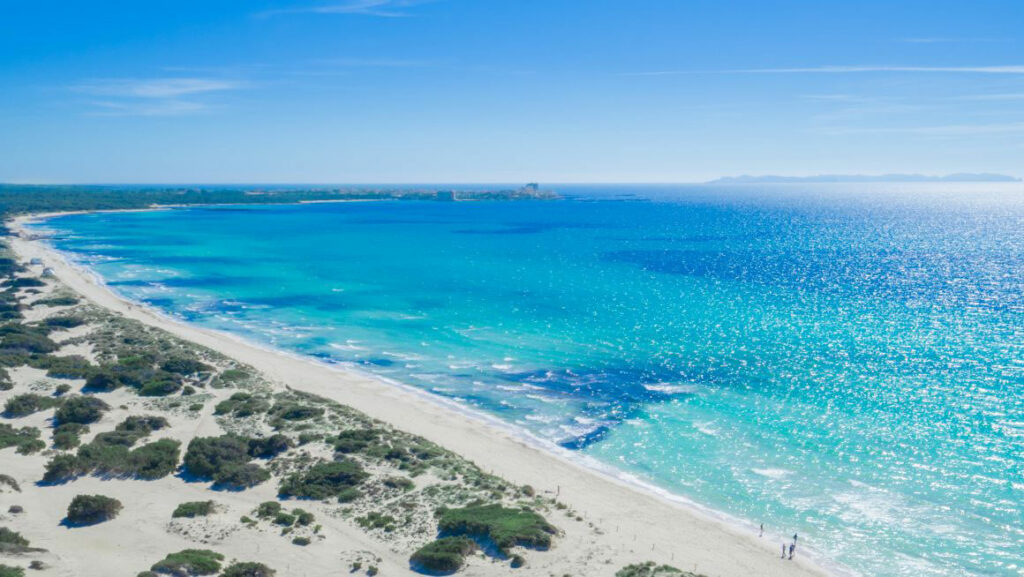 Many say that this is the most beautiful beach of Mallorca. This Instagram hotspot 2km long and 20m wide. You find it in the south of the island, close to Colonia de Sant Jordi. A remote virgin beach that is pure and natural. The sand is white and fine. The water is spectacular. It reminds you of being in the Caribbean. Many different shades of turquoise, shallow and calm. The beach has sand dunes which make the scenery even more natural.
In high season the beach gets busy. Because of the relaxed vibe it attracts people between 20 and 30 and families. It is a beach for nature lovers. No party whatsoever! Access is easy. Either from Ses Arenes or Ses Covetes. On both sides you find paid parking. From Palma you can take the bus.
Es Trenc is not an official nudist beach, but naturists and nudists love to spend the day here.
In 2017 Es Trenc received the status of Maritime Terrestrial Natural Park. This means, among others, that there can be no buildings close by. Restaurant constructions on the beach were demolished and replaced by removable kiosks. It is close to the wetlands of Salobrar de Campos. A great area to spot birds.
Because of this status the amenities are scarce. No sitting areas and no wooden boardwalk. But there is a ramp for wheelchairs to access the beach. In high season there are some bay watchers. Limited rent of sunbeds and parasols. Best is to bring your own umbrella as there is no shade on the beach. There are some basic toilets. No showers or changing facilities. Neither water sports. But it is a good spot to windsurf, kayak or snorkel.
Es Trenc gets busier every year. In 2019 the Balearic Government expressed the intention to regulate tourism. This would include less parking places, less tourists and less sun loungers. Up till now this plan is subject to approval.
6. Cala Varques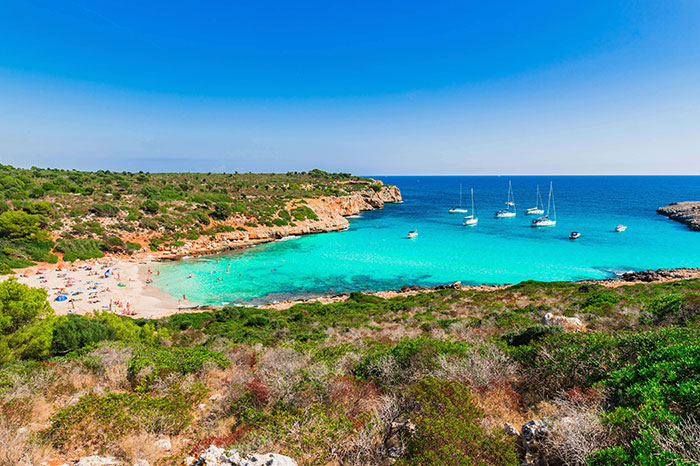 Another natural paradise in the East part of Mallorca. This pristine secluded cove is between Cala Romantica and Calas de Mallorca. Only 13km from Manacor. Many pine trees and low rocks surround this natural beauty. Cala Varques is small. About 90m long and 50m deep. The sand is white and soft. The sea water has various turquoise tones and is crystal clear.
The beach is not the easiest to access. First you have to drive 150m on a dirt road with stones. After parking the car, you need to walk another 15 minutes to get to the Cala. Cala Varques is not wheelchair accessible. Bring everything as there are no tourist facilities available. Although it is an isolated wild cove, it gets busy in high season. There is a kind of relaxed hippy vibe on the beach. There are better beaches for children, but couples will love it. It is also a popular place to practise nudism.
You will see climbers on the cliffs and rocky coves. Deep water soloing is popular in this area. Individuals climb difficult routes on overhanging rocks twithout ropes. The water under them is the only protection they have. If you prefer to take it easy you can swim and snorkel.
7. Es Calo des Moro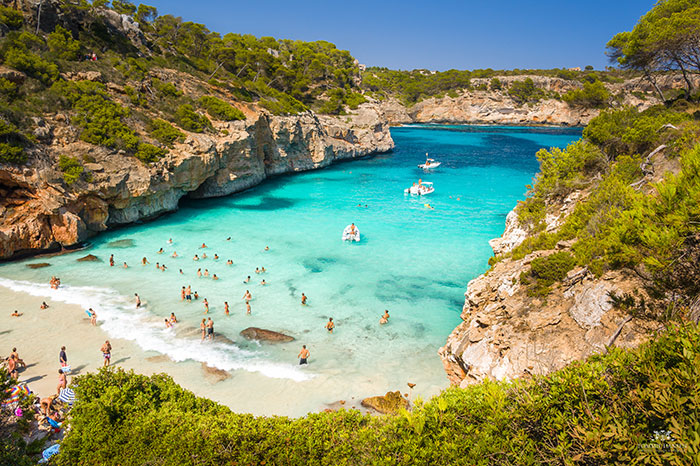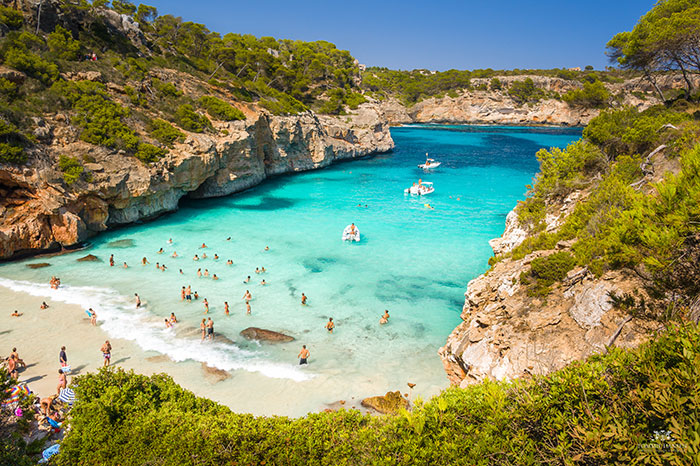 A dream beach in the south of Mallorca. Ten car minutes away from Santanyi. Once a hidden gem. Calo des Moro is still a gem, but it is not the best kept secret anymore. In summer it is very busy. But, definitely worth to spend a couple of hours. There is a foundationcalled "Amics d´Es Calo des Moro" (friends of Es Calo des Moro). For 15 years they look after this pretty beach. They call it "one of the last paradises of the island".
It is a small beach; only 40m long. A mix of fine sand and big rocks. Surrounded by trees and shrubs. Space on the beach is very limited, especially in high season. There are moments that there is not enough space to put your towel. Calo des Moro is a crystal-clear turquoise inlet flanked by steep cliffs. The water is calm and very transparent. This makes it a nice snorkel spot and there is a lot of fish to see. And there are some caves that you can swim in.
Bring everything you need as there are no facilities at all. No toilets, showers, restaurants, sun beds or umbrellas. Only beautiful nature.
Some find the access to the beach challenging. From the parking it is about 15 min walk to the cove. This walk is quite steep, so we recommend putting some good shoes. Or you arrive with a boat and anchor in the bay.
It is not a beach for children. There is not much space to play, there are no lifeguards to keep an eye on the little one. And the walk to the beach is difficult for some of them.
We recommend not to jump from the cliffs. In a lot of places, the water is not deep enough to jump.
8. Cala Pi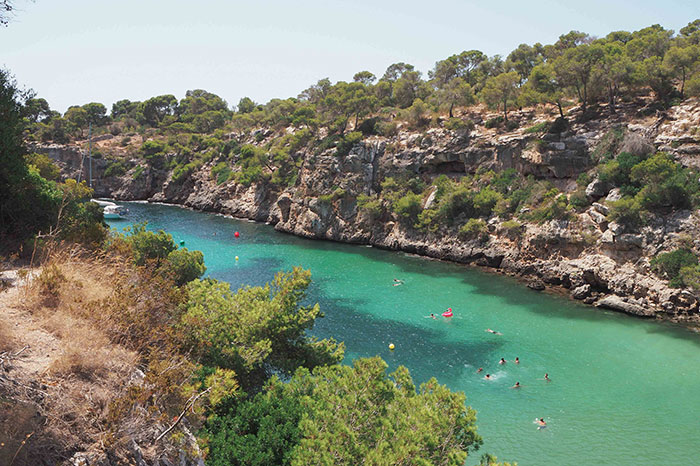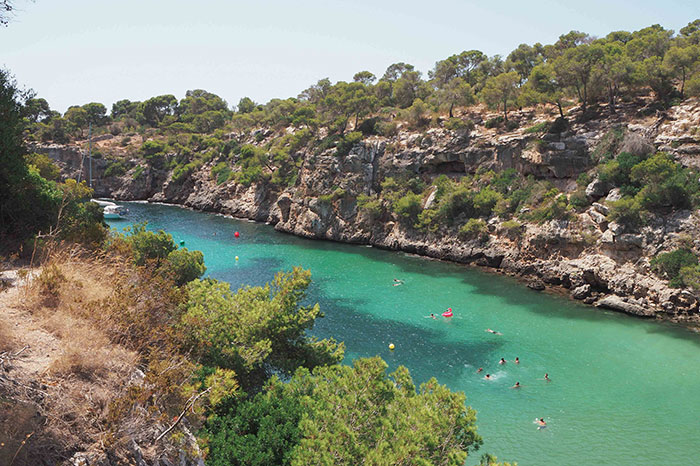 We stay in the south of Mallorca for the next top beach location: Cala Pi. Another picture-perfect beach in the district of Llucmajor.
Cala Pi is a small romantic beach. The name comes from the Torrent de Cala Pi. The stream that meets the sea here. But most of the time the Torrent is dry. The word Pi also refers to the many pine trees in the surroundings. It is 50m wide and 100m long. It looks a bit like a fjord. The few "escars" that are present make it more idyllic. Escars are typical Balearic dry docks for fishing boats. Pine trees and green shrubs surround the beach. On each side there are natural cliffs. The beach is sandy, and the water is emerald turquoise. Very clear and clean. The inlet is very picturesque. The colour of the water that contrasts with the white sand. The luxurious boats that moor in front of you…. What else do you need?
To access the beach, you have walk down 150 steps. Because of this, it is not a good beach for people with mobility problems. Bear in mind that you have go up these steps as well. This is a tough exercise in full sun.
There is a small chiringuito on the beach where you rent your sun bed and umbrella. They also sell drinks and snacks. In high season there is a lifeguard present. No water sports, but Cala Pi is good for snorkeling and diving.
The village of Cala Pi is not very interesting. You come here for the beach. There are a few restaurants and hotels.
When you come by car you park your car in the village. There is also a bus connection from Palma. Be aware that in summer this beach gets very busy. We recommend arriving early.
9. Cala Deia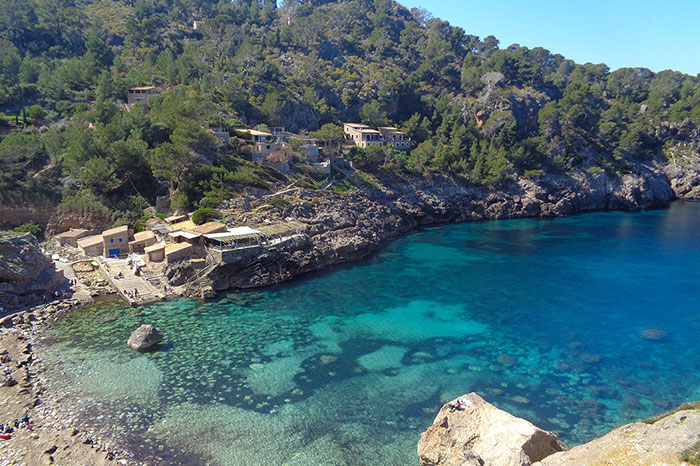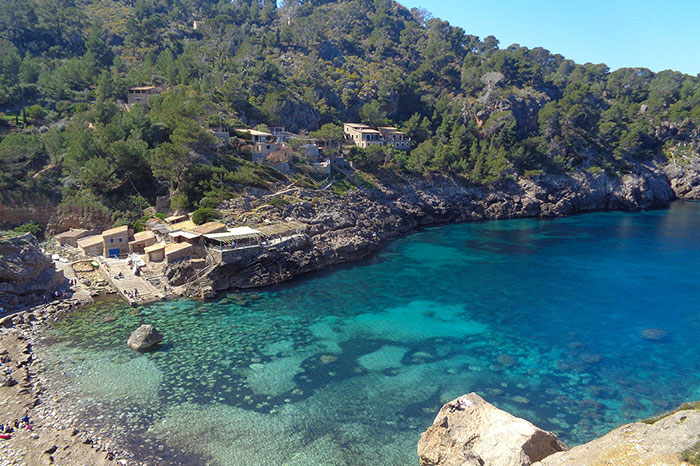 The last two beaches in our Top Ten of Best Beaches in Mallorca are in the Northwest. Cala Deia is a "must see" in this part of the island. It is different, relaxed and beautiful.
If you want to lay on a long stretch of white, fine sand you do not have to go to Cala Deia. It is rocky and not comfortable to sunbathe. But it is so special! There are few beaches in the Northwest and Cala Deia is definitely worth to visit. Surrounded by the amazing Tramuntana Mountain range. Crystal clear aquamarine water. There is no real sandy beach but for a swim or a couple of hours it is perfect. Because of the rocks it is also a good spot to snorkel.
A good way to enjoy Cala Deia is to reserve a table in one of the two restaurants. Either you go to Restaurant Can Lluc or sit down in the well-known Ca's Patro March. Here you enjoy your meal right above the sea. Reserve a table as the restaurant is very popular.
You reach Cala Deia either by car or you walk from the village, which is a nice walk of about 3km.
We cannot say that this pristine Cala is child friendly. There is no sand, no lifeguard and many kids find it boring. But couples and adults will love this.
The absolute best thing to do is to explore the authentic village of Deia and cool down on its lovely beach.
10. Sa Calobra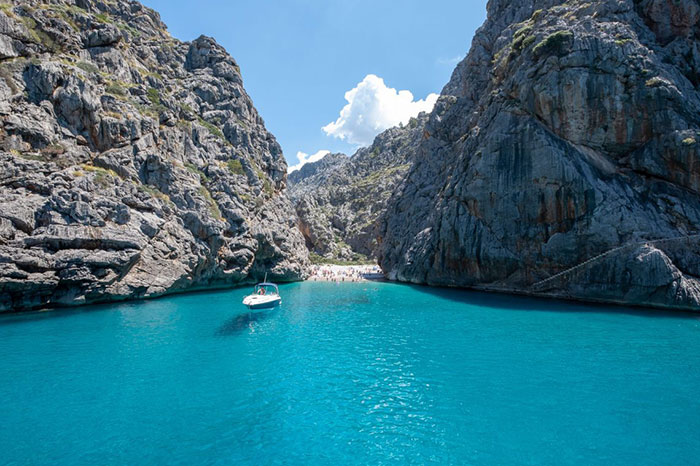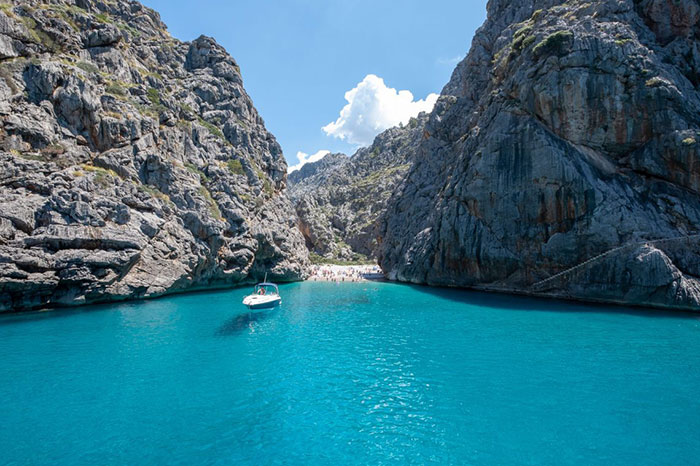 The last beach in our Top Ten of Best Beaches is Sa Calobra in the northwest of Mallorca. In fact, there are two beaches here: Cala Sa Calobra and Torrent de Pareis. The latter is the absolute winner of the two.
The first beach you will see after parking the car is Cala Sa Calobra. This is a small beach with pebbles and sand. Here there are some basic restaurants (self-service)
The highlight is Torrent de Pareis. A beach that is about 100m long. The part in front of the sea between the stunning high cliffs is very small. To access the beach, you walk through a narrow tunnel. This gives an extra dimension to the whole experience. Coming out of the tunnel you face the impressive scenery This is a very popular beach in high season. It has small pebbles, but to sit on it is not unpleasant. The sea water is clear and turquoise. Sometimes there are jellyfish in summer. No water sports here. Limited facilities, like some basic toilets and showers. Best is to bring everything. No lifeguards. The beach is accessible with a wheelchair. It is not a beach for small children. There is not much sand, and the water is not shallow. Many visitors stay until dusk as the sunset is very special.
It is easy to access the beach by boat. In summer months there is a regular ferry boat from Port de Soller. If you come by car you better prepare yourself for an impressive winding road. This road is also very popular with cyclists, which makes driving sometimes challenging. A lot of tourists come with buses as well. The road is less than 10km long and has 26 hairpin curves. Spanish-Italian engineer Antonio Parietti designed this famous road. Views from this road are unforgettable. The name of the climb is "Coll del Reis".
Every year in July there is an open-air concert at Torrent de Pareis. This is a unique and spectacular event. A free choral concert on the beach. Torrent the Pareis is the ultimate location to organize these concerts. The shape of the canyon improves the sound in a spectacular way.
And with the beach of Sa Calobra we are at the end of our Top Ten. As said at the beginning there are 262 beaches on Mallorca. So, there are many more worth to visit. If you are a nudist or a naturist we recommend to read our Blog Most hidden beaches for nudists in Mallorca.
We are proud of our beaches in Mallorca. Whichever beach you go to, keep the beaches clean. How?
– Whatever you bring to the beach, take it back home
– Pick up any rubbish, especially plastic
– If you bring food or drinks, use reusable boxes and bottles
– Take away what your pet leaves on the beach
– Throw waste in bins
– Join one of the beach clean ups
Discover the best beaches in Mallorca in 2022 here!