Deia Mallorca Real Estate
Deia a true Mediterranean Gem
Deia is one of the most authentic and idyllic villages of the whole Sierra de Tramuntana. Situated in the northwest of this extraordinary mountain range in the triangle of the beautiful places of Soller, Bunyola and Valldemossa and approximately 30km away from Palma. Deia is: beautiful nature, dramatic sea views, typical Mallorcan stone houses and a bohemian, eccentric vibe. It has a coastline of 5 kilometers. Sunsets are spectacular on this side of the island and many cyclists and hikers base themselves in this little paradise with around 800 inhabitants.
Since the prehistory people have settled in and around Deia. With the fertile soil, the caves, springs and the sea nearby it was a good area to live. The name Deia comes from the Moorish word 'ad daia', which means hamlet. The characteristic terraces and irrigation system (still used today) of Deia were built during the Moorish period, 10-13th Century. In the beginning of the years 1200 the Christians drove out the Arabs and Deia was handed over to the Count of Rosselló as part of Valldemossa. In 1583 Deia became independent.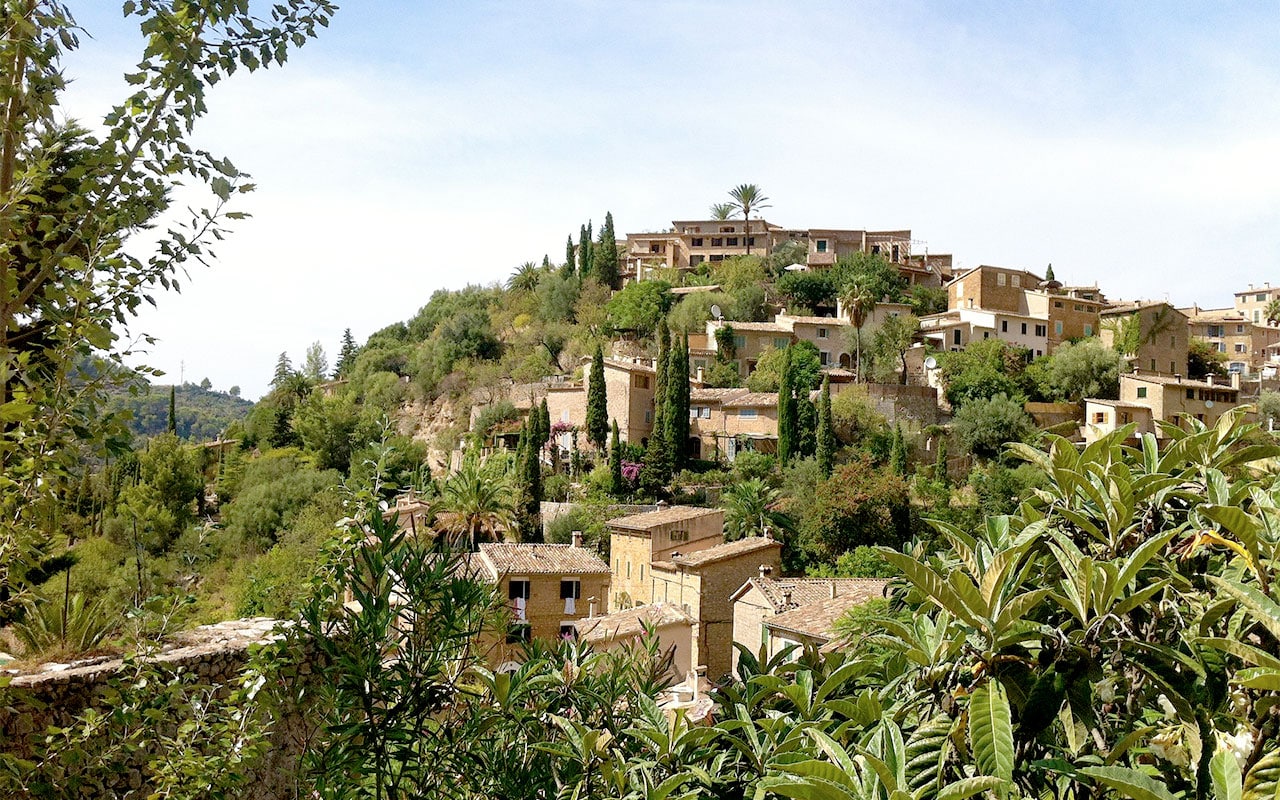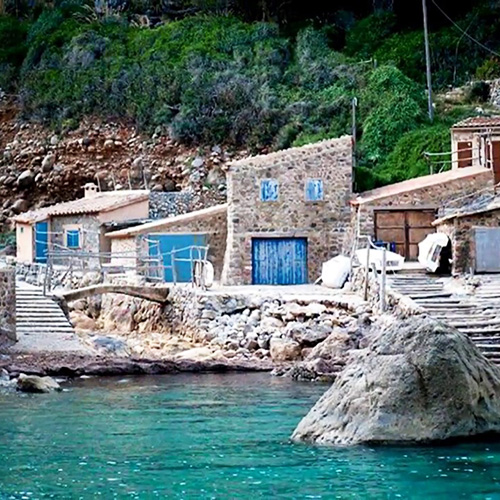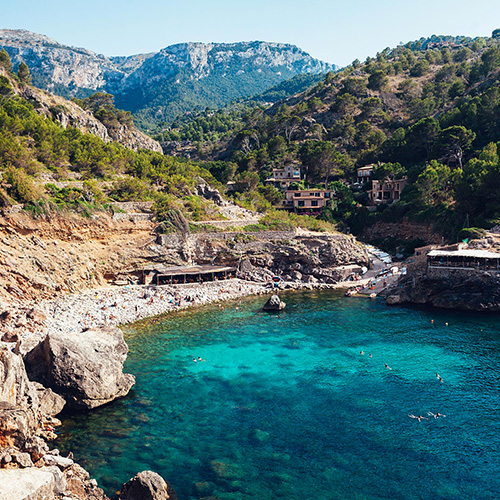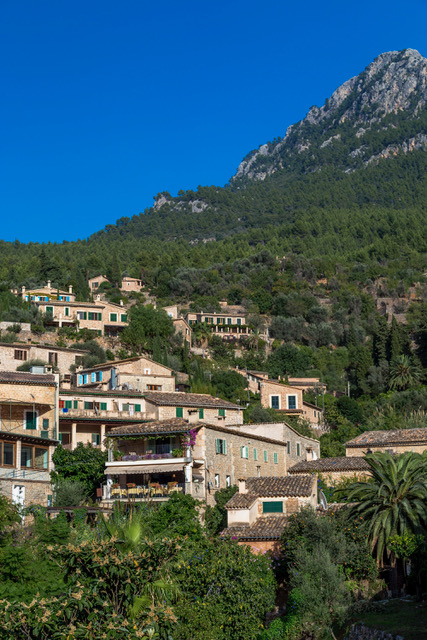 From that date even more terraces were developed in the mountains (up to 600m above sea level) and olives trees were planted everywhere. The village started to grow, a few fishermen established themselves in the cove (cala) and the production of olive oil (as well as of lemons, oranges and wool) brought prosperity to the inhabitants. Every family had its own "hort" where they grew their own vegetables and fruits. In the forests the famous Mallorcan black pig was bred.
Attracted by its natural beauty and the easy way of living the first visitors arrived in the late 19th century. Since then Deia always attracted musicians, artists, writers and celebrities. After the first world war many Brits, Germans and Americans arrived and still today Deia has a very international community.
Robert Graves, the English poet and novelist who wrote amongst others "I Claudius", left his mark on Deia. Together with his mistress Laura Riding, an American poet, he moved to Deia in 1932. After world war II he came back with his second wife and stayed until his death in 1985. Deia often comes back in his works. His house, Can Alluny, is now a museum.
Famous people have always been attracted to Deia: Peter Ustinov, Princess Diana, Bob Geldof (his daughter Pixie married in the area), Andrew Lloyd Webber, Pierce Brosnan, Michael Douglas and Catherina Zeta Jones, Mick Jagger, Mike Oldfield, Jimmy Hendrix, Kate Moss, David Bowie and Beyoncé are just a few celebrities' that spent time in this charming village.
Virgen Records´ guru Sir Richard Branson, also has a strong relationship with Deia. Branson was the owner of the five-star Belmond La Residencia Hotel. After selling he left the island, but Branson could not forget Mallorca. In 2015 he came back to the island seeking for real estate and he bought back the sumptuous Son Bunyola estate with the intention to establish a superb eco-resort.
Deia is a typical, traditional Mallorcan village at the foot of the Teix mountain with the authentic beige colored stone houses with green mallorquinas (window shutters). Narrow streets lead up to the church and the cemetery, from where the views are breathtaking. The centre hosts beautiful authentic properties, trendy gift shops, a few boutiques, art galleries, bars and restaurants. Here one can discover "the other Mallorca". Local products can be found in Es Forn, a little grocery store. Every Wednesday morning the weekly market is held.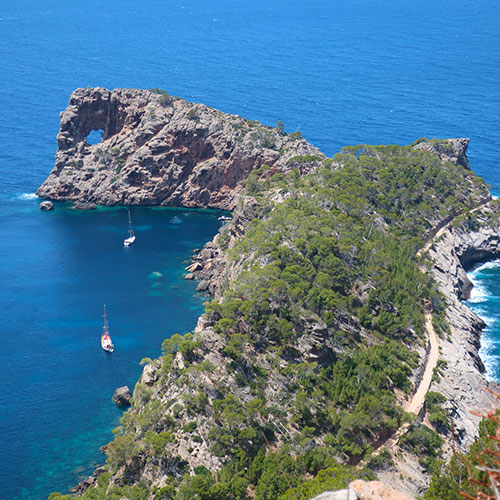 One of the most popular bars in town is Café Sa Fonda. A basic, informal bar with a live music scene. Even Kate Moss was spotted here.
Culinary, Deia also has a lot to offer. The "creme de la creme" is Es Raco d´Es Teix, a romantic Michelin star (2002) awarded restaurant with fantastic views over the town. Another excellent choice is Restaurant Sebastian where German chef Sebastian Pasch serves Mediterranean food with an Asian influence. A large variety of tapas is served in El Barrigon Xelini in the centre of the village.
Deia has a substantial number of hotels with Belmond La Residencia as the most luxurious one. Es Moli is a middle large hotel with a lot of Mallorcan character, there is adults-only Sa Pedrissa and of course there are also a couple of more budget friendly accommodations.
There are 2 beaches and many striking coves that can only be reached by boat. Cala Deia is a stunning beach that can be reached from the village by foot (10 min walk) or by car (5 min). A perfect place to snorkel as it is rocky, and the water is crystal clear. There are 2 very good restaurants C´as Patro March and Can Lluc with terraces close to the emerald water. Both serve typical Mallorcan dishes. The other close by beach is Es Canyeret (Platja de Lluc Alcari), which is 10 car minutes away from Deia. Large rocks and clear turquoise water make this a great snorkeling place. Next to a water stream there is a natural mineral rich mud that can be put on the body. It is also a beach where nudists feel free and chill.
Deia is the perfect base for enthusiasts of outdoor activities like hiking and cycling. The area offers many hiking trails for both experienced hikers and beginners. A beautiful route is for example the trail along the coast from Cala Deia to Soller or the path from Deia to Valldemossa. Another popular scenic walk is the one to the old watchtower of Pedrissa, 270m above sea level. Watchtowers were built to spot pirates on the sea and give warnings with smoke signals. Cyclists also get their money's worth. The coastal bike ride from Deia to Port de Soller is one to never forget.
In an old mil Dr. William H. Waldren founded an Archaeological museum, Es Clot. Findings from important local sites are exhibited here.
Less than half an hour away is Golf Son Termens, an 18 holes golf course set in a beautiful, scenic environment.
Not far from Deia town the estate of Son Marroig is situated. Austrian Archduke Lluis Salvador lived here. This landmark is definitely worth a visit. The pavilion overlooks the Mediterranean Sea and is nowadays used as a wedding venue. From Son Marroig a path leads down to Sa Foradada, a magical spot with a beautiful rock formation, turquoise water and a cozy restaurant with excellent views.
Every year in summer (between May and September) the Deia International Music Festival takes place. International classical musicians give concerts in Son Marroig during this festival. In autumn the Deia Art Festival is held. A full weekend of exhibitions and talks relating to music, art and literature with "The Writers Walk" as an absolute highlight. Ten writers give talks at ten secret locations around Deia. Another important event is the celebration of Sant Joan, the patron of Deia, on 24th June. Many activities are organized and at the end the whole village walks up to the church for the mass. On 15th August the patron of Lluc Alcari is commemorated.
The surroundings of Deia are stunning. Close by is Valldemossa, another picturesque village where Chopin lived with his mistress George Sand. A labyrinth of narrow cobbled streets with boutiques, bars and restaurants. Via the spectacular winding coastal road, the pretty town of Soller can be reached and from there it is only a short drive to the lovely sandy beaches of Port de Soller. Palma, the cosmopolitan capital of Mallorca, is less than an hour away.
Buying a property and living in Deia means living in paradise, whether it is in a renovated villa, a huge Mallorcan estate with incredible sea views, a rustic finca, a typical townhouse or a more modern apartment. Deia is the ideal location for those who want to experience the "pure Mallorca".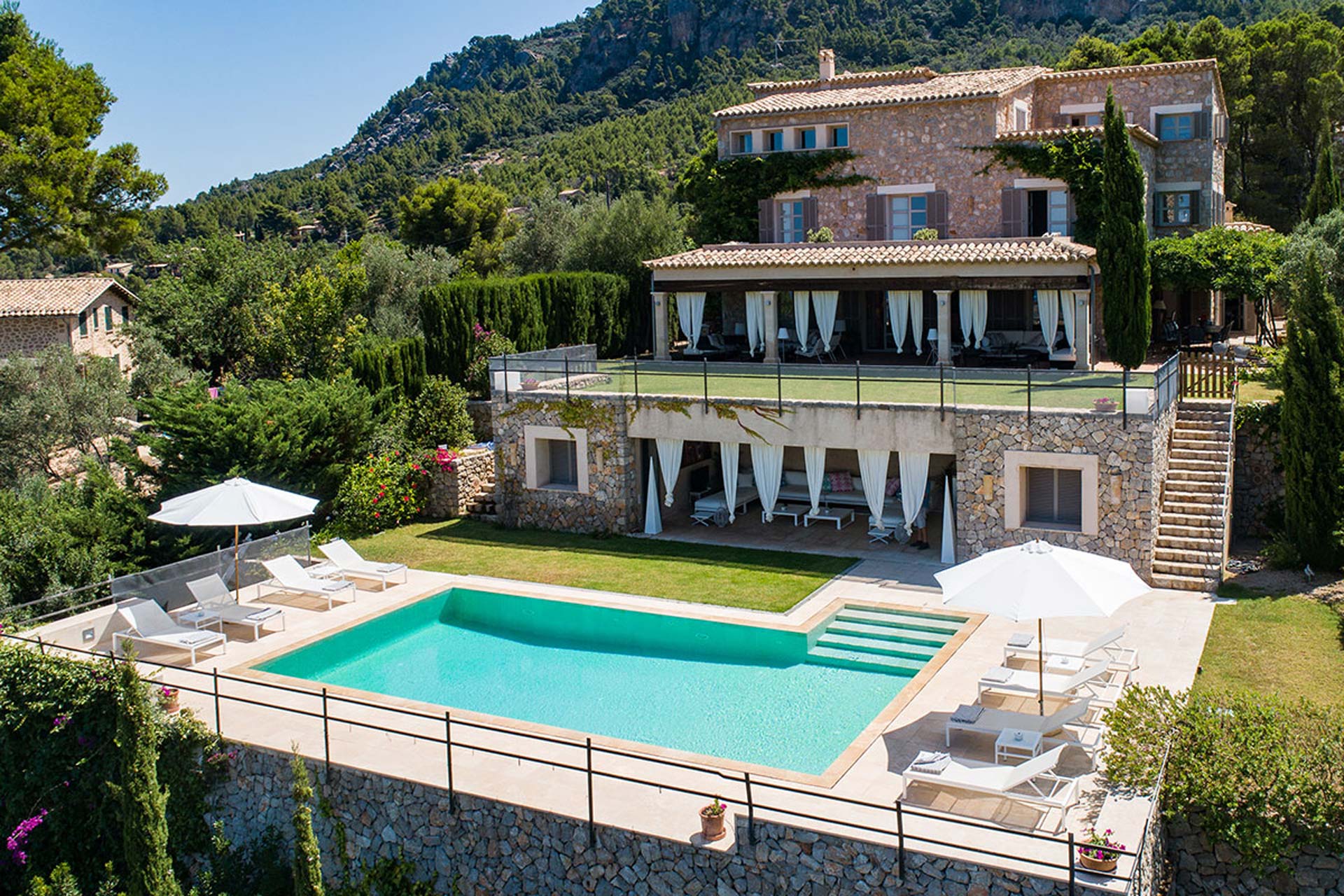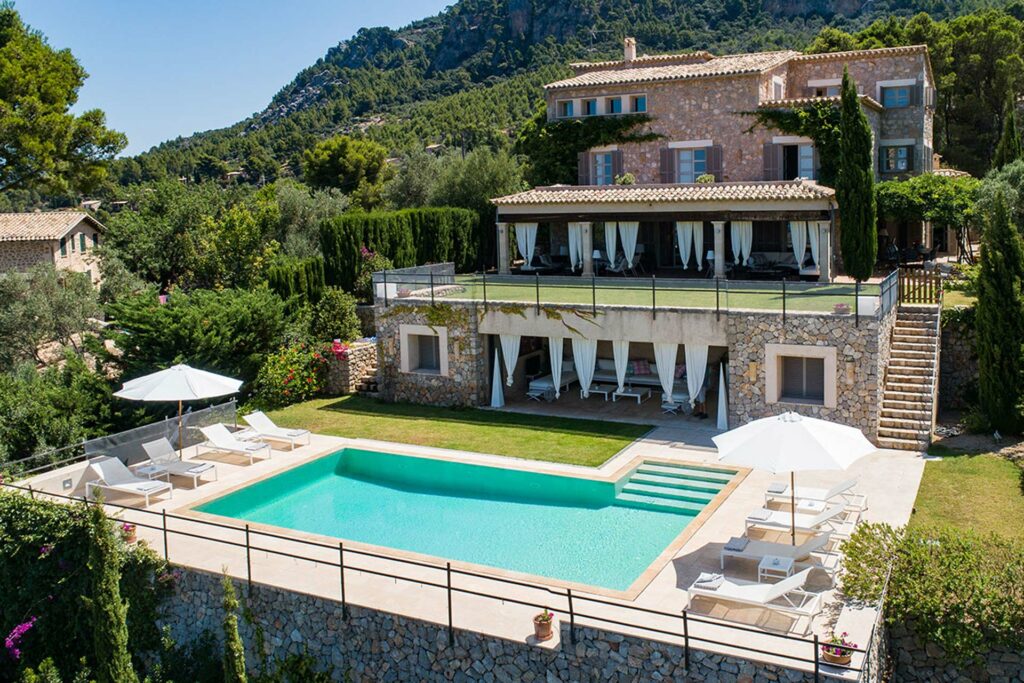 Register here by completing the form bellow to get access to the real estate guide for Soller and get the access to the off-market properties
Register For Free To See Our Off-Market Portfolio
Register here by completing the form bellow to get access to the real estate guide for Soller and get the access to the off-market properties.