Mallorca Property, Lifestyle and Information
The best restaurants in Soller Mallorca
Mallorca and Soller's Culinary Heritage
Mallorca offers an incredible variety of good restaurants and tapas bars, even small takeaways that one can easily walk past offer breath-taking, fresh locally sourced food. But not everything that makes up the cuisine of Mallorca is typically Mallorca. Often the dishes or the inspiration for the dish has come from the mainland or been heavily influenced by it. Spanish cuisine is very varied, as each region has its own specialties and recipes. There are a host of talented chefs on the island who pride themselves on using locally sourced ingredients and providing an experience that is closely connected to the culinary history of the Island and their local towns. What really distinguishes Mallorcan cuisine? It is rural with lots of meat and hearty vegetables! Cabbage is one of them! Typical dishes are rabbit, lamb, kid or suckling pig, snails are also a Mallorcan delicacy. Of course there is also fish, deliciously prepared and freshly caught on the coast. Some traditional Mallorcan specialties are: "Tumbet", a vegetable casserole made from aubergines, peppers, potatoes, tomatoes, zucchini and garlic. A light summer dish that can be eaten warm or cold, as a main course, starter or as an accompaniment to meat, fish or eggs. And of course "Pa amb oli", a typical Mallorcan starter. The "bread with oil" can be topped with ham, cheese, sobrasada, the Mallorcan sausage specialty and of course with vegetables. These little delicacies are based on unsalted country bread, mostly toasted on one side, drizzled with olive oil, rubbed with a halved clove of garlic and a halved Ramallet tomato and sprinkled with salt. Then of course there is the sobrasada, which is made from raw minced pork and pork bacon with plenty of paprika, salt and other spices. It can serve as a spread, but is also sliced ​​in to other dishes and is a local favourite.
Mallorcan wine can be somewhat difficult to source when not on the island! It all started so well: it was the Romans who brought the Mallorcans the wine. Many Romans at the time have agreed on the fact that the Mallorcan wines can compete with the best Italian wines. There are long-established wineries, but also a very committed new generation. Now the focus is no longer on quantity, but on quality. And that has its price! The Port de Sollér has grown into a destination for tourists in recent years. Through the development of the promenade and it surroundings it has turned into a hotbed of exciting new restaurants. Locally grown chefs display their talents by using locally sourced ingredients like lemons, olive and freshly caught fish.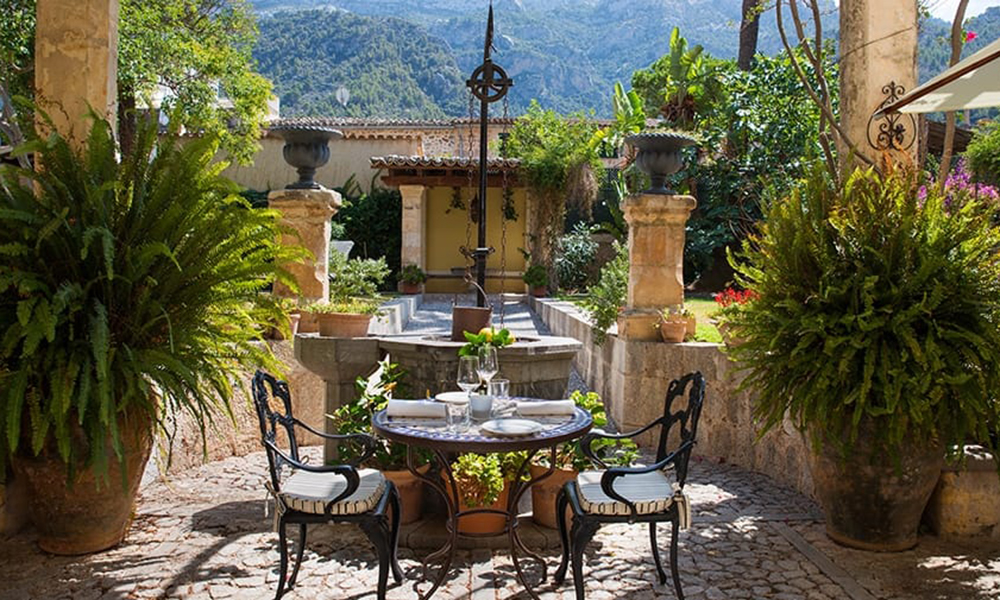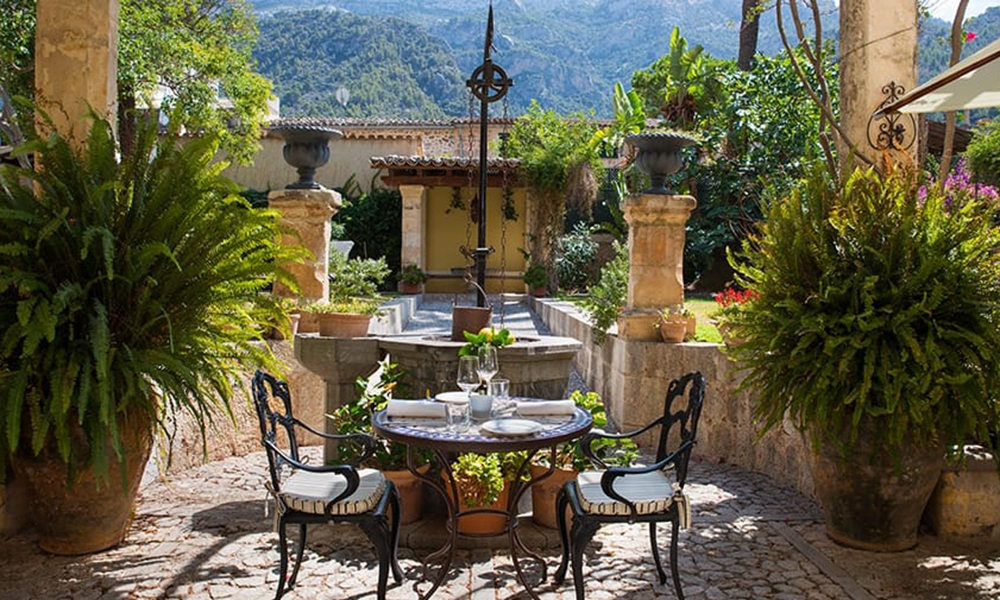 Salvia Restaurant Soller (Calle de la Palma 18, Sóller, Islas Baleares, 07100, Spain)
The beautiful garden of the Salvia restaurant is one of the oases in the heart of the city of Soller. Somewhat out of the way and well hidden, it offers exquisite culinary experiences for which it is worth escaping the hustle and bustle of the center. In summer, meals are served on the bougainvillea-covered terrace. Here you can enjoy the pink glow of the sunset on the Tramuntana mountains with an aperitif.
Even on a hot summer's day, there is always a shady spot here to enjoy a tasty snack from the à la carte menu and a good glass of wine. When the weather is cool, guests will find space in the dining room, which is stylishly decorated according to the era. Salvia not only offers culinary delights, it is also a real treat for the eyes. The cuisine, is popular with all guests. Depending on the season, seasonal products are of course brought into play. The signature dishes of the restaurant give a nod to the local produce and heritage. The signature dishes include Mallorcan suckling pig and roasted king prawns of course garnished with lemons that made the Soller valley so famous. Prices start here with 8EUR for a start and 26EUR for a signature dish.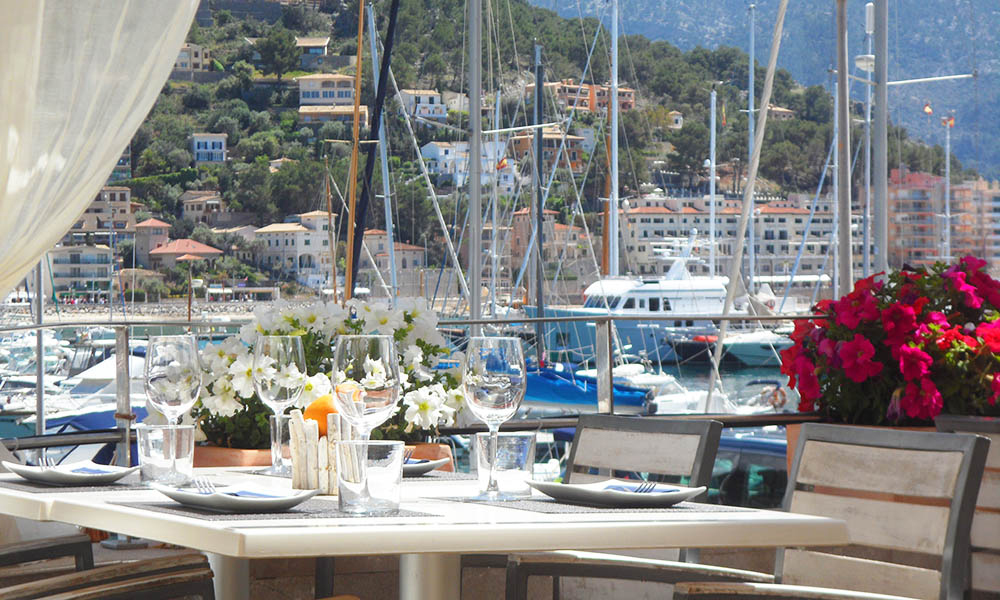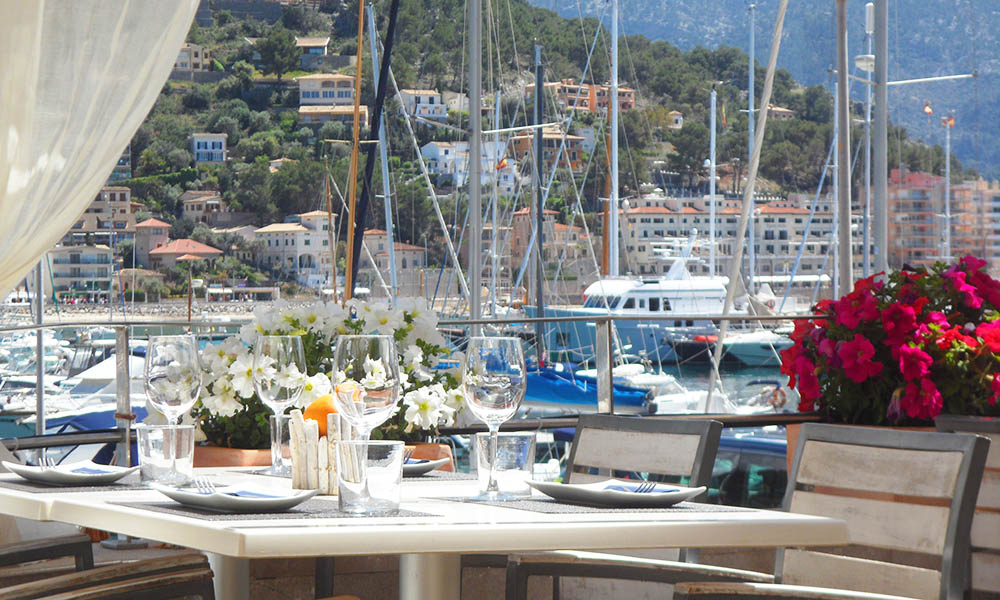 Kingfisher Restaurant and Bar (Calle San Ramon de Penyafort, Port de Soller)
The kingfisher is the emblem of this prestigious restaurant right on the harbor, overlooking Santa Catalina with its fishing boats and yachts. The golden and pink evening light on the mountains welcomes the guests who come for a leisurely dinner on the terrace. From here, the Soller valley presents itself as a golden bowl filled with shine. Due to its slightly elevated location with a wonderful view of the harbor, the Kingfisher is a quiet and somewhat reserved place, away from the tourist crowds. The menu has an emphasis on the freshest local fish and regional meat. In addition to freshly caught Soller Shrimp there is Cod Fillet served ala "Firo de Soller" style and for those with a sweet tooth there are a variety of local ice creams. Prices for appetizer start at 10EUR and signature dishes fall between 20 and 30EUR. The restaurant is open Tuesdays to Saturdays and is a must for people who enjoy seafood.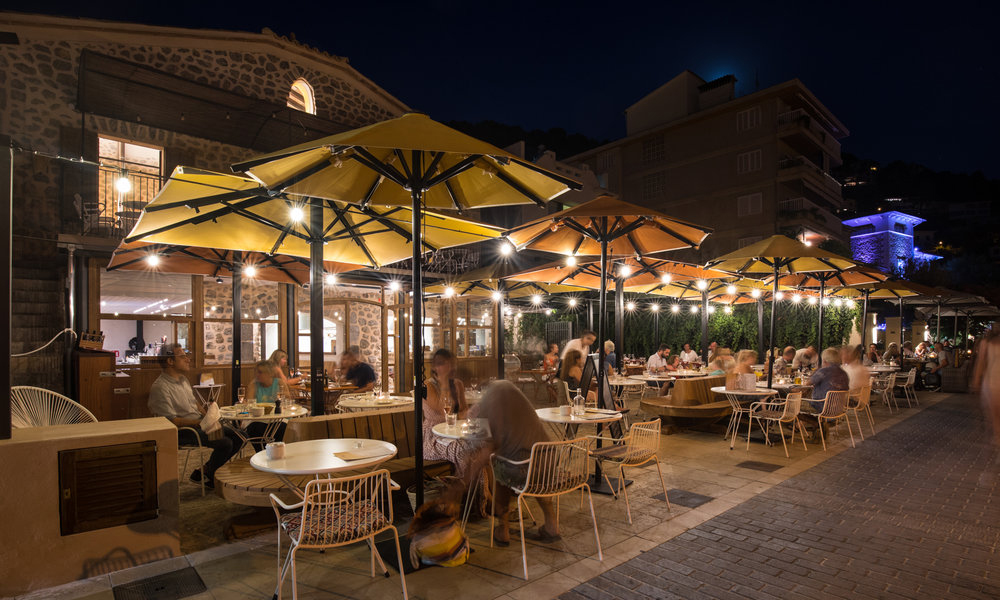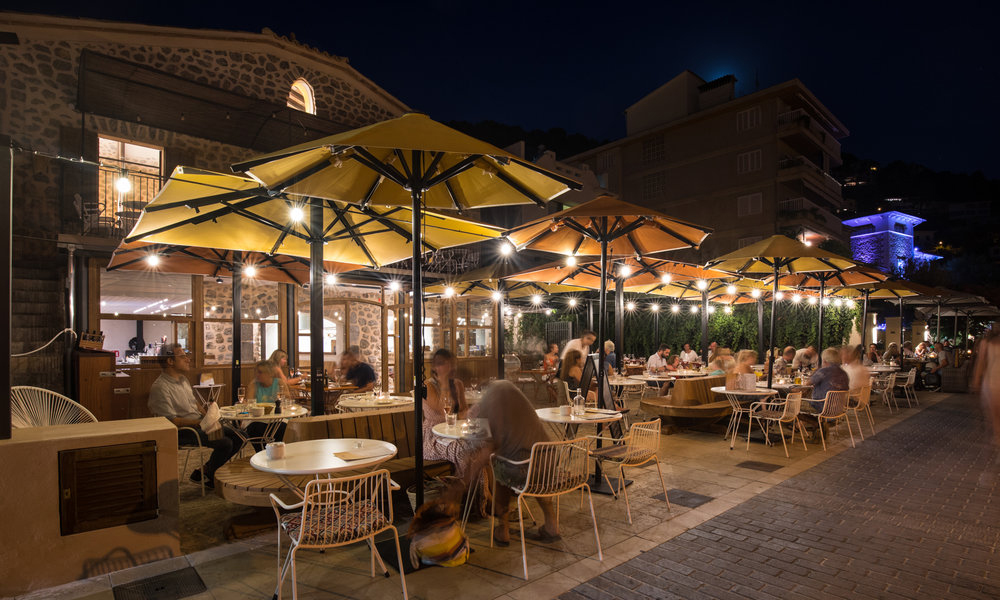 Villa Luisa Soller (Passeig Es Traves, 20, 07108 Port de Sóller, Illes Balears, Spain)
The Villa Luisa in Sollér can be seen in some of the earliest photographs taken of the Port de Sollér and is the oldest Summer villa in the port. The summer villa has meanwhile been converted into one of the finest eateries in the port. A large terrace offers views of the port and the sandy beach while being covered in cool shade through pergolas and parasols. The restaurant has two levels, the ground floor from which you can watch the chefs at work or upstairs and for those looking to relax there is even a reading room. The appetizers start at 10EUR and go up to 18EUR for which you can try out traditional Iberian ham or some locally caught mussels. The signature dishes are focused on meat with chicken, hake and cod on the menu with the prices ranging from 13 to 26EUR for one of these dishes. The menu at first glance is simple and you are not overwhelmed by seeing 20 ingredients at once. The restaurants takes simple local food and cooks it exquisitely. The Villa Luisa Sollér has an extensive wine list and drinks menu with some beautiful cocktails that can be enjoyed at sunset while looking out on the Port.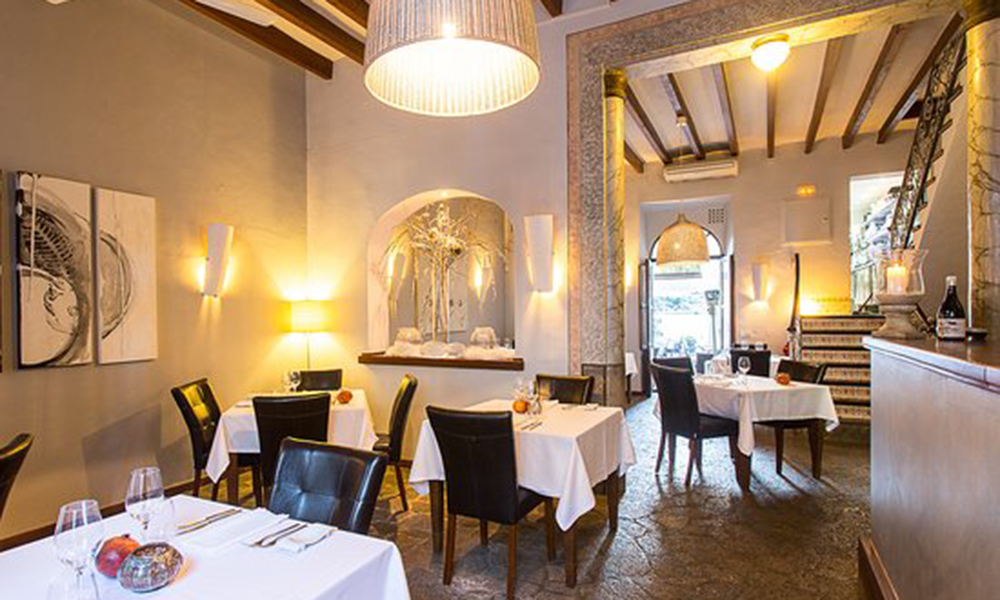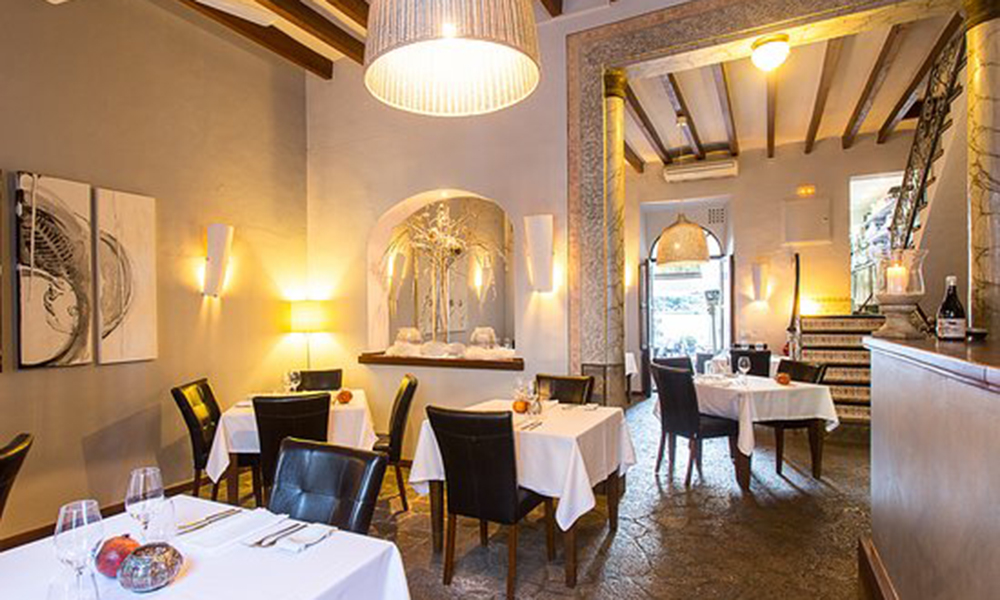 Can Boqueta (Gran Via, 43, 07100 Sóller, Illes Balears, Spain)
Can Boqueta prides itself on Mediterranean heritage inspiring their recipes. Located in a typical Mallorcan house with stone floors, high ceilings and an interior patio with views of the Sierra de la Tramuntana. What makes it a little different to other restaurants on this list is that it offers a tasting menu that is subject to Change fortnightly to surprise and discover new flavours and seasonal ingredients. It is served in the evenings, weekends and holidays. They pride themselves on using Mallorcan suppliers and giving back to the local economy. The lunch menu although having a more informal touch is still heavily influenced by the character that shapes this restaurant. The tasting menu includes traditional meals such as suckling pick but is combined with caramelized pumpkin puree and brandy sauce. Locally sourced lobster and monkfish round up the tasting menu. The prices for the tasting menu start at 35EUR.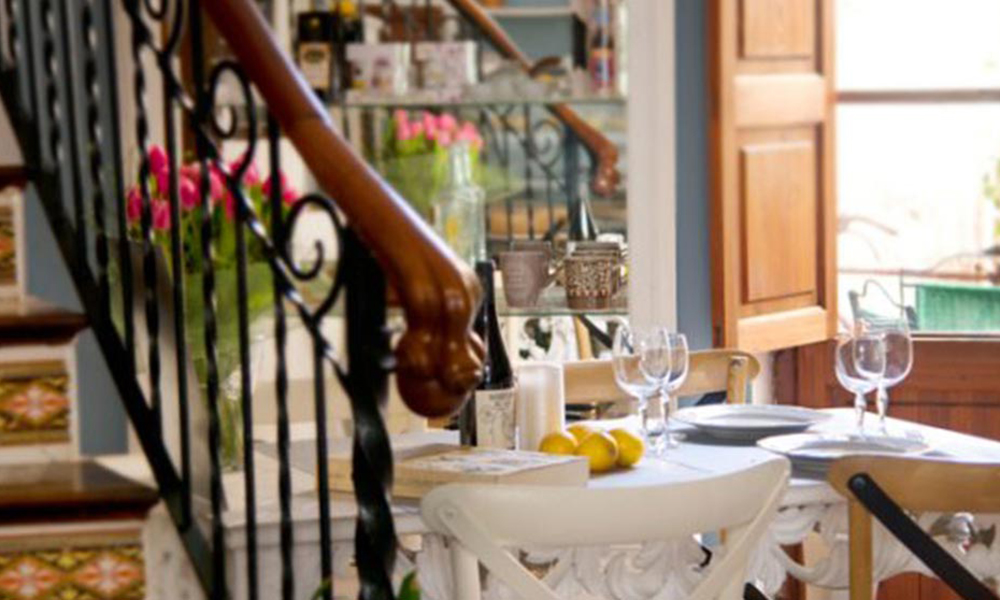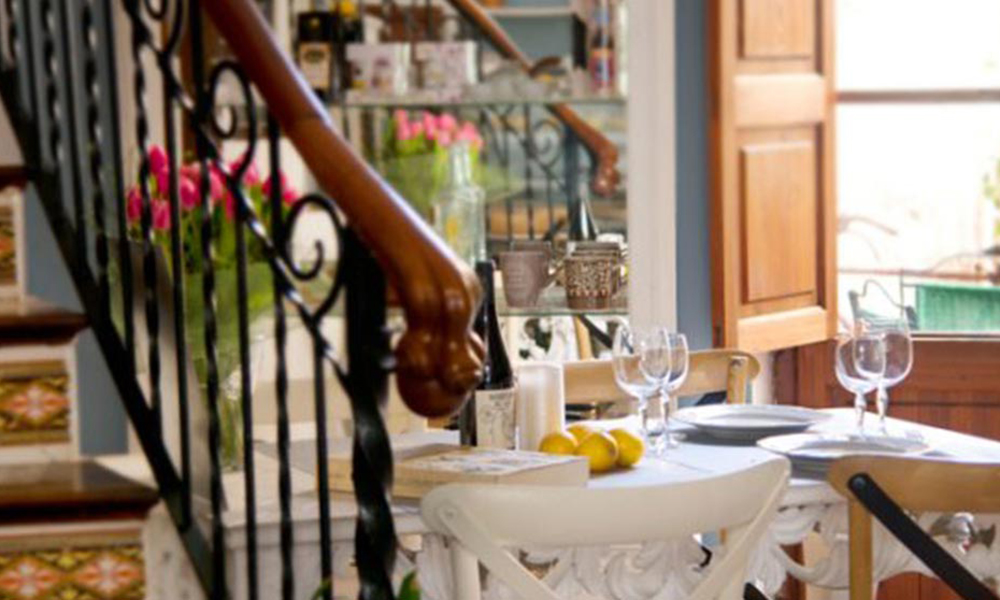 Ca'n Llimona (Carrer de la Victòria 11 Maig, 12, 07100 Sóller, Illes Balears, Spain)
Ca'n Lliomna focuses on fresh artisan pasta and a combination of organic and healthy food. The chef has a passion for healthy locally produced and sourced food. The restaurant specializes in egg-free pasta, suitable for allergy sufferers, with a particular texture that is incredible. There are a range of organic and ethically sourced teas and coffees available for those looking for breakfast. The menu is seasonal and as a result is subject to change. There is an interesting combination of local and seasonal ingredients combined with high end Italian products that makes this place a must visit. It is much more vegetarian and vegan friendly than some of the other restaurants on this list with the starters being hummus, caramelized onion and olives. The signature dishes include a vegan Bolognese to which truffle sauce can be added for those looking for something extra special. Other signature dishes include homemade lasagne with mozzarella and parmesan. This restaurant is the ideal destination for those on a plant-friendly diet, prices start at 12.5EUR for a start and signature dishes fall between 12.5 and 17.5EUR. A range of healthy iced teas and smoothies are available as well as a selection of locally sourced wines.
Click here for the best selection of property for sale in Soller Mallorca & See the best restaurants in Soller Valley in 2022 here.
Register For Free To See Our Off-Market Portfolio
Many property owners opt for discretion when selling their property. Access our off-market portfolio by registering here.