Mallorca Property, Lifestyle and Information
Best street markets to visit in Mallorca 2020
In Mallorca, the market is the best place to mix with locals. Here you feel the tradition and you discover local and fresh products. Every village or town, small or big has at least one weekly market. And they always attract many people. The locals stroll with their shopping trolleys to find the best fresh products. They have a chat with the others from the village. And they end at their habitual terrace for a "cortado" or "caña". It is a lovely, authentic atmosphere that many tourists love to experience. The weekly market is part of the Mallorcan lifestyle. This Blog is about the best markets in Mallorca. But in fact, all are worth to visit if you want to be part of a traditional event.
Some general information
Ninety-nine per-cent of the weekly markets take place in the morning. Depending on the season they start between 8.00 and 10.00 hrs. And they last until 13.30 or 14.00 hrs. The majority takes place in the centre on the main square and its surrounding streets.
What products can you find there? First of all: fresh fruits and vegetables. Piles of peppers, potatoes, mushrooms, melons and oranges. A blend of colours and smells. A lot of them are local produce. Then you will find the stalls with olives, cheeses and sausages. Many sellers offer you a little piece to try.
And of course, there is "the pasteleria". With local sweets like ¨ensaimadas¨. Or the ¨gato de almendras¨ (a delicious local almond cake). Many times, these stalls sell the typical Mallorcan bread as well. This is the bread used for the "pan amb oli". All these stalls attract the locals.
But there is more. You will find products like clothes, plants, ceramics, souvenirs and much more. On some markets you find livestock. For sure you can buy and try the typical Spanish "churros". And no doubt that there will be a "Rey de Pollos" (A Chicken King, who sells tasty grilled chickens).
Tourists often think that bargaining is part of the game. But be careful with this. A lot of items have fixed prices. For the typical tourist products, you can get a discount, but never expect huge price drops.
As said, there are many markets are on the island, so which one to visit? Below you will find a list of markets that we find worth visiting.
Palma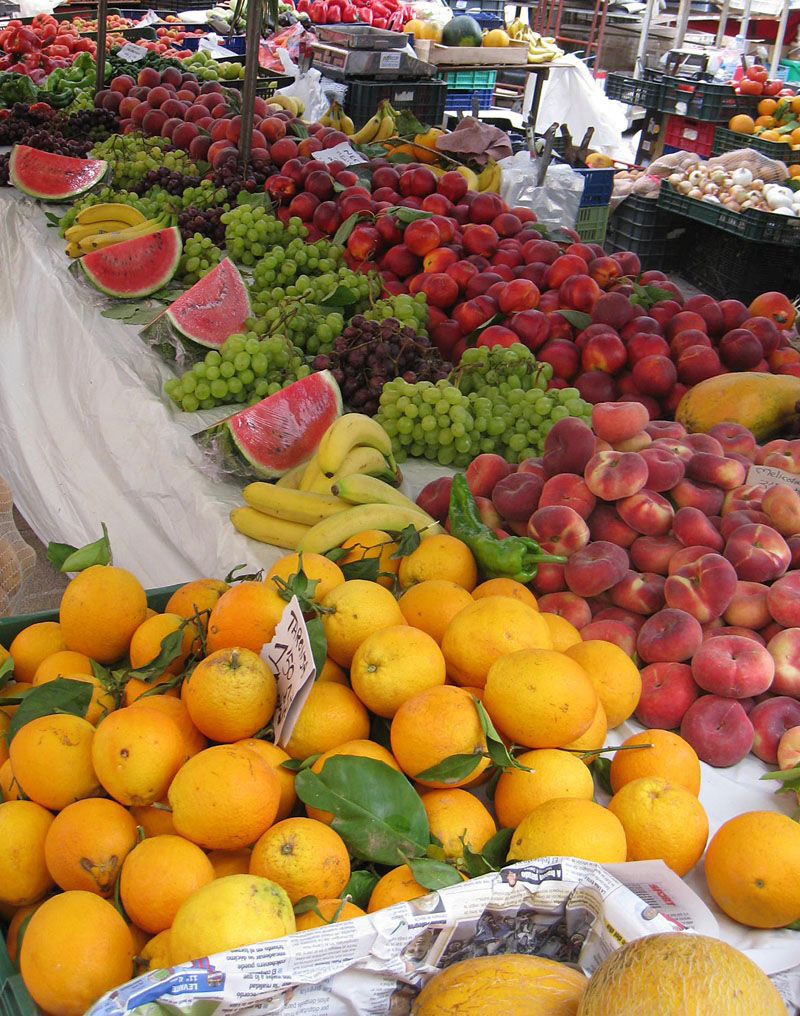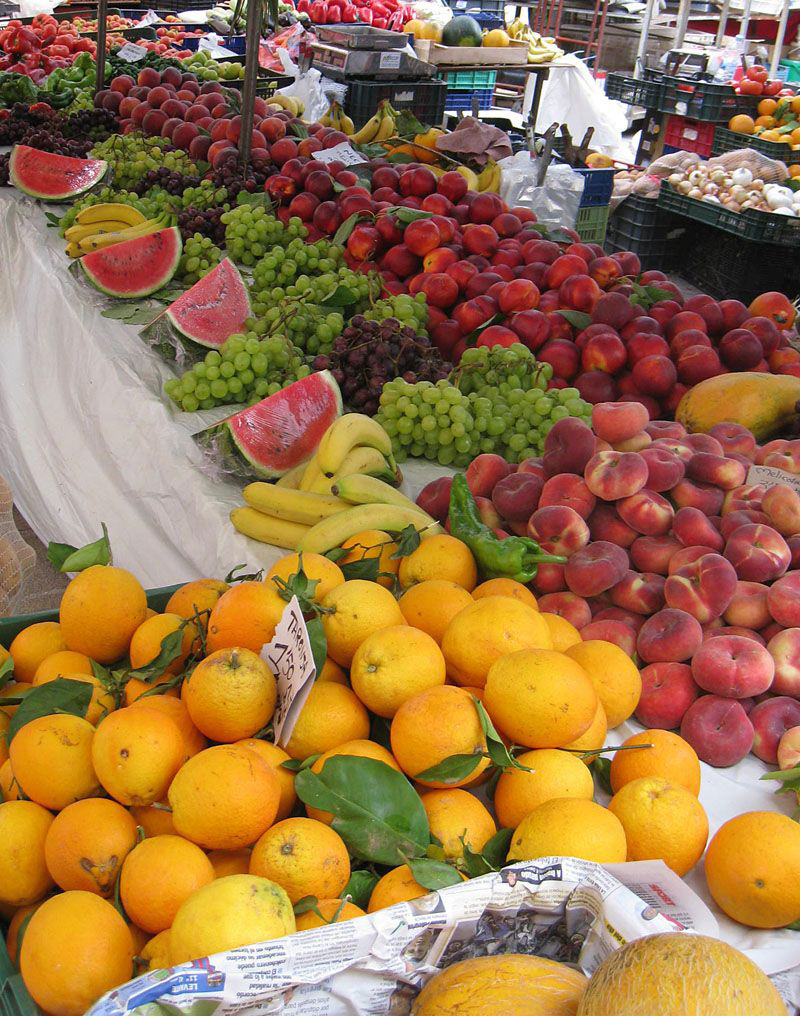 Let´s start in the capital and biggest city of the island. In Palma there are some excellent indoor markets. Like Mercat d´Olivar and Mercat de Santa Catalina. But in this Blog, we want to focus on outdoor markets. We have to mention the covered Pere Grau Market. On Tuesdays, Thursdays and Saturdays there is an outdoor market. In this outdoor section they sell living animals. It is the only market in Palma where this happens.
Another important outdoor market is the Mercat Artesenal on the Plaza Mayor. Here you find arts and crafts for sale. Often there is some live music. Depending on the month the opening days differ, so better check.
On Tuesday and Saturday, it is time for the Mercat Eco de Palma. A new market that responds to the trend of organic local products.
Palma´s Rastro Flea market takes place every Saturday morning on the polygon of Son Fuster. A good place for second-hand articles, antiques and junk.
Palma has a special flower market. On the Passeig de la Rambla is a line of stalls that only sells flowers. Every day in the morning, except on Sunday. From Monday to Friday also in the late afternoon, early evening.
Sineu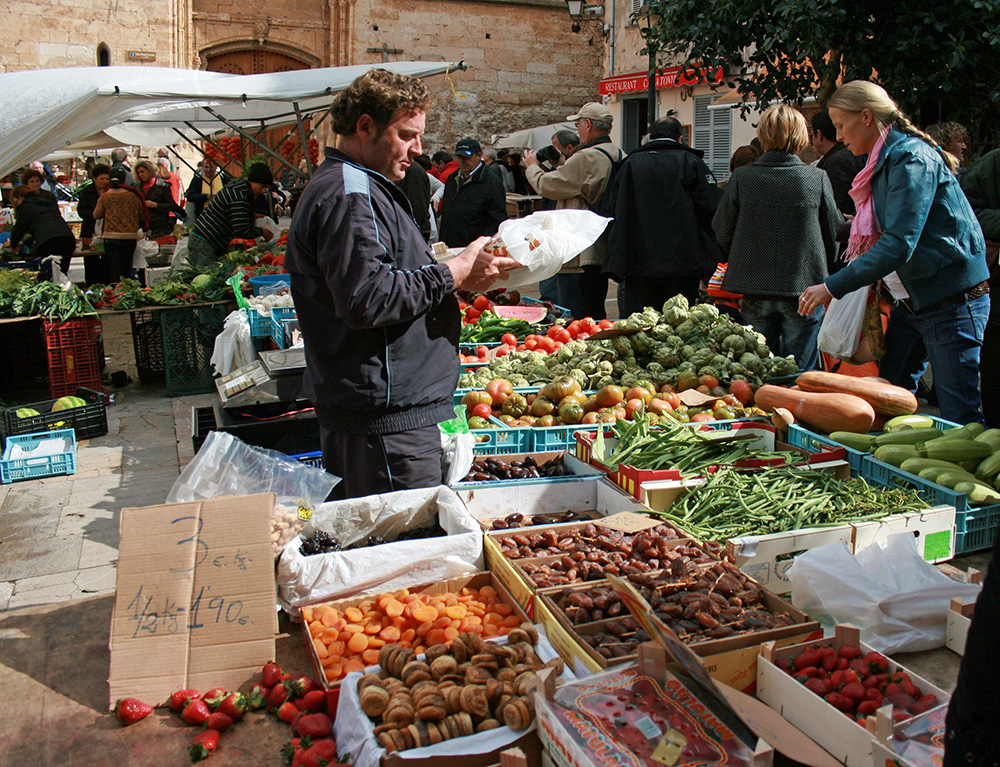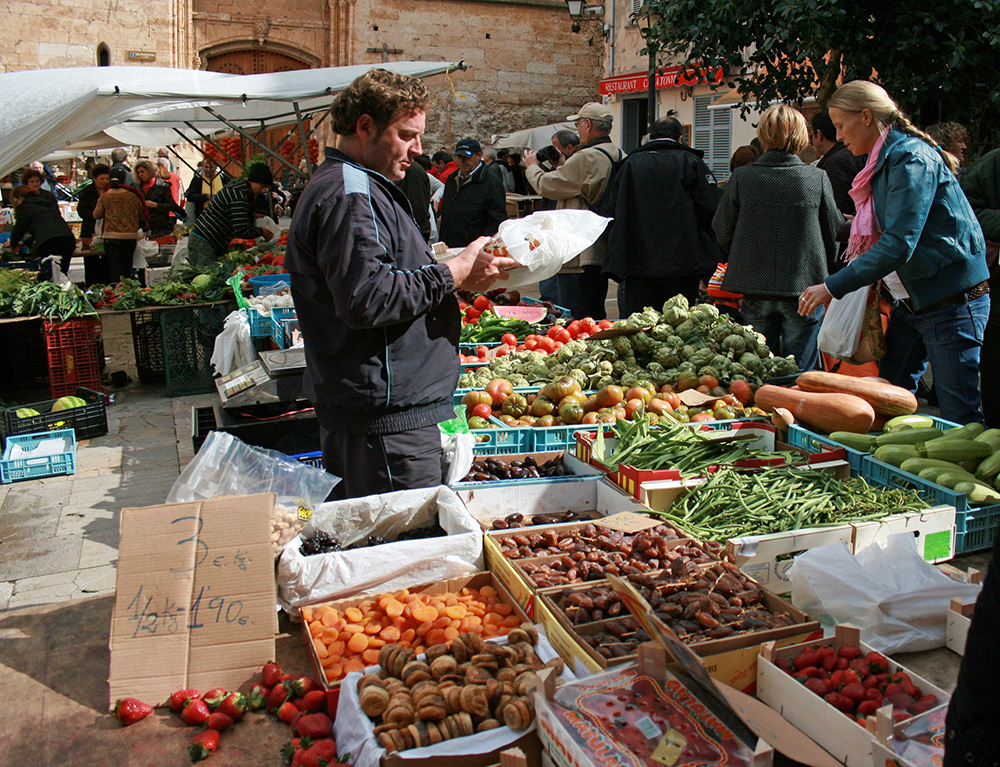 If you love to visit authentic markets, you have to put the Sineu market on your bucket list. This is the oldest market on the island. It exists for about 700 years and is, what we call, a traditional market. Held every Wednesday, from 8.00 hrs to 13.00 hrs.
The streets in Sineu change into a venue where stalls sell everything you can think of. The heart of the market is the Plaza Mayor next to the church. Wandering through the streets you see that the market has different sections. In one street they sell vegetables and fruits. in another one it is all about leather and ceramics. And around the corner it is clothes and shoes. You can also find a wide range of fresh and local products.
What makes this market special as well, is that it is a farmers' market. One of the few places where they sell livestock. Turkeys, pigs, lambs, chickens etc. It is all there. If you want to enjoy this market to the max, it is best to come early. This market is always busy and attracts both many locals and tourists. In high season it is challenging to find a parking place close to the market.
Alcudia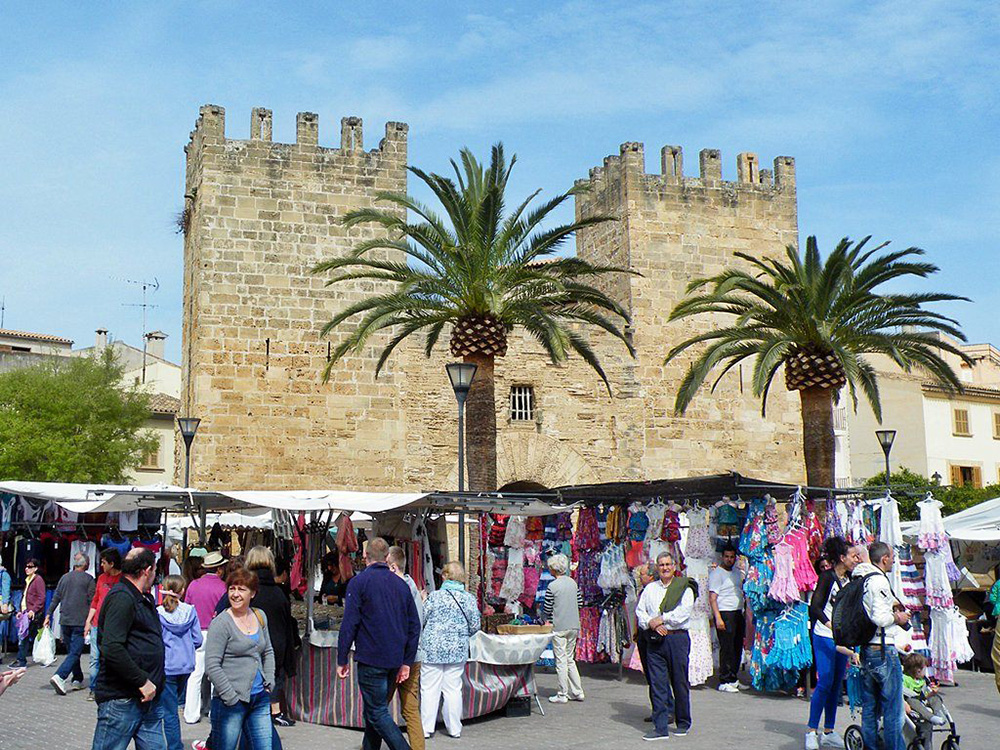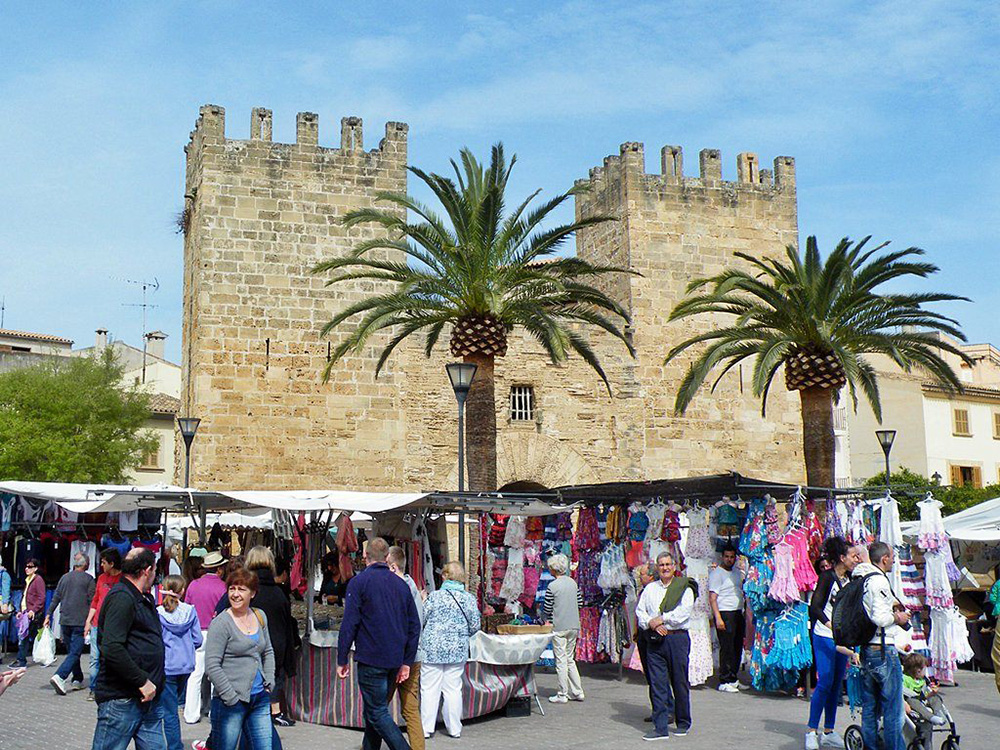 The market of Alcudia fits in the category "largest markets on Mallorca". Held twice a week on Tuesday and Sunday mornings. The location makes this market special as the stalls are in the historical old town. Inside the impressive walls that surround the old town you find the typical market products. Stroll the cobbled streets and find fresh local produce. Or clothes, ceramics and souvenirs etc. This market attracts a lot of tourists. And that is no surprise. It is an ideal combination to stroll over the market and explore the beautiful old town of Alcudia.
Pollenca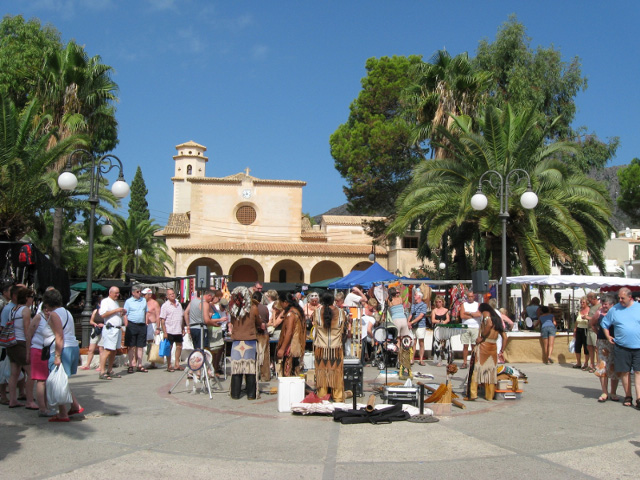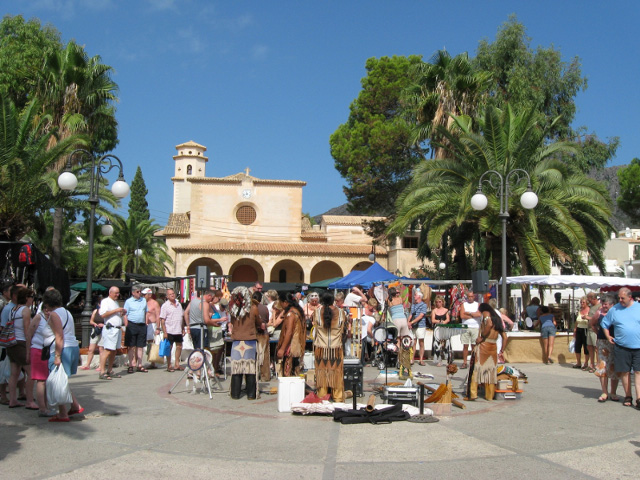 Every Sunday morning, from 8.00 till 13.30 hrs. The Pollenca market is one of the most important markets on the island. You find more than 300 market stalls on this market. A colourful one, set in the beautiful centre of Pollenca. With flowers, fresh products, crafts and much more. There is a great atmosphere. Most terraces are open to have a coffee or something stronger. Often with live music on the main square. In high season this market gets very crowded. But is still worth to visit.
Arta
The market in Arta takes place on Tuesday morning. From 9.00 – 14.00 hrs thousands of locals and tourists stroll past the market stalls. It is a very popular market selling the typical market products. Like ceramics, clothes, local products, fresh fruits and vegetables. There is a relaxed atmosphere and most of the time there is some live music to listen to. In high season the market is bigger than in low season. This market is one of the best to find ceramics and local olives. The market has an indoor and outdoor section. Whereby inside it is about fresh fruit and vegetables and fresh meat.
In Arta it is worth to visit the stall of La Manchega (they are on other markets as well). A stall where they sell high quality, delicious cheese. There specialty is the truffle cheese.
Inca
We don´t like Inca so much to visit as a tourist hot spot, but the weekly market in Inca is a different story.
The market of Inca is the biggest one on the island. Held every Thursday morning. You have to be careful to choose the right product. There are stalls where they sell cheap low-quality items. But there are also sections where the items are of a real good quality. As the market is huge, it will take some time to find out what you like best.
It is a busy market, but with less tourists than on other weekly markets. This contributes to the more authentic Spanish feel.
Inca is the town famous for its leather. So, you will find many stalls selling leather products, like jackets, bags and shoes.
Santanyi
Without doubt the best market in that area. Again, a market in a beautiful, medieval town. The historical ambiance gives a boost to your market experience. About 200 stalls set on the main square and its connecting cobbled streets. This colourful market takes place twice a week. On Wednesday and Saturday morning. With a wide range of local products for sale. Another market where locals and tourists mingle. Parking is sometimes difficult so arriving early is the best option. If you want to stay the whole day in the area, you combine your visit with Es Trenc. One of the best beaches on Mallorca.
Santa Maria del Cami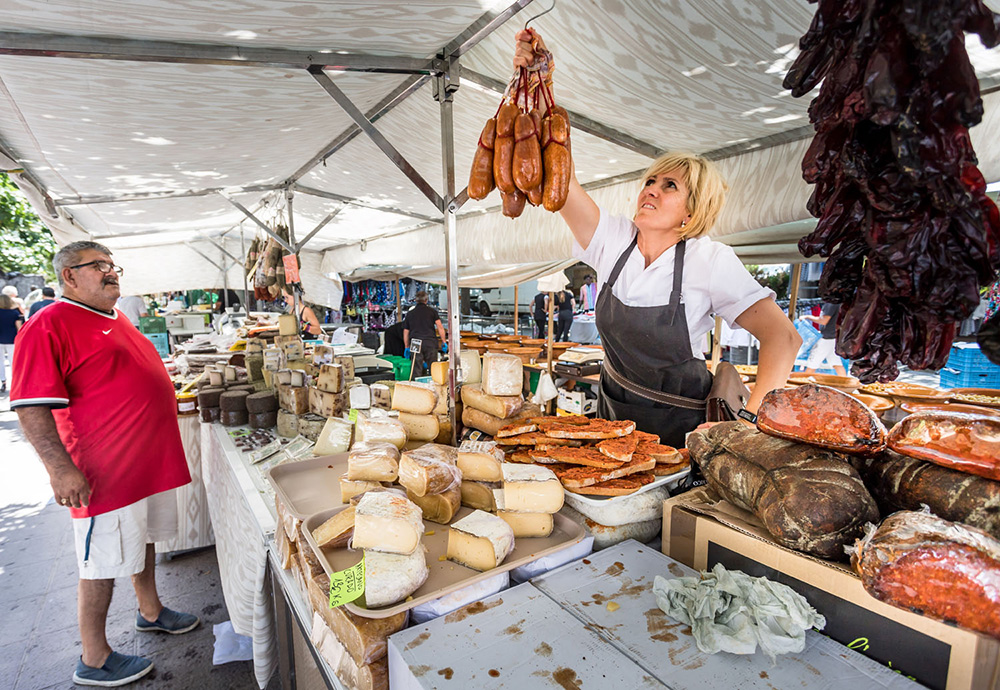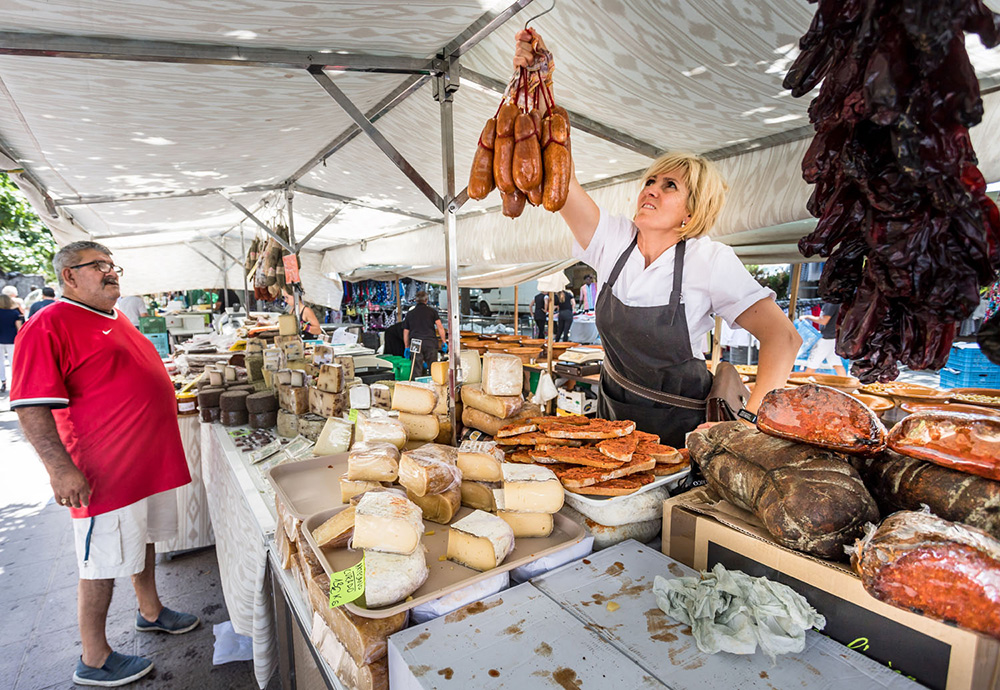 This is one of the best markets in central Mallorca. Apart from the regular products, there is an "organic corner". A small area, but popular with those who want to eat food without chemicals. In this part of the market you can buy a large variety of local organic products. And, if you want, you can even get a massage. Apart from souvenirs, you can buy and taste local products. Honey, marmalades, wines and the best Mallorcan olives. Just to name a few. There are a few big parking lots around the villages where you can park your car against payment. Santa Maria has a vibrant market that must be on the list.
Soller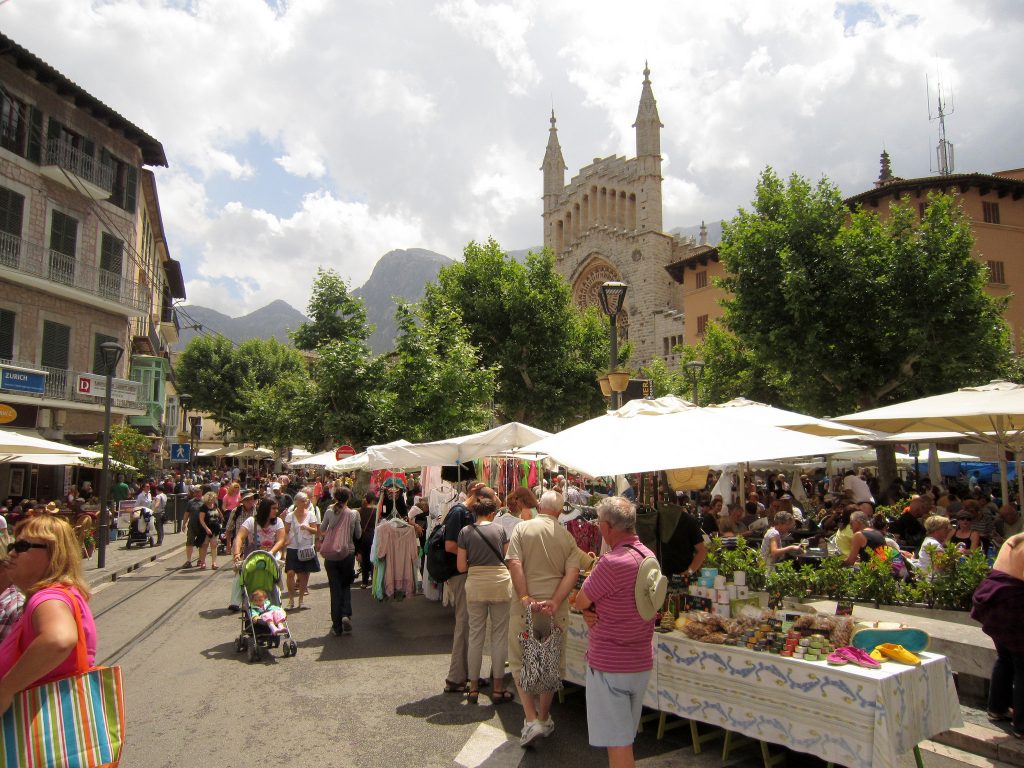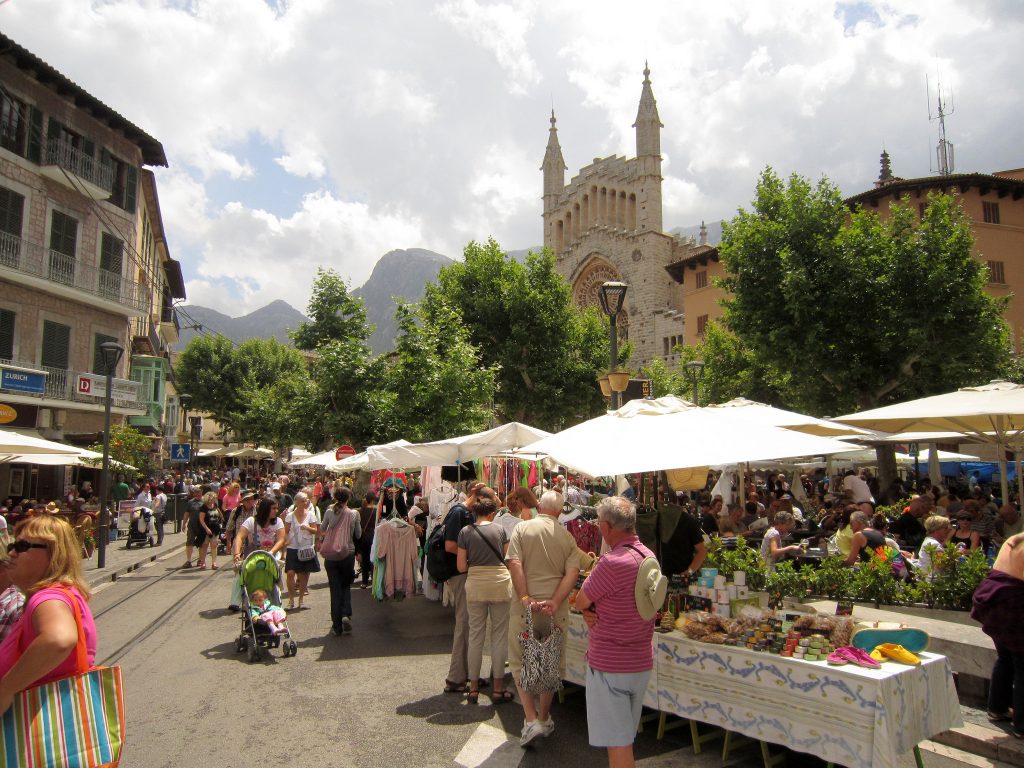 Of course, our favourite. The market in Soller is different and special. The products are the typical ones you find on a market. But there are also some real local products like the hot and spicy sauce from Martinez.
You find the stalls in the beating heart of Soller. The shops in Calle Lluna, the shopping street of Soller, sell their articles outside. Students sell self-made cakes and cocas to earn money for their end-of-year school trip. Buy the best fresh-pressed orange juice from the Soller valley. And to make the picture perfect, the old tram, runs through the streets.
This market attracts locals and tourists. There is a feel-good vibe and people love it! Terraces are full of people enjoying their drink watching the lively scenery. One market street ends at the "Mercat Municipal". Have a quick look inside. This place is so typical and authentic. Only fresh products like local caught fish, meat, vegetables and flowers. The Soller market is every Saturday from 09.00 – 13.30 hrs.
Flea Market Consell
The last market we want to put in the spotlights is the flea market in Consell. This is the largest flea market on the island. Held every Sunday morning. Here you find antiques, second-hand items like clothes, furniture and books. If you bought a lovely old finca, this is the place to find your original decorating items. Searching for these beautiful big light green olive bottles? You find them here and against a reasonable price. Inside the market there are two shops. One sells antiques. The other one specializes in solid wood. It is possible to buy some drinks and snacks. The market gets busy in high season, but parking is not a problem. There is a parking lot against a small payment.
Where and when?
Below a list of the weekly markets on Mallorca. As there are so many markets on the island, we cannot guarantee that this is a 100% list.
Monday
Lloret de Vistalegre, Mancor de la Vall, Caimari, Calvia, Manacor, Montuiri
Tuesday
Biniamar, Campanet, Es Pla de Na Tesa, Pina, S'Alqueria Blanca, Alcudia, Arta, Llubi, Porreres, Santa Margalida
Wednesday
Bunyola, Cas Concos, Petra, Sa Cabana, Sa Rapita, Andratx, Capdepera, Llucmayor, Puerto Pollensa, Santanyi, Selva, Sencelles, Sineu, Vilafranca, Colonia Sant Jordi (pm), Sa Coma (pm May – Oct)
Thursday
Ariany, Banyalbufar, Calonge, Es Llombards, Pòrtol, Sa Torre, Arenal, Campos, Consell (Antiques), Deia (Son Marroig – Arts and Crafts), Inca, Sant Joan, Sant Llorenc, Ses Salines
Friday
Santa Maria de la Salut, Es Pont d'Inca, S'Arracó, Son Carrió, Son Ferrer, Son Servera, Algaida, Binissalem (Art), C'an Picafort, Llucmajor
Saturday
Badia Gran/Pedrafort, Biniali, Buger, Bunyola, Campanet, Esporles, Estellencs, Les Palmeres, Moscari, Palmanyola, Sa Rapita, S'Horta, Alaro, Cala Ratjada, Campos, Costitx, Lloseta, Palma, Santa Eugenia, Santa Margalida, Santanyi, Soller
Sunday
Marratxí, Alcudia, Binissalem (Art), Consell (Antiques), Felanitx, Llucmajor, Muro, Pollenca Town, Porto Cristo, Sa Pobla, Santa Maria, Valldemossa
The team of Soller-Properties is keen on visiting and buying on local markets. Visiting a weekly market is an absolute MUST DO when you are on the island. A unique chance to mingle with locals and experience authentic life.
DISCOVER AND ENJOY!!!
Looking to buy a property in Soller and its region? click here
Register For Free To See Our Off-Market Portfolio
Many property owners opt for discretion when selling their property. Access our off-market portfolio by registering here.